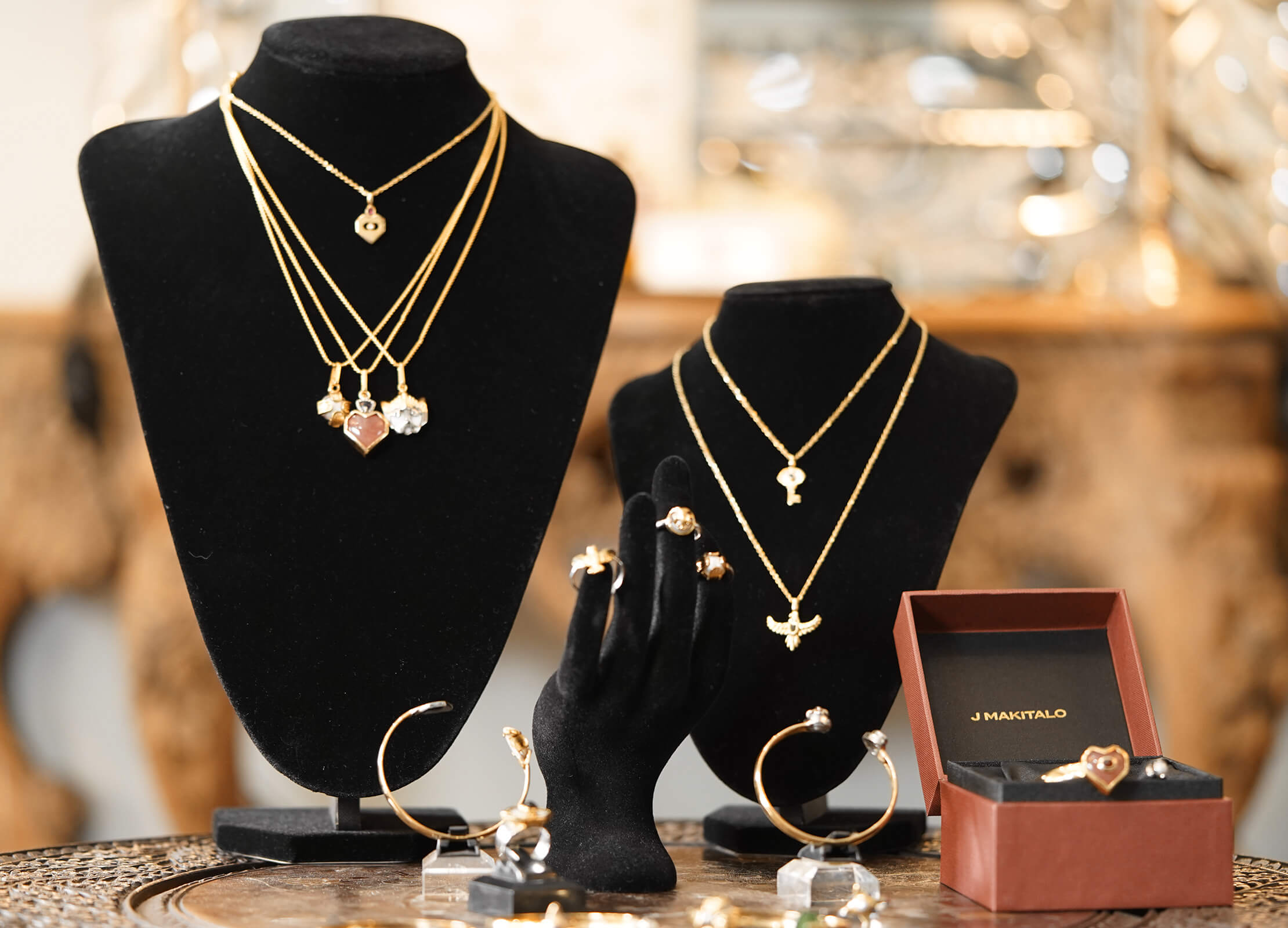 Magic and Mysticism: The Jewelry of Joyce Makitalo
The jewelry designer translates her fascination for stones, crystals, and the powers behind them into pieces with an almost mystical quality, surrounding its wearers with good taste and positive vibes

by Nana Caragay
Joyce Makitalo was just a young girl playing with self-expression and discovering her identity when she began creating her first-ever pieces of jewelry. Her dad, who worked for a telecommunications company, would bring home rolls of multi-colored electrical wire, and she would spend the afternoons after coming home from school twisting and braiding them into bracelets and wristbands for herself and her friends.
"I would try to find ways to wrap pretty things around my wrist," the now full-fledged jewelry designer recalls. "Growing up, it was all about art, music, and fashion. I guess things haven't really changed much."
It was no surprise, then, that she would go on to forge a career in the arts, creating beautiful things by working with her hands—first, as a painter and graphic designer in the late '90s. Jewelry, however, remained a hobby, something she would turn to whenever she needed another form of creative release. She took a short course in jewelry-making and designed her first piece (as an adult) in 2002. A few years later, she spotted a notice for a fine jewelry design competition and decided to join on a whim. She ended up taking home the award in the non-traditional design category.
GOOD LUCK CHARMS
Anyone who has ever seen a J Mäkitalo piece can attest to how "non-traditional" Makitalo's work can be. Her pieces are chunky, bold, and not for the faint-of-heart—bright-colored gemstones layered into necklaces and strung up with beads; turned into crosses, keys, and horn pendants that protect the wearer like a talisman; assembled into the centerpieces of bugs, frogs, scarab beetles, or an all-seeing eye. The playful little accessories she used to make as gestures of camaraderie are now seen proudly adorning the fingers, necks, and wrists of the likes of Joanna Preysler, Marian Rivera, Karen Davila, Cris Villonco, and Stephanie Zubiri, worn by these women like good luck charms or amulets, a modern-day version of anting-anting.
"I love seeing my pieces on those who enjoy wearing them—one can tell by the way they've been styled and by how they were made part of an ensemble, however simple," she says. "When someone gets inspired by a piece of jewelry, they inspire others when they wear it. Inspiration is contagious."
Makitalo herself draws inspiration from the imposing style and fantastical images of the Vogue editorials created by legendary editor Diana Vreeland, as well as the aggressive swagger and rebellious spirit of Mick Jagger and the Rolling Stones. And then, of course, there are the materials she gravitates toward, the gemstones and crystals whose powers she summons and channels into her work.
"I collect books on tribal and ancient jewelry. I am obsessed with stones and crystals—to me, they tell stories with their inclusions and the tones of energy they carry. I love looking to the past for inspiration, and I obsess over museum jewelry that I know I'll never get to wear. From all of that, I imagine my own."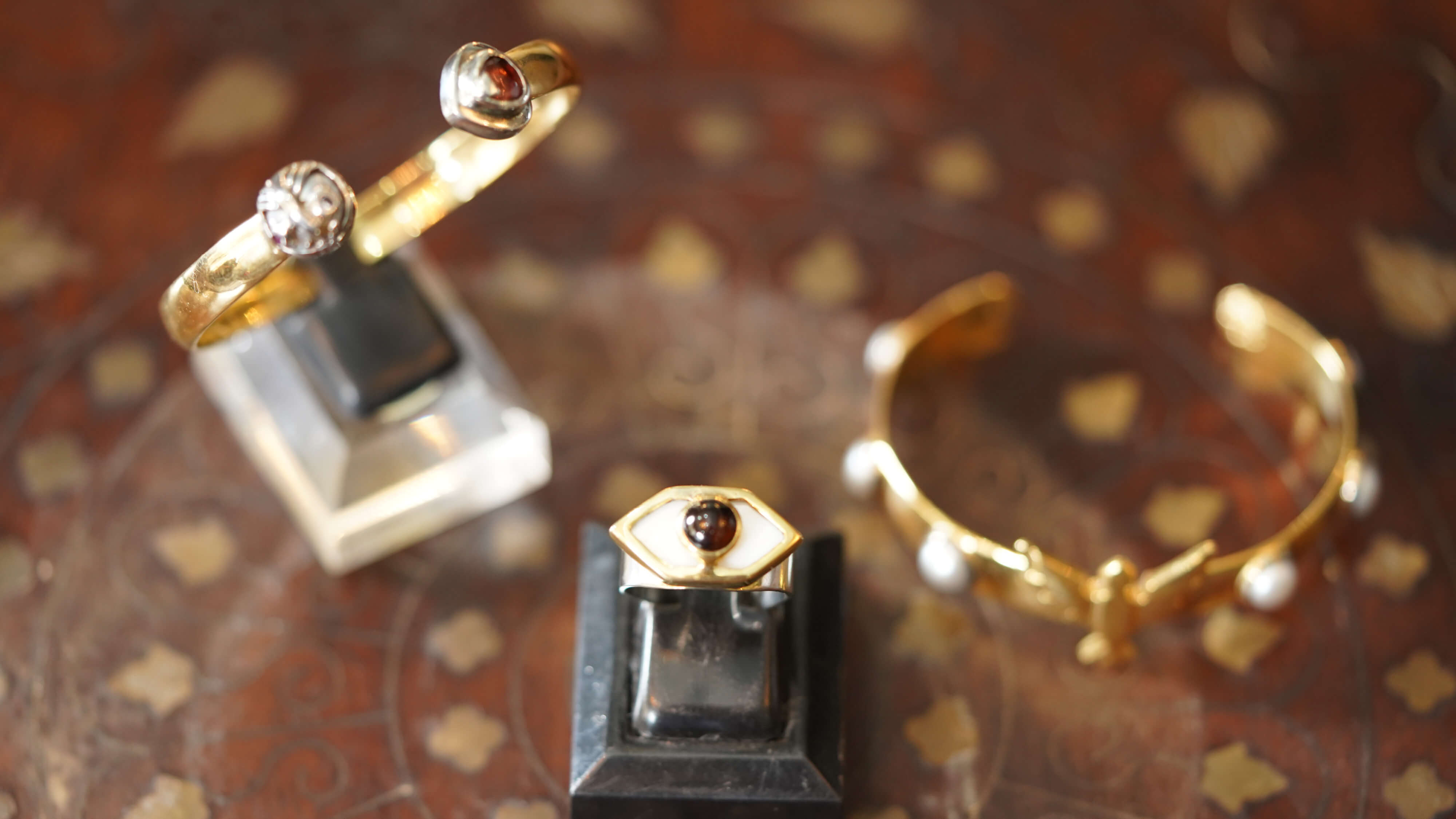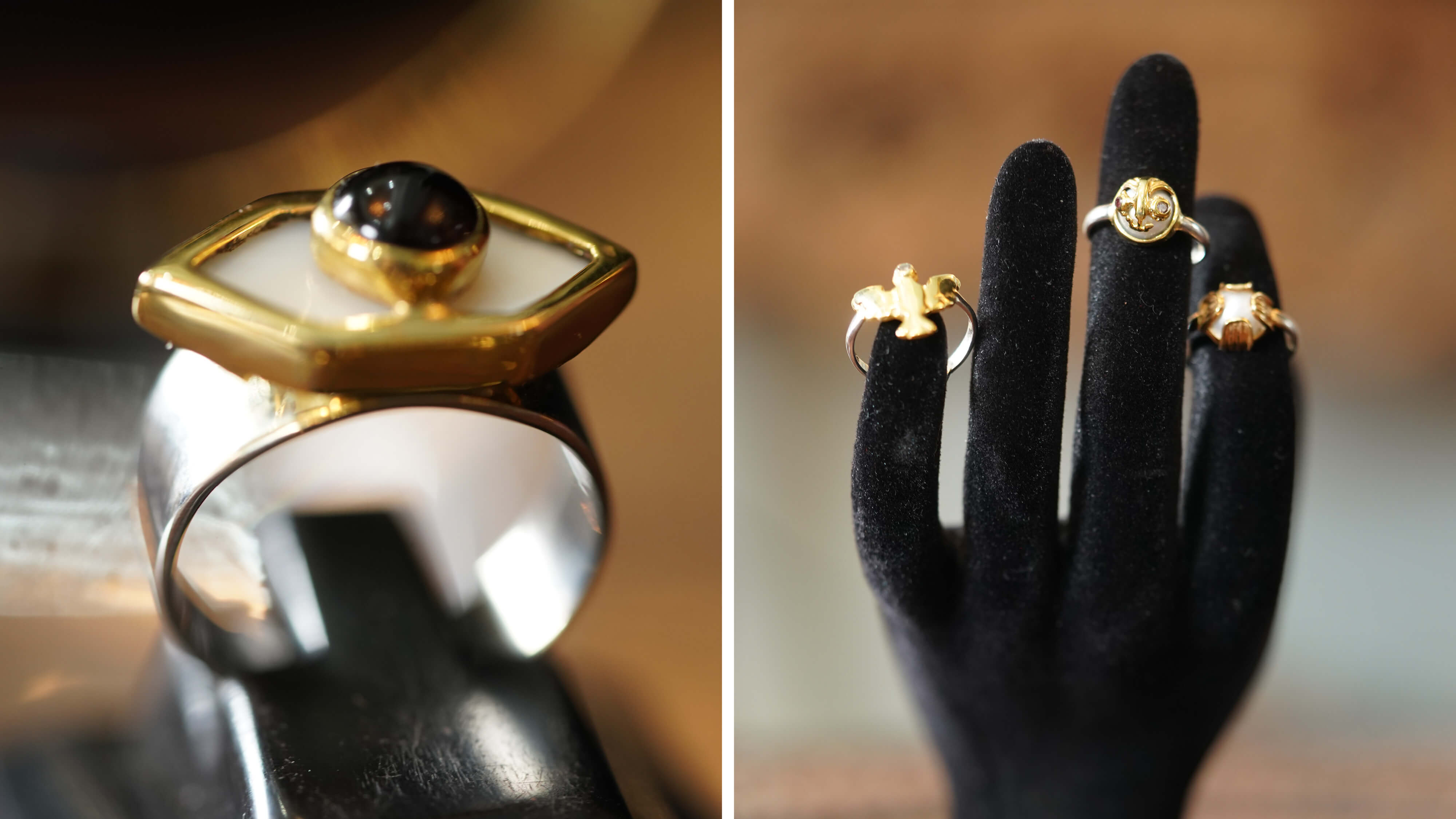 J Mäkitalo's 72-piece Tokyo collection is a tribute to the '60s era, and is a fusion between the clean lines of the Mod subculture and the esoteric symbolism of the hippie movement. (top photo) AstroSmiley Cuff and Wedjat ring; (bottom photo) Wedjat band ring; Ava, AstroSmiley and Floret rings

SURVIVING 2020
While J Mäkitalo had built a steady following among women and even men who resonated with her eclectic, eccentric aesthetic, the challenges of the COVID-19 pandemic forced her brand into a kind of creative pause. "Designing and painting were two things that kept me busy during the early months, but jewelry production came to a grinding halt," she says. "We planned to start over in June 2020, but by then, I had lost more than half of my team as some had to go back to their provinces."
Encouraged by the surge in online shopping, she resolved to once again put her work hat back on and slowly ease her team into the daily grind. "I was determined to start work again, not just for my own sake, but everyone else's, so we slowly resumed production. Online sales got stronger since people were stuck at home and by December, we were together again, with some new additions." That's right. Against the odds, Makitalo managed to even grow her team and also launched a new collection at the very start of this year.
"I guess surviving 2020 has been my brand's greatest feat," she says. "By the end of 2020, we had a bigger team than in 2019. What makes me proud is the happy atmosphere at work, where people are doing what they're most skilled at. I am grateful for my very hardworking, talented team, and that we are still together, despite the challenges of the past year."
FRESH EYES
Into this productive, humming atmosphere comes Makitalo's latest challenge: her collection for the PHx Tokyo showcase. The program is a joint effort of CITEM and DTI to introduce the work of eight Filipino designers to the Japanese market, under the guidance of consultants Tetta Ortiz-Matera and H3O Fashion Bureau's Jason Lee Coates and Hirohito Suzuki.
"I was content with the way things were going with the brand until PHx Tokyo happened," she admits. "Jason, Tetta, and Hiro made it clear that some changes—in design elements and color choices, especially—were non-negotiable, and I felt myself mentally resisting. But the moment I yielded, the learning began."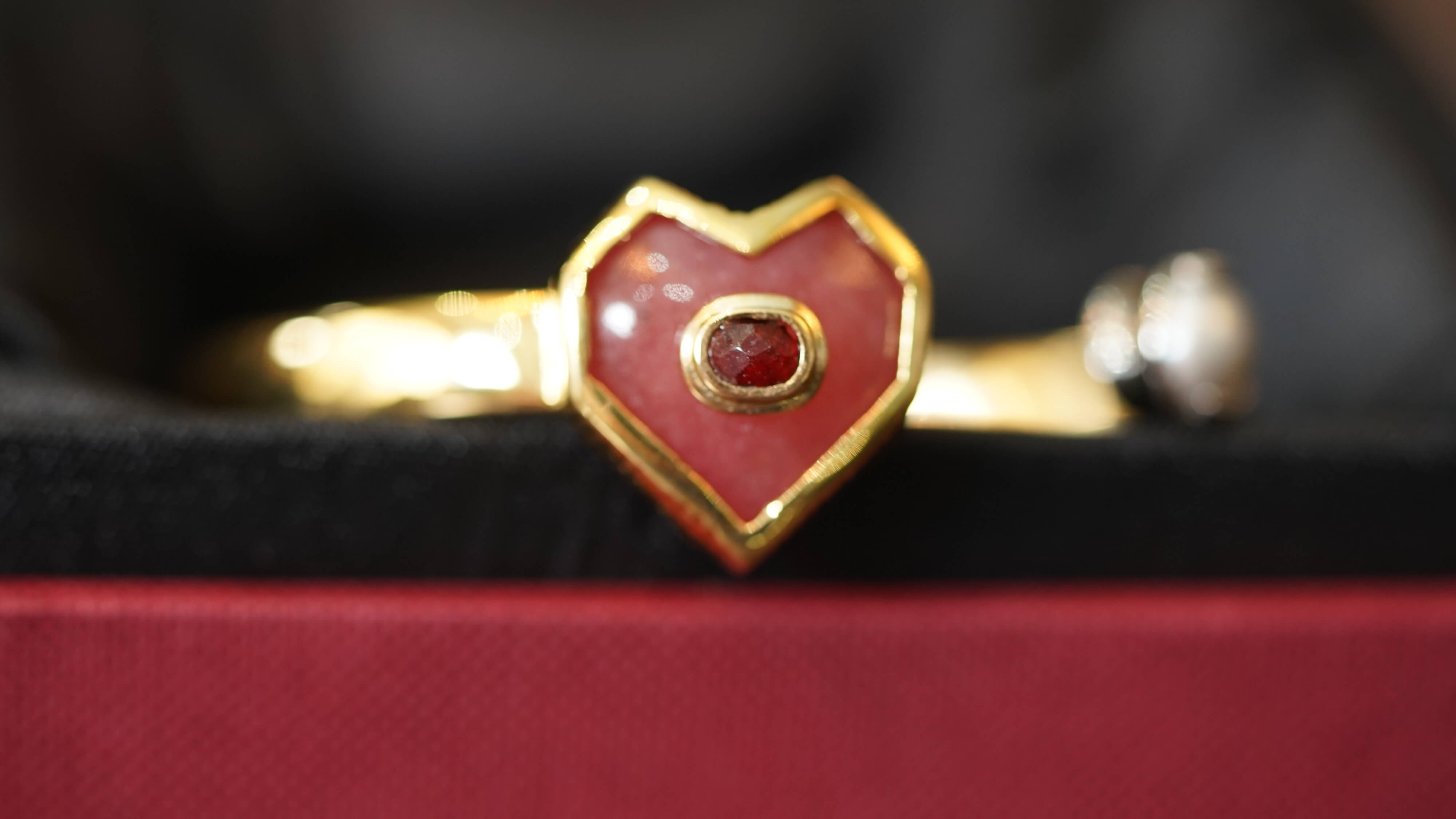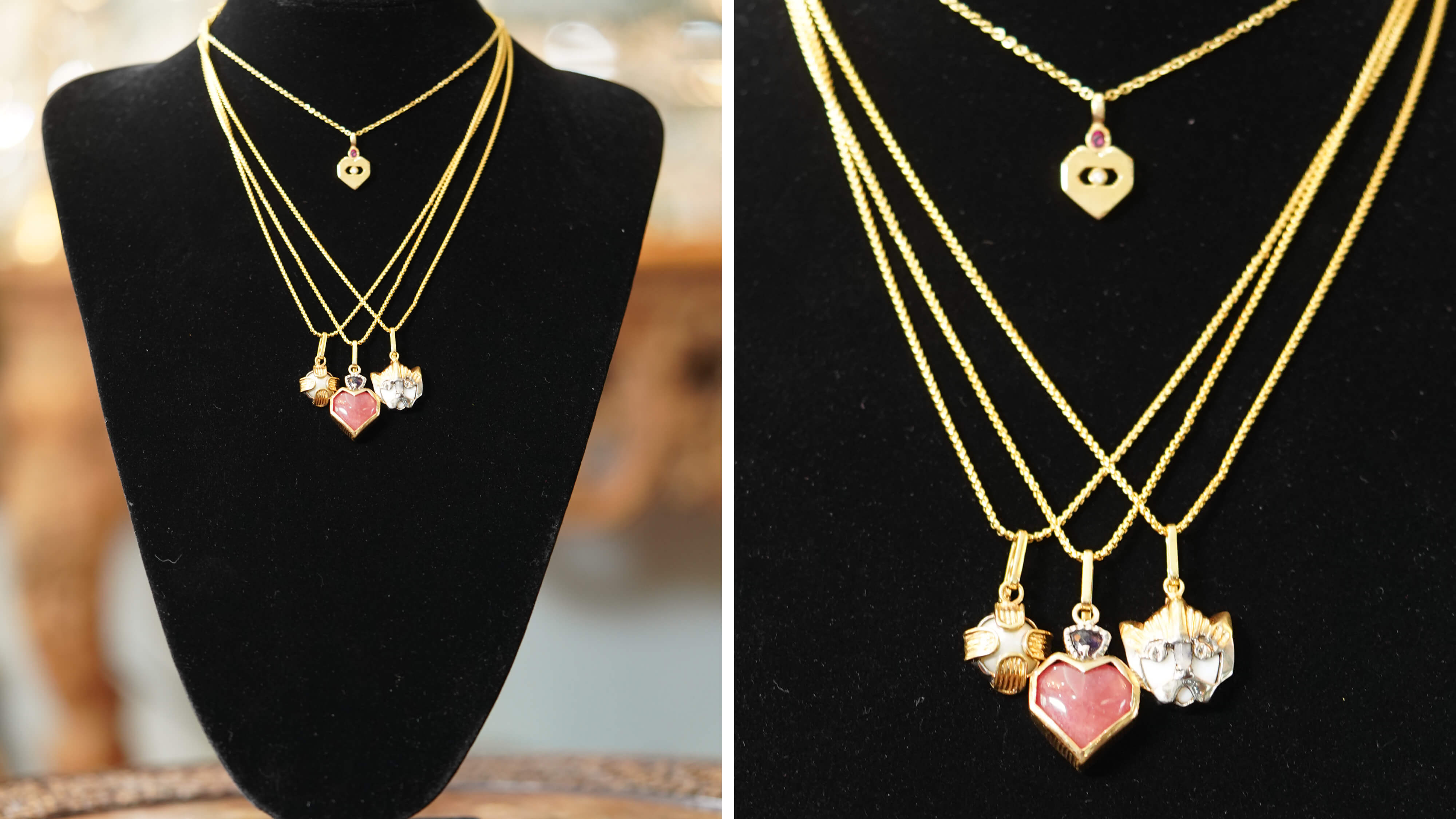 For this collection, Makitalo had to scale her usual jewelry size down "to about at least a third," she smiles. "We used pale-colored stones like rose and lemon quartz, amethyst, fluorite and the like, and also a lot of pearls. The pieces from this collection are mostly in sterling silver and in solid 18k gold." (top photo) Sagrado cuff with strawberry quartz and rubellite; (bottom photo) Sagrado fine necklace; Floret, Sagrado, and Gato necklaces

The result is a collection that is perhaps more whimsical and joyful than longtime followers of J Mäkitalo are used to, yet still with the magical, mystical touches that have become trademarks of her work. She took inspiration from the counterculture movement of the 1960s, the era of Woodstock, hippies, and mod. "The '60s has always been interesting to me—its fashion and art, its music, and the era's openness to Eastern mysticism and spirituality. There was a positive rebellion and a major shift in thinking."
The decade has been dubbed, after all, as "The Age of Aquarius," and Makitalo sees parallels between the social and political upheavals that took place back then and the shake-ups happening in our world today. "We are again going through a similar shift and looking to symbolism for deeper meaning, protection, and wisdom," she points out. Thus, the iconic smiley face, born in 1963, makes an appearance on iridescent pearls, and pops of color and playful graphic patterns find their place among her baroque gemstones and crosses.

NEW AND IMPROVED
"I had to think smaller, in terms of pieces, and in the middle of the process, found myself thinking bigger, for the brand," Makitalo says. "The experience has been very helpful to my brand and to myself, as a designer. I don't think I have ever felt the need to evolve as much in such a short period of time."
It's a pretty strong statement coming from the designer who has talked in the past about how she prefers to take her time when creating, waiting for inspiration to hit rather than pressuring herself with deadlines. "At the beginning I expected to make slight adjustments, but at one point I realized I had to unscrew my head and replace it with a new-and-improved one," she admits. "I surprised myself by gladly going out of my comfort zone, which I usually dislike. I feel lucky to have gone through the process with such wonderful, helpful, talented, and kind people."
The collection is set to be introduced to buyers from the Japanese market in July, and while it will be exciting to see how it is received, Makitalo feels she has already reaped the rewards. "The H3O team taught me to adapt to the norms of an unfamiliar culture," she says. "To me, this was the real blessing of our collaboration. They helped expand my vision. The result will just be a bonus."

About PHx Tokyo
PHx Tokyo is CITEM's showroom incubation program. Eight homegrown fashion labels undergo group and one-on-one mentorship sessions with Japan-based showroom H3O Fashion Bureau and fashion consultant Tetta Ortiz-Matera to help them successfully launch their brands in the Japanese market. The culminating activity is a three-day showroom presentation (July 7-9, 2021) in central Tokyo's fashion district. Each brand will showcase its collection for both buyers and the general public.

Art Direction: Kit Singson
Video Producers: Luke Miraflor and Victor Elijah Gador
Shooting Assistant: Bryce Dela Cruz
Line Producer: Sheryl Ann Quines Abrera
Sittings Editor: Patti Sunio
Editing: Ian Francisco