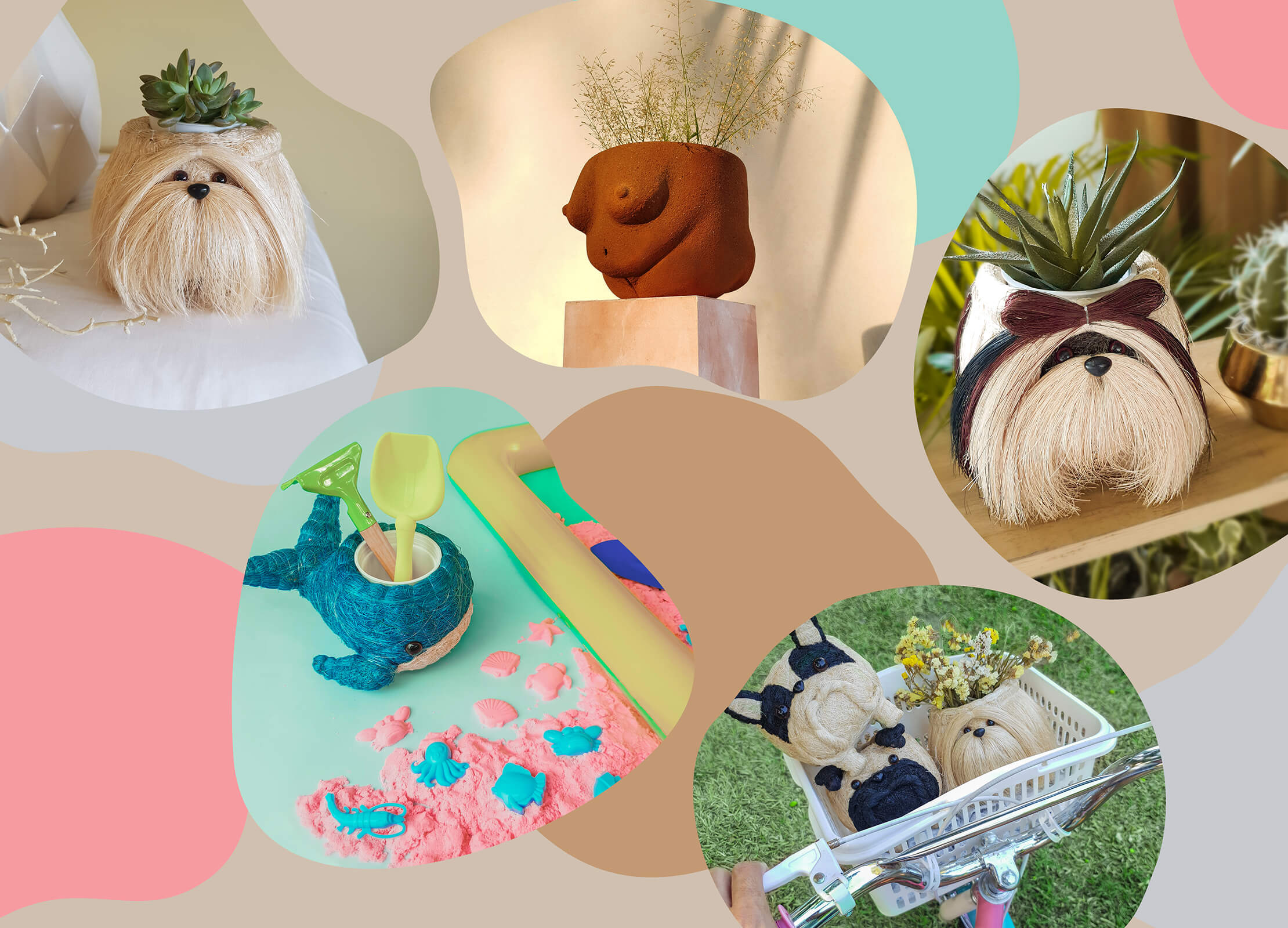 Quirk, Joy, and Chibi Pots
Design studio Ennoble elevates Philippine-made handicrafts with fun, quirky products that brighten up spaces and bring smiles to faces

by Patti Sunio
Is it a basket? A planter? A functional piece or just décor? Ennoble's chibi pots are all of the above. "When we first launched our Chibi Abaca Animal Pots Collection, we actually had a hard time explaining to consumers what they are," reveals Ennoble co-founder Jeff de Jesus of the brand's pilot product. "It was so new to the eyes of the local market and customers would always ask."
In just a few years, their cute and quirky set of planters-slash-catchalls-slash-whatever-you-need-them-to-be eventually became the brand's most well-known and well-loved product. "If, in the past, we had to explain the material and the function all the time to each consumer, now, people just buy it, no questions asked."
Established in 2017, Ennoble is fairly new to the scene but the brand has grown significantly since. "When we started, abaca was surprisingly alien to the local consumers," shares de Jesus. "They were hesitant to use a material that is natural, with fears that it may decompose or rot eventually. They prefer plastic over the natural. But through clear and constant marketing, we were able to overcome this."
Things have changed, thanks in part to the shift in trends and the emerging market and, chances are, you've seen Ennoble's Chibi plant pots on Instagram, if you haven't gotten one for yourself just yet. "Now, we are proud to have been a trendsetter to this kind of craft," adds de Jesus. "A lot of imitations of our designs have sprouted everywhere, and we are flattered. Constant product development and collaborations have kept us ahead of the others."
Much of Ennoble's success can be attributed to the two movers behind the brand. The creative force behind it is de Jesus, whose expertise lies in indigenous materials and handcrafted, artisanal goods, as well as fair trade practices, and has dedicated his decades-long career in support and promotion of these. In the past, he has engaged with several government and non-government organizations such as the Department of Trade and Industry Philippines (DTI), World Vision, United Nations Development Programme (UNDP), and CARE International. He also teaches Philippine crafts and natural materials at De La Salle College of St. Benilde's Industrial Design Program.
Leading the business development and partnerships for Ennoble is JM Darlucio, a self-made serial entrepreneur who has previously worked for Go Negosyo, Department of Social Welfare and Development (DSWD), and other development sector agencies. His passion lies in seeking community partnerships and building the business to further showcase the communities' crafts.
"Having both worked in the development sector, starting a socially conscious brand that collaborates with handicraft communities at the grassroot level made total sense for us," explains de Jesus. "We wanted to help and leave a mark using our own unique voice."

Co-founders Jeff de Jesus and JM Darlucio share the same vision: to elevate Philippine handicrafts, and introduce a newfound appreciation for the craft, the workers, and the products
The co-founders drew from their love for "anything cute, fun, and quirky" and established an aesthetic that's endearing and easily loved. "Handicrafts, especially the ones connected to NGOs or have a social responsibility aspect are considered by many as old, traditional, and baduy (not trendy)," de Jesus points out. "We wanted to change that perception by making our brand younger, more fun, and unapologetically quirky… a total departure from the seriousness in socially responsible handicraft-making."
With this in mind, Ennoble thought to cater to the younger generation, who could spark the change in conversation and change their peers' mentality when it comes to Philippine-made handicrafts. "The Millenials and the Gen Zs may be more receptive to our designs, since they may not have been exposed, or interested, in these kinds of crafts before. So our language and aesthetic is young and fun, and our colors are pastel and cheery," says de Jesus. "But despite the seemingly naïve façade, the brand is very much aware of social and environmental issues, just like today's youth."
"We think that if we want to take crafts to the future, then we have to speak in the language—visually and verbally—of the future generation." And so Ennoble, which literally translates to "to make noble" and "to elevate," was born.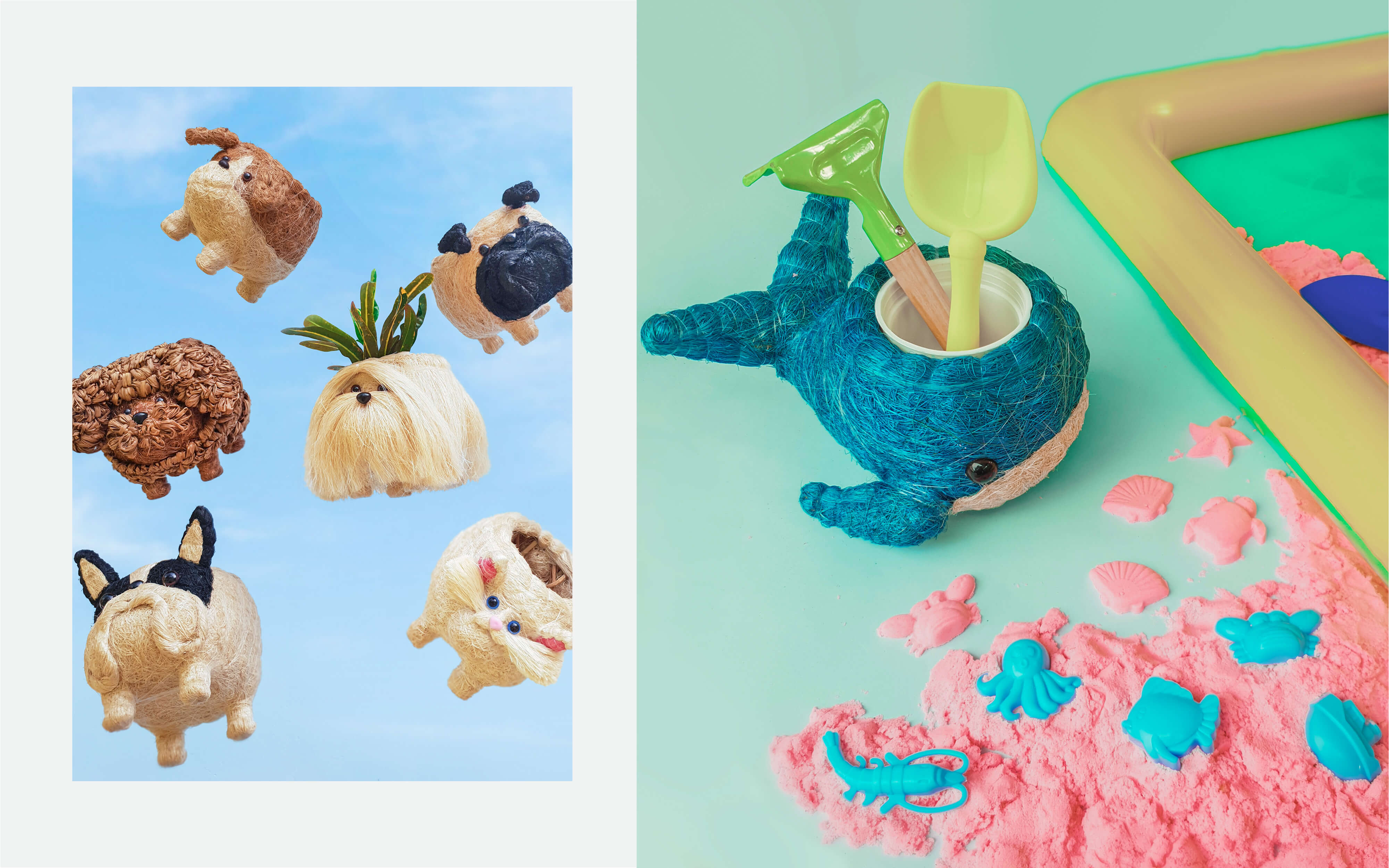 "The Chibi Animal pots are primarily made of abaca fiber, and we are super fascinated with this material's fur-like quality," shares Jeff de Jesus, Ennoble co-founder. "Normally, abaca is twisted into ropes or woven in clumps, but they were never celebrated for their soft, furry feel. So turning abaca into animals just made total sense for us."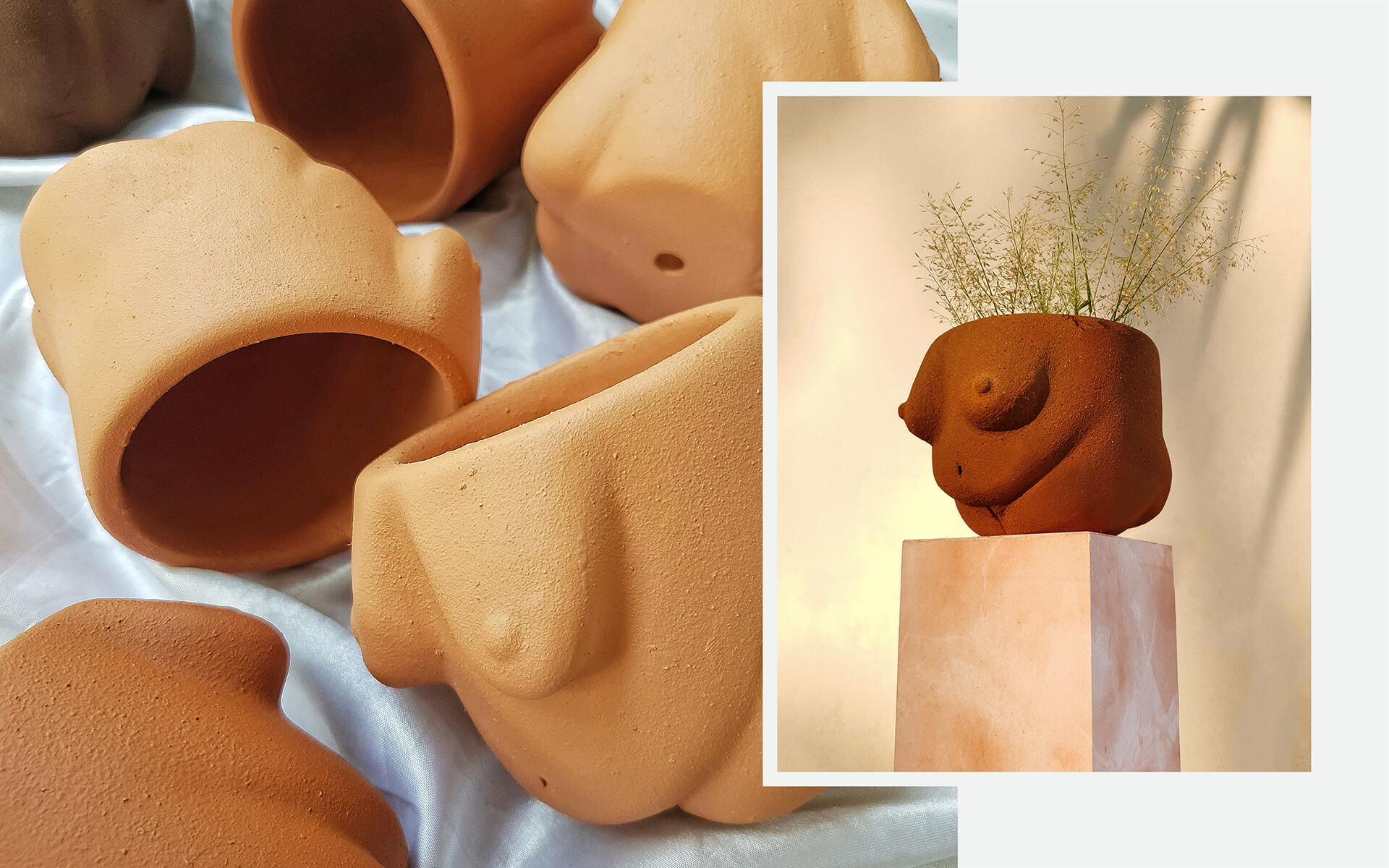 Ennoble's Venus Pot collection, inspired by the goddess of sex, love, beauty, and fertility. De Jesus experimented with ceramic-making at the start of the pandemic and the early batches of Venus pots were made by him

MULTIPLE HANDS
It takes a village or, in this case, several hands from various communities to make Ennoble's famed Chibi collectibles. "Our products are made by different hands, by different artisans, each with their own specialty, and we think that makes our products unique," says de Jesus.
While its two main collections, the Chibi Abaca Animal Plants as well as the Venus Ceramic Pots Collection, are made primarily by artisans based in Bulacan, Ennoble continues to seek partner communities to work and expand with. A "mompreneur" who is based in Valenzuela, is skilled with her hands and does the furry parts of some of the animal pots. Recently, the co-founders have also partnered with the DSWD's Rehabilitation and Sheltered Workshop for PWDs to develop a new line of products made by the differently-abled makers. "All these diverse talents and connections form together like a puzzle to create the unique products that we offer. Each of their outputs are assembled and finished in our little home studio in Bulacan."
Different hands and different minds go behind the making of every piece. The collaborative process between Ennoble and its partner communities starts with de Jesus immersing himself in the process of product development, learning the ropes until he can make them himself. Knowing the basics allows him to later on play with the pieces, having full grasp of the materials' capabilities. "For us, designing is a collaborative process. The artisans teach us the traditional means on how it's done, and then we offer our take on how to level it up, and vice versa," de Jesus explains.
Ennoble's mission "to make noble, to elevate" applies to the artisanal communities that they've worked with so far. "We want to dignify the makers and hold them in higher regard," says de Jesus.
Through their works, the founders aim to put Philippine handicrafts under the spotlight they deserve. "Handicrafts in the grassroot are considered by many as 'just crafts,' and we wanted them to be considered as something 'designed' and 'artisanal' instead. We want people to realize it is a work of art that is meticulously made by hand, by artists."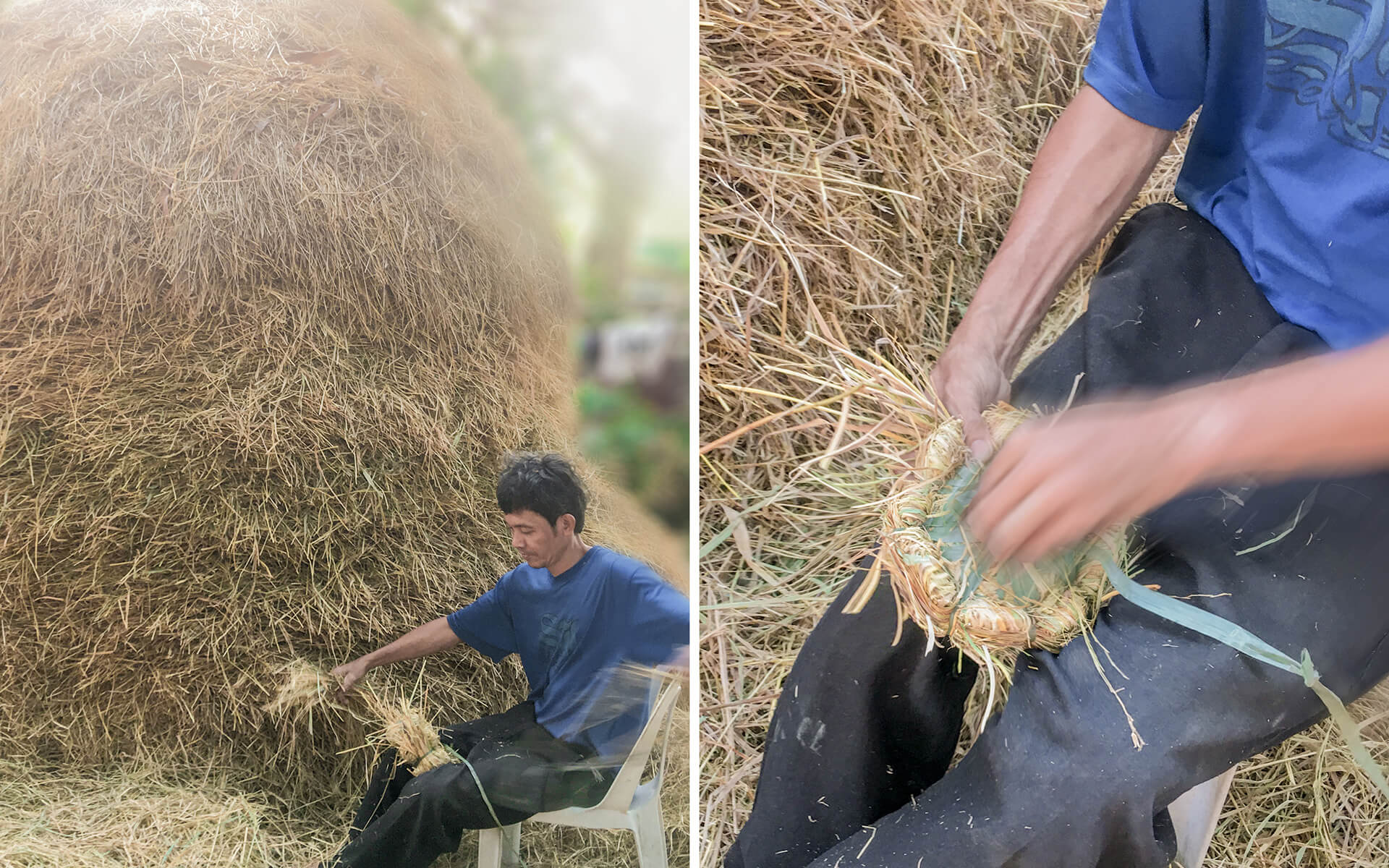 The materials used in Ennoble's pots are primarily sourced in Bicol, while most of the assembly and finishing are done in their little home studio in Bulacan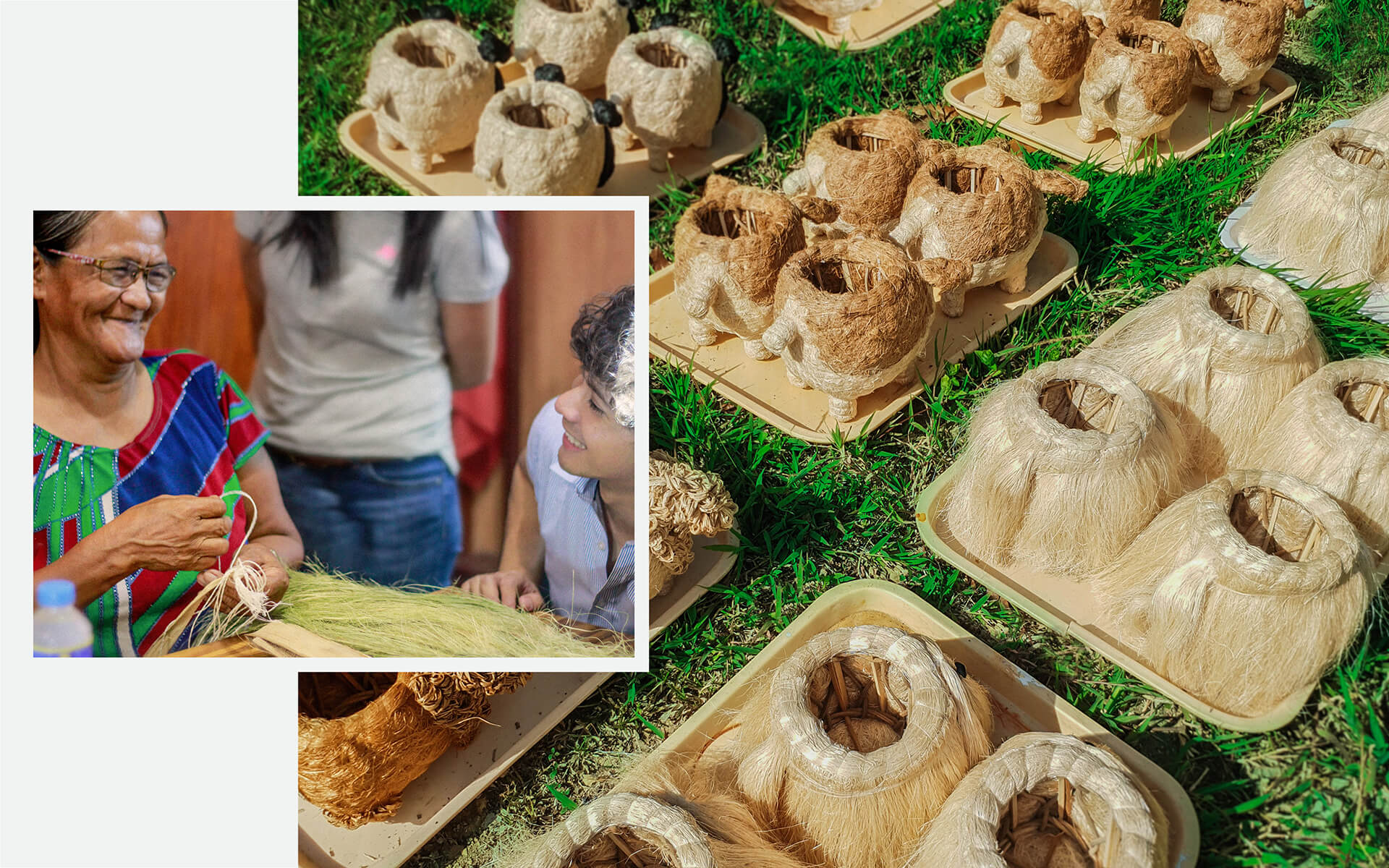 "There are so many moving parts from different makers, and it's fascinating how this ultimately ends up into an assemblage of cuteness," says de Jesus. "We can proudly say that each of our products is a culmination of different skills and materials that our country can offer."

JOY GIVING
"When designing products, our main goal is that the designs must exude youth and joy—be it from the color, the form, or just the total aesthetic," reveals de Jesus. And Ennoble's customers have been very generous in making their appreciation felt, sending messages of gratitude because the products have given them the much needed good vibes and happy hormones, especially in these trying times.
"When people were forced to shelter in place, the DIY home decorating trend, and the indoor gardening craze pushed our products to the fore," says de Jesus. "And with a market saturated with the usual planters, our brand offered a unique and fun alternative that surprisingly became a source of joy to a lot of people during these depressing times."
At the end of the day, Ennoble is just glad to serve its purpose: "to give handicrafts a more modern function, something relevant to the needs of the current times." "Ennoble can also literally mean a feeling of elation, and so we're happy that our brand name nicely ties in with that joyful feeling the consumers get with our products."

Photos courtesy of Ennoble