Royal Following
Amina Aranaz can certainly boast of a royal following with not just one, but two queens as clients. "It was through CITEM's International Fashion Showcase in London that I met a woman who ultimately represented our brand in Belgium," Amina said. "She knew the personal shoppers of Queen Mathilde of Belgium as well as Queen Maxima of the Netherlands and presented to them."
It was certainly a high point for Amina, her mother, Becky, as well as her siblings who all thought of developing a Filipino brand way back in the late 90s. Though Becky has been manufacturing straw bags since the 80s, her products were sold all over the world under a foreign label. The family thought that, after years of serving the export sector, it was high time for them to launch their own label.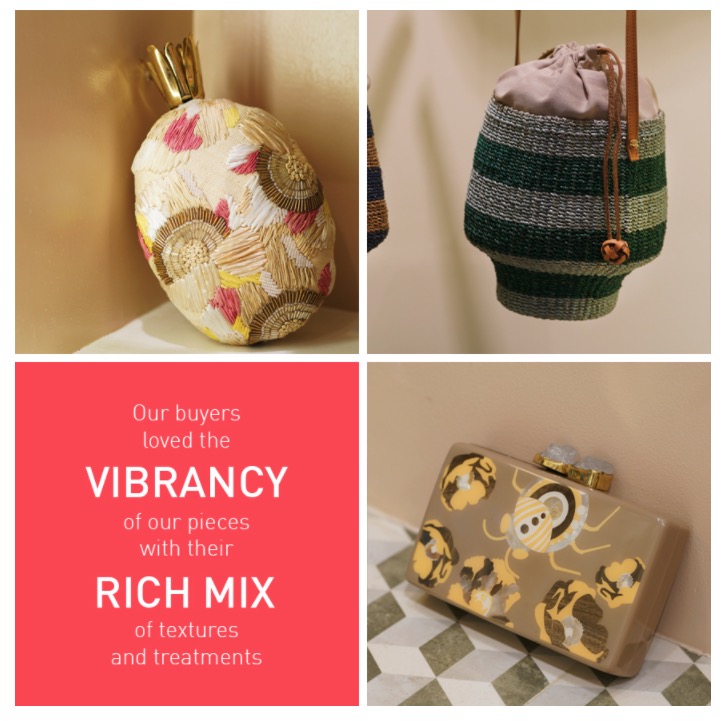 Clockwise from top left: Pina Dulce with T'nalak base, raffia embroidery, beadwork, and brass crown;
Helena bucket made from woven abaca with leather straps; Carmen Minaudiere with resin shell and clasp made from semi-precious stones set in brass.

"She is so knowledgeable with production and sourcing," Amina admitted, "so creating bags was easy and second-nature to her. My siblings and I mostly helped out in sales and marketing before I assumed the role of lead designer and creative director in 2013."
Entering the export market was next in the Aranaz family's agenda, with CITEM's Manila Wear program giving them the impetus to reach a wider audience. This was followed by the brand's exposure through other high-profile trade shows abroad.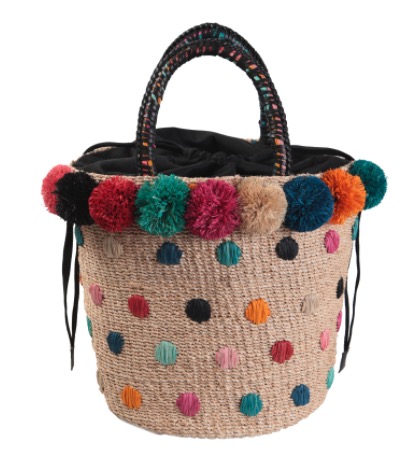 Fiesta Bonbon bucket with woven abaca and braided leather strap.
According to Amina, "buyers loved the vibrancy" of their pieces, with "its rich mix of textures and treatments." The style has defined the Aranaz brand, which is rooted to natural materials like raffia and abaca, as well as traditional weaves - such as the distinctive solihiya - and other handcrafts.
Visitors to Manila FAME's most recent edition got to preview two collections: The Spring Summer 2018 series, called Sunset Dreams, alongside the Resort 2019 line titled Geo Garden. Sunset Dreams was a departure from the brand's usual palette with its pastel tones. Geo Garden is "more experimental," according to Amina, "in terms of color which leaned toward darker hues - such as black, blue, and deep red - and new shapes and handle treatments that were more geometric in nature."
An Aranaz bag or clutch may come in different forms or colors, but it will always stay true to its irrepressibly vibrant spirit.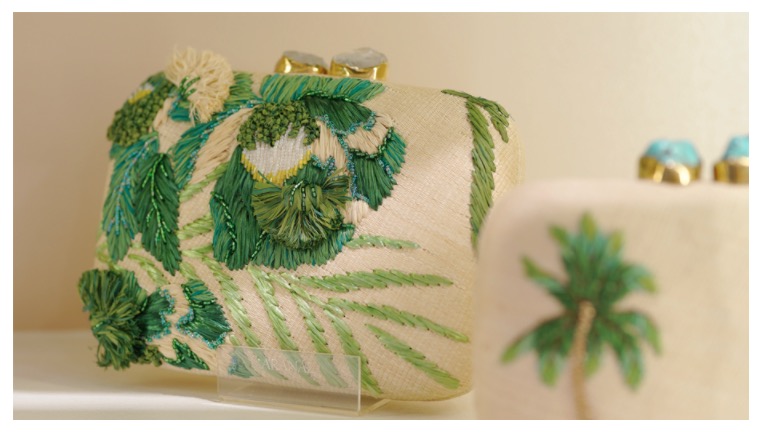 Martina Clutch with abaca-lined shell, raffia embroidery, beadwork and clasp made from semi-precious stones set in brass.
CONTACT INFORMATION

Amina Aranaz Alunan
Creative Director

02 571 3136
contact@aranaz.ph
aranaz.ph/
344 Robinson Circle, Capt. Henry Javier St.Barangay Oranbo, Pasig CityMetro Manila, PHILIPPINES