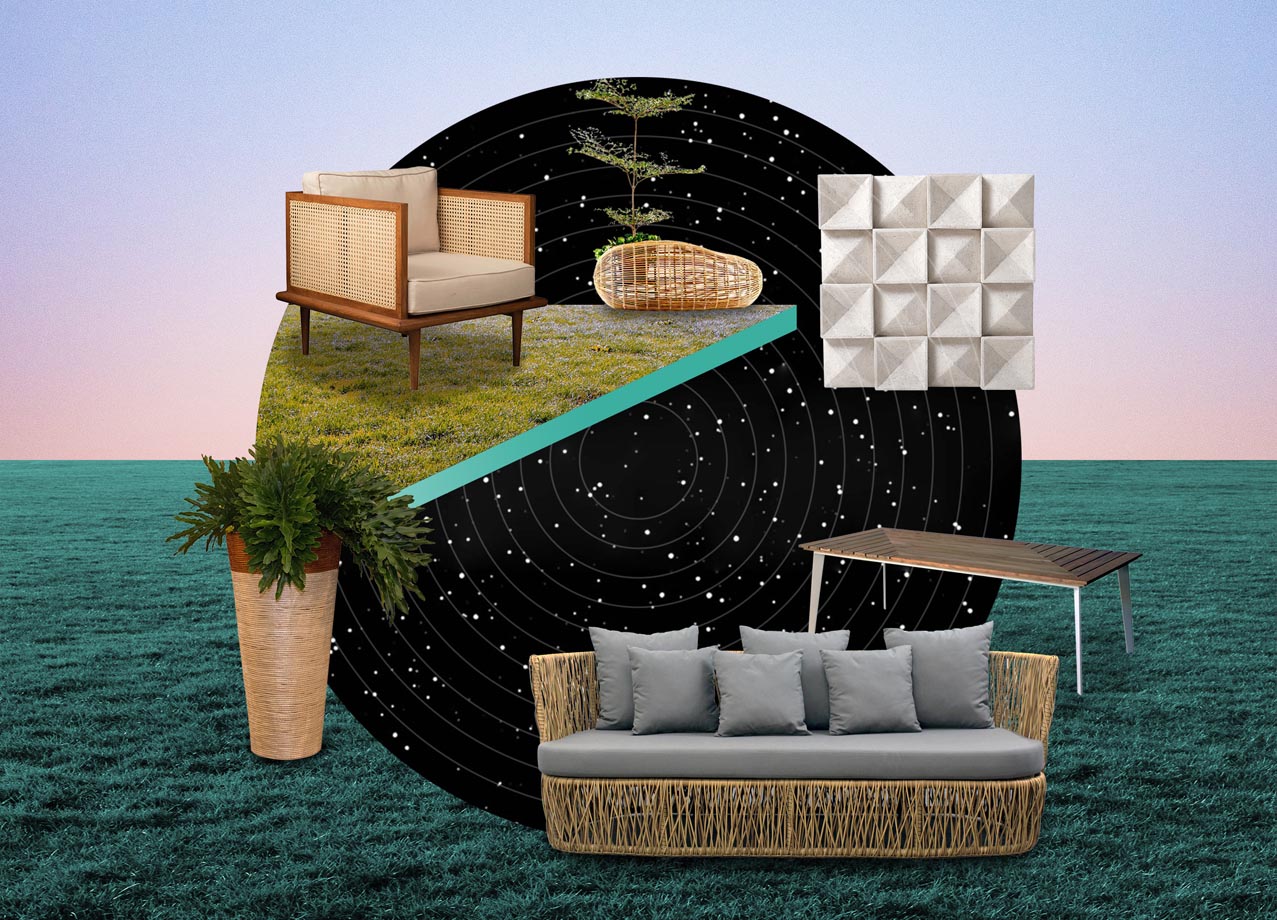 Furniture Trends: Let's Take it Outdoors
In image: (Clockwise from lower left, main image above): Wire and Abaca Planter, Tadeco Home; Blanche Lounge, A. Garcia; Binhi Planter-Bench (the outdoor version can be made in PE Plastic), Ito Kish; Pyramid Wall Art (Tile), Southeast Metro Arts; Apollo Dining Table, Coast Pacific; Aurora Sofa, Coast Pacific.
All the pieces to see when decorating in the New Normal forces us to step outside and enjoy the sun
Al fresco lounging used to be limited to vacation retreats or during the summer months. But in recent times, the pandemic made us reconsider this bucolic activity.
Since the Centers for Disease Control and Prevention declared that participating in outdoor activities—properly masked and staying at least six feet away for others—would minimize the spread of contagious aerosols versus staying indoors, since fresh air constantly moves, dispersing the particles. Spending a few hours outdoors can also benefit one's mental health while on lockdown-induced periods of isolation. According to the Washington Post article "Nurture by Nature," doing so "…decreases blood pressure, stress hormones and symptoms of anxiety and depression."
So, create those outdoor living spaces now. Formerly neglected balconies and porches can now become extra rooms for your abode, as well as a spot to showcase these two latest trends in all-weather furniture—which by the way, are just as stylish as their indoor counterparts.
Contemporary-natural Cool
The overall interior trend of natural materials and colors also extends to the outdoors, as the warmth and lightness of nature lend a touch of comfort to uncertain times. These materials and finishes include rattan, wicker, and chaircane (solihiya weave), as well as natural stone, which could work quite well on a feature wall—the geometric stone panels by Southeast Metro Arts fit the bill nicely.

According to a Wall Street Journal article on outdoor furniture trends, one of the design industry's favorites are patio pieces that look good indoors. One example of this sort of piece is A. Garcia's Blanche Lounge Chair, with its modern, solid wood frame and solihiya panels that would also feel at home in a living room. Now, how's that for versatility?
Elle Décor recommends unvarnished wood pieces (all-weather wood like teak look better unstained, anyway) and says that the homeowners should appreciate the wood's natural transformation through rain or shine. Live plants are a must, and what better way to grow it than in Ito Kish's award-winning Binhi bench/planter?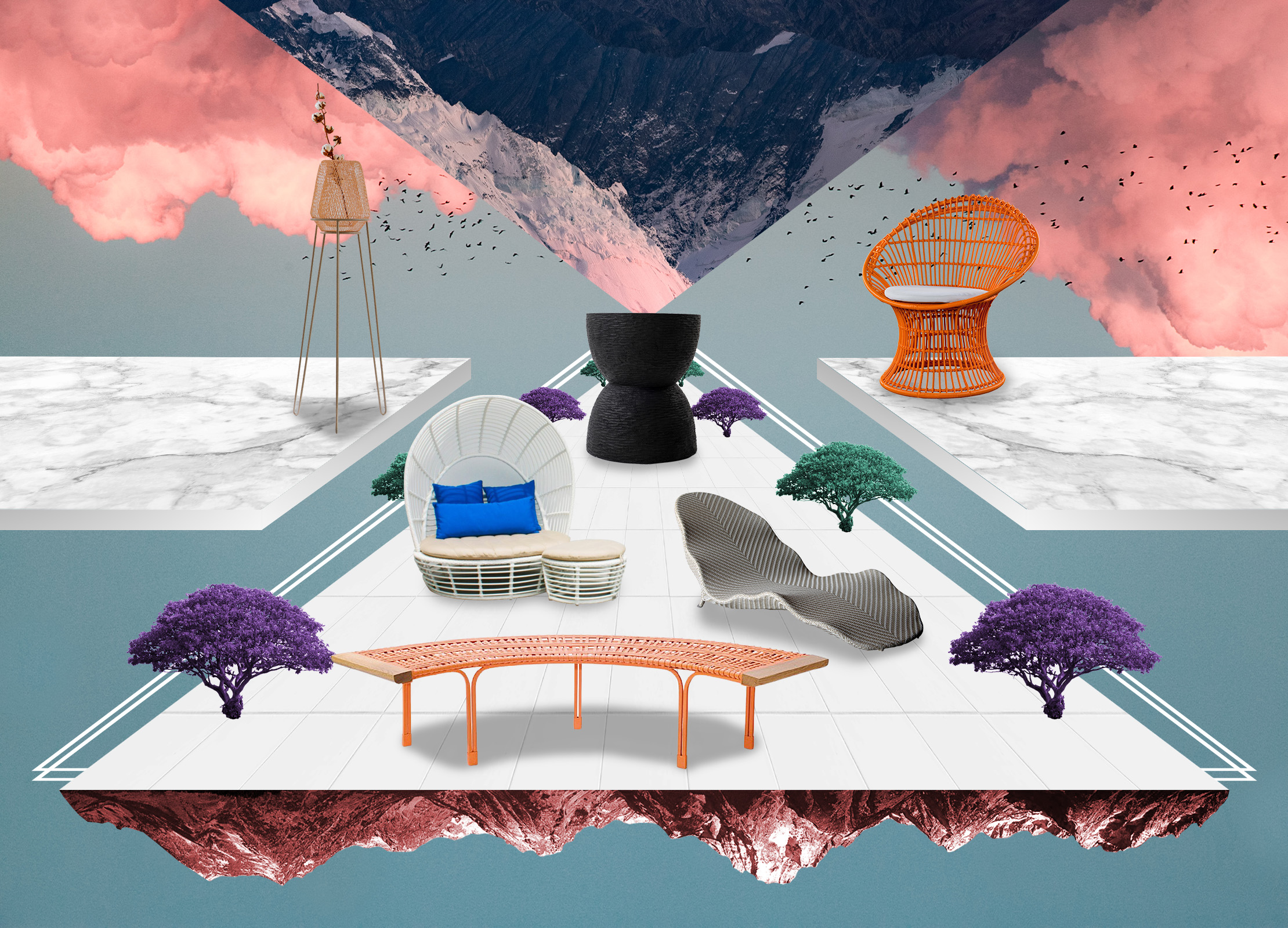 (Clockwise from top right, main photo above): Trepied Floor Lamp, Schema; Djembe Stool, Southeast Metro Arts; Bloom Occasional Chair, A. Garcia Crafts; Polonia Chaise Lounge, Coast Pacific; Cheque Curved Bench, Zarate Manila; Divalla Daybed, Outdoor + Solutions
Modern Soul
On the other end of the spectrum of outdoor looks is the modern trend, with bold color and striking forms being focal points. Sculptural lounges like Coast Pacific's leaf-shaped Polonia Chaise Lounge and the novelty of a stunning daybed like the Divalla by Outdoor + Solutions are statement pieces that are best appreciated out in the open.
The Wall Street Journal article mentions the proliferation of vibrant color, most especially in weaves. A. Garcia's all-weather chairs have oodles of color such bright red, purple, violet, and orange, in every shape of seat. Meanwhile, Zarate Manila combines two trends—metal and color—into a sinewy, curved bench.
One of the most surprising outdoor trends, however, is the use of black in furnishings and accessories. Because what could be more shocking than finding something pitch-black that should be in natural wood or beige? Southeast Metro Arts' Djembe Stool makes that perfect dark statement.
Photo-illustration by JP Meneses