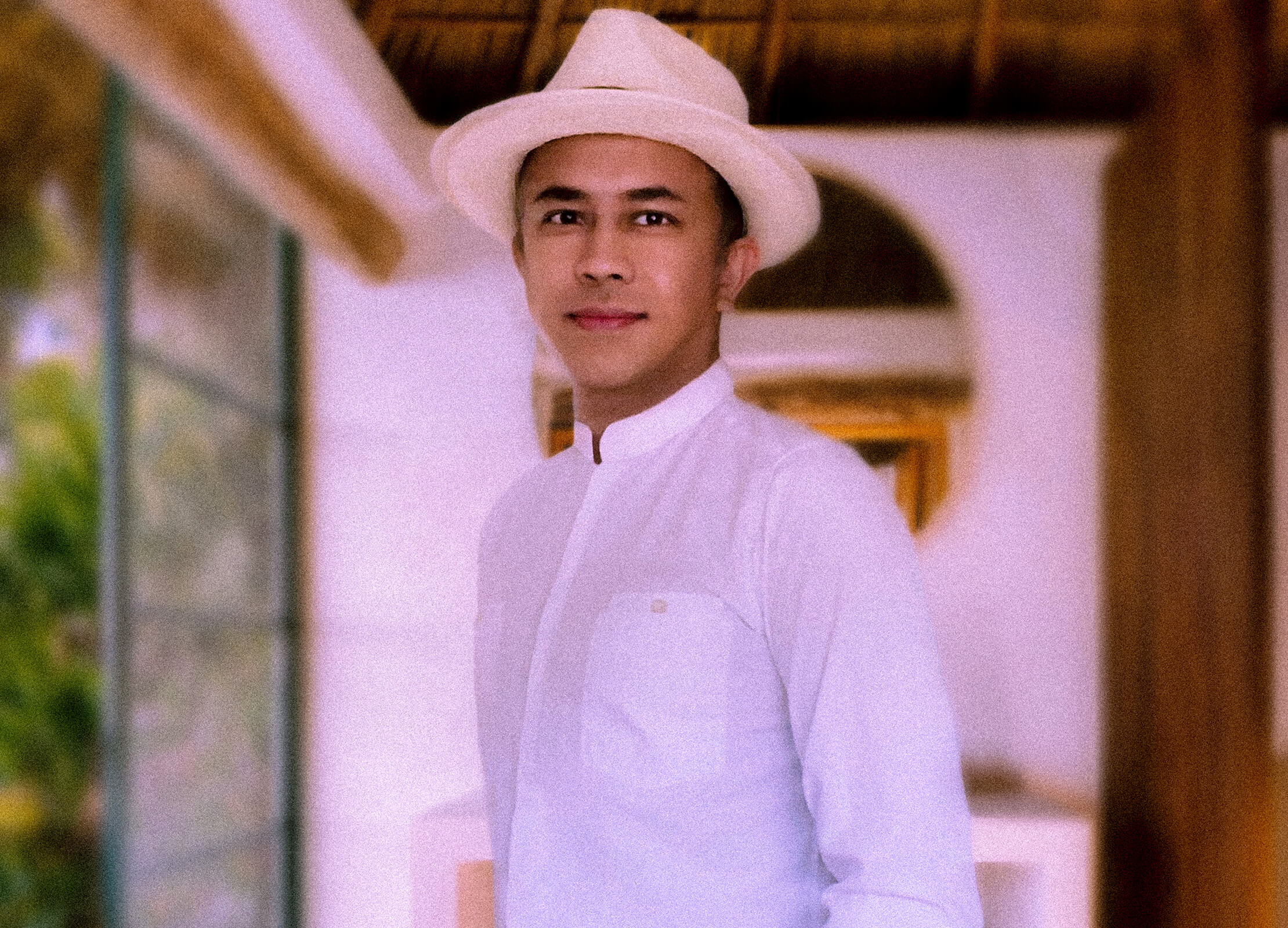 Wherever He Goes, Fashion Fans Follow
Tracing the roots and unconventional journey of Lesley Mobo, "London's best Pinoy export," the designer who dresses socialites but is hardly ever at parties, who's made a name for himself in the global fashion scene yet still prefers to work closer to home
by Patti Sunio

Lesley Mobo grew up living the simple island life, oblivious to the glamorous world of fashion. Based in the beautiful paradise that is Nabas, Aklan, the young Mobo first studied to become a doctor. "I was very good with science at school so I thought I could be a surgeon, hence taking up a pre-med course in university," he begins.
"Things changed when I discovered fashion through Gianni Versace," recalls the designer. "Versace was the first designer I took notice of because he was on the front page everywhere when I was young." It was around the time when news of Versace's passing was all over the papers.
"I saw pictures of Naomi Campbell and Kate Moss wearing his dresses—and thinking about the dresses kept me awake!" he confesses. The next morning, Mobo found himself at a National Bookstore, flipping through the pages of a fashion book, poring over the photographs that also led him to the glamorous works of Giorgio Armani, which he notes is another of his early influences. "I must say, I found Italian fashion appealing first, before I discovered British fashion," muses the now London-based designer. "I don't know what it was that attracted me to their work, but I was fascinated by their opposing perspectives on women's fashion. My interest grew from there, really. "

SMALL, COURAGEOUS STEPS INTO THE WORLD OF FASHION
Trading his biology notes for fashion glossies, Mobo finished his pre-med degree and left his Aklan hometown to pursue his dreams—first in Manila and then to London. He was fueled by his newfound passion for fashion and the fearlessness of his supportive family.
"Moving to London and studying at Central Saint Martins brought a huge change to my perspective about the world and life in general," shares Mobo, who had to work multiple jobs to help fund his schooling. "The fashion course was overwhelming. Everyone seemed to be someone and knew a lot about fashion already. The competition was very high," he says of his early struggles. He found himself in the same class as Christelle Kocher (of Koche) and Zac Posen.
Still, Mobo had his sights set on completing his studies and even went on to take up a master's degree in fashion. His first few years were quite challenging, to say the least, having to balance schoolwork and a full-time position as head designer of Harrods label Jasmine di Milo. "I felt like I couldn't focus adequately on my studies and the pressure and expectations of the tutors were so high, it became quite stressful."
But under the guidance of distinguished Saint Martins course director Louise Wilson, Mobo learned to stay strong through the breakdowns and breakthroughs. "She said that she had accepted me into the course because she thought I had a beautiful name—'a perfect name for a designer,' she said," Mobo recalls of his late mentor. "You didn't learn fashion from her like a textbook. She was more like a therapist than a professor, really. She broke students into pieces until they cried, but she would then pick them up and make them into something new. And she stood by me—and against tutors who felt I was falling behind."
In the end, Mobo's hard work persevered and he graduated with flying colors. He continued to spend the early years of his fashion career with collaborative work alongside the biggest brands all over the world, from Diesel to Uniqlo to the Philippines' Bench, to name a few. "As a designer, I became very malleable and was able to adjust to the brand's DNA and needs," he says of his experience with world-renowned labels.
His work spanned fashion capitals, having consulted and designed for brands in New York, Japan, Italy, France, and the U.K., for both the luxury and high street market. Kate Moss, Lana del Rey, Rihanna, Florence Welch, and 'Bond girl' Lea Seydoux are just some of the famous names who have worn his designs. He eventually launched his eponymous line, MOBO.
Yet no matter how far his success has taken him, Mobo always finds himself going back to his roots, drawn to the charm of his hometown and its colorful, cultural stories. "There's nothing more special than making something close to home, like designing a terno (national dress of the Philippines) or working with a local weaver in our province," he says. "For me, that is more precious."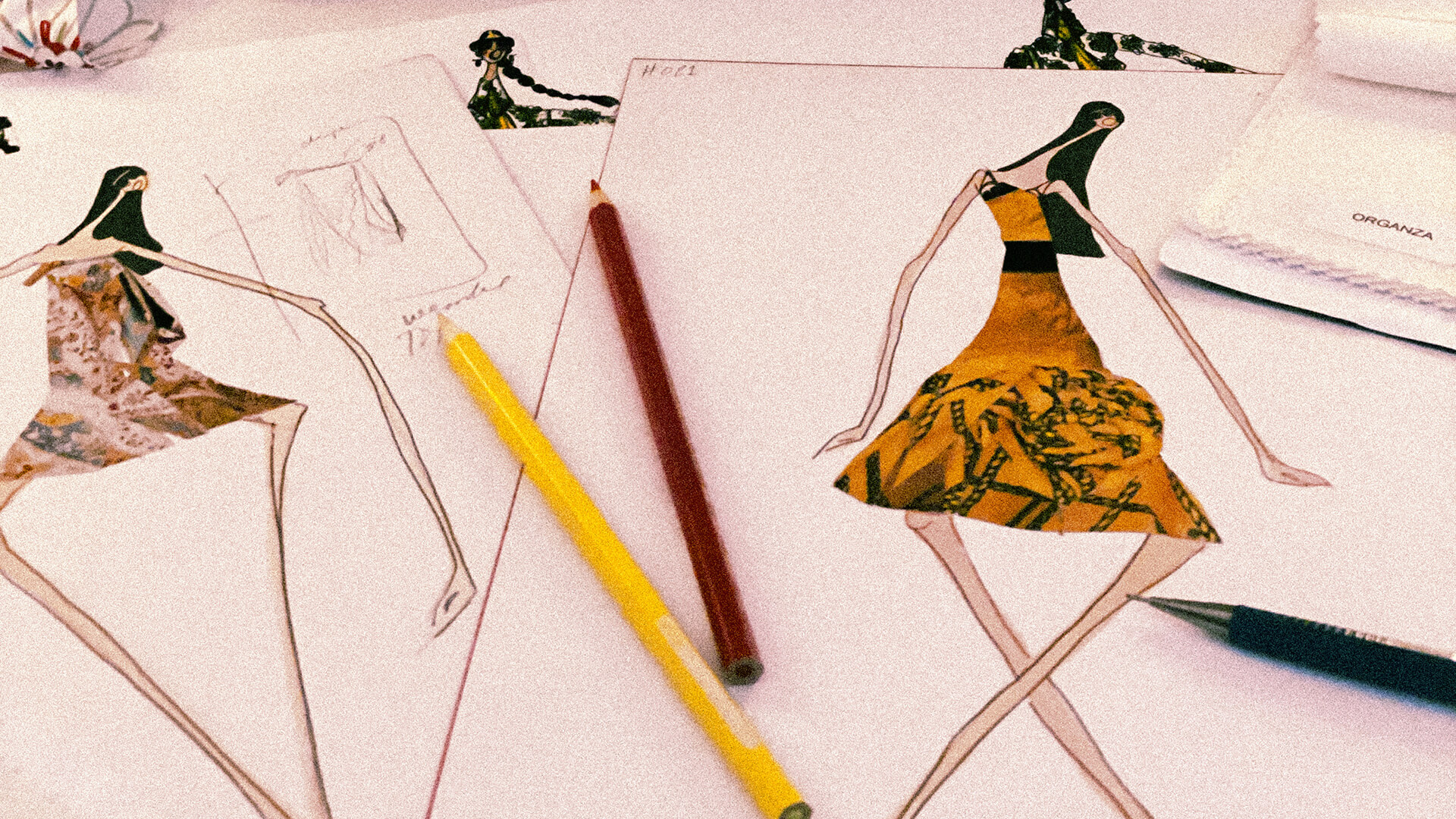 Fashion designer Lesley Mobo gives a peek into his design process, which begins with draping and toiling. "I prefer to work with the fabric first and experiment with its manipulation and observe how I can play with the grain lines before I even do any rough sketches."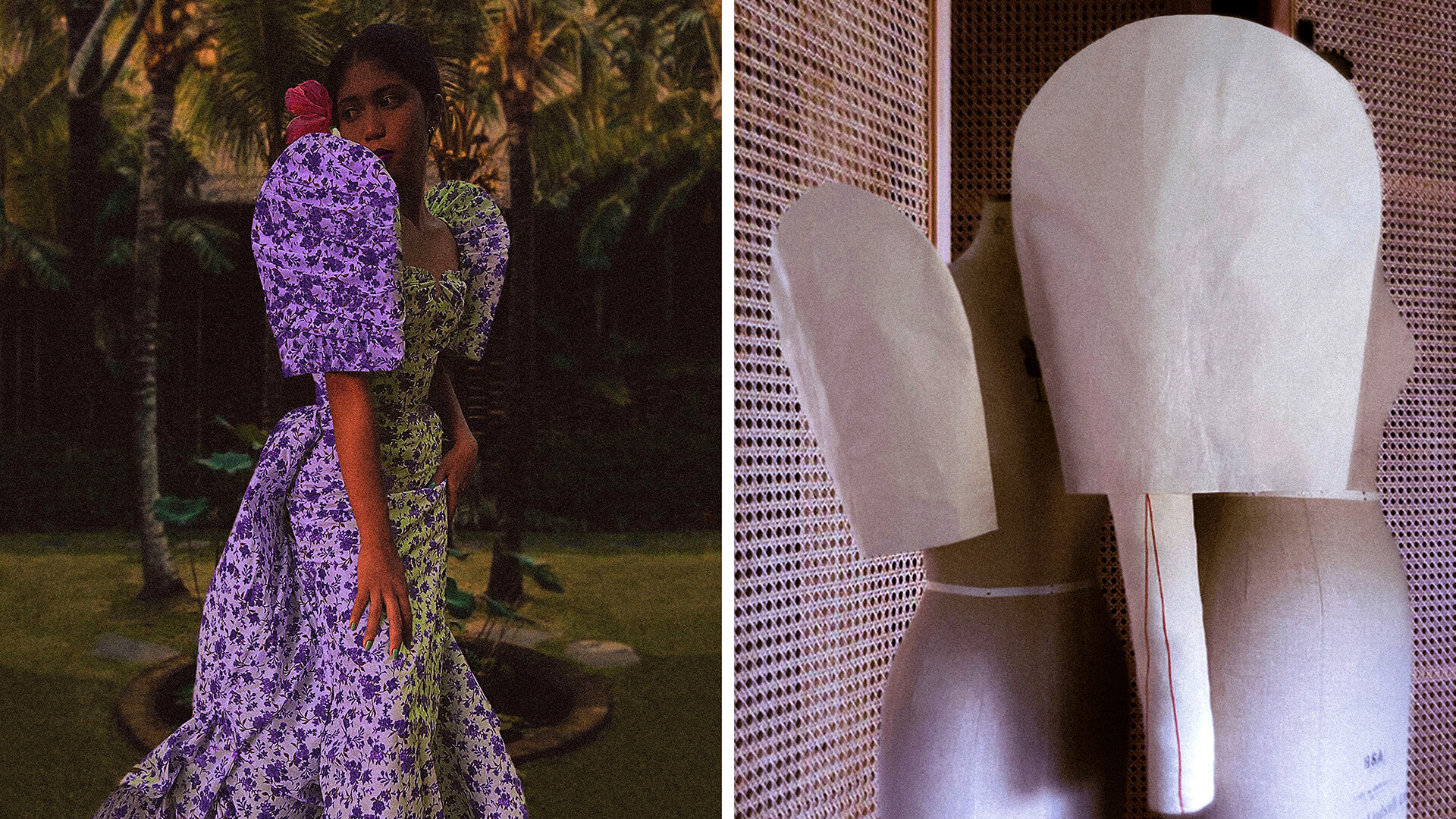 Close to home: "My personal design aesthetic is usually based on classic cuts with a bit of a twist to it," shares Mobo. "It's like Paraluman meets Annie Batungbakal via the warm waters of the Philippine Sea and the Pacific Ocean! It has a subtle Pinoy fun and humor to it."

FROM THE OUTSIDE, LOOKING IN
"I think being away from the Philippines has brought me closer to my roots and made me appreciate what we have in the islands even more," says Mobo. "Living in London helped give me the discipline and the privilege to be able to observe and dissect my own culture and heritage from an outside perspective. That really has been an integral part of who I am now as a fashion designer."
Just last year, right in the middle of the pandemic, Mobo found himself back in his hometown, stranded. Out of boredom, Mobo decided to use the time experimenting on making ternos using fabric commonly used as table cloths. With a sewing machine that he borrowed, Mobo was able to complete a terno a day. He badly missed doing creative work as well, and so decided to produce one to showcase the ternos: he asked the Aeta women from his village to wear them; he then styled them and took their photographs.
It didn't take long for his creations—vivid, bright, and magical—to make rounds online. Eventually, the 'Tropical Ternos' found their way on the packaging of a Filipino chocolate brand.
Indeed, wherever Mobo goes, the fashion fans follow. "Designing my own stuff, with my heritage and culture attached, has been like being reborn, given a second life and a new calling that comes with a wonderful feeling of joy and pride," he muses.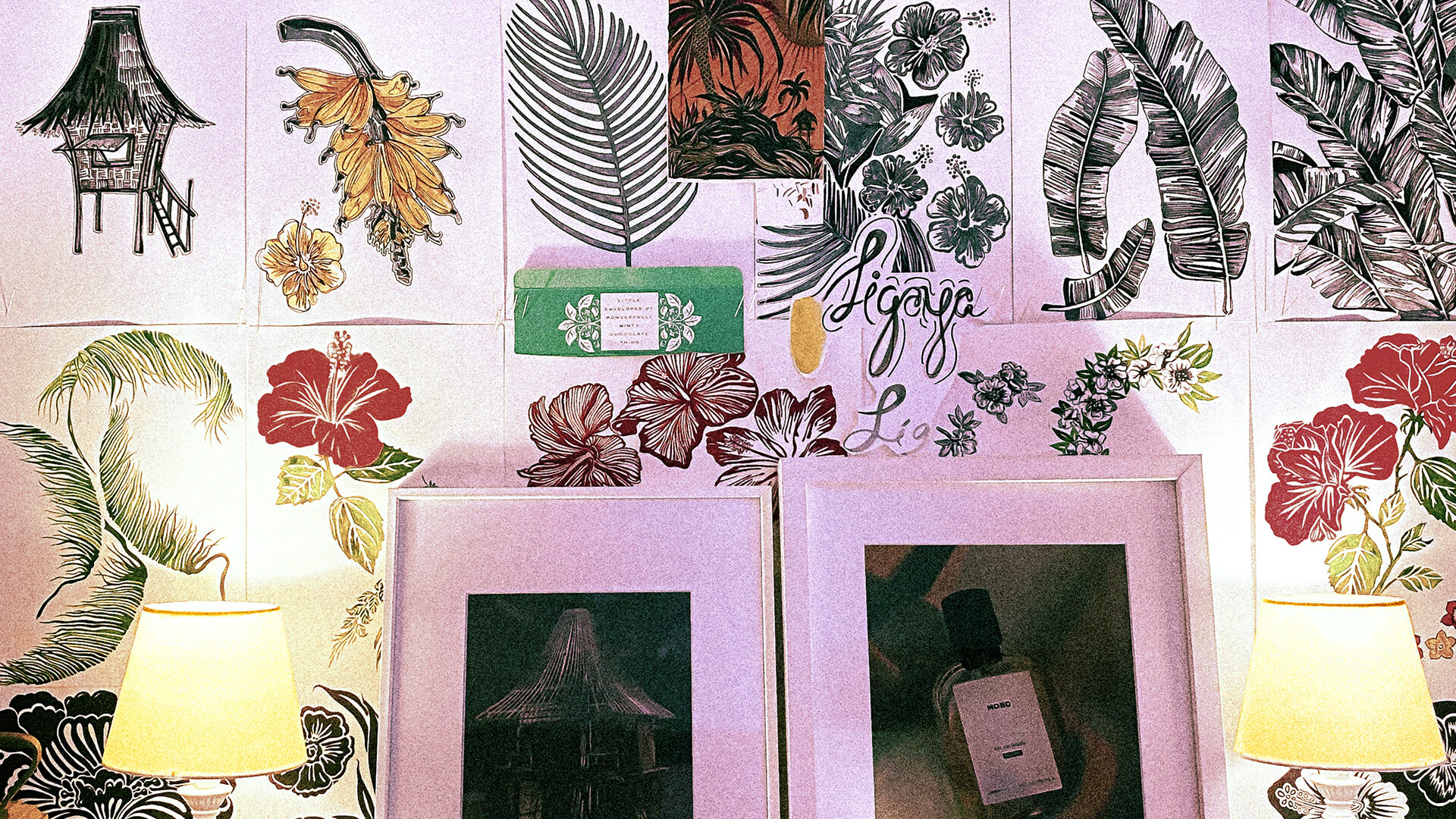 Filipino roots: Despite the places he's been to, Mobo always goes back to where he came from. His first foray into the world of fashion, after all, was an apprenticeship with Filipino design legend Inno Sotto. "That experience gave me a little bit of a proper introduction to fashion," he notes. Mobo also learned from other Filipino fashion stalwarts such as Jojie Lloren, Avel Bacudio, and Dennis Lustico of the Young Designers Guild. "They gave me a lot of insight about the local fashion industry and that gave me a bit of confidence. I am truly grateful to all of them for the opportunity and for believing in me since then," he adds

REVIVING THE FASHION DREAM
In retrospect, Mobo, who carries with him more than a decade of experience in the fashion industry, goes back to the magic of fashion. "I strongly believe that fashion exists to inspire, to make people dream," he says. The pandemic has certainly forced the industry to revisit the system that has made the creative pursuit rather "soul-less," as Mobo puts it, with the impossible deadlines and the demand to churn endless piles of clothing. "I think we've created a consumer immune to all the amounts of clothes that are waiting to be put on sale every other month. The retail landscape is just bombarded and the magic is gone in the clothes," he points out.
"Fashion is a business in the end, but we need to bring back that special point of view, the story, and the message that comes with every piece of clothing, the magic that comes with it, the clothes that inspire," he muses. Fashion's powerful pull, after all, is what struck the fire in Mobo's heart as a young boy, eventually leading him to where he's meant to be.
The good news is the landscape is slowly shifting and, in the Philippines, Mobo notes that the industry is becoming more open and inclusive, with pop-up shows that support up-and-coming labels, and government efforts such as CITEM's continuing initiatives promoting Filipino makers and embracing the local weaving industry. "Small voices and genuine stories are now being heard and given a platform to shine," he observes. "I think it's all looking very positive, promising, and sustainable now, although there is also this reality that our local fashion industry still needs more support and, if possible, funding from our government—especially the weaving and raw material producers and the manufacturing sides of the business—to complete the whole system. We have so much talent, creativity, and skills in this country."
For Mobo, Filipinos in general have always been persevering and hardworking. Despite limitations brought about by economic and political circumstances, they always manage to be creative and resourceful. "It's the same with Filipino designers and artists—we really make the best out of a bad situation. We find ways to make tragic situations bearable and somehow find reasons to stay positive, happy, and create wonderful art and designs. We need to celebrate being Filipino more—in the same way that other nations enjoy and respect their heritage in their fashion, too."

FAME+ SELECTIONS BY LESLEY MOBO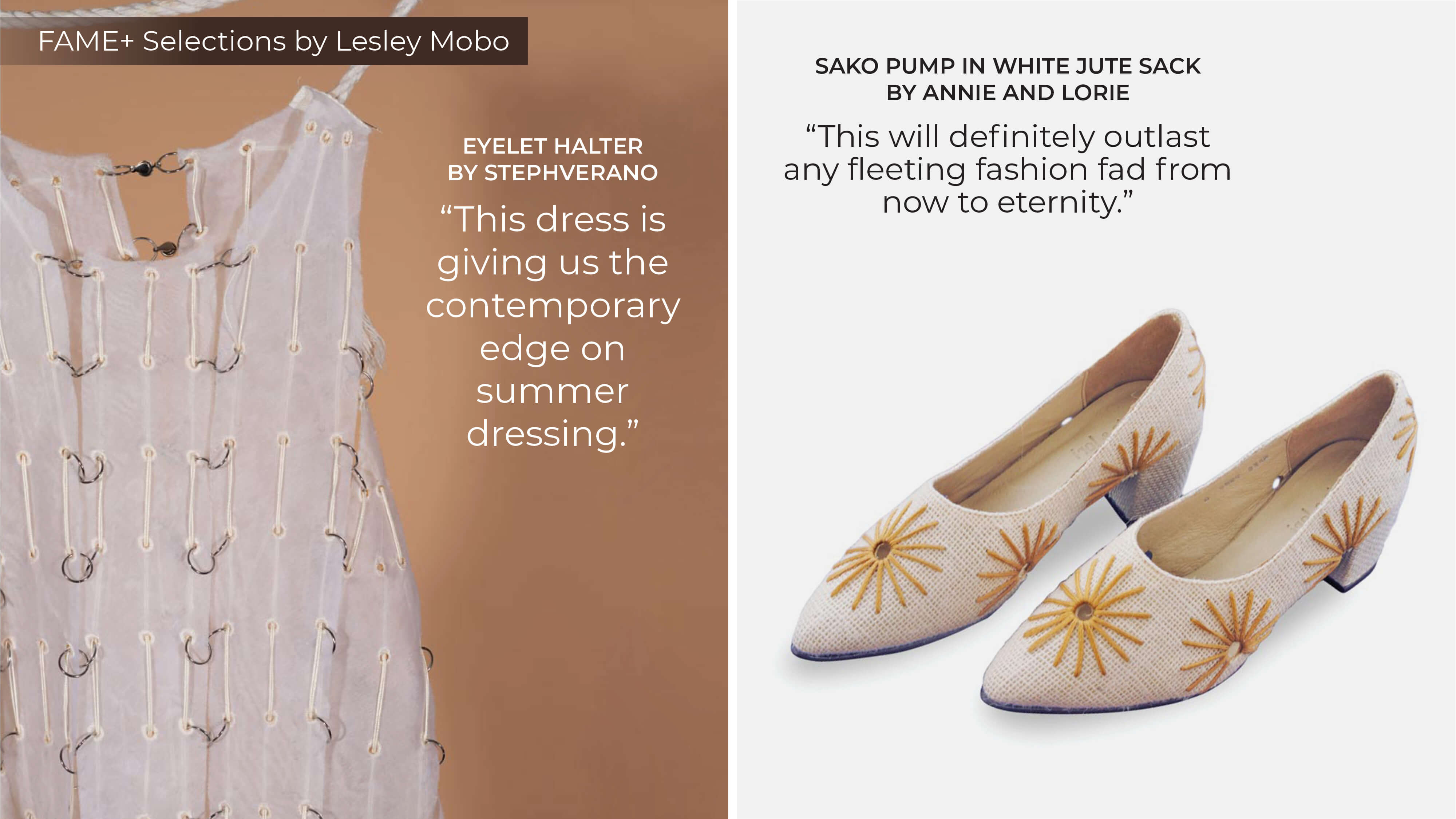 Eyelet Halter, STEPHVERANO: "I love this cozy, summery eyelet halter. It's playful and in a neutral color. I find the surface designs very interesting, using thread inserts, metal rings and raw edges. This dress is giving us the contemporary edge on summer dressing, sending a subtle but distinct noughts vibe. I also love the fact that it's silk, so it can easily be worn straight from the beach to a cocktail party or can be worn as a top with jeans and a half-up, sun-dried tousled locks for a cool-girl finish."
Sako Pump in White, ANNIE & LORI: "It's giving us the perfect mid-heel '50s tropical retro look. The sun ray-inspired embroidery detail brings out the summery and resort vibe."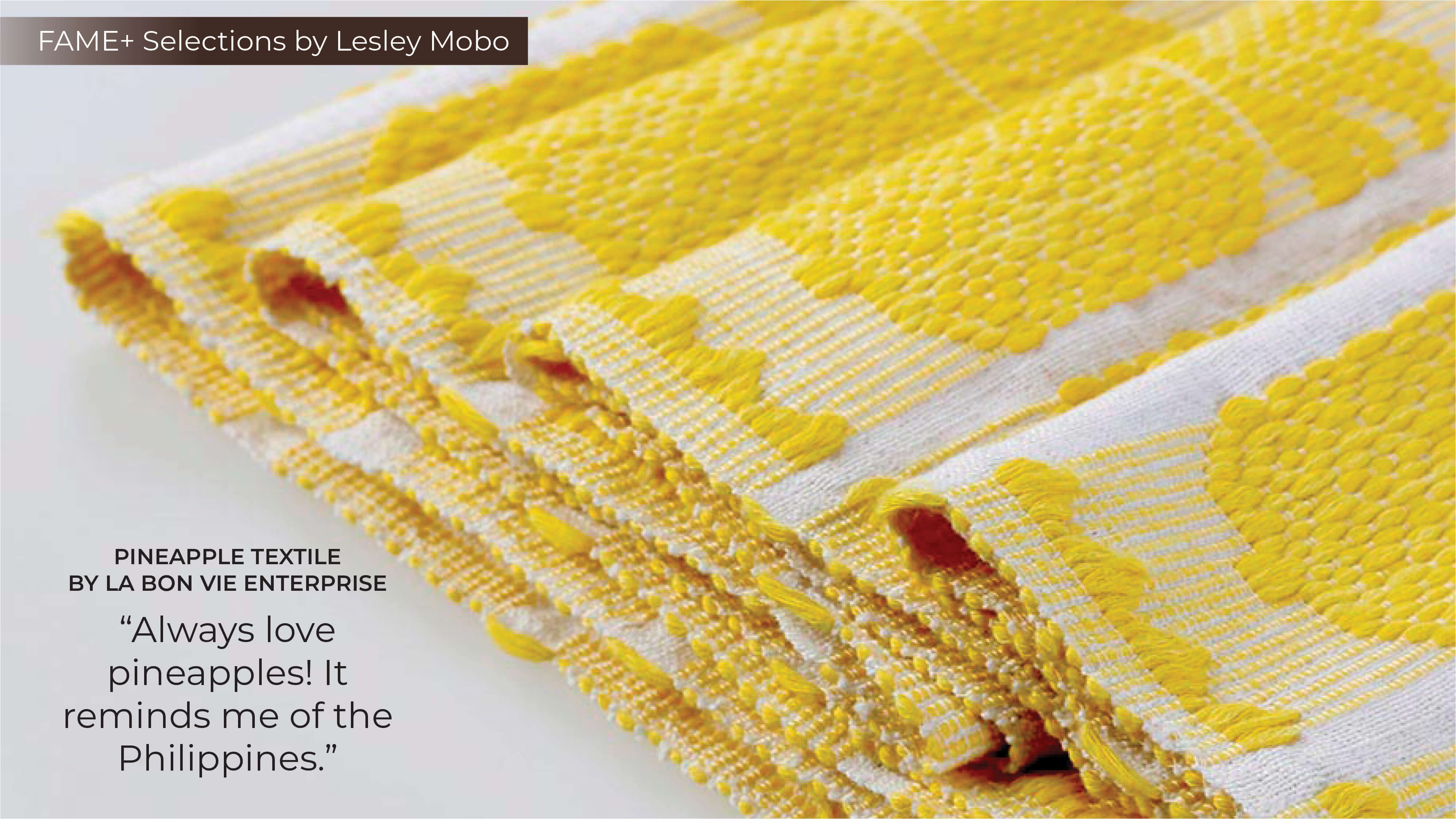 Pineapple Textile, LA BON VIE ENTERPRISE: "I always love pineapples! It makes everyone feel the exotic holidays, and it reminds me of the Philippines, piña coladas, and all things tropical, which for me, are extremely appealing. The color of this handloom woven bed runner is just amazing and you can almost feel the texture of the weave. We can easily find a place for this throw in our bedroom, living room, or TV room."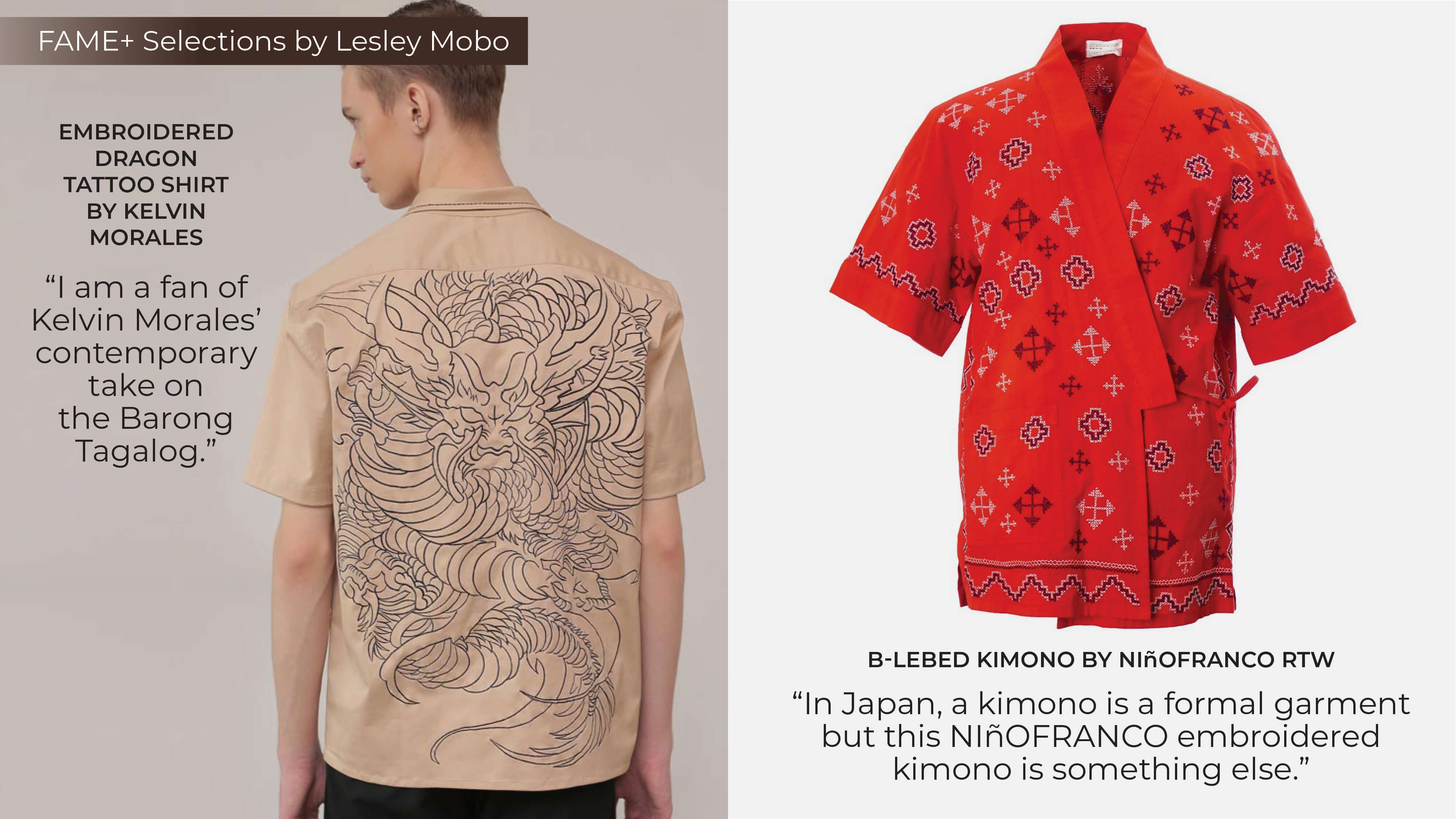 Embroidered Dragon Tattoo Shirt, KELVIN MORALES: "This relaxed fit cotton shirt with manually hand embroidered 'tattoo' details gives you that modern vintage feel. It allows you to wear it in both formal and less formal settings. It's something you can pair with jeans, as well as wear with a very formal business suit. The medium-weight fabric is brilliant because it's something you can wear year-round."
B-Lebed Kimono, NIñOFRANCO: "The latest fashion trend isn't a seasonal color or a must-have style. NIñOFRANCO's hand-embroidered clothing by T'boli weavers is a perfect example of quality 'slow fashion.' I also love the simpler, shorter cut and the contemporary aesthetic of the embroideries of this piece. Its loose fit is just fantastic for summer! This brand is diligently trying to help make a difference in the Lake Sebu community. Finding small independent brands that are addressing cultural and social concerns is very rare in this industry, hence we should support them more."

Photos courtesy of Lesley Mobo