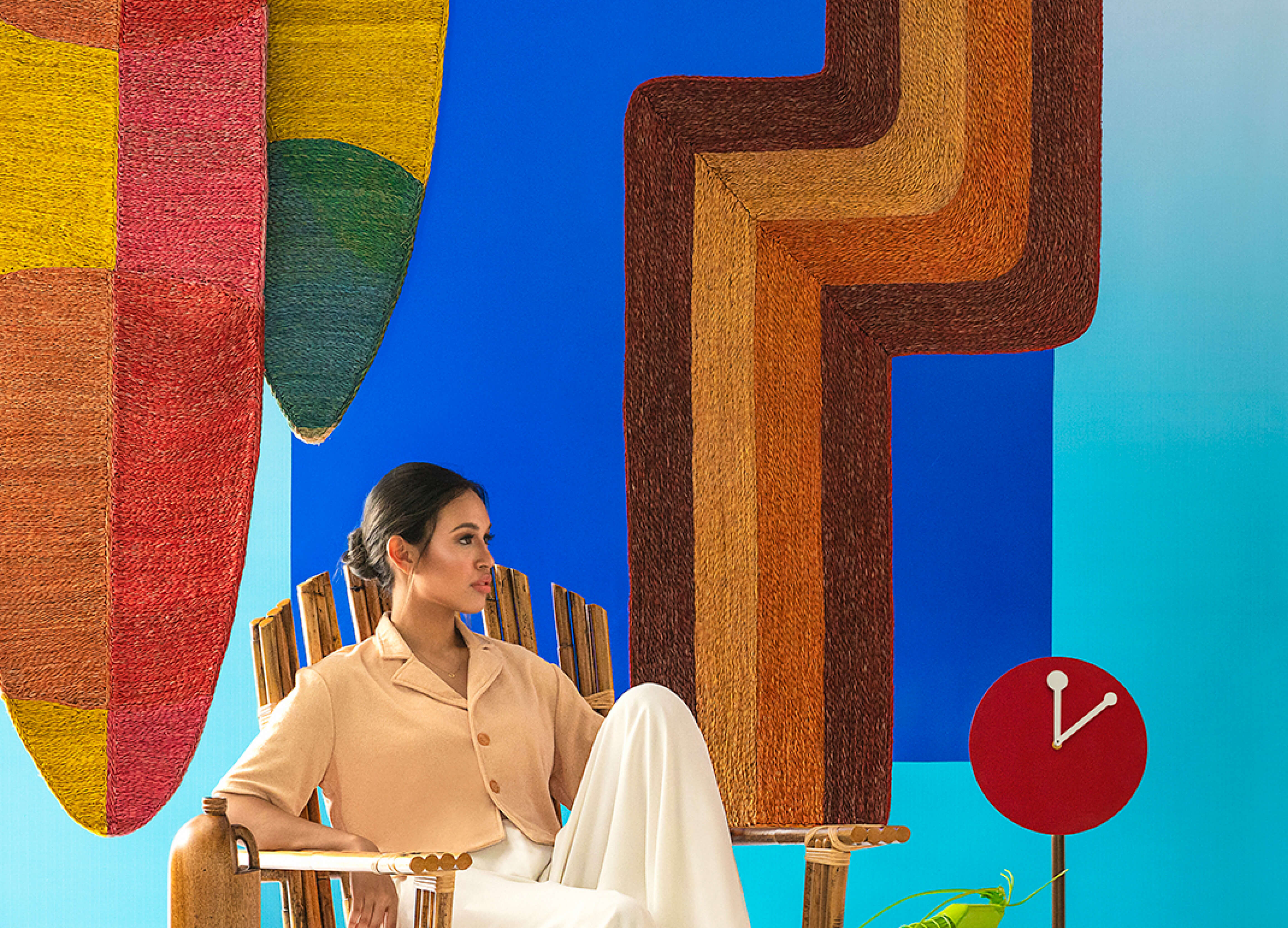 ZZ Runner at Best of MOM Exhibit in Paris
Weavemanila's fun-shaped ZZ Runner is the refreshing piece we need to bring joy and energy into our homes
by Arthel Tagnipez

In the past couple of years, we've seeked solace in the comforts of our home more than usual. The shift to bubble living has led us to look into our homes and redecorate and repurpose spaces. Most of all, we've sought undiscovered corners of joy to turn into personal sanctuaries with fanciful statement pieces to decorate and enliven our spaces with.
An example of such is the ZZ Runner, a refreshing and fine take on a standard decorative piece. Crafted by community-based weaving company Weavemanila and designed by product designers Rita Nazareno and Gabby Lichauco of Nazareno/Lichauco, it's an eye-catching piece to decorate a wide area of one's floor, and a conversation-starting art piece that can be hung in a common area.
Weavemanila's ZZ Runner has caught the eye of Parisians—and other design enthusiasts all over the world—and has been included in the upcoming Maison et Objet "Best of MOM (Maison et Objet and More)" fair in Paris, France.
"At the MOM Paris fair, we always set up dedicated, inspirational spaces and select—with the help of trends experts—the remarkable novelties, the colors, the shapes, or the materials which are in line with the upcoming trends," says Caroline Biros, Marketing and Communication Director of MOM.
"Designers are currently deeply inspired by ethnic crafts using traditional weavings or sustainable fabrics made from plant leaves, [such as in the ZZ Runner's abaca-make]" she points out. "These techniques, perfectly mastered by the Filipino manufacturers, are really interesting when they take a strong design bias."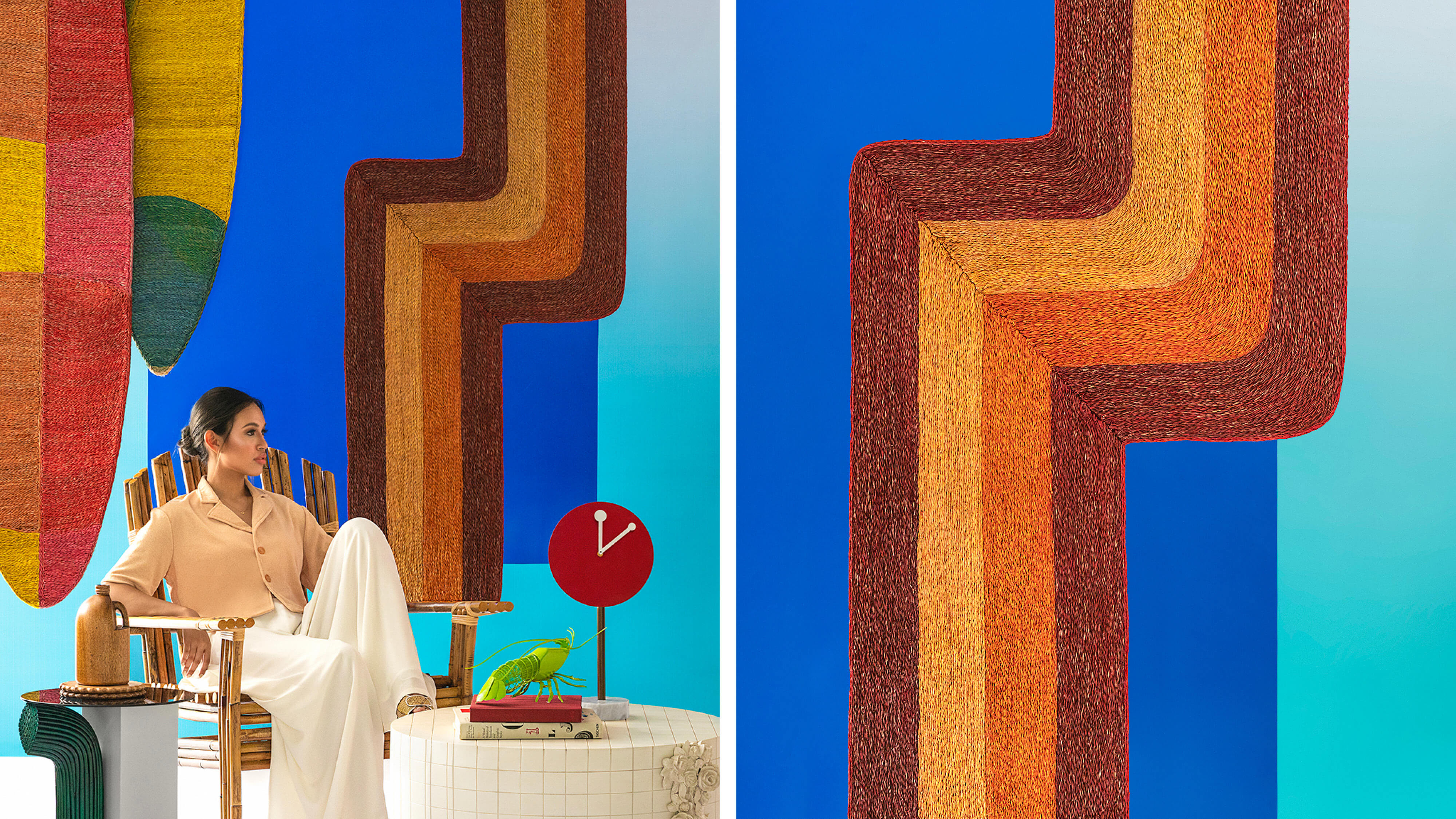 Weavemanila's ZZ Runner, designed in collaboration with Rita Nazareno and Gabby Lichauco of Nazareno/Lichauco, is made of 100% abaca. It is handwoven and hand-dyed into a zigzag runner with a rich color palette of retro hues and earth tones. The result? A curious piece in an inventive shape as it runs across a space, filling the dull areas of any room

PIÈCE DE RÉSISTANCE
"The ZZ rug is a unique piece," shares Weavemanila's Ann Hernandez. "It is both new yet has a retro feel. It is youthful yet nostalgic. It is like an oxymoron [of a product] and I think this is what made it stand out and be chosen as one of MOM's best designs to be featured this coming 2022."
Working together with Nazareno/Lichauco, Hernandez and her team took the "play" in playful design seriously. Introducing unusual shapes and vibrant colors into their latest collection, Weavemanila was encouraged to explore outside what they were used to.
"We had fun working with colors and this take also depicts a fresh start and [represents the "burst of life" emotion we wanted to evoke]," says Hernandez. "Last year, at the height of the pandemic, we worked on a more white, gray, and black color palette with Rita and Gabby. This year, it was a refreshing start. We interpret it as "even if your path ain't straight, you just have to learn to zig and zag and keep moving," she adds.
Hernandez and team have enjoyed the complementing ideas resulting from their collaborations with Nazareno/Lichauco. "Their ideas allow us to [think out of the box] but stay true to the nature of the techniques and materials we use," points out Hernandez. "Their design direction allows us freedom to breathe life into their vision and that is what makes working with them so in sync."
She adds how, this time around, they had to pay more attention to the "technicality in the design" as they had to work on new renditions far from their usual—non-standard linear patterns and a rich color palette. "Everything we make is hand-dyed and handwoven, so we had to be patient with the process."
The end result, of course, is well worth it. Weavemanila happily received the notice that their ZZ Runner had been chosen among the 100 to be exhibited in Paris. "I think it's because of the uniqueness of the piece of Rita and Gabby's design, and how we've executed the idea in a unique way, and using sustainable material."
"I feel that a good product should be able to tick as many boxes as possible," Hernandez muses. "Design, environmental sustainability, and a company that is people-centric. We are proud to say that our company supports [and works hand in hand] with weavers and communities in order to make products such as the ZZ Runner."
Maison & Objet and More (MOM) is the premier international trade fair for decoration, design, and lifestyle happening at the Parc des Expositions of Paris-Nord Villepinte. Originally set for January 2022, it has been moved to March 24 to 28 this year due to the recent surge in coronavirus infections.
Video credits
Art Director Kit Singson
Video Editor Karlo Roño
Photos courtesy of brands