The Banig, Reimagined in Design
This traditional Filipino woven mat gets a modern revamp in accessories and décor
When you use the humble banig—the flat mat woven from thin strips of palm or tikog (Fimbristylis Utilis)—you see the culture of Filipino life for hundreds of years.
This Philippine mat dates back to pre-colonial times, according to noted historian and scholar Elmer Nocheseda, who is the author of the book "RARA: The Art and Tradition of Mat Weaving in the Philippines." In his text from "Philippine Banig Encounters – Magellan's Voyage Fifth Centenary," created for the Banig: A Living Tradition of Mat Weaving for Over 500 Years exhibit in Portugal, Nocheseda writes that the mat is omnipresent in Filipino life, from sleeping to feasting, to dancing and celebrations, which are all done on the mat.
Nocheseda also writes that the "parapahut" or traditional mat embroiderer or weaver divides the mat space, and with varying frequency, intervals, and overlapping, creates the iconic square grid that makes up the entire mat. It is this specific grid and its variations that inspire modern-day designers to envision their own current reinterpretations of the banig.

The industrial non-colors of silver and gray signal a modern departure from colorful banig. (Left to right): Sara Wristlet Bag from Lara; Lalapatos Gray/Silver by Maco Custodio; Medium Woven Recycled Square Tote from Kilus Foundation.
The banig, reinterpreted
Fashion brand Lara, for example, revisits the tradition of weaving in their Heritage Collection, which features two types of weaving: the banig weave created by the cave weavers of Basey in Samar, and the textile weaving of the Kalinga in the North. The banig weaves are reinterpreted into wristlets, totes, and bucket bags in contemporary forms, accented with the Northern woven textiles.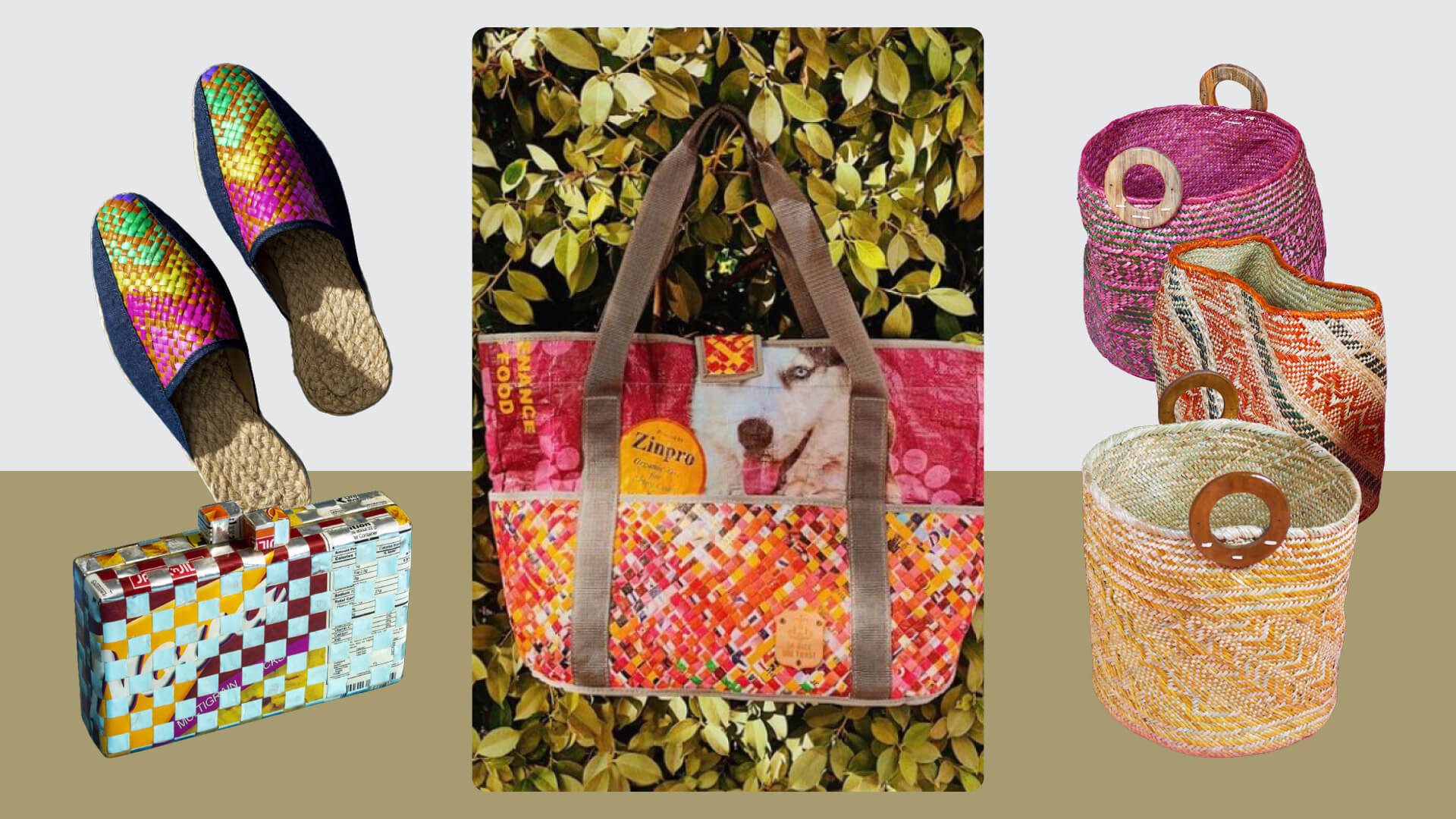 The vibrant hues hark back to the banig's roots of multi-colored dyed palm. (Left to right): Kalatch Minaudiere by Maco Custodio; Banig and Denim Slip-ons (multicolored) from Aishe Fashion; XL Banig Tote from HoliCOW; Putal (rice baskets) by the Tagolwanen Malayabalay, Bukidnon mat weavers, in collaboration with industrial designer Stanley Ruiz.
Woven upcycling
Another "updated" banig application is using upcycled or recycled materials in lieu of the traditional palm leaves. Designer Maco Custodio creates sustainable shoes by collaborating with HABI, a community in Baseco. Instead of natural palm, strips of disposed foil packaging are reused and processed. These are then woven with leather strips in Pililia to create the unique pattern of Custodio's award-winning Lalapatos collection.
The Cebu-based HoliCOW, a sustainable brand, also upcycles waste foil packaging into traditional banig or picnic mats, and also uses these as panels combined with recycled tarp in their tote bags. The same goes for E. Murio, which in their collaboration with HaloHalo Store, uses the brand's recycled plastic banig to use as seating material or accents for their chairs and tray tables.

These natural and neutral-colored weaves look fresh in contemporary forms. (Left to right): Banig Slip-ons (natural) from Aishe Fashion; Tray and Kalachuchi Chair by E. Murio in collaboration with HaloHalo Store (presented through Kindred Design Collective); Community Masks in Buri by Mimi + Lipi.
The natural touch
And of course, leaving the palm leaf strips in its natural, plain state highlights the material used, but designers still break from tradition by creating new forms and applications with the weave. One relevant example is the Mimi + Lipi Community Mask. Woven from Buri (corypha) and lined with microfiber and neoprene, with a pocket for filter, this face mask is sustainable, as well as reusable. It also helps sustain a livelihood, as it is woven by women in Quezon province.