The Ever-Inquisitive Fashion of Kelvin Morales
The experimental designer finds a vehicle in fashion to convey his most complex ideas, drawing from his wellspring of art references and fond memories, crafting clothes that shock, awe, and inspire

by Patti Sunio
There's no telling what experimental fashion designer Kelvin Morales will make next. But one thing's for sure: one can expect it to be out-of-this-world, an odd and curious creation that's brave and beautiful, and one of its kind. Morales draws from a repertoire of memories and objects that inspire him—moments that only he can make sense of—and translates this into his clothes.
For the young designer, he knew he was meant to take the creative path early on. "My grandfather is an architect, and every Sunday, my brother and I used to always visit their house and appreciate his works," he shares. Morales refers back to the happy childhood memories of him and his brother, freely exploring other worlds and letting their minds run wild, drawing and sketching.
In his formative years, Morales would find himself heroes in the likes of Lady Gaga, who was at the peak of her career in the early 2010s, and musician and artist Tommy Cash—two individuals who embraced their eccentricities, paid no heed to the non-believers, and were just unapologetically themselves. "I like getting inspiration from strong, unique, and independent people like them," says Morales. "Their personalities radiate an infectious aura that is tantalizing and contagious."
Just as music came naturally to Lady Gaga, Morales expressed himself best through fashion. He took up Fashion Design and Merchandising at the De La Salle College of Saint Benilde, where he first dreamed up the beginnings of what would be his fashion brand. From his thesis project, he debuted Kelvin Morales, stylized as K/M. "One of our main goals is to go global, the reason why our trade name logo is like a kilometer symbol. We want to move and introduce our brand to other cultures and consumers."
After graduation, Morales became the darling of local fashionphiles, his works gracing every other fashion spread. He was invited to showcase his first-ever show at the Panasonic Manila Fashion Festival in 2018, where he unveiled a powerful collection that was indicative of his standout style. Called "Dance in the Dark," his debut was proof that as avante-garde as his designs were, Morales is an artist with a strong command of his unique vision. While experimental, he's able to temper his creative impulses. It's evident in his mishmash of color choices, fabric material and manipulation, techniques such as embroidery, and preference for unusual silhouettes and forms. His take is always unexpected, but it works.
Since then, Morales' succeeding shows would only further cement his confidence in thinking outside the parameters of the usual and executing his vision in pitch perfection. Fashion is his playground and he knows how to "play" by the rules, so to speak. "Kelvin Morales in essence is a contemporary art and experimental brand that does not conform to the idealized standards of beauty," he says. "I believe in breaking barriers and norms to capture and captivate my target audience. How I design, my references, and my goal all sum up to make my brand different from the rest and worthy of attention."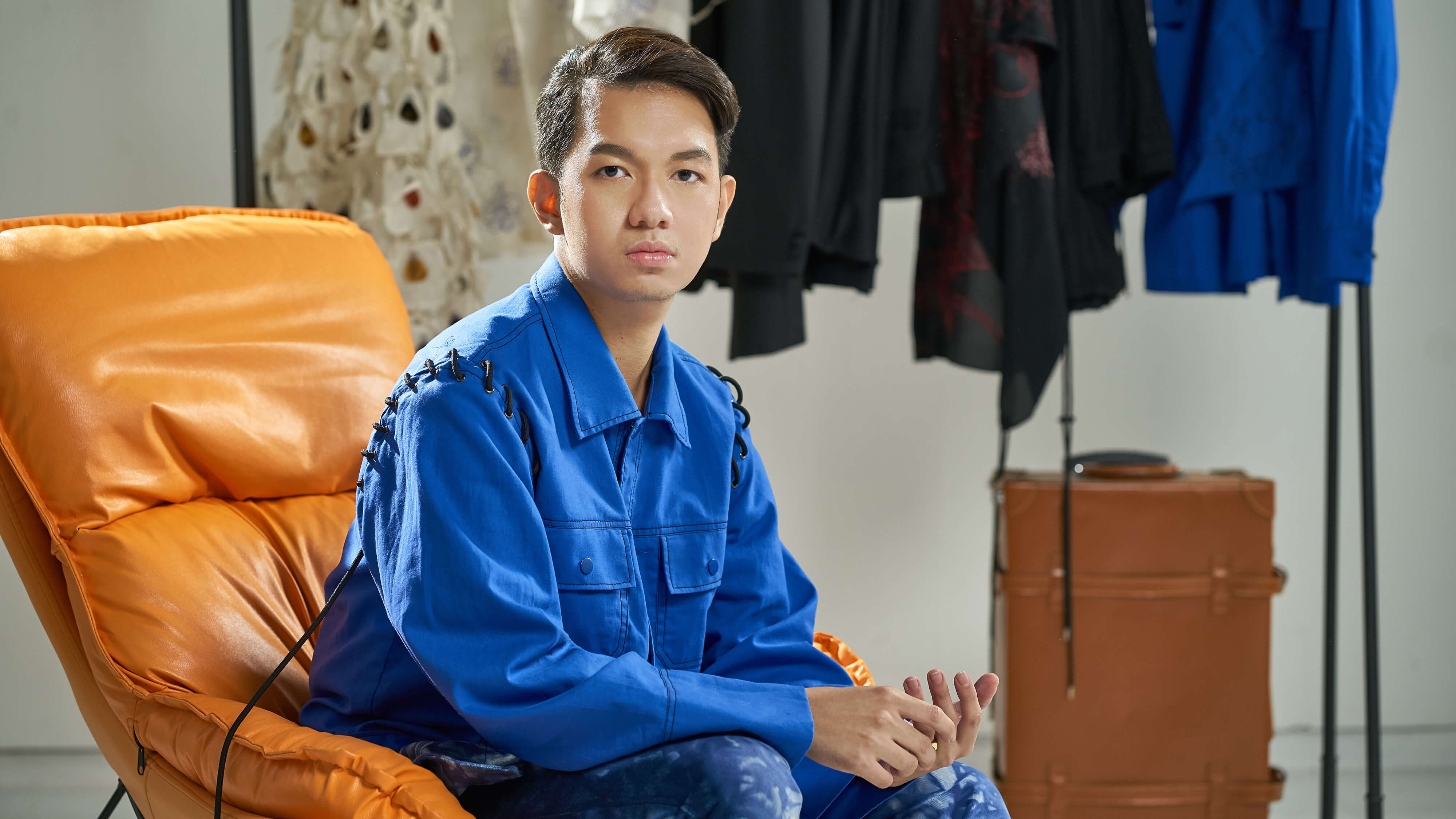 "People who are drawn to my clothes are those who appreciate art and the fine balance between minimalism and extravagance," says Kelvin Morales, who's set to showcase a full collection for PHx Tokyo this July

ENDLESS INSPIRATION
"Sketching a lot, reading multiple art books, and tons of practice helped me in my work as a designer," shares Morales. "I also often find myself getting inspiration from contemporary art pieces. My sources of inspiration come from various aspects of life that revolve around dark and atypical stories, and I use them to translate my visions and curiosities into thought-provoking and exciting clothing."
His talent lies in making sense of the many things that pique his curiosity, exploring and experimenting along the way. Morales can conjure up ideas while doing the most mundane things, and often finds himself itching to create or make something. "I go to a coffee shop to listen to music," he says of his process. "Sometimes, just seeing people around and about is enough to refresh my mind and get inspiration."
His creative process begins with a lot of research. "I make multiple storyboards for the mood, fabrics, silhouettes, and color of a collection, but I also make one defining mood board that showcases the roots of the whole collection. It helps me visualise a cohesive collection and get on track, because making a collection is very overwhelming, to say the least, and stressful," he adds.
Fashion is what puts his thoughts in order. It lets him cut through the chaos of ideas in his head, allowing him to build a strong and steady narrative that would come to life in his clothes. "When you look at my past collections, they always tell a story. There is always a narrative involved. For me, it's an effective way to translate the energy I want to give off to my works and make them easily understandable and digestible."
And once that's decided, Morales works with his small team, an embroiderer and a tailor, to complete the collection. "Once that's done, I always make sure to have a strong group of creatives to work with for my lookbook," he explains. "I usually collaborate with young photographers, up-and-coming makeup artists, and stylists to get fresh new perspectives and energy from them."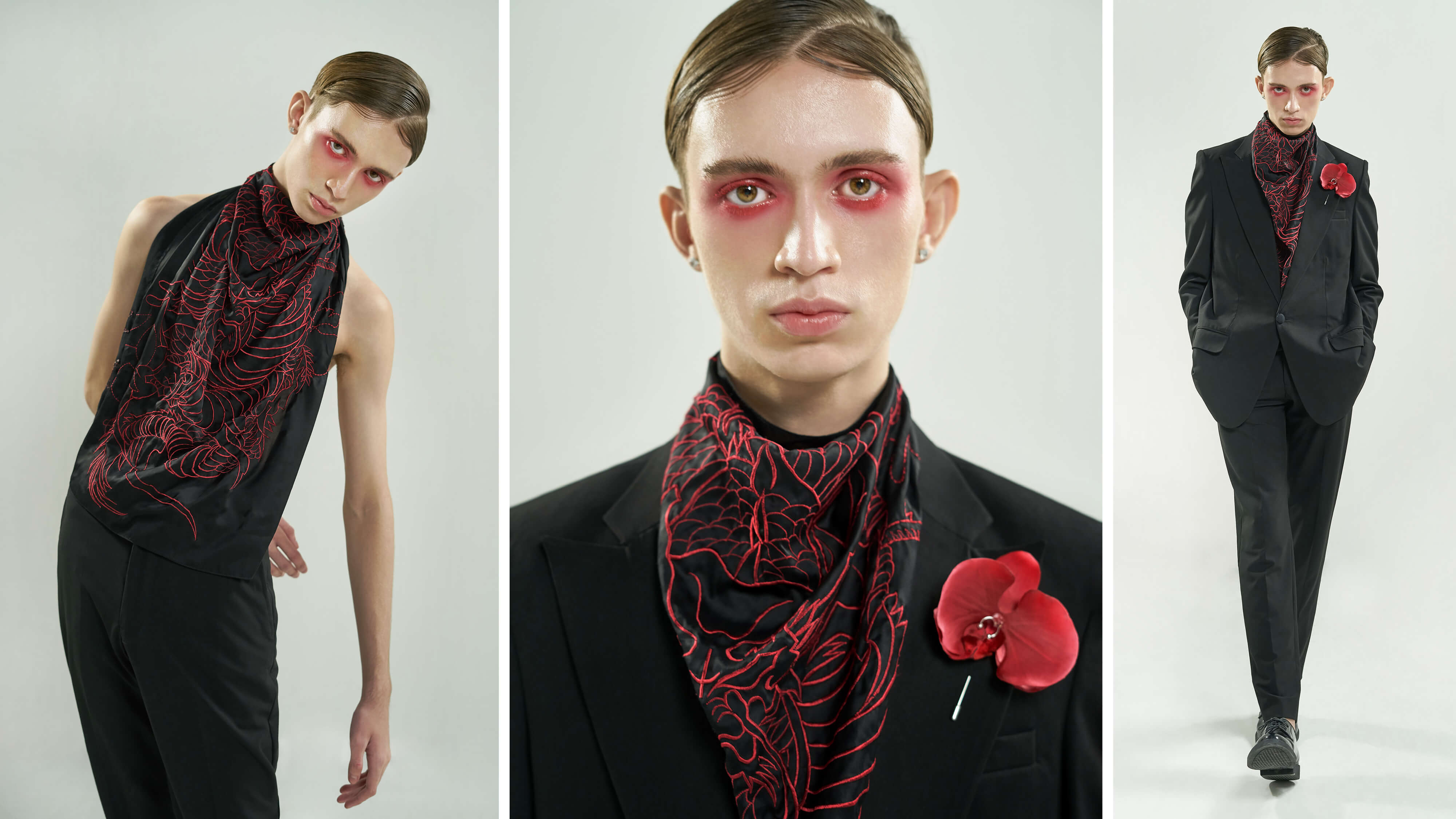 A classic tailored single-breasted suit, where Morales contrasts the structured silhouette with a soft delicate silk scarf. Inspired by a skin carved tattoo, the dragon scarf was manually hand-guided and took 2-3 days to finish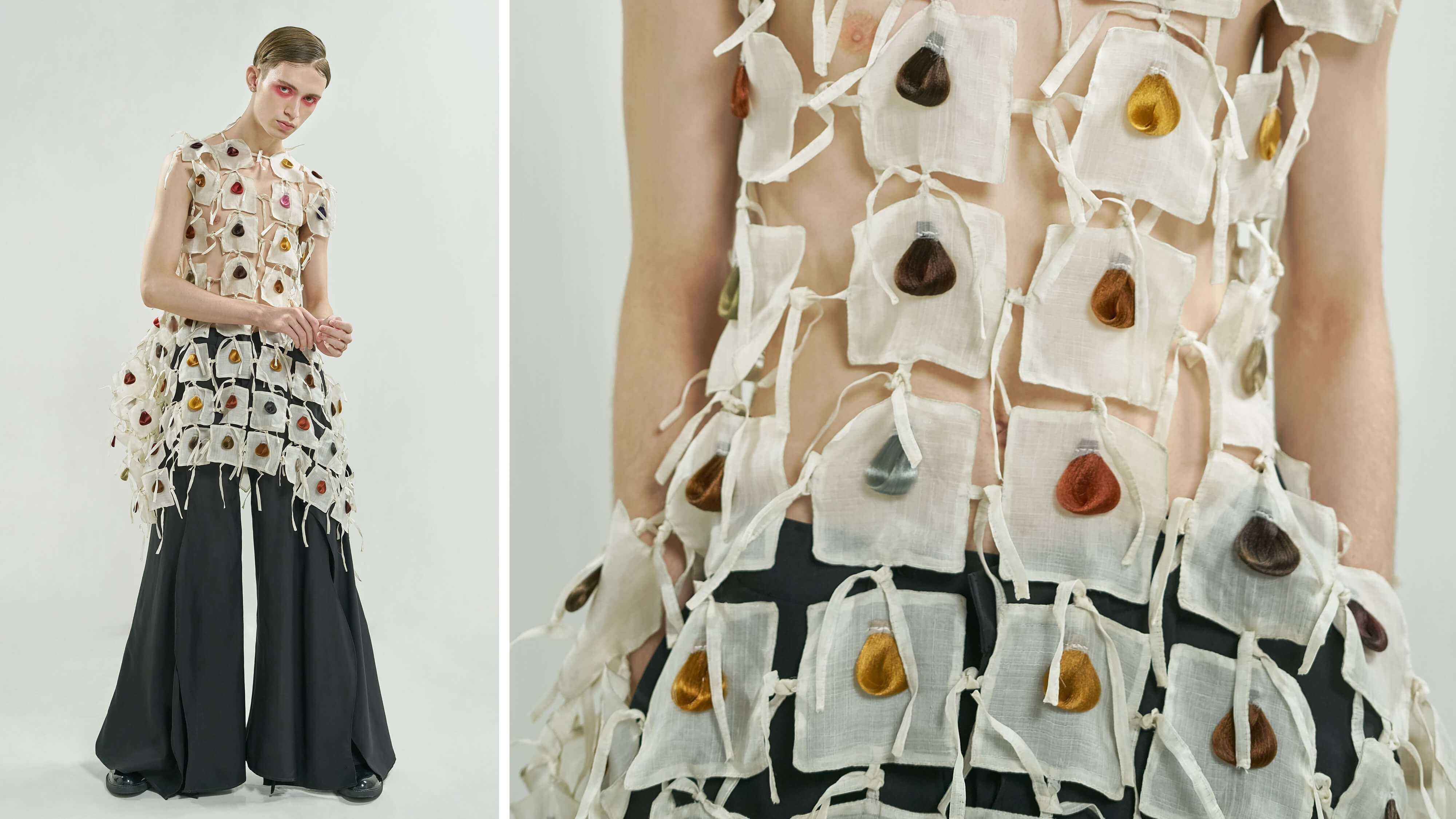 Morales' iconic hair swatches piece, a versatile, genderless garment that can be worn multiple ways. "Inspired by hair DNA samples, this piece is made of cocoon silk, wherein I added salon hair swatches to develop my own textile. Each hair sample is hand-stitched."

BREAKING BARRIERS
"Open your eyes to different perspectives and vision, don't put limitations on your creativity, find beauty in the dark side or unusual things," says Morales of the message he wants his clothes to convey. His strong aesthetic, in fact, has led him to be chosen as one of the eight participants in PHx Tokyo, a design incubation program by CITEM, which culminates in a showcase of a collection for buyers and industry insiders in Tokyo this July.
"I'm really glad to be part of this project and given this opportunity. I have learned a lot from our mentors, such as thinking more diligently about the business side of fashion, rather than just focusing on the creative side," he says of the PHx Tokyo mentors, consultants Tetta Ortiz-Matera and H3O Fashion Bureau's Jason Lee Coates and Hirohito Suzuki.
"The Japanese focus on the materials, quality, and story behind the collection, which is also my mission with my own brand: to provide good quality, balance, and always tell a story," Morales says of what he's learned about the Japanese market and how he reconciles this with his vision.
Creating a collection, and while in a pandemic at that, Morales is one to think two steps ahead. Fully aware of his experimental nature, he's learned where to draw the line, be it with the limitations brought about by the time and deadline or the challenges that come with sourcing and supply, given the lockdown restrictions, to name a few. It's no joke working through a pandemic. "I just consciously try to avoid negative energy and, instead, try to find solutions to possible problems," he says of the experience so far.
Morales' collection for PHx Tokyo is about future dystopia. "At present, I have studied and observed how people are getting genetically deformed because of toxic chemical exposure," he explains. "I took inspiration from that concept and translated it through pieces with futuristic tailoring and a semi-rugged appeal. This questions our actions as causes of this current pandemic and other calamities we are experiencing. I want to ultimately bring to light and consciousness the toxic waste and pollution brought about by our careless mindset."

"In terms of materials, I'm really excited that we are getting more high-quality fabrics sourced from Japan. That was something I was really happy about," Morales reveals. One of his pieces is a dress shirt with an attached layered vest made of 100% cotton fabric from Japan and embroidered with plastic bottles. Morales wanted to replicate the image of crushed plastic bottles onto the fabric to bring awareness to our wastage. "I'm planning to offer new designs of panels for this look, so that it can be replaced and people won't need to always have to buy new garments."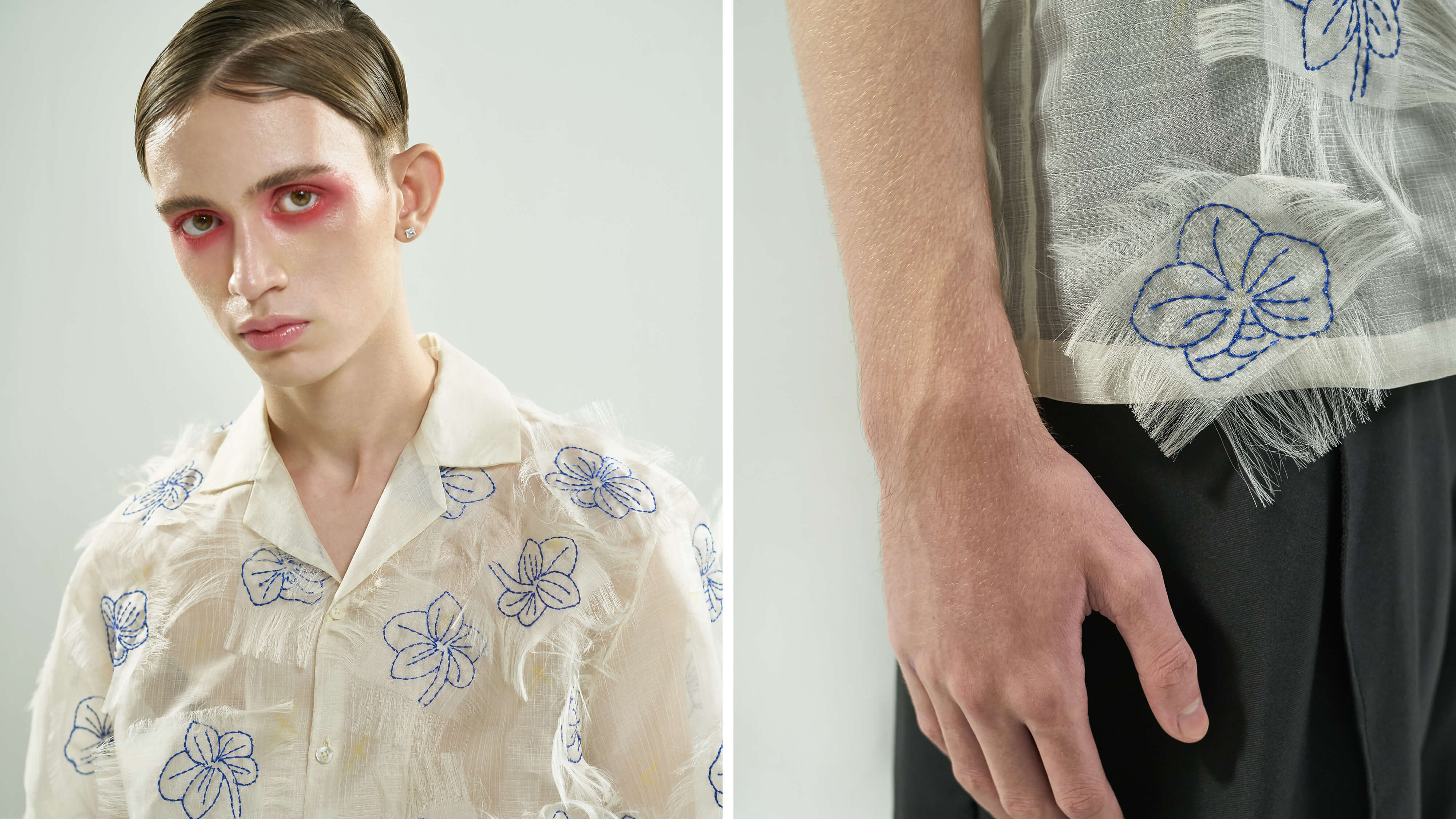 A classic versatile silhouette barong, made in cocoon silk with manually hand-guided broken line Phalaenopsis embroidery. 70% of this piece is handmade from embroidery to a raw-edged design. "I was inspired by the movements and the fragility of the Phalaenopsis, which needs special care and attention; otherwise, it will die."

About PHx Tokyo
PHx Tokyo is CITEM's showroom incubation program. Eight homegrown fashion labels undergo group and one-on-one mentorship sessions with Japan-based showroom H3O Fashion Bureau and fashion consultant Tetta Ortiz-Matera to help them successfully launch their brands in the Japanese market. The culminating activity is a three-day showroom presentation (July 7-9, 2021) in central Tokyo's fashion district. Each brand will showcase its collection for both buyers and the general public.

Art Direction: Kit Singson
Photography and Videography: Ian Francsico
Hair and Makeup: Jemore Pellejera assisted by Jusua Erasquin
Model: Kirk Guillang
Gaffer: Edward Logarta
Sittings Editor: Patti Sunio
Coordination: Sheryl Abrera
Special thanks to Christopher Mamaid