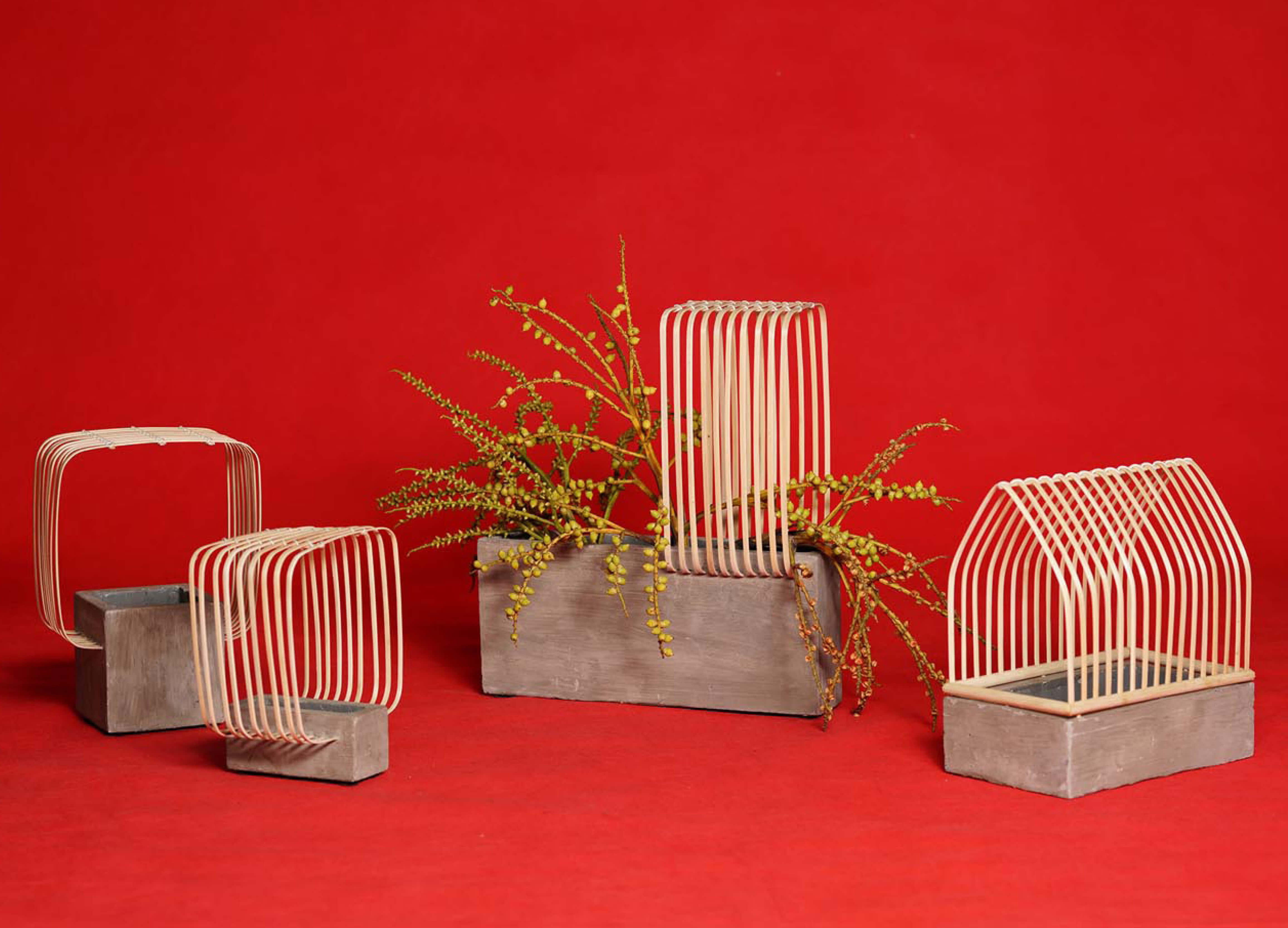 Exploring the Charms and Challenges of Bamboo
Home and furniture brands share how and why bamboo remains instrumental to their creative ventures—and a staple in Filipino homes and beyond
by Joy Celine Asto

With the variety of natural resources available in the Philippines, our furniture artisans never find themselves short of raw materials to tinker with. Among the popular choice of material in furniture- and home decor-making is bamboo, which has been long prized for its simplicity, durability, and versatility.
It's interesting how every generation of homegrown brands have their own take on using these qualities to transform the material into innovative pieces. On the FAME+ catalogue alone, Marketex Handmade, LIJA by That One Piece, E. Murio, The Bamboo Company, and Native Crafts and Arts are just a few of the many brands that have tried their hand—and are experts at—using bamboo in home accessories and furniture decor.
Marketex Handmade and LIJA by That One Piece, two Bulacan-based companies that use bamboo, share the charms and challenges that come with using the wonder material. Despite having different experiences in using bamboo, both brands see it as an important resource through which they can showcase Filipino creativity and ingenuity.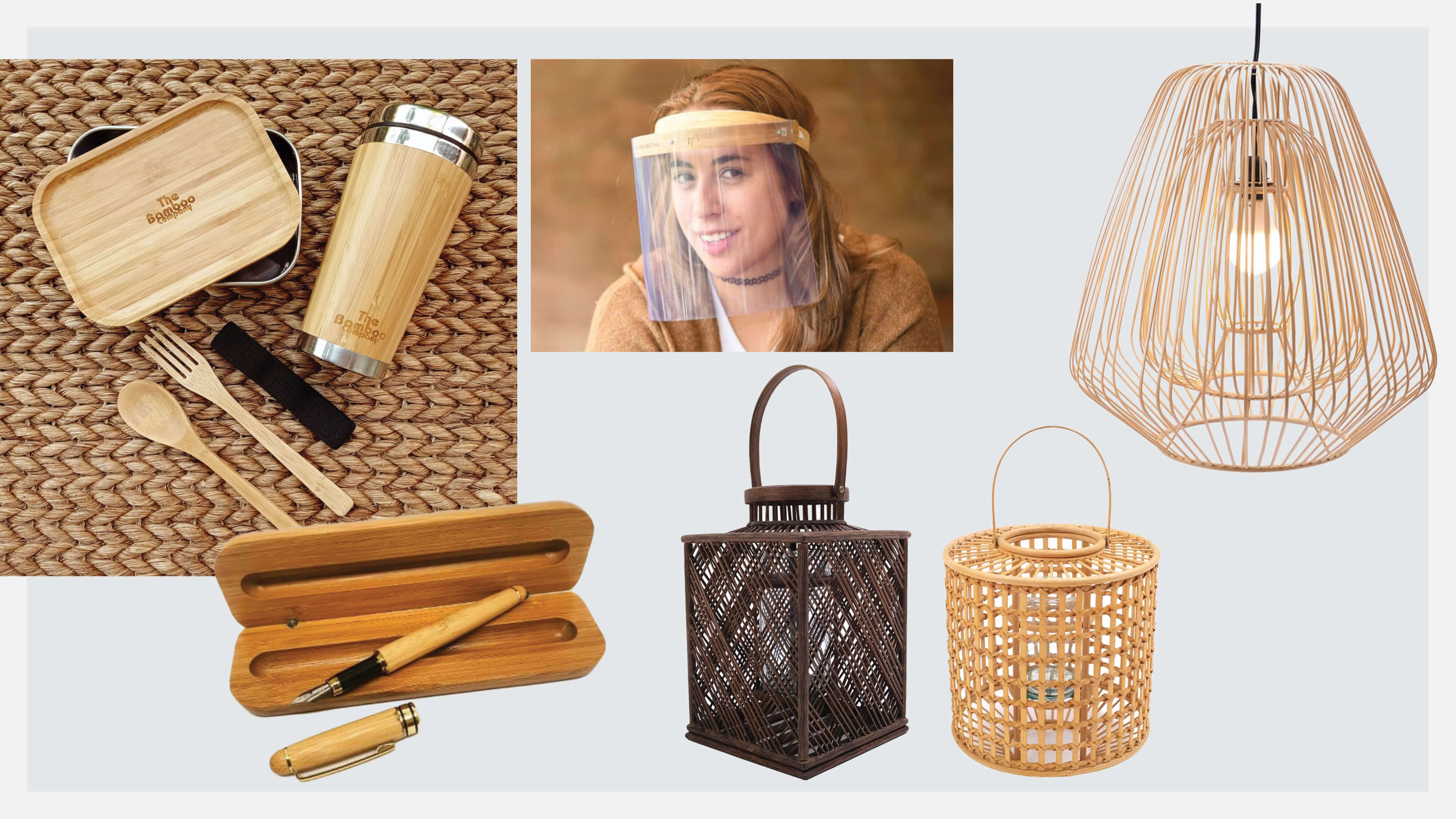 There's no limit to what bamboo can do. As seen on the FAME+ catalogue, many homegrown brands have utilized the material to create durable and stylish home accessories and decor, key furniture pieces, and even essentials during the pandemic

FROM FOREST TO FURNITURE
Marketex Handmade, based in Guiguinto, Bulacan, is known for crafting baskets that weave together stories of Filipino heritage and our different cultural influences. Since 1997, the company has consistently updated its product mix to respond to the changes in the industry, supply and demand, the pandemic, and market preference—on top of experimenting on the many ways they can transform bamboo into beautiful pieces for the home.
Marketex Handmade's Nanette Maron says that at the onset of the pandemic and community lockdowns, business was affected. "People had limited access to bamboo supply and sudden changes occured due to local government restrictions," she begins. The sourcing to production of bamboo-made home decor undergoes many steps, beginning with the mountain tribe members who harvest the bamboo. From there, the bamboo is transported to Pampanga and is processed into splits by hand. The weavers, who are also farmers, gather these and begin weaving them into baskets. This process usually takes place before and after harvest season. Finally, the items go through quality checks and final production processes upon shipping to the company warehouse.
Other than restrictions due to the lockdowns, setbacks were likewise heightened by the increased demand for bamboo. Maron observes that buyers now choose bamboo because of its similar aesthetic with rattan. This prompted Maron and her team to revamp some of their baskets to cater to the growing interest. "Before, our bamboo baskets were characterized mostly for the babies' section, but, more recently, we have increased our production to also cater to the women's section. To fit the mature market, we started dressing up our bamboo baskets with liners, adorned with different colors and designs, adding embroidery and appliques."
"We are still humbled that there is a stable demand for these baskets despite their traditional features," Maron explains. "The overall look of Philippine bamboo is hard to copy because of the quality and the process of splitting it. We believe that buyers still patronize it because it looks organic, and, at the same time, we have a wide array of designs to choose from. It is also handmade and eco-friendly."

WHAT BAMBOO CAN DO
It's called a wonder material for a reason. "Even as lightweight strips, the bamboo remains sturdy. It can easily absorb color, and, compared to other materials, it is relatively inexpensive, too," notes Maron of its unique characteristics.
Its flexibility is another of its key qualities. "Our own pool of in-house designers and weavers start every product development by analyzing the breaking point of each material; to bend, paint, wave, cut, and break them depending on the look we are trying to obtain," she adds. "We try our best to make designs that are current while staying true to the traditional weaving patterns that we have."
However, any natural material comes with weaknesses that must be taken into account. "Bamboo absorbs moisture faster than other wood," Maron reveals. "It can be prone to molds and infestation if untreated or unprocessed well."
Still, bamboo usage in home accessories and decor holds much potential that the Philippine industry can take advantage of. For Maron, enlivening an enduring bamboo furniture industry begins with securing a stable supply of raw materials. "We can't really revitalize an industry if there is little supply. It would be costly and hard to market," she stresses. "If the government has projects and programs aligned with the industry, it is best that they disseminate this information to cities, municipalities, and at the barangay level so they can come up with measures to maximize their resources."
She also mentions that part of the goal should be preserving traditional weaving techniques from each region. "From there, we may be able to adapt our designs to the modern times while staying true to our heritage. It emphasizes detail-orientated techniques and standards relevant to international market trends but without losing its core: the Filipino design."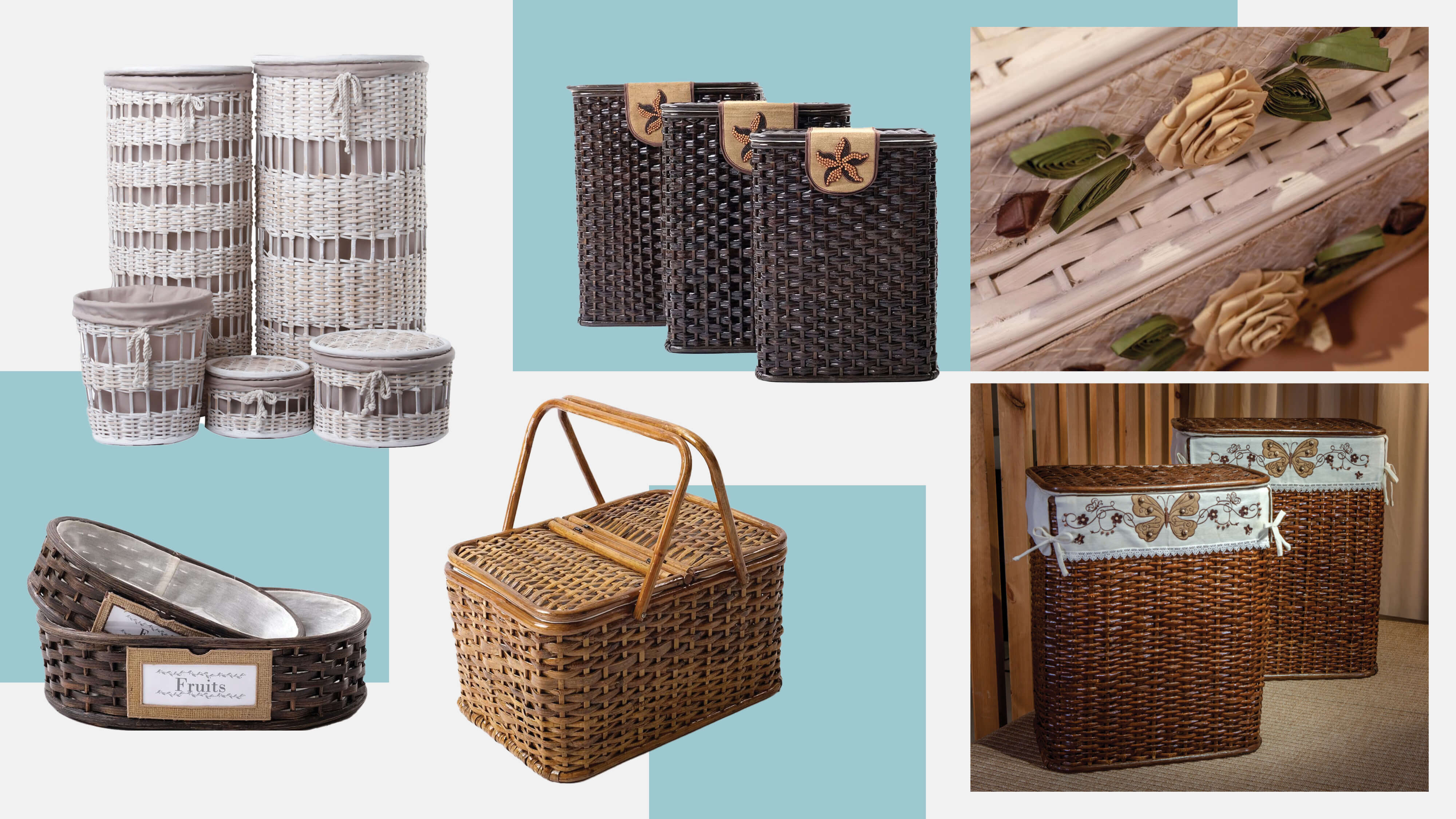 Like bamboo's resilient nature, Marketex Handmade has learned to adapt to changes, outlasting time and trends by constantly updating its signature piece—the woven baskets—to cater to the ever-changing needs of its global and local markets

ONE-PIECE WONDER
San Rafael-based home and furniture company LIJA by That One Piece, while not exclusive to using bamboo, remains dedicated to its choice of using natural materials in their work, and exploring its capabilities and expressions in the process.
In 2013, the brand had the opportunity to collaborate with renowned designer Wataru Sakuma as part of CITEM's Design for Export programs. Through this, they learned about the basics and intricacies of bamboo. "Wataru Sakuma asked us about the materials we have previously worked with," shares LIJA by That One Piece founder Rowena De Jesus. "We decided on bamboo because it is a material that we have not used before in our lamps."
The team learned from Sakuma that, when working with bamboo, one has to be very patient, and, much like the material, be able to bend to its demands. "We were very willing to learn about the material," De Jesus adds. "Bamboo or takesu in Japanese is also something that is of great abundance in the country, and we realized early on the great potential of the material."
Together with Sakuma, LIJA by That One Piece worked on the Takesu Hanging Lamp project. "Sourcing the material proved to be a challenge for us because we were not merely looking for any bamboo. There was a specific size and type that we were looking for," De Jesus points out. "Treating the bamboo also was a bit tricky in the beginning. It was certainly a process of trial and error, and, at times, the process does become arduous. We literally dove into the project without having the proper manufacturing facilities in place."

BECOMING ECO WARRIORS
The collaboration project paved the way for key learnings that impacted their brand. For one, De Jesus realized that the concept of sustainability wasn't fully applied in the manufacturing industry back then. Still, it was something they wanted to incorporate with LIJA by That One Piece as a way to revitalize the brand. "There was an awareness, of course, but to actually apply it to the whole process, and not merely on the finished product, we probably have not reached that level of eco-activism then. So we wanted to do that: be part of the movement that takes care of the planet in our own very little way—one lamp and lamp design at a time."
Embracing this initiative proved to be the right and rewarding move. The Takesu Hanging Lamp won LIJA by That One Piece the Eco Award that year. "We were thrilled to receive such accolades for the lamp since it was our first time to work with the material," De Jesus recalls. "What we were absolutely sure about was our desire to create a fabulous product that would: one, make one take notice of the material that is bamboo, and, two, promote and encourage a sustainable lifestyle, in style. We can be eco-warriors without sacrificing elan, right?"
"Naturally, winning the award, together with the amazing designer, Wataru Sakuma, generated a lot of publicity and interest for our brand," she adds. "Our company is That One Piece, and if there is anything that the Takesu lamp is, it's definitely that one piece."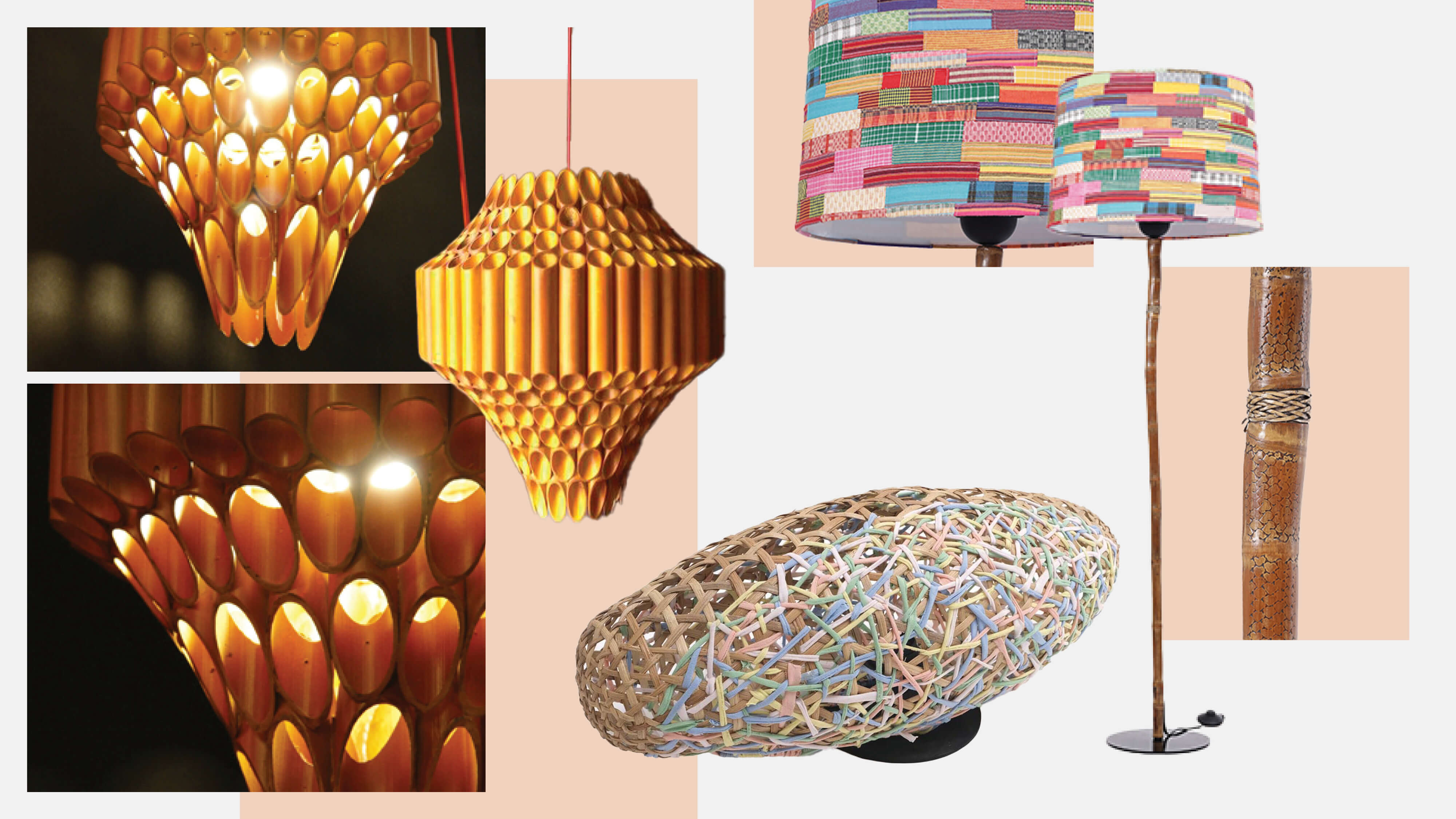 A chance opportunity to develop the Takesu Hanging Lamp (left) with renowned designer Wataru Sakuma has opened new doors for LIJA by That One Piece, introducing them to the wonders of bamboo and exploring their own strengths, capabilities, and creative niche as a company

Photos courtesy of the brands