A Tapestry of Culture
An intricate banig (woven mat) that preserves the sacred tradition of an indigenous people may find a likely home in a museum. But as far as Tagolwanen women are concerned, what puts meaning in their work is when the woven mats they create are used in the homes of other people.
For the lumad (indigenous people) of Tagolwanen, it is not uncommon for little girls, some as young as nine years old, to learn the art of weaving. The Tagolwanen live along the headwater of the Tagoloan River in Malaybalay, Bukidnon, considered the cradle of their civilization. Bukidnon is a province in the southern part of the Philippines. The material they use for making mats is called sodsod, which is endemic to this province.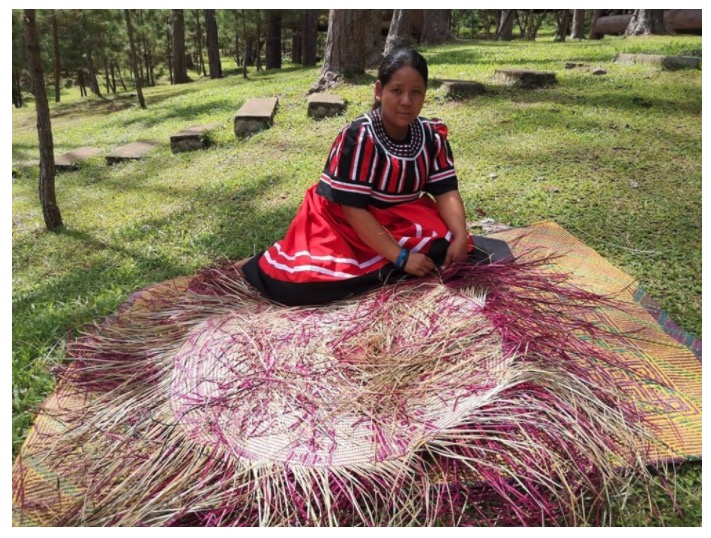 One of the Tagolwanen master weavers is Grecil Guirra, who when in Manila, sometimes demonstrates how Bukidnon-Tagolwanen traditional weaving is done. Photo by Art Vito Cruz.]
Woven into a people's identity
For a long time, weaving has been part of a lumad's life. Because they have always used woven items like banig, baskets, and containers in their work and at home, weaving has become integral to their identity as an indigenous people.
Inevitably, weaving mats has also become a source of livelihood for Tagolwanen, particularly the women. In the past, they would walk down the mountains to sell their wares in the city, grateful for the extra money they could bring home to supplement their husbands' income.
Empowered to create
In 2012, these women discovered the greater value and potential of weaving, which, to them, has become as natural as breathing. Lorie Rago-Marte and her husband Anilaw established the Tagolwanen Women Weavers Association, Inc. (TWWA), with the aim of giving importance to the weaving tradition and ensuring its continuity.
"We started with just one weaver, but now we have 80 weavers. Our goal is to pass on the weaving tradition to younger generations," Marte says. Today, the association has the support of the Department of Trade and Industry as well as the Technical Education and Skills Development Authority in empowering Tagolwanen women to recognize their capability to produce original creations through weaving.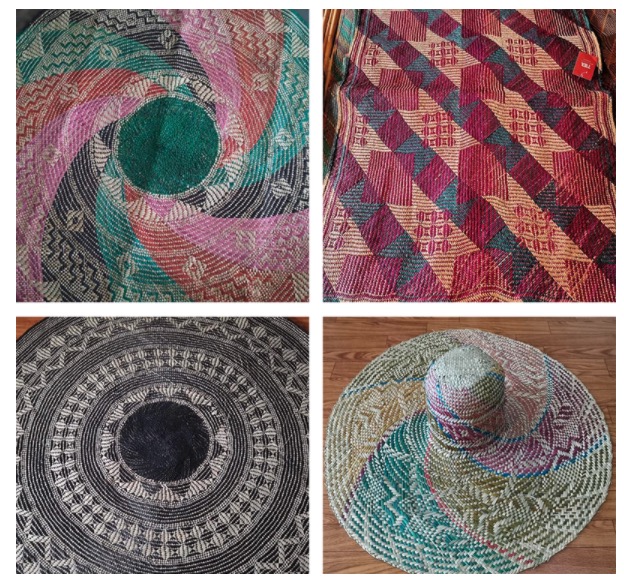 Clockwise from top left: Multicolored Round Mat, 3.5 feet in diameter; Rectangular Mat, 7 x 4 feet in size; Wide Brim Woven Hat; Black and White Round Mat, 4 feet in diameter
Inspired by nature
The design of each mat reflects not only the Tagolwanen women's craftsmanship but also their values and beliefs. It is believed that the inspiration to create beautiful designs is a blessing from the Magbabaya (Divine Spirit).
Weavers need not look far to search for ideas as they live in the midst of natural beauty: majestic mountains, lush greenery, and clear skies. Long after this generation of weavers has passed, these nature-inspired designs are forever etched in their creations: binuntod (mountain), binula-bula (flower), bakunayu (cross), tinulisan (diamond), kabuka (small diamonds), and binutuon (star).
On its product tags, the name of the weaver is also handwritten--an affirmation of her strength and capability.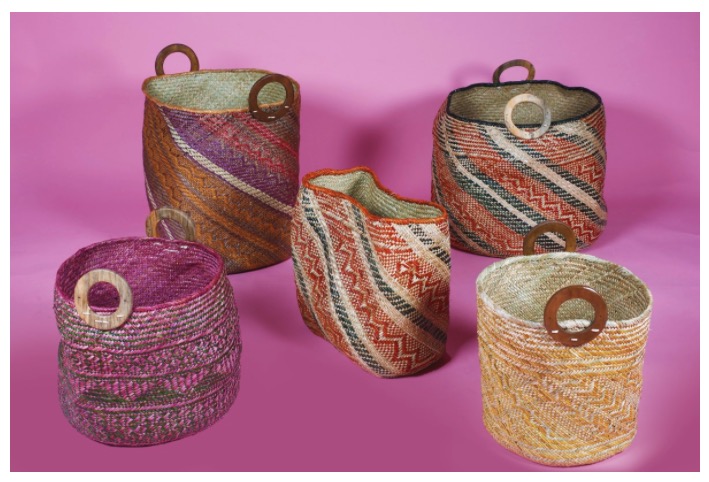 These baskets with woven handles were part of the product development program for the April 2019 Design Commune, a collaboration with industrial designer Stanley Ruiz and the Tagolwanen Weavers.
Beyond weaving, equal partnership
Today, the women weavers are better able to concentrate on production without worrying about finding a market for their creations. TWWA ensures that they are paid immediately after completion, plus, they are also given a share of the total sales at the end of the year.
"We also set up a marketing arm to achieve our first objective of giving value to their products; secondly, encourage weavers to continue creating and give value to home-based traditional weaving and transfer it to the next generation, and thirdly, to give them access to a wider market," Marte adds.
Empowering the weavers is among TWWA's most noble achievements. Tagolwanen women are now equal partners at home and in business, and they have become well aware of their rights. And their mission remains clear: to pass on the weaving tradition to younger generations and keep it alive for many more years to come.
You can learn more about how to conserve the art and culture of indigenous people like the Tagolwanen by watching this video:
[CONTACT DETAILS]

TAGOLWANEN WOMEN WEAVERS ASSOCIATION, INC.
Mobile: +63917 772 3846
Email: lorielindabella@gmail.com
Facebook: www.facebook.com/TagolwanenWomenWeavers
URL: www.tagolwanenweavers.com