A Handwoven History
In these changing times, a Filipino manufacturing company with 120 years of experience carries on. As malleable as the natural fiber called abaca, from which its products are made, Shelmed Cottage Treasures has faced many challenges, and yet it has remained unbroken.
The story is best told from the point of view of Mary Mediatrix Villanueva, a third-generation manufacturer and exporter who was born into the abaca industry. Her grandparents were abacaleros, and her parents—the Vallejos—artisans.
Asked why abaca is their chosen material, Villanueva says, "The natural fiber is malleable. There are so many processes that you can adapt—braiding, twisting, crocheting, weaving. And you can shape it, dye it into many colors, and be excitedly different in creative approaches."
Through the years, Villanueva says the company has ventured into the use of raffia and brown grass. Shelmed Cottage Treasures is a single proprietorship of her husband, Sheldon, whom she has known since the age of eight. Apart from being a portmanteau of their names (Sheldon and Med), Shelmed also stands for "Sustainable, Healthy Eco-Living Manifested in Elegant, Distinctive designs."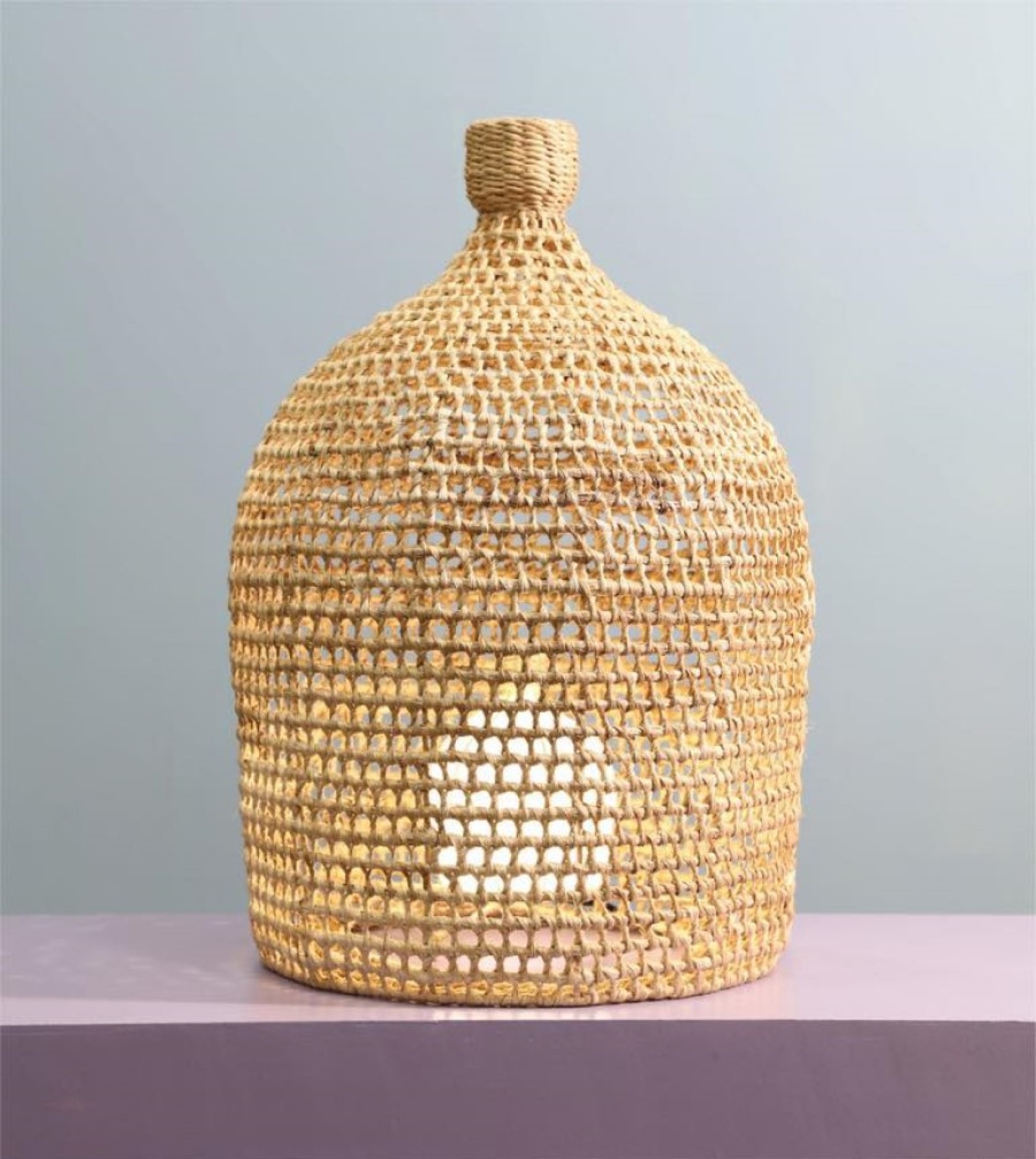 Woven lamp in the shape of a dama juana, exhibited at the 2019 edition of Manila FAME. Shelmed Cottage Treasures was one of the first Manila FAME Katha Awards Winners in 1990.
Combining experience and community-building
Today, Shelmed Cottage Treasures is a recognized manufacturer and global source for handmade, handcrafted, custom-made products using natural fibers and sustainable, rapidly renewing materials. All collections complement and integrate well with a sustainable, healthy, eco-friendly but style-oriented lifestyle.
Local artisans are behind the creation of products such as home accessories and decor, as well as eco-fashion accents. But beyond creation and production, Shelmed Cottage Treasures is also helping build communities as the company helps shape a better future for its associates and their families. Fair trade practices and social safeguards are embedded across its manufacturing systems.
"We found meaning in doing good and serving our communities. Business from the beginning was not a one-way street. It was an opportunity to help build communities and give our workers' families [the chance to grow]," adds Villanueva.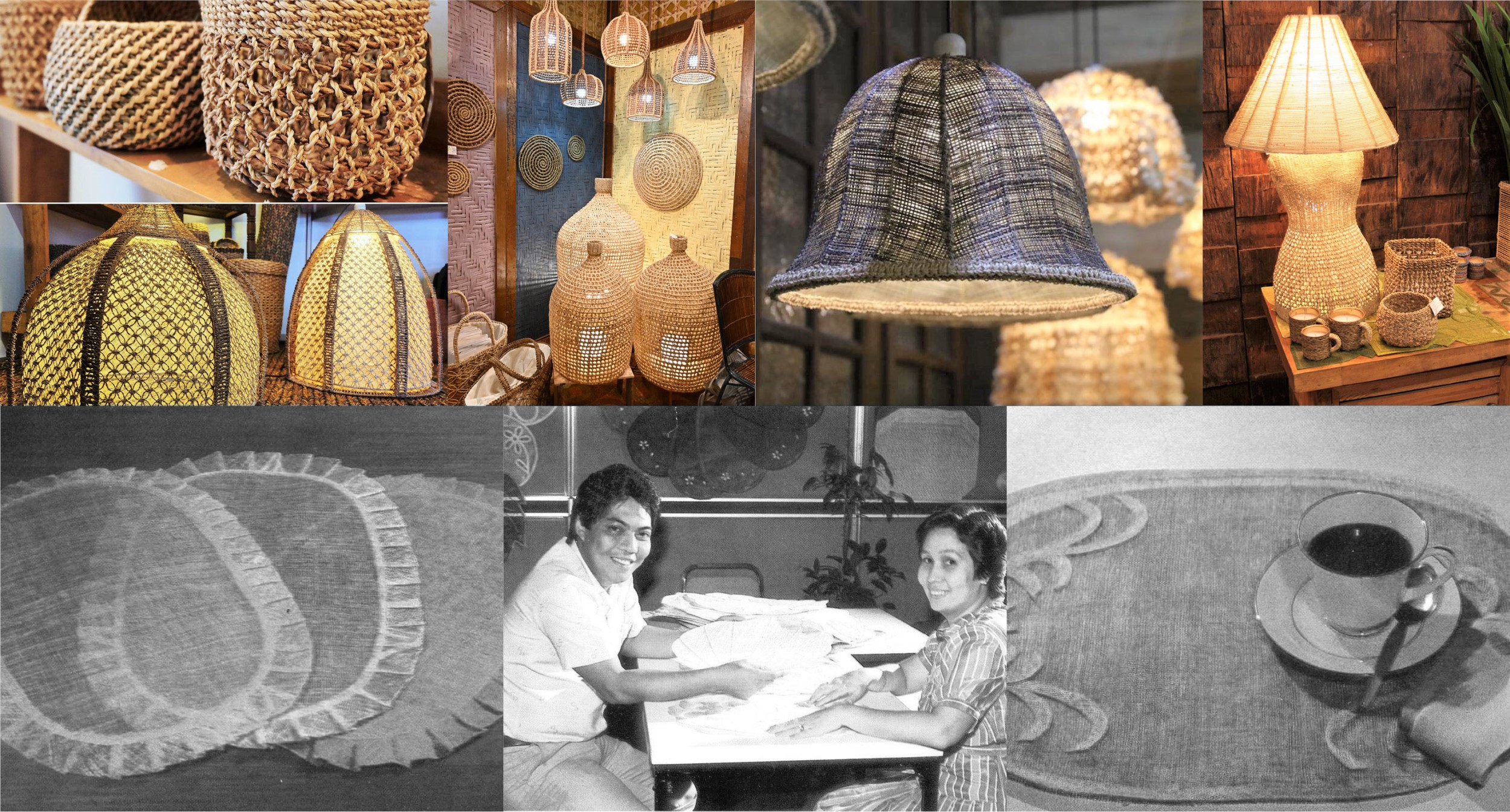 Shelmed has been one of FAME's most loyal exhibitors. "We consider every fair an immersion in the world of design and market directions," Villanueva says. (Top row) Some of Shelmed's products from 2016 to 2018; (bottom row) a FAME feature on Shelmed from the 1980s, with Sheldon and Mediatrix Villanueva, and early abaca placemats.
Weathering challenges
The company is experienced in collaborating with reputable importers and wholesalers, leading retail outlets and pioneering boutique stores in international markets like the United States, Canada, Europe, Oceania, and Asia.
"Years brought many challenges because in 1973, we were the youngest exporter in the Philippines," Villanueva recalls. None of their success would have been possible without their steadfast faith, the support of their children, the loyalty and dedication of their staff, and the trust of their buyers.
"We have been able to take the 47 years in stride. We produced abaca products, placemats, bags, carpets, packaging material, and explored other materials like buri and rattan for furniture, and raffia and brown grass for housewares products. We complied with the buyers' requests and expanded our markets by participating in international and local trade fairs. We studied, researched, and travelled."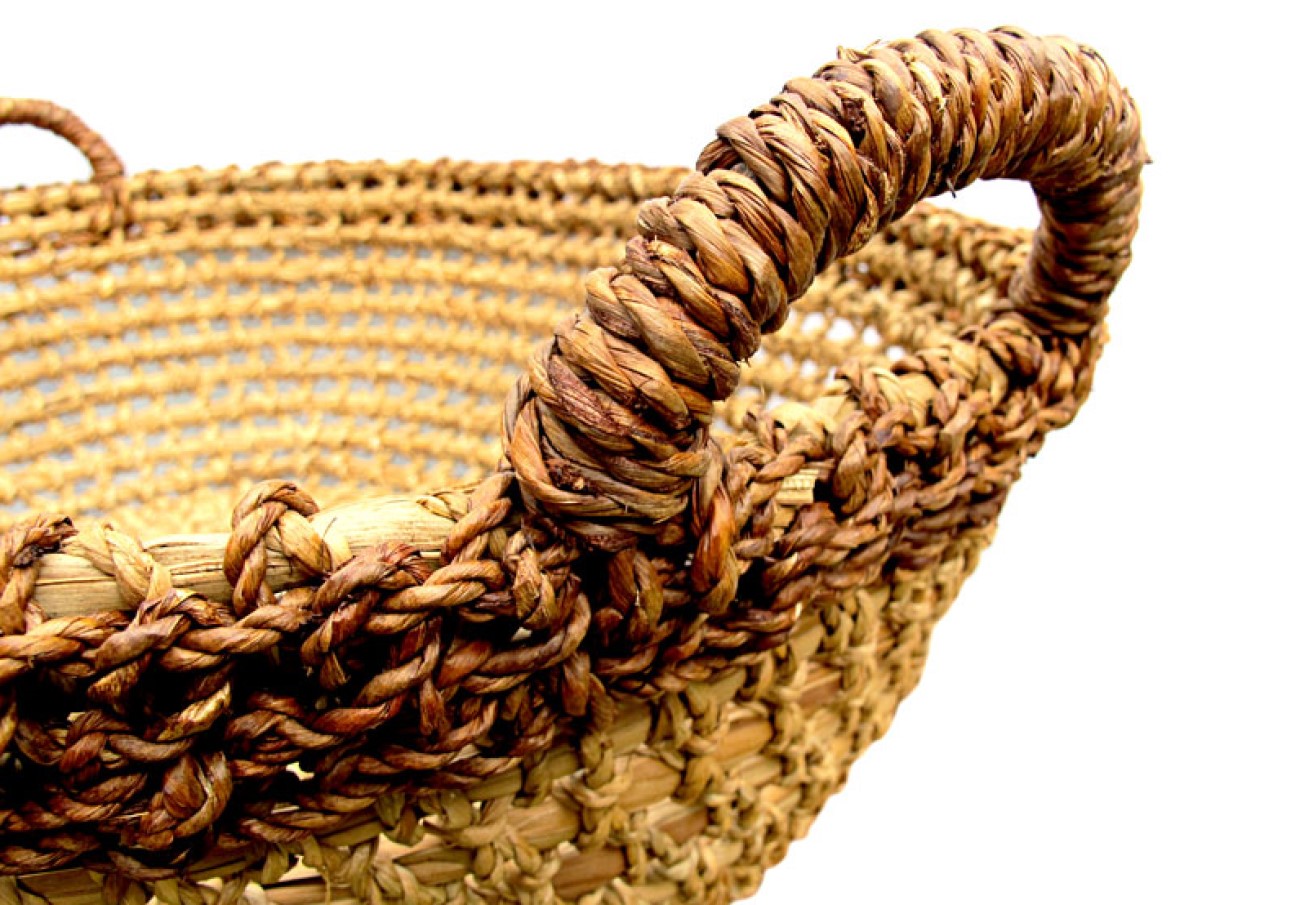 One of Shelmed's woven baskets from their website. Villanueva says: "Through the years we learned that the latest collection is not the here and now, but the variations of an old item made new or different, or excitingly relevant to the times."
Changing with the times, looking ahead
With decades of experience for Shelmed Cottage Treasures come unexpected changes—a reality that Villanueva admits. "There are many new experiences in life and business. There are 'New Normals' all the time in life, from marriage to birthing and every developmental milestone," describes Villanueva. "Shelmed valiantly met these challenges by ensuring employees were provided for. The buyers either suspended or cancelled orders. Others simply asked us to wait for better times, and we did."
On a positive note, Villanueva says, "Designs have kept us going; genuine compliance with the rules of health and safety has preserved the working place. New buyers we met in Frankfurt started buying again, picking up the pieces of a silenced relationship to blossom into product development and orders."
One can expect to see more of Shelmed Cottage Treasures on digital platforms. While it is not the traditional venue that Villanueva is accustomed to, she sees this as a golden opportunity to learn something new. After all, Villanueva says it is truly a small world. "Each country is going through its own valley of pain and promise. We need to change, to adapt and adopt, for resilience, survival, sustainability. We have to generate continuing hope for our children and their children, our employees and their families, and for the entire world."

CONTACT INFORMATION
SHELMED COTTAGE TREASURES
843 Balagtas Street
Barangay Addition Hills
Mandaluyong City
1552 Philippines
URL: www.shelmed.com
Telephone: +632 8725 1974
Email: info@shelmedtreasures.com