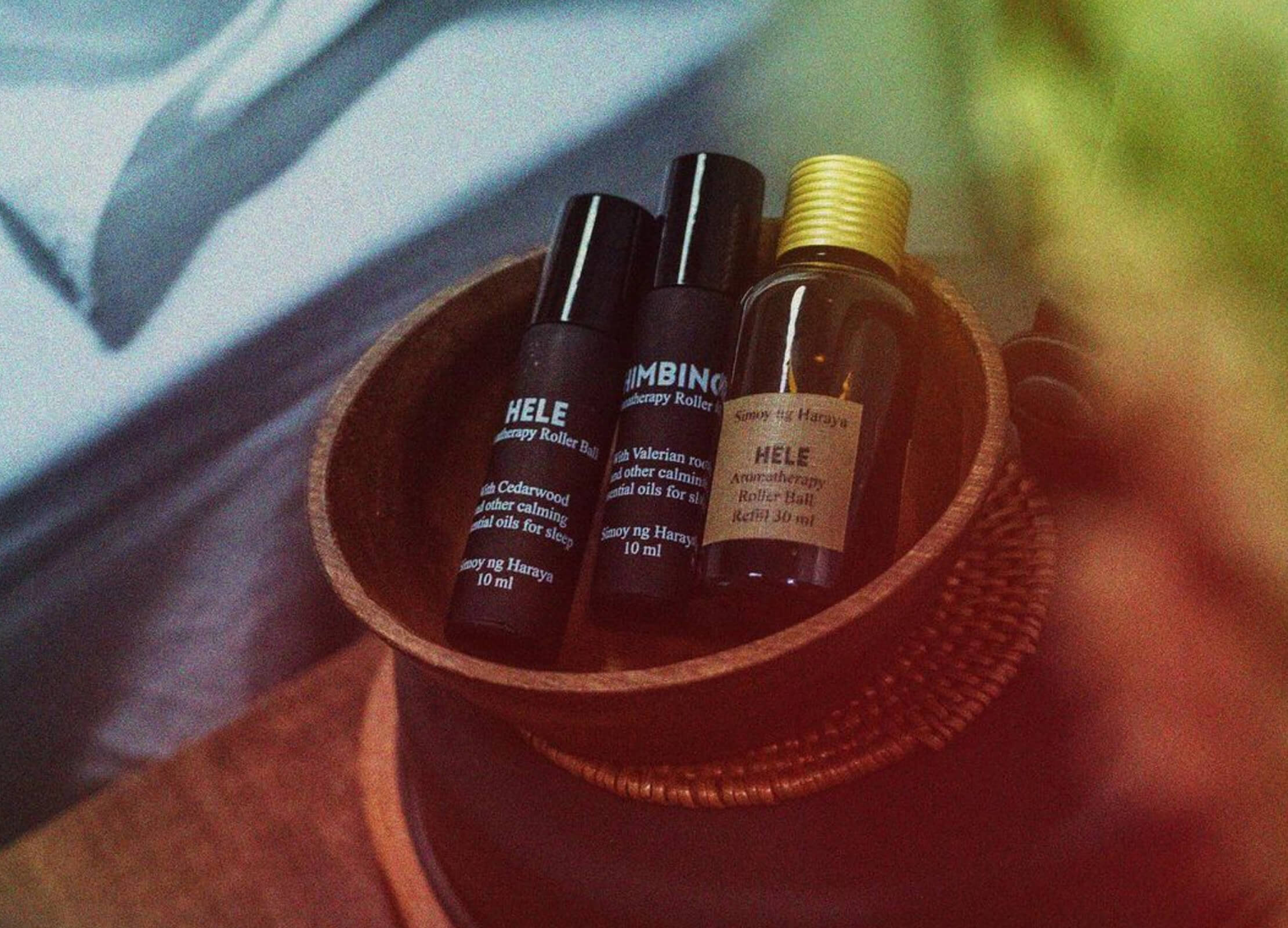 Whiff of Imagination
Simoy ng Haraya captures unique Filipino experiences through scents and poetry, and a dedicated team of passionate makers

by Patti Sunio
Homebound and nowhere to go, one of the things we turned to in this time of pandemic is a scented candle. Other than serving as a proverbial light in these dark times, scented candles have provided us an escape of sorts, if only temporarily, thanks to their comforting, familiar, and warm fragrance.
Scents have a powerful way to transform moments, and Simoy ng Haraya ("whiff of imagination"), a proudly Filipino brand of home fragrances, knows this all too well. In fact, as the pandemic pushed many local businesses to the edge, Simoy ng Haraya turned to candles—reworking its best-selling perfumes into candles to cater to the new demand.
Scents can take you places, bring back fond memories, relax the senses, lighten up the mood, and change an ambience. Founder Lala de Leon, who's cultivated an early love and appreciation for scents at a young age, looks back at milestones in her early life through fragrances.
"Perfumes in general were a big part of my life growing up," she begins. As early as in her grade school days, De Leon would receive a regular supply of perfumes as pasalubong (souvenirs) from her dad, who was working in Saudi Arabia, and from her relatives in the States.
"I associate certain perfume brands with stages of my life—Eternity for grade school, Perry Ellis 360 Degrees, Acqua de Gio, and Bulgari The Vert for high school, and Polo Sport Woman, Aspen, and Clinique for College," she recalls. "But when I started working, I found buying a bottle of perfume prohibitive because of the cost."
Until De Leon found out that she can make her own fragrances at home. "I dabbled into it right away!" She took up classes and workshops locally and abroad and quickly mastered the craft. This eventually led her to explore other skills, such as soap-making and candle-making.
Her newfound hobby became her creative outlet while working a day job in advertising. In 2011, De Leon decided to turn her craft into a business, and reached out to colleagues to help her build the brand. Her vision was clear from the very beginning, and her friends from the industry were the right people to execute them.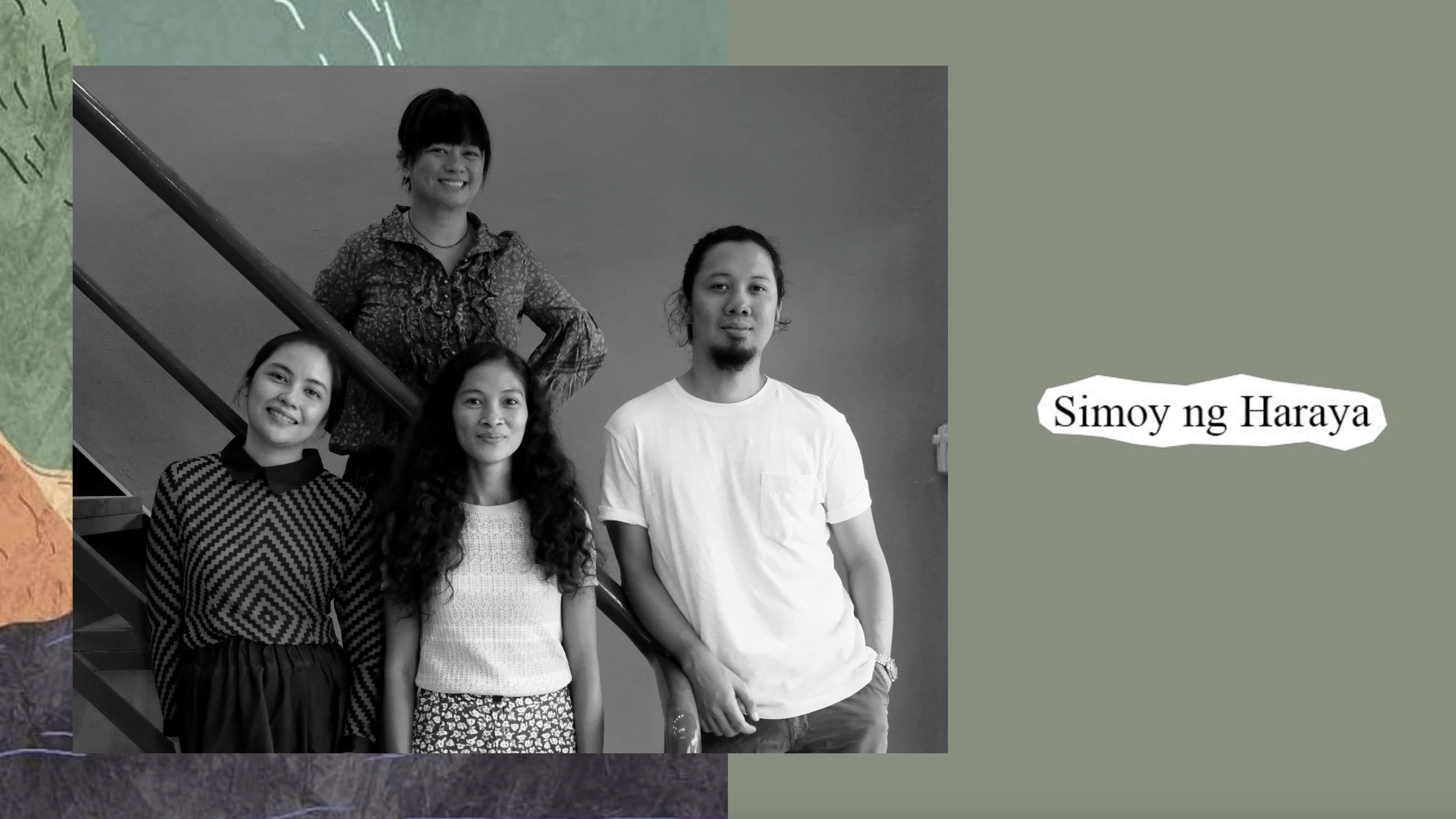 Simoy ng Haraya is a barangay microbusiness enterprise and operates on a lean team. (From left) Gemmalyn Albarido assists with product development, Angela Mislang helps run and manage sales, founder Lala de Leon is also involved in product development and is hands-on when it comes to responding to inquiries, and Race Cuneta is the creative head who is in charge of everything visual-related
The first step was naming the brand. "I found Filipino terms appealing ever since. It was interesting when I encountered people with Filipino names like Dakila ('great'), Kidlat ('lightning'), or Buhawi ('tornado') and I said to myself that someday, I would love to use such nice Filipino names. I just didn't realize then that I could use that in my business."

She approached poet Angelo Suarez, who was also her copywriter, and Suarez came up with the name Simoy ng Haraya. "I specifically told him that I want the brand name to be a three-word name so that it will be very unique."
Translating the experience of Simoy ng Haraya down to the product names, De Leon chose one-word Filipino names for the scent names. She also wanted a poem inscribed at the back of each bottle. "It was then that Gelo introduced me to tanaga, a type of Filipino poem that consists of four lines with seven syllables per line. These were written on the bottles of the fragrances."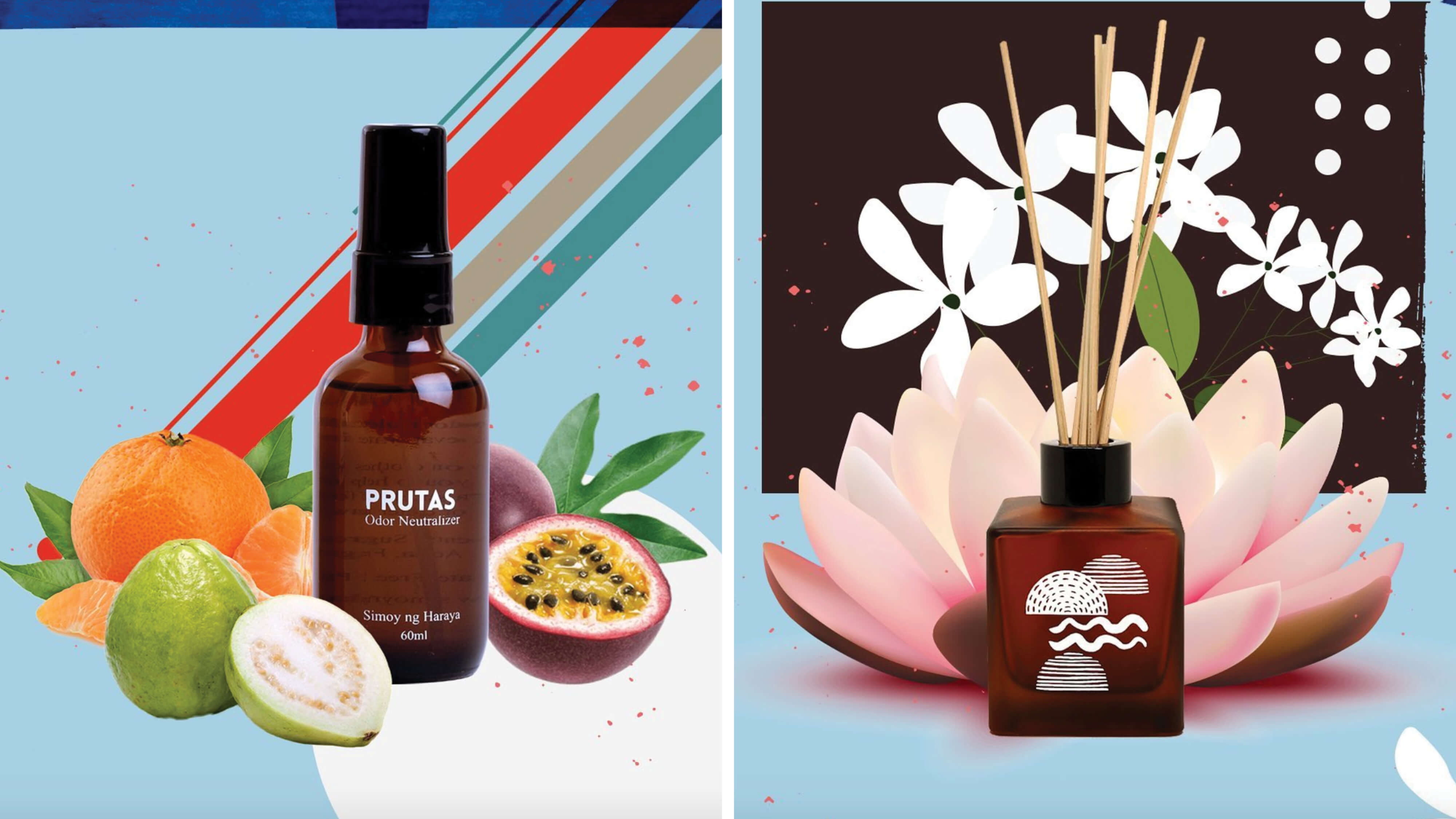 Nature's best in a bottle: a tropical fruits blend in a linen spray, and a reed diffuser inspired by island scents
Once everything was set, De Leon joined bazaars to introduce her brand to the market. "Back then, I already felt strongly about the Simoy ng Haraya branding. But I had a hard time going side by side with other stores selling Philippine goods and noticed that not all buyers have the same level of appreciation for the beauty of locally handmade items. So I decided to find my niche."
De Leon then sold at bazaars that were specific to promoting locally made goods. "It was then that my brand started to grow and that was when we started talking to the correct target market."
It's been ten years since the launch, and to date, Simoy ng Haraya has grown to be a favorite of scent lovers and aromatherapy users, supporters of handmade and Pinoy-made goods, as well as the environmentally conscious consumers. The brand also caters to event companies, gift curators, and the wedding market, offering a range of soy candles, reed diffusers, room sprays, essential oils, body scents, and handcrafted soaps.
SCENT TONES
"I've started with scents that appeal to me, but overtime, I created products that came from customer requests," shares De Leon. "I am not a fan of peppermint, but one of our best-selling reed diffusers is Dapithapon or 'sunset,' which has lavender and peppermint notes. This came about because a customer requested for it."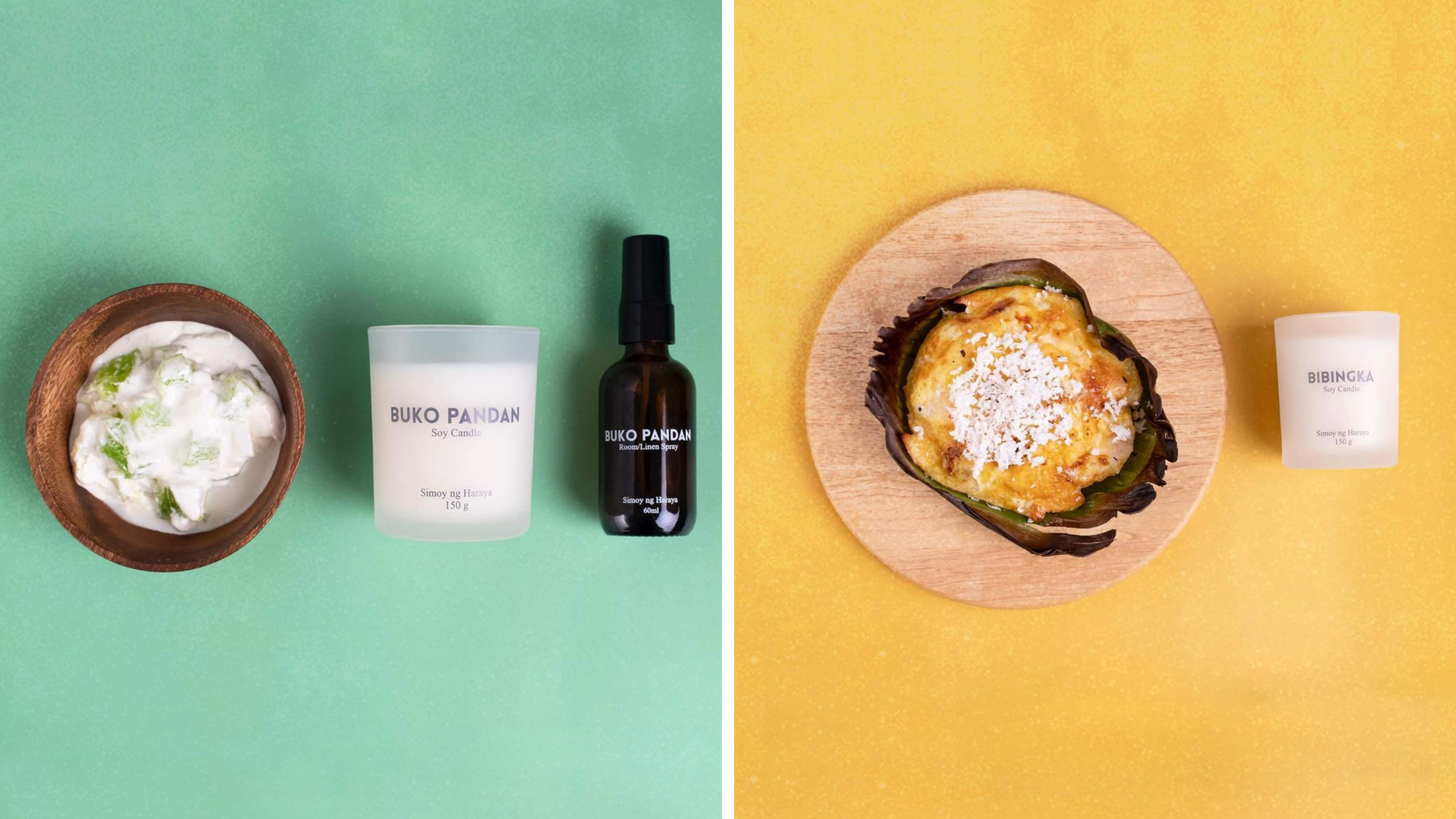 Scents that intend to relive the Filipino experience, from food to tradition, to culture and literature
Naming the scents plays a big role in capturing the essence of a product. After all, it's not easy to sell fragrances online. "Simoy ng Haraya's brand proposition is to provide unique experiences and capture the essence of Pinoy culture, traditions, values, and lifestyle."
The names can be a literal translation of a scent, such as the Bibingka which has notes of coconut, butter, brown sugar, and egg, or it can be figurative. De Leon would craft scents first, and then words to describe it would naturally follow.
For instance, a lemon verbena scent led her to think of the name Kilig, which translates to 'giddy' and is "very apt for a citrus scent." Likewise, a soft, white flower scent is called Dalisay, a word that means pure and untainted, and suits the mild soft aroma of white flowers.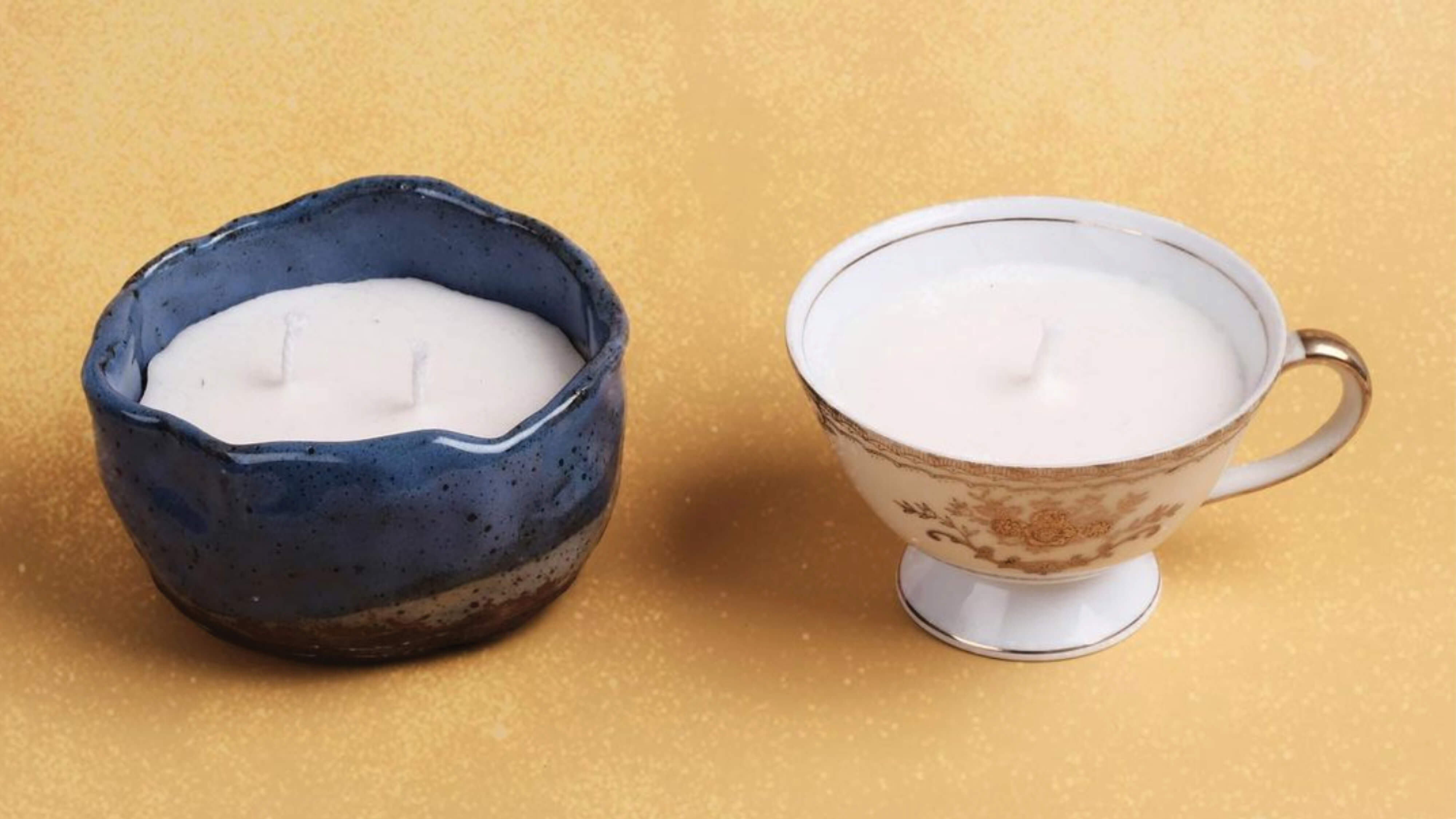 One can send ceramic wares, tea cups and mugs, metal tins, among other containers that are thick enough to withstand heat, to make customized candles with Simoy ng Haraya
PINOY ZEN
"When one thinks of Pinoy branding, it's easily associated with native products as our country is big on weaving, but our creative direction is more on the minimalist look and feel," says De Leon. "If you look at our packaging, they're simple and minimalist. A friend describes it as 'Pinoy Zen.'"
Simoy ng Haraya's candle bottles are made of glass that can be refilled, while the brand also encourages customers to send empty vessels their way, so these can be filled up with soy candle wax.
Akin to the brand's commitment to carefully concocted scents, Simoy ng Haraya also values loving local, clean products, and sustainability. The scent names are a testament to the passion for and recognition of the Filipino lifestyle and culture, even human emotions and feelings that are difficult to articulate in non-Filipino terms.
As for its make, the brand only uses high quality ingredients, such as organic essential oils as well as paraben-free and phthalate-free fragrances. They also make the conscious effort not to use shrink wrap when shipping, to avoid using plastic.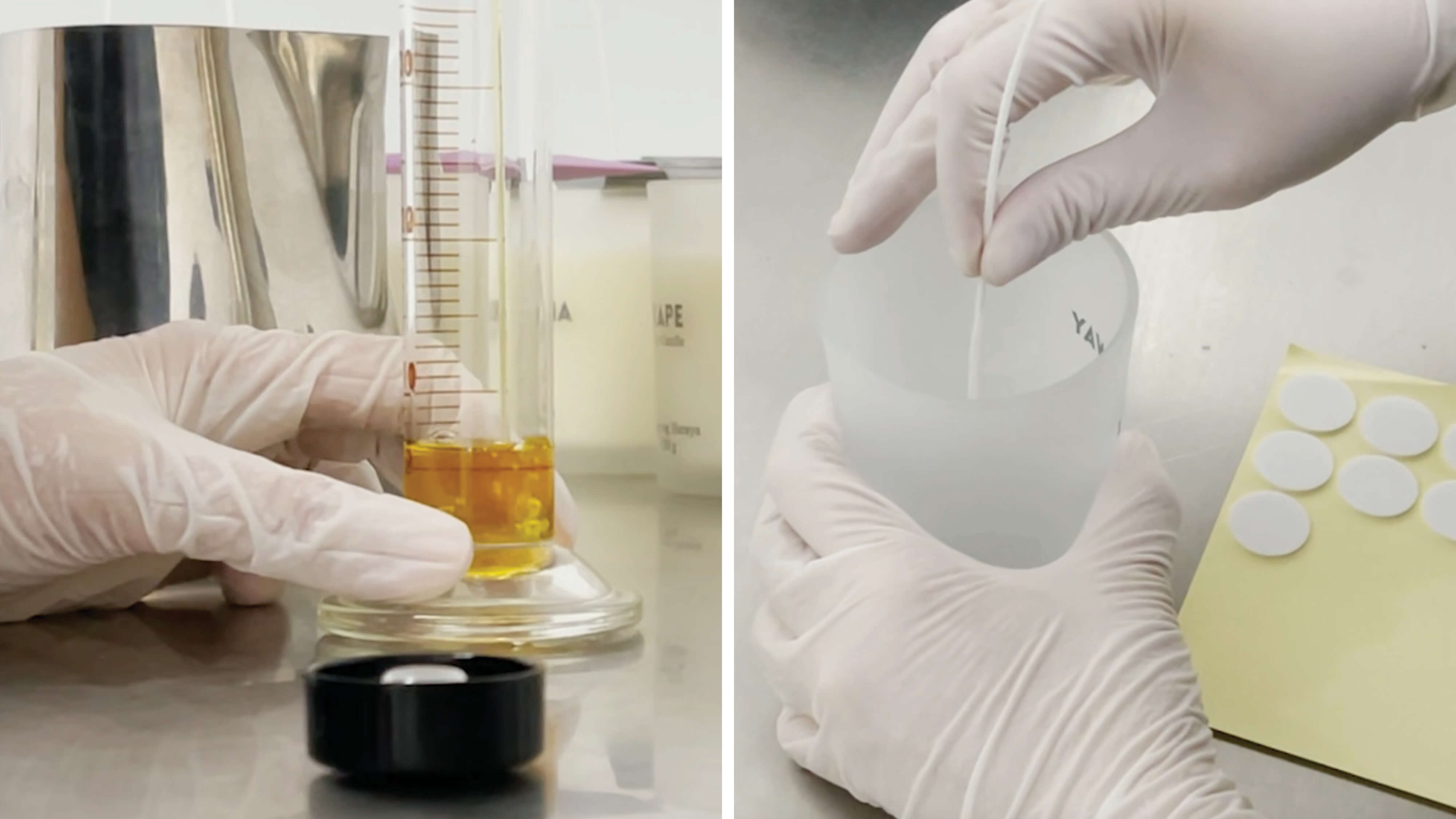 Simoy ng Haraya values clean products and commits to using only excellent quality ingredients. Products are made in small batches to ensure quality
A quick glimpse of their website (simoyngharaya.com) and social media pages lets you into the brand's inducing world of fragrances, the images and words put together beautifully, with the Filipino experience at the core of every product. They put thought and passion into every process of their products and Simoy ng Haraya's brand essence trickles down to every aspect of what they do.
And while currently operating with a lean team, they hope to expand soon and offer products to different parts of the world. "When you buy local, you give back to our community in ways you've never imagined," De Leon points out. "It not only helps local businesses keep afloat, but also empowers people to rise up. Just follow the scent of childhood memories, fulfilled promises, and dreams-in-waiting… that's where you'll find us."
Photos courtesy of Simoy ng Haraya