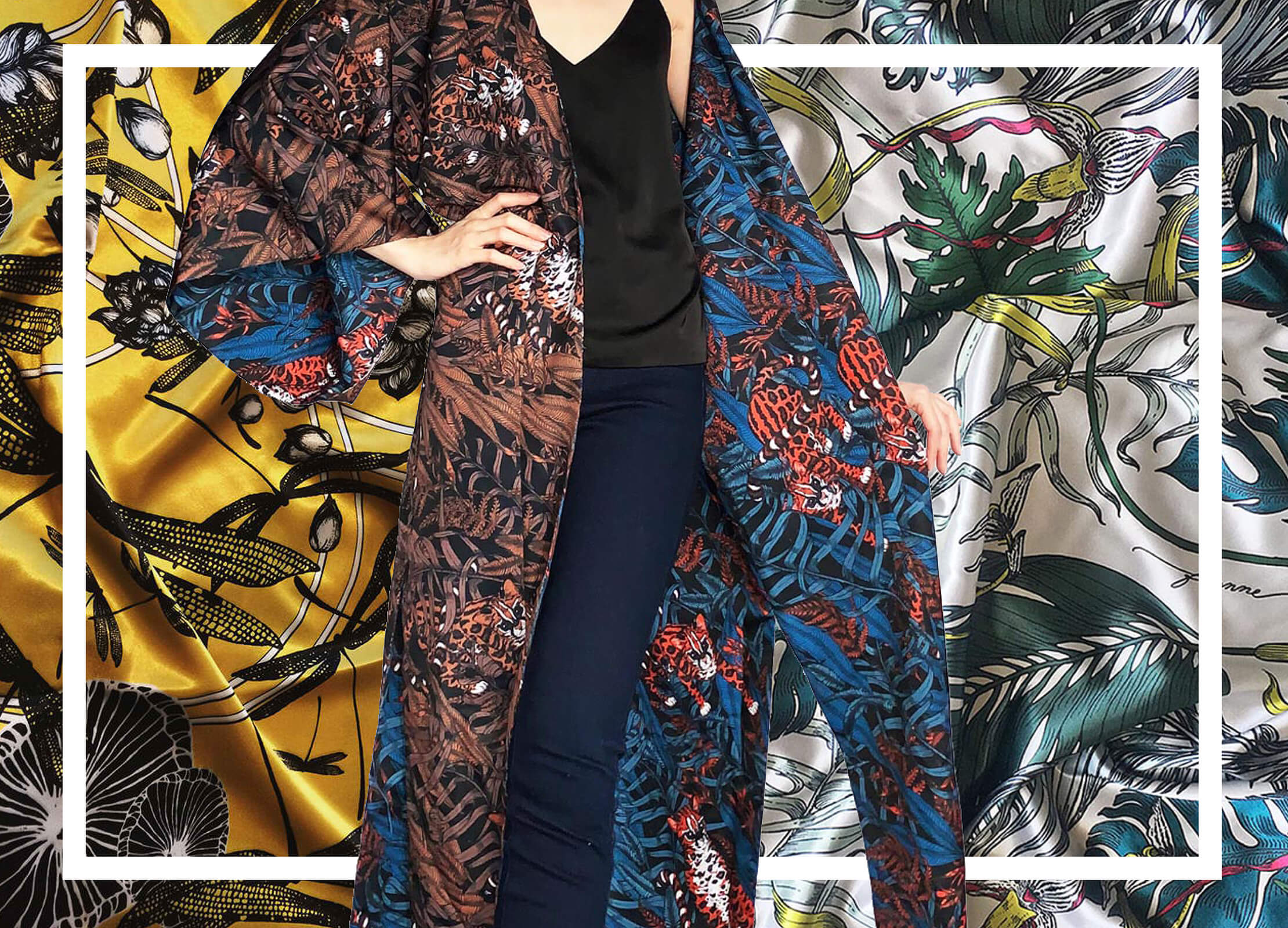 How Feanne Thrives in Art and Fashion
Like the birds and leaves in her intricate works of art, the artist, illustrator, designer, and creative entrepreneur keeps up with the times and continues to evolve

by Patti Sunio
"My drawings have always been so small, and they are so detailed, so it would take me forever to draw a larger piece," says Manila-based artist Feanne. It is in these little illustrations that she is able to draw in pitch-perfect precision, capturing the most minute detail that makes up the beauty of the whole picture. Feanne's small-scale drawings, often inspired by the charming intricacies of the Philippines' flora and fauna, have figured onto objects that can be worn, displayed, admired as art, and used as decor. It's given life to her eponymous brand, Feanne.
Hers isn't the traditional path, having received no formal training in either business or fashion. An artist at heart, she started drawing at an early age and finally exhibited her work in high school, but it wasn't until years later that she discovered the medium of fabric print design. In college, she took up interior design, and while she's never pursued it as a career, it's given her the backbone in project planning and management, which she deems crucial to any kind of creative business.
It's allowed her to explore her art in her own terms, with a different perspective and fresh ideas. "I get cold easily so I like things that I can use to cover myself up," she says, sharing how her idea of turning her artwork into wearable pieces came about. The result is a wonderful rendition of her illustrations on scarves, kimonos, robes, and whatever else her imagination whips up.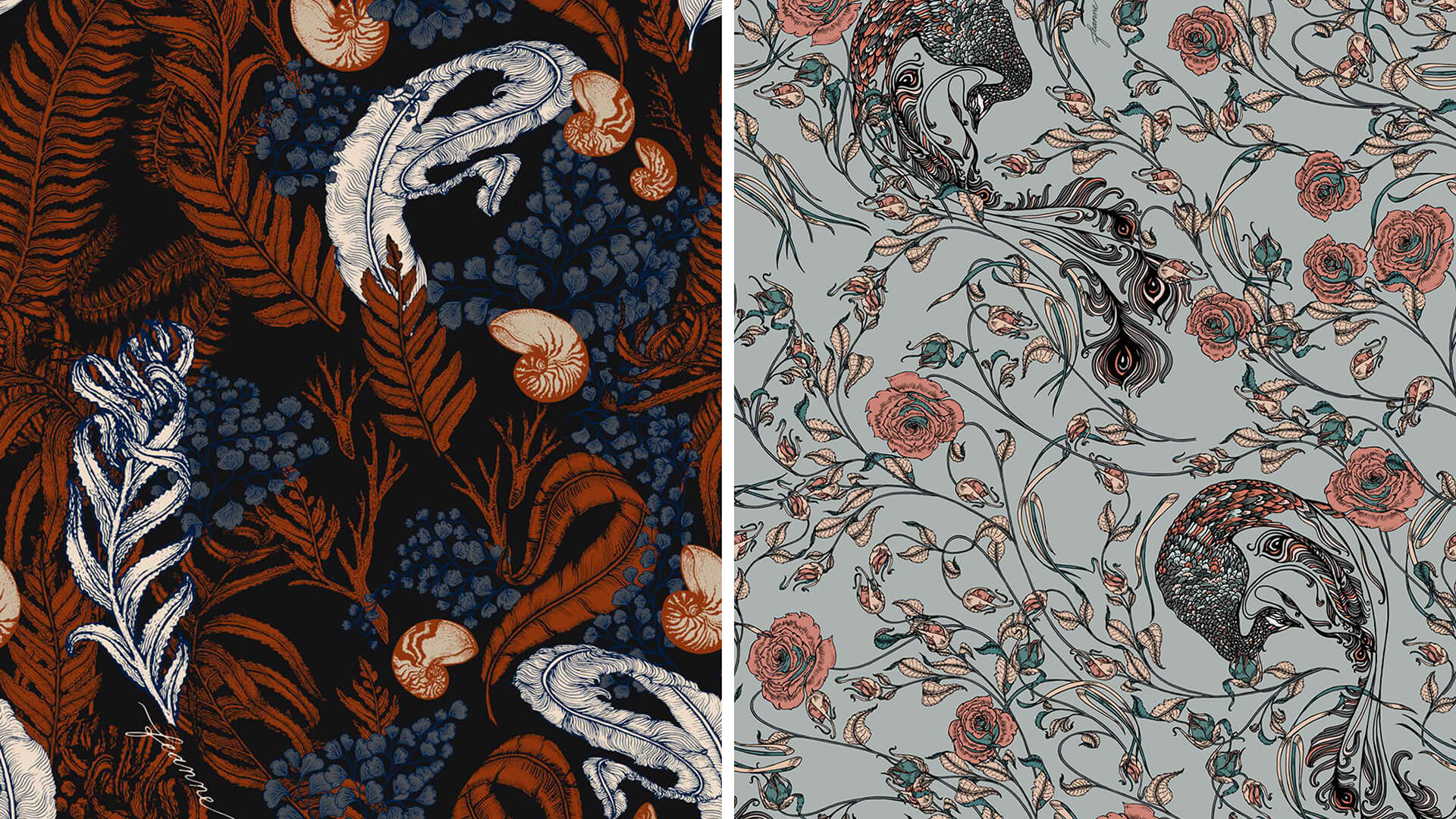 "They are made using fabric printed with my original art, featuring stylized Philippine flora and fauna which I illustrate by hand," says Feanne. "By using them in textile designs, I get to see them bigger, and I really enjoy wearing my own art. I'm very lucky that it turned out that other people enjoy wearing my art too!"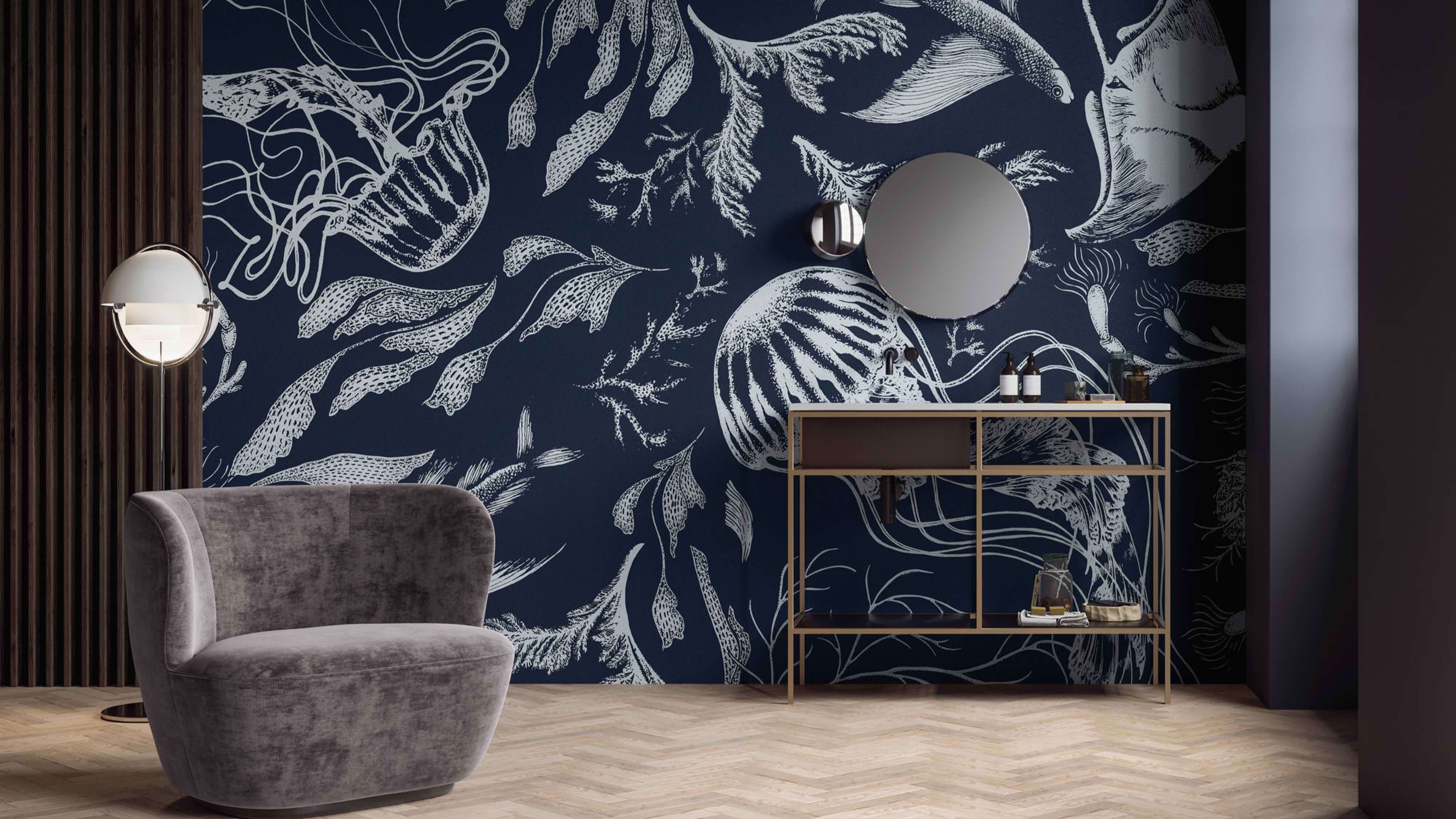 Beyond clothing, Feanne's work have also been translated into digital and physical objects: from a virtual wallpaper for a video chat platform, to an actual wallpaper tailor-fit to a client's powder room, infinity scarves that can be used as sandal straps and more, illustrations made into framed art and even woven blankets (instead of printed on fabric), to name a few

Behind every Feanne piece is a lean team consisting of one seamstress and a few freelance assistants. Feanne takes on the bulk of the work herself: designing, sourcing, production management, marketing and sales, and even the packing and shipping of her products. She works with a supplier in Indonesia for fabric printing and, in the past, has worked with producers from the U.S. and France to make her silk fabrics. "I am always on the lookout for new suppliers, production methods, and business models," she says.
As intricate as her drawings are, the process behind the making of each garment is just as meticulous. "Production is small and slow," Feanne explains. Last holiday season, in a span of eight weeks, she and her team were able to produce 70 pieces, half the time spent on fabric-printing, with the other half dedicated to sewing. "That's about maximum capacity, and it doesn't include the time to create the print designs, which takes about a month to finish," she points out.
And with the pandemic in the picture, she's had to weather more storms than usual. For starters, she couldn't import her custom-printed fabrics, her seamstress couldn't go to work. Still, she's focused on the fulfillment she finds in her work and, in turn, the universe has conspired to give her the light she needs.
"It's very fulfilling taking something from my mind, turning it into something tangible, and making myself and others happy with it. That's magic—willing something into reality," she says. "Even though I work as a solo artist, the work that I do would not be possible without so many other people involved directly and indirectly—loved ones and peers who support me, people I've worked with, people who work on the tools and materials I use, the planetary resources that go into my work, and so on. Like the moon, I shine with borrowed light."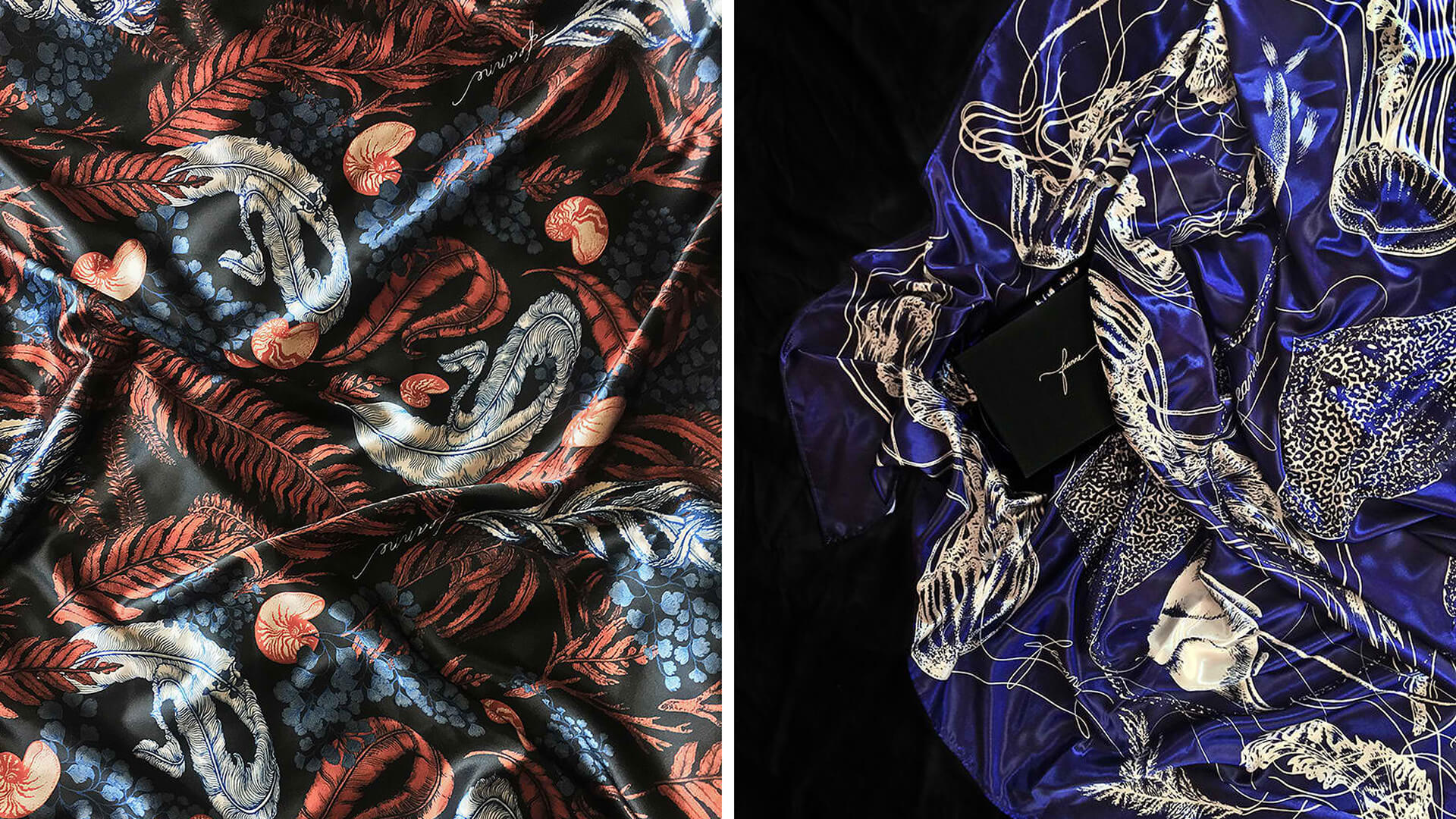 While she works best through freehand illustration on traditional pen and paper, Feanne has always employed the use of digital tools, fluent at how technology can only enhance her work. Like the birds and leaves in her work, she's an artist who keeps evolving

WEARABLE ART
"I call my items 'wearable art pieces' because I intend them to be both striking works of art and functional wearable garments," says Feanne. While her pieces are certainly distinctive design-wise, what truly sets them apart from the rest is their function and versatility, and the thought that comes with every piece.
Catering to a clientele in their 30s to mid-60s, Feanne wants her clothes to offer them an effortless way to dress up. "I try to make standout clothes that are easy to wear—they don't wrinkle easily, they can be styled in multiple ways, one doesn't need to wear a particular bra type for them. A piece can be thrown over a simple shirt and jeans to quickly dress up an outfit," she explains. "My products are usually free-size or forgiving in terms of fit because some clients in that age range are often concerned about 'looking fat'—even if they actually aren't!"
From her coats, kimonos, boleros, robes, and silk and satin scarves, Feanne prefers to make them in flattering silhouettes, unisex in style, travel-friendly, and whenever possible, with pockets, too. "Many of my pieces are reversible, so they are two-in-one. So in case a client bumps into someone wearing the same piece, they can just turn the garment inside out," she says. "I love clothes that are season and age agnostic, and can be used in multiple ways."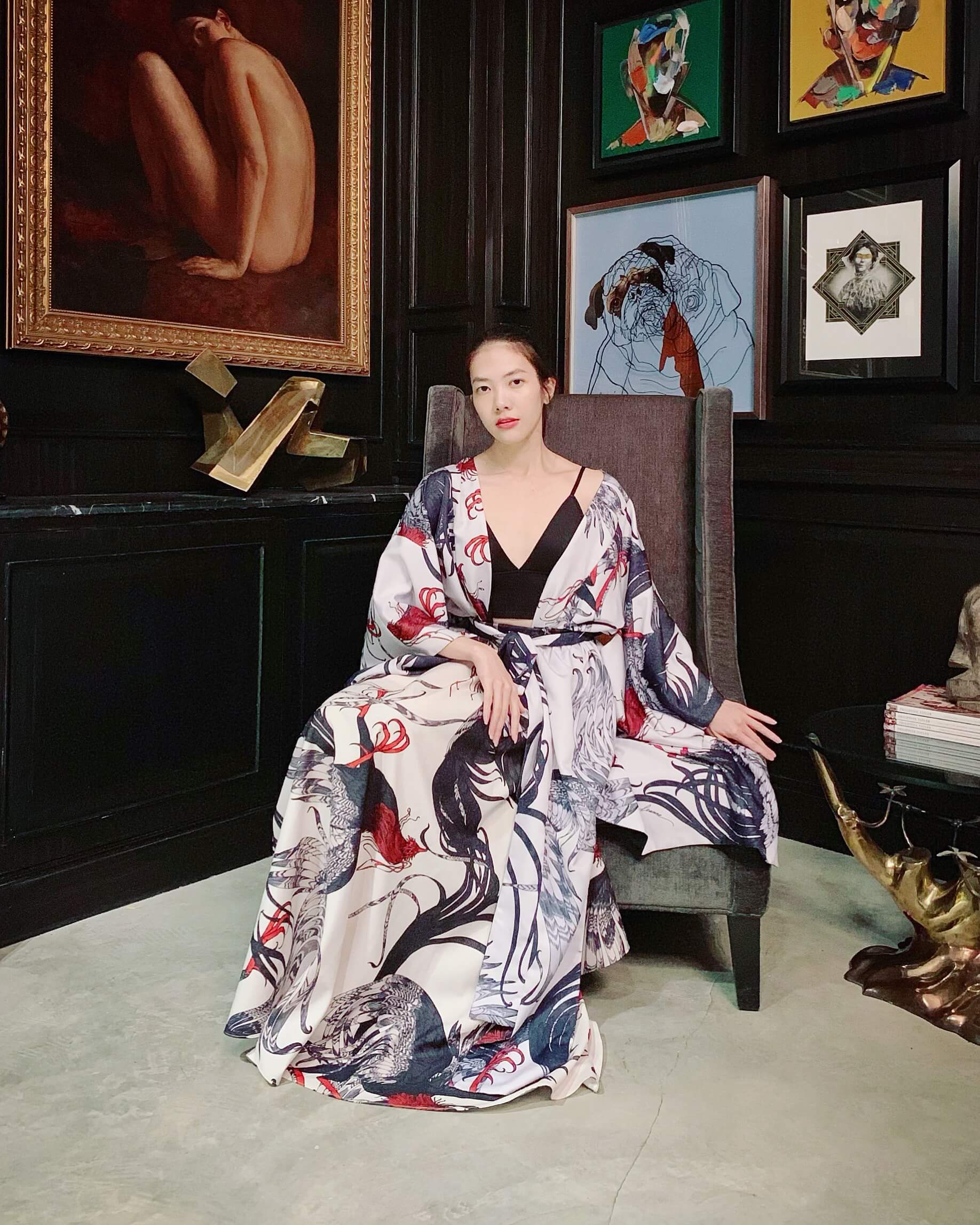 "I have always been a huge fan of Japanese culture—I think its influence in my work is obvious," says Feanne. "It's so exciting to have an opportunity to show my art to Japan and hopefully be commercially viable in that market."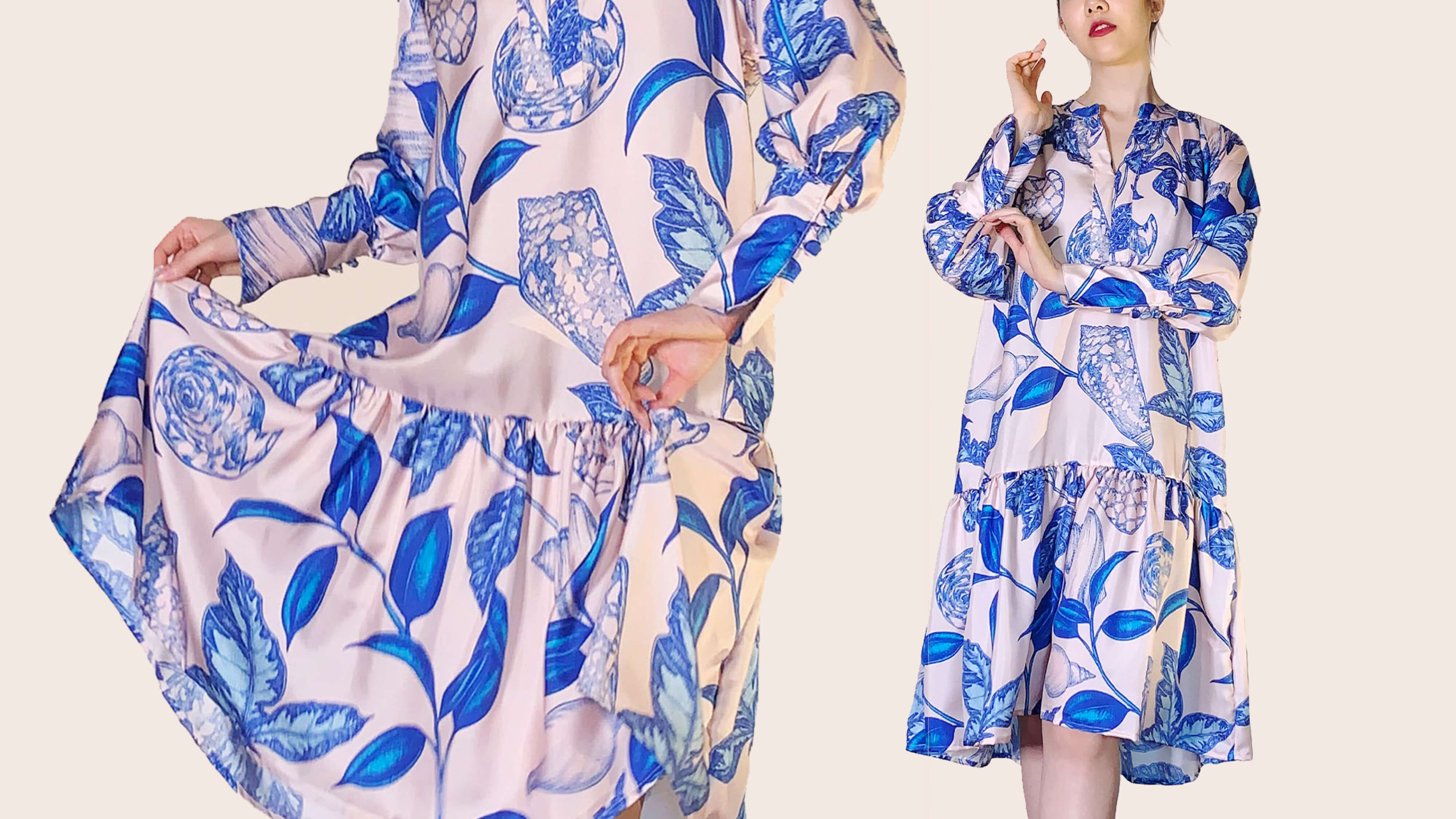 While Feanne knows her Manila clientele well, she wonders what the Japanese market would like. "There seems to be a big emphasis on 'youthfulness,' so the aesthetic sensibility is different from the sort of 'glamorous' look I have right now," she muses

JAPANESE-INSPIRED
As of late, Feanne has her hands full working on the final touches of her collection for PHx Tokyo, a design incubation program pioneered by CITEM, which is set to launch in Tokyo this July. "This is actually my first time working on a collection," she reveals. Since the program, however, she's had to manage through delays in production due to the lockdown.
"Staying mentally healthy has been tricky with the chronic background anxiety from the pandemic and politics and so on, but I've still been lucky and privileged to be safe and comfortable at home," she shares. When the community lockdown was first imposed in March of last year, Feanne never left her house—and still hasn't.
Instead, she directed her energies towards things that were more productive and could at least keep her mind off the situation. "I focused on commissions, licensing, and learning, as best as I could, while also coping with the perpetual background anxiety which I think we have all been dealing with due to everything happening in the world," she admits.
Fashion and art were her saving graces. Feanne notes two career milestones in 2020. First is the Adobe Creative Residency she was granted with, wherein she worked on an illustration featuring a Palawan peacock inspired by a favorite song, "Moon River," to be used as the artwork for the Adobe Fresco startup screen. Second is her inclusion into the PHx Tokyo program, joining seven other Filipino designers in the roster.
"PHx Tokyo arrived at just the right time for me, and I'm very grateful," reveals Feanne. "I've been feeling that my creative career is on a bit of a plateau. Having been self-taught and self-directed for so many years, I feel that structured guidance from industry veterans could help me take my creative career to the next level," she adds.
While she has always been a huge fan of Japanese culture, there's still much to learn about its market. "I know nothing about the Japanese market so I feel like I'm blind here, and the PHx Tokyo mentors are the ones taking me by the hand and leading me," she shares. "I have great respect and admiration for the Japanese way of doing business—the attention to detail, the focus on integrity and craftsmanship, and the emphasis on building for the long-term."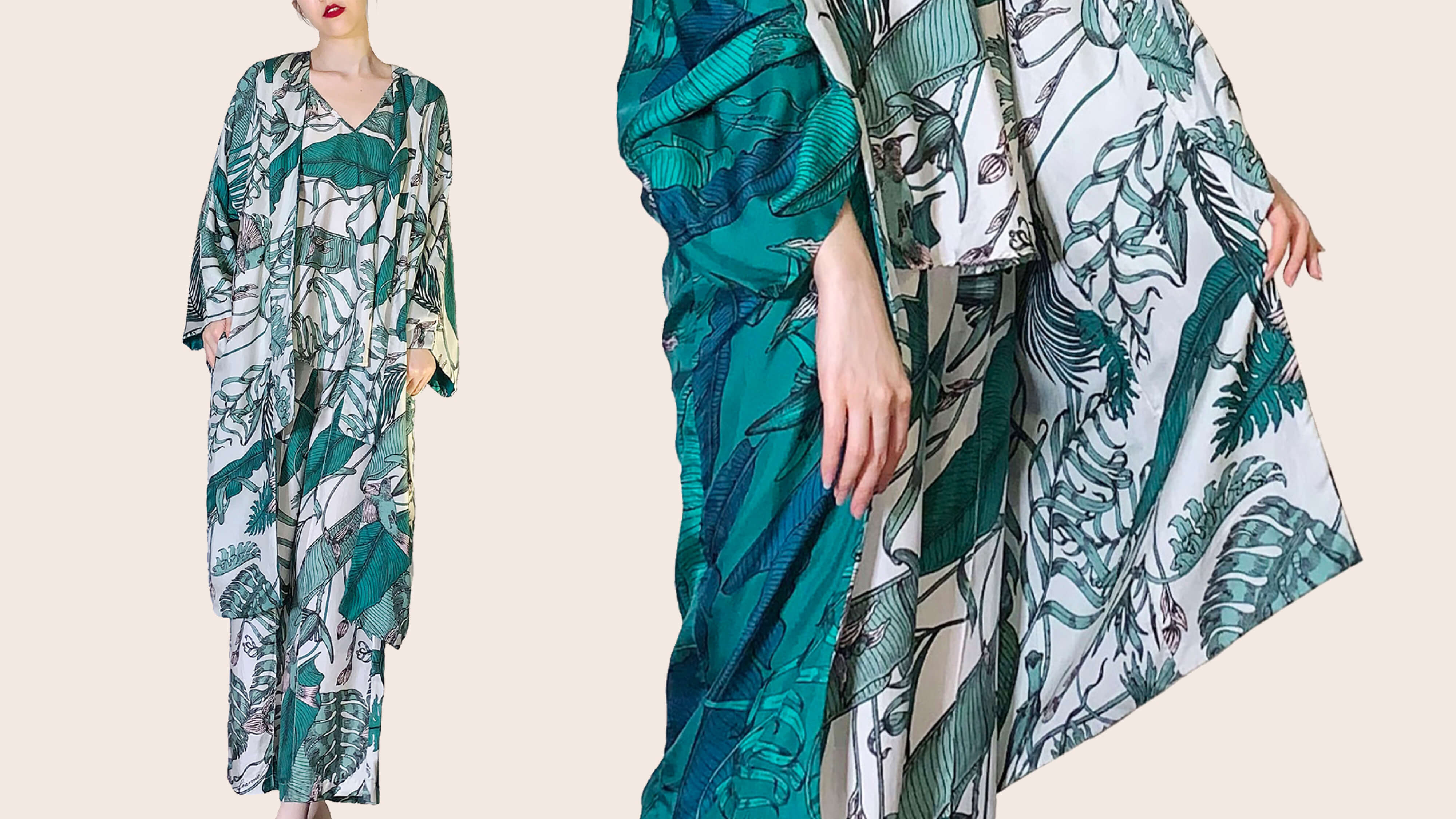 "I found the push for natural fibers to be challenging to deal with (production-wise), but I'm glad I'm doing it because I'm much happier with the new fabric types I'll be working with," admits Feanne. The mentors have helped guide her in the types of garment styles, prints, and colors that would be suitable for the Japanese market. "As always, I design my pieces to be both beautiful and wearable," she says of her upcoming Feanne collection for PHx Tokyo
About PHx Tokyo
PHx Tokyo is CITEM's showroom incubation program. Eight homegrown fashion labels undergo group and one-on-one mentorship sessions with Japan-based showroom H3O Fashion Bureau and fashion consultant Tetta Ortiz-Matera to help them successfully launch their brands in the Japanese market. The culminating activity is a three-day showroom presentation (July 7-9, 2021) in central Tokyo's fashion district. Each brand will showcase its collection for both buyers and the general public.
Photos and videos courtesy of Feanne
Editing by Cheska Marfori