What Buyers Really Look for at Trade Fairs
International buyers discuss what catches their eye at trade fairs and the factors that influence their decision to place an order
by Angelica Gutierrez
Participating in trade fairs is key when it comes to introducing your products to the international market. But what do buyers really look for at exhibitions, and what factors come into play in deciding whether to make a purchase?
According to more recent buyers' insights data, variety, uniqueness, design, and quality of products are important factors. And in the opinion of trade buyers Fiona Cameron and Elizabeth McAlpin, the exhibitors they've seen at Manila FAME already possess these qualities in spades.

ONE-OF-A-KIND FINDS, TIMELESS TREASURES, AND UNIQUE NARRATIVES
McAlpin, a New Jersey-based interior designer who does high-end residential projects in New York as well as vacation homes in Florida, looks for unusual textures. "I've always thought that the Filipino people are extremely creative," she says. "The Philippines has wonderful textures. I found some wonderful woven fabrics to make into shades. But I wanted to get a different color, so [the artisan] wove it for me and sent it to the US. It is now up in a client's home and she loves it. So that's kind of what I'm looking for—texture in wonderful, new, and exciting things."
McAlpin found exactly what she wanted in Arden Classic Inc.'s stunning home accessories, furniture, and art pieces that reimagine the ways in which seashells can be used as décor. She also has high praise for La Galuche's use of unique materials such as shagreen (stingray skin) and shells to create standout furniture.
Fiona Cameron is the founder and exhibitor of STORIE, a Paris-based shop that curates indigenous crafts from all over the world. As the name of her shop implies, she looks for products that have a unique story to tell. Her online store currently stocks pillows and throws made from binakul and inabel—both indigenous and traditional handwoven fabrics.
"First of all, it's the quality and beauty of the craft that attracts me. The skill of the craftspeople and also the story," she says. "The story of heritage was fascinating to me, and my shop is always meant to be the train for craft heritage and crafts which are potentially at risk."
Customers come to Cameron's store looking for unique finds, and they are always intrigued by her products made with Philippine textiles. "They've loved the story about the whirlpool motif of the binakul," she adds. "Especially now, in the times of pandemic, I've talked a lot about how this motif was supposed to protect us from the evil spirits and protect the sick. I find almost no one knows very much about the craft heritage of the Philippines so it's been really fun being able to share that with my clients."
Cameron doesn't necessarily seek products that are on-trend—rather, she focuses on high quality crafts that can be adapted to meet market trends. She is more interested in items that are durable, classic, and timeless—things that will stand the test of time. When it comes to manufacturers, she looks for artisans who are willing to adapt their products to suit the preferences of her market. "For example, sometimes you get these binakuls and these crazy colors. I can see the skill but I know I can't sell that mix of colors in England or France," she explains.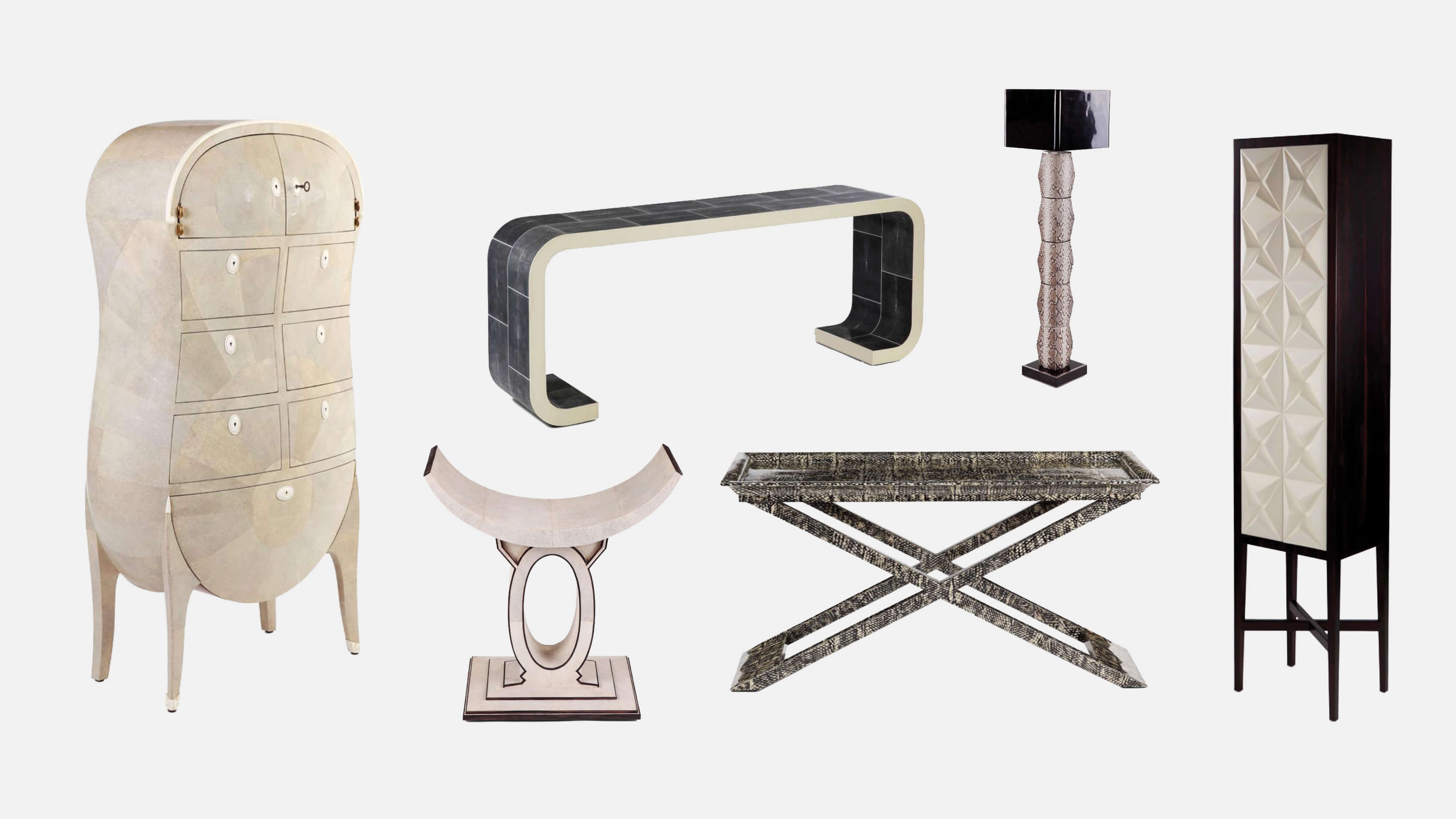 Interior designer Elizabeth McAlpin praises La Galuche's use of unique materials such as shagreen (stingray skin) and shells for their pieces. (Clockwise from top) James Console, Python Floor Lamp, Diamond Chest, Chinoiserie Console, Legrain Seat, and Female Groult Chest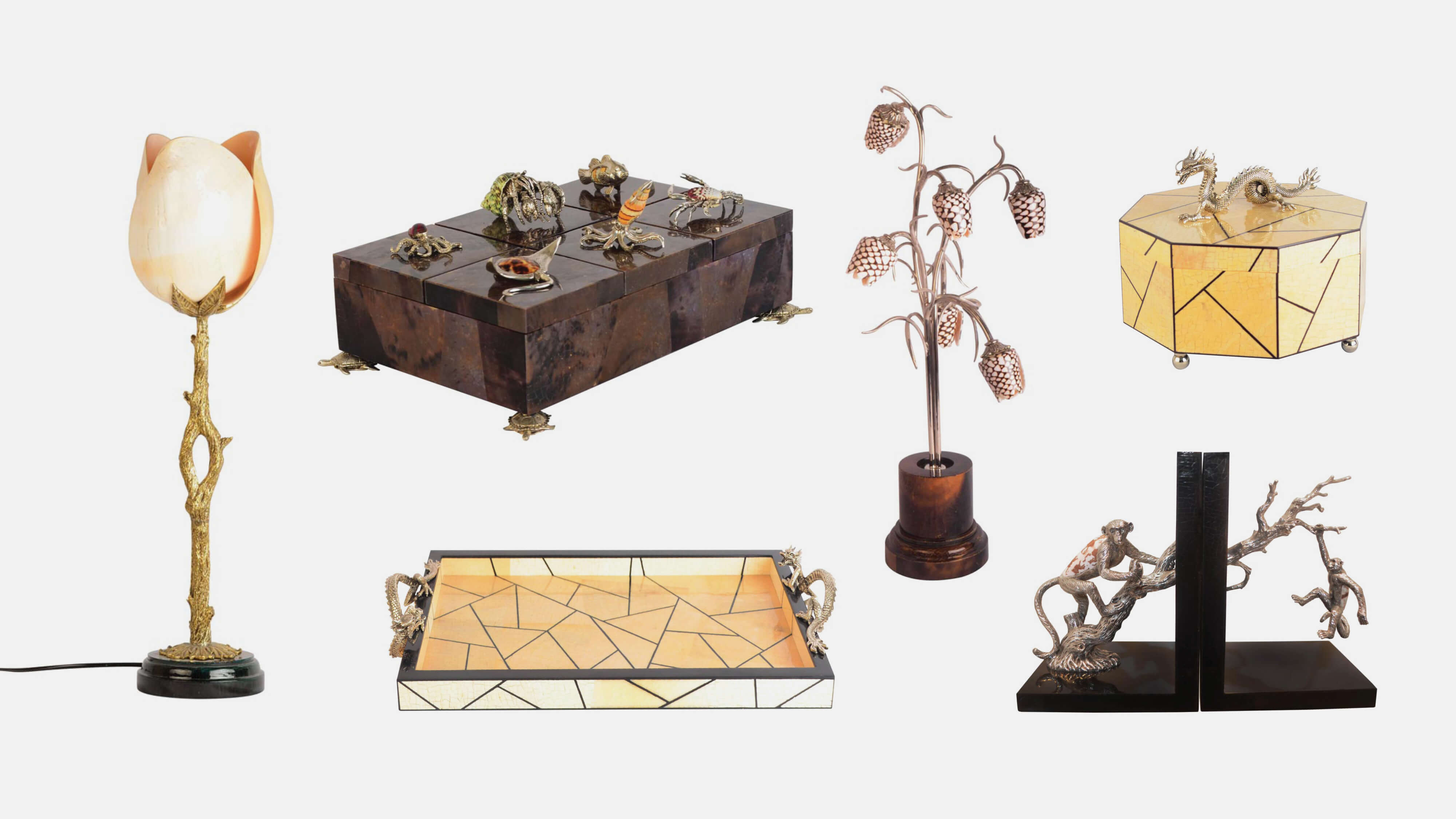 McAlpin has sourced from Arden Classic Inc.'s stunning home accessories, furniture, and art pieces that reimagine the ways in which seashells can be used. (Clockwise from top) Marina Box, Checkered Lily, Melo Shell Dragon Box, Primates in Play, Melo Shell Dragon Tray, and Blossom Spray

IMPROVING BUYER TRANSACTIONS
It's clear that Philippine products are already world-class—so what can brands and manufacturers do to cement more deals? Based on McAlpin and Cameron's feedback, it all boils down to the service provided and the way products are promoted, as well as the pricing.
Cameron is quite happy about the transactions she's had with Filipino artisans so far, and says they are much easier to deal with compared to those from other countries. "One thing that I find really appealing is that people are so helpful and willing to make things work, which is great. I found that people have been very professional. If they said that they'll do something, they do it to the best of their abilities," she explains. "I've had quite a lot of problems working in other countries where people are highly skilled but not necessarily market ready. So I've found, especially through the people who come to Manila FAME, that there's a marriage of craft and an understanding of business. Even with smaller, very traditional people, people have a willingness. I find it a pleasure to work with people."
On the other hand, in McAlpin's experience, there is room for improvement when it comes to payment methods and shipping. Many buyers and manufacturers only accept bank transfer, which is difficult for McAlpin when she places an order from the United States. She points out that it would be much more convenient for international buyers if more exhibitors started accepting credit card payment as well.
With regard to international shipping, McAlpin says some brands need to improve the way they package their furniture, as well as their customer service when problems arise. Buyers would be able to place more orders with peace of mind if local sellers included insurance with their shipping and had refund and return policies in place.
"What happens if it gets here and it's damaged? Will the Philippine company back it up? They need to take out the insurance and let them deal with it," she points out. "It's a real hassle when you're on the other side of the ocean and you get the item damaged and the shipping company says, 'well, it was damaged before it left the port.'"
For example, McAlpin once ordered a chaise from a Filipino brand, and it was placed in a cardboard box without any protective padding. Needless to say, it did not arrive in good condition. When she contacted the seller, they sent her a kit to reweave it herself. Naturally, she refused and insisted that they send her a replacement. While the company finally relented when she said she would get CITEM involved, she still shouldered additional expenses for the replacement chaise. "I had some shipping charges in the US. There's a tax for picking it up and at the port. There's all kinds of taxes," she explains.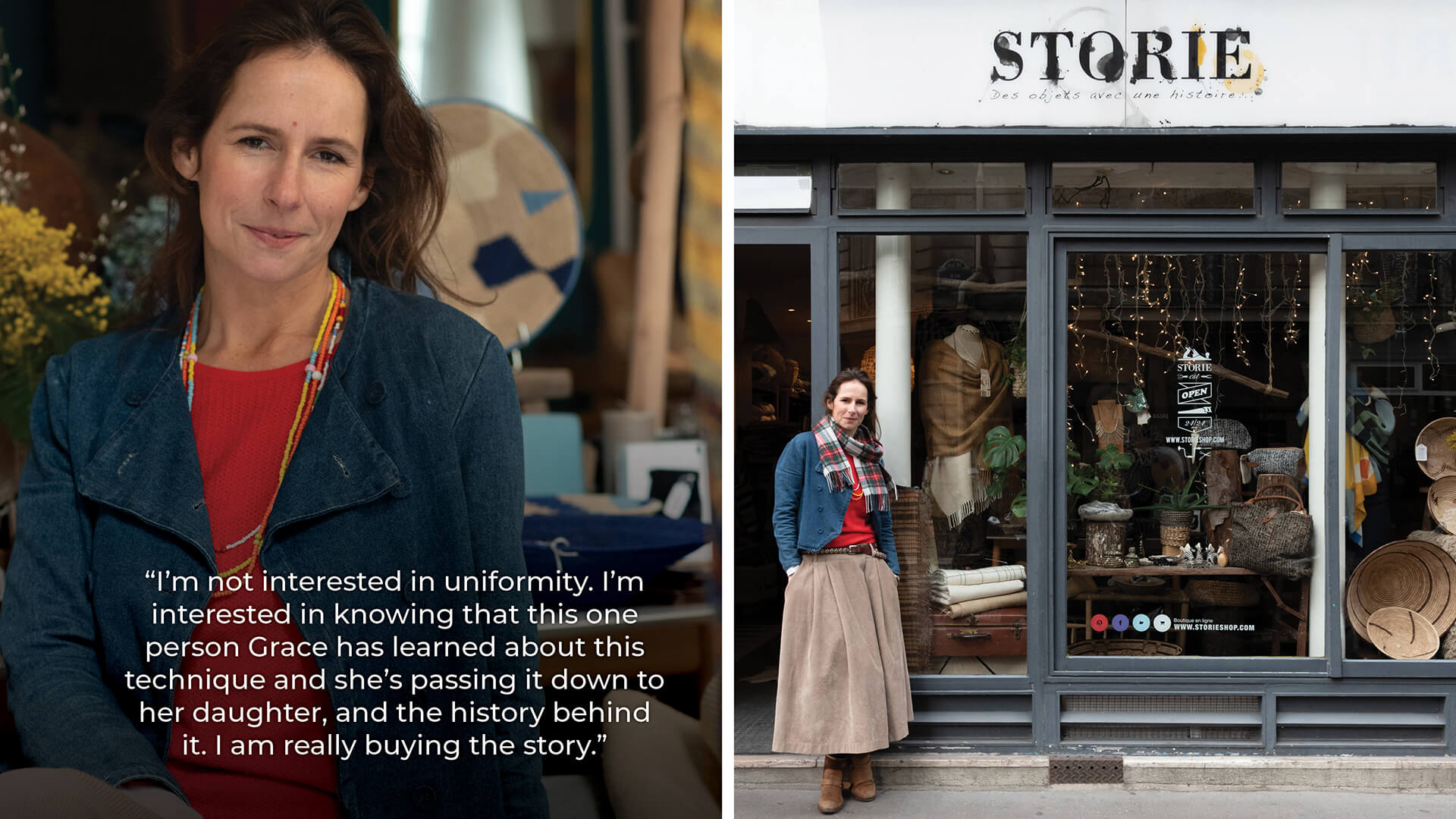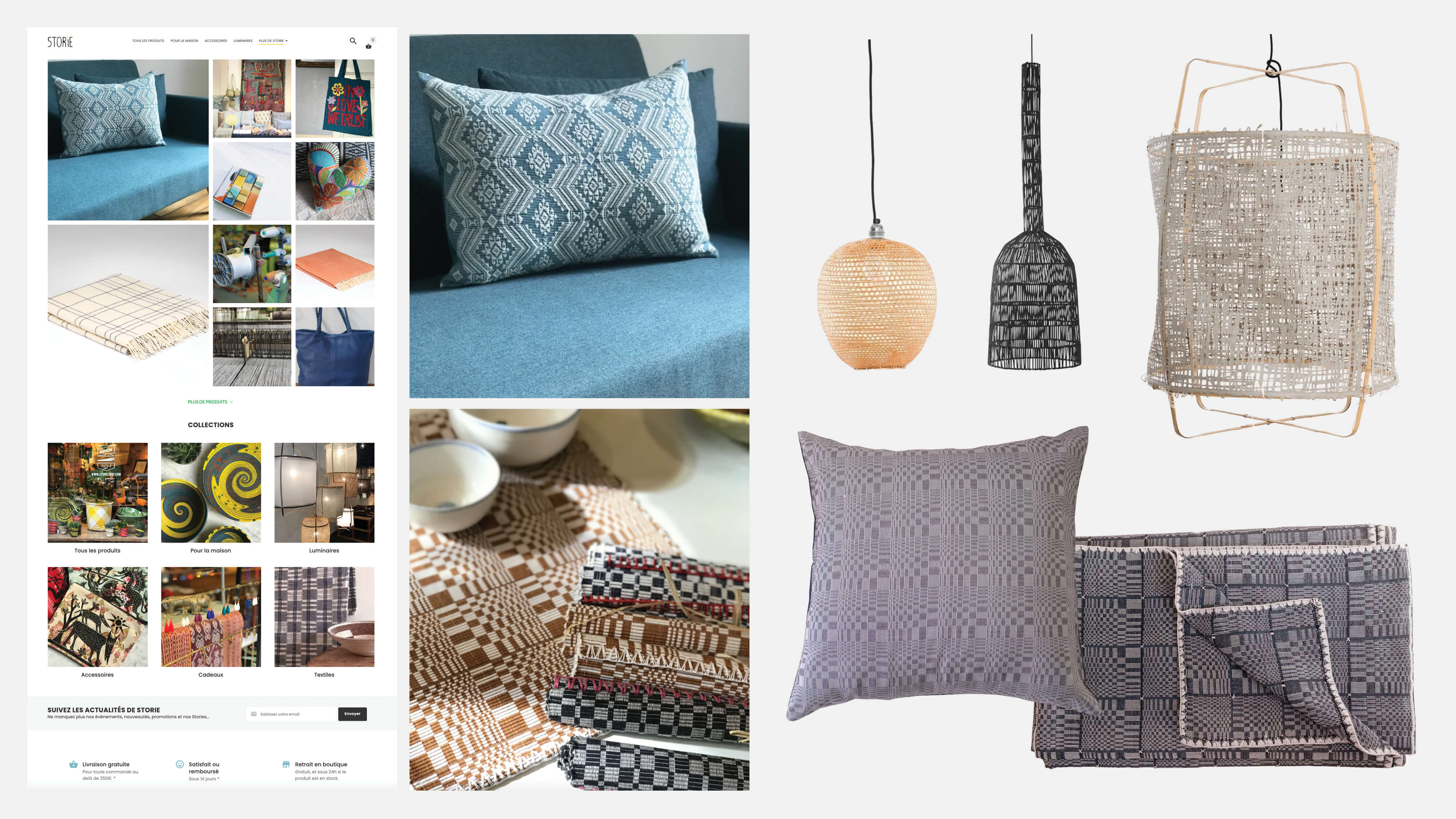 Fiona Cameron's Storie Shop curates indigenous crafts from all over the world, the Philippines included
ON COMPETITIVE PRICING
When it comes to pricing, Cameron and McAlpin agree there's no need to fear competition from other countries even if they are able to sell similar products at a cheaper price. As a designer of luxury residences, McAlpin is far more interested in unique, high-quality furniture and décor. "The items in the Philippines that are indigenous to the country are far superior to what China can mimic," McAlpin says. "China might be cheaper, but the quality's not there."
Cameron says her perspective may be slightly different from that of the typical buyer, since her business's mission is to help preserve traditional crafts. "What I'm looking for is skill, something original, something authentic," she explains. "If there was a basket made in Palawan that can be made in China for a 10th of the price, I wouldn't buy it because that's not what I'm looking for. I'm not interested in uniformity. I'm interested in knowing that this one person Grace has learned about this technique and she's passing it down to her daughter, and the history behind it. Having a cheap copy is not interesting to me, that's not what I'm buying. I am really buying the story. I don't think you're going to find artisans in China making a binakul because it's just too complicated and hard to make. They might do it on an industrial scale but never on a craft scale."
If anything, the issue is the cost of shipping. For Cameron, the pricing of the actual products is perfectly reasonable and good, but the logistics of getting those products to Paris brings up the cost significantly. "I'm not aiming for mass market so I'm not filling containers. I'm paying a lot for shipping, that's what makes the price point higher for me," she says.
It's the same case for McAlpin: as an interior designer, she doesn't order furniture in bulk. When her order arrives in the US, there are additional costs aside from the shipping itself. "If it comes in on a ship, I have to hire a broker," she explains. "And there are all kinds of taxes. When I'm buying in the Philippines, I have to factor that in. Manufacturers know how expensive shipping is, but they don't realize how much we pay in taxes."
Cameron doesn't think that artisans should price down to compensate for shipping costs. In fact, she thinks our traditional crafts are cheap for what they are, considering the amount of labor that goes into making them by hand. "I don't feel like people understand and appreciate the craft story and the skill of your craftspeople," she says. "What I would recommend is really pushing the craft heritage and the savoir faire, rather than trying to bring the price down. I've talked to and worked with many artisans there. They shouldn't work for less money. I don't think they should be making things cheaper." Her suggestion is for the government to help artisans promote their craft and assist international buyers with exporting goods from the Philippines. "Perhaps it's something that Manila FAME could help with, joining buyers up and getting pricing on the shipping," she adds.
On the other hand, McAlpin thinks that brands need to take the cost of shipping and taxes into account if they don't want to price themselves out of the international market. When asked if she thinks the pricing of our products is justified, she says it depends on the product. "For instance, I thought some of the lighting was way too expensive. Plus when you add in the shipping cost, which is enormous."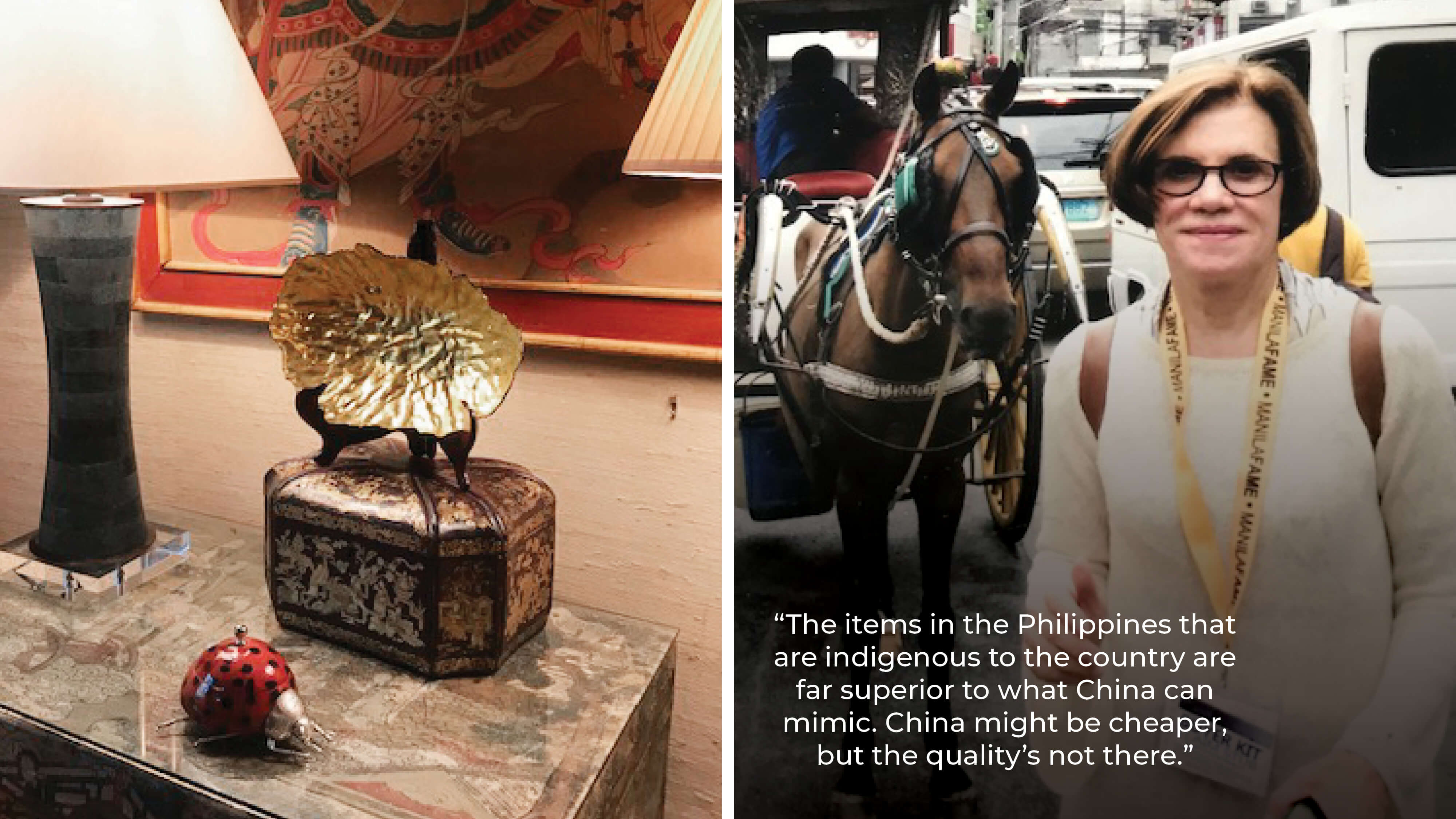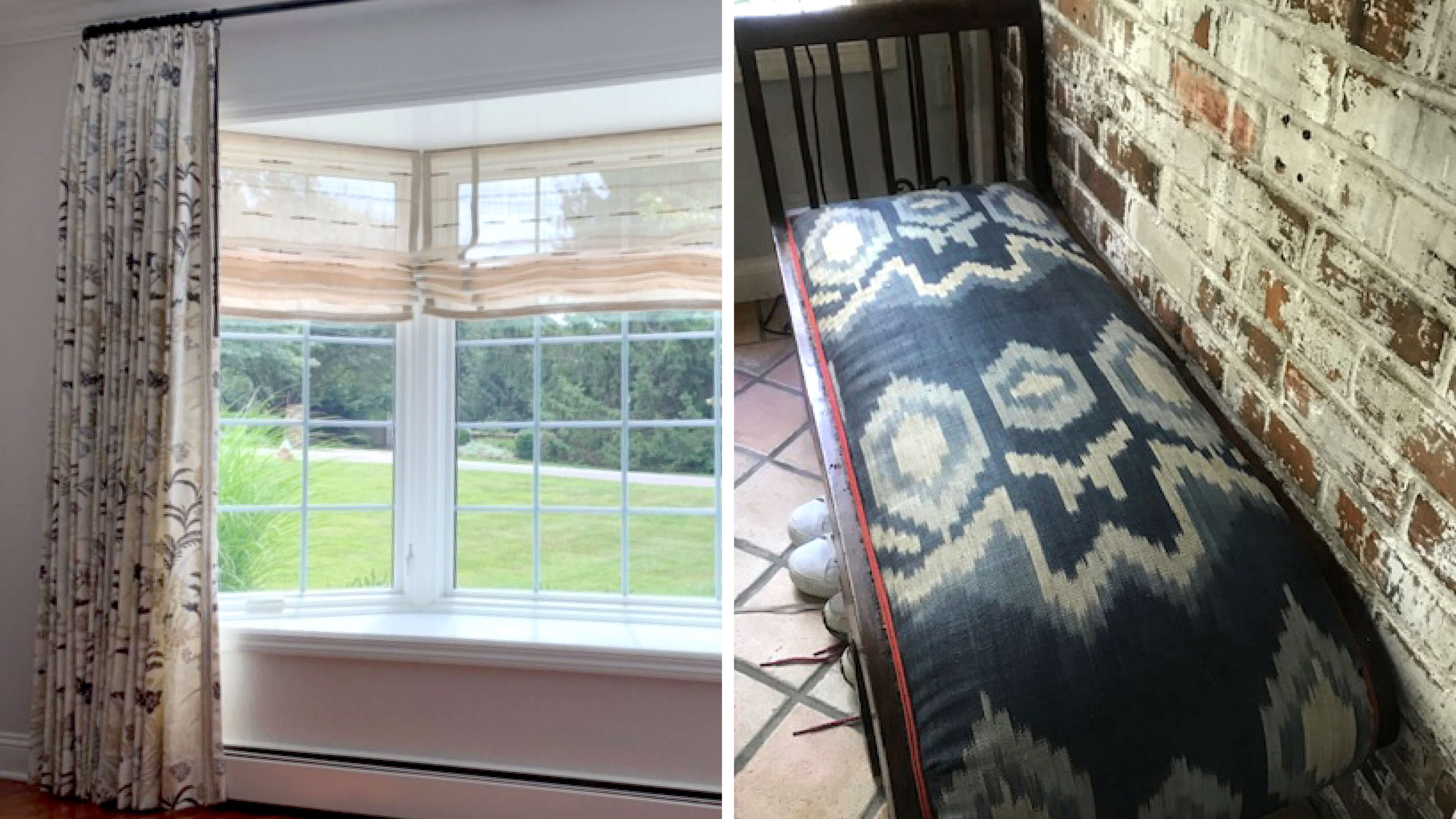 Elizabeth McAlpin uses local finds in her design projects and even in her own home. Case in point: the ladybug from Arden Classic, ikat abaca from Cebu, and window shades she had customized in the US using abaca from the Philippines

HOW TO ATTRACT MORE INTERNATIONAL BUYERS
McAlpin believes that there is a big market for Philippine brands in the US, particularly among interior designers. She suggests collaborating with organizations such as the American Society of Interior Designers and design centers such as 200 Lexington Avenue in New York. "You could talk to them and see if they could help you with some kind of a display," she says. "Or you could put flyers on the information desk. All the big cities will have a design center."
Cameron adds that we should highlight the skill and artistry that goes into creating Philippine products. "I think what does need to be done is working on the story element, selling the story, promoting the craft heritage. For example, Japan has done incredibly well at promoting its craftsmanship. When you go to a standard international fair and there are Japanese crafts, you'd expect the prices are going to be higher. There's a whole story of respect for the craftsmen."
There needs to be depth and authenticity to the narrative you build around your brand and products as well. "Something that sends me completely cold is when I go to the international fairs and you see all this marketing," Cameron says. "People say, '[This is] made with love' and I'm like, 'Oh, what's the story?' and they're like, 'Oh, you know.' Well, that's just not interesting to me. I want someone to know their work and their craft."
While Cameron admits that she's a bit of an idealist in the way she chooses the brands and manufacturers she supports, it's worth noting that there is a global trend towards choosing sustainably made products over cheaper, mass-produced items. "Even the bigger brands, bigger shops, bigger buyers here in France are selling things that are handmade. I am seeing more and more products that are well-made appearing in bigger stores, because I think it's important for them to show that they are supporting ethically and sustainably made products. So it is becoming more fashionable. It's good that they are buying from artisans. So I do think there is room to try and promote that element."
Based on McAlpin and Cameron's comments, it's clear there is potential to further elevate the narrative around Philippine craftsmanship and promote our products as luxury items that are well worth the price. At the same time, it is necessary to remove the pain points buyers experience when it comes to paying for and procuring products. Once these concerns are addressed, exhibitors will be well-positioned to promote their brands on the international market and champion Filipino design.