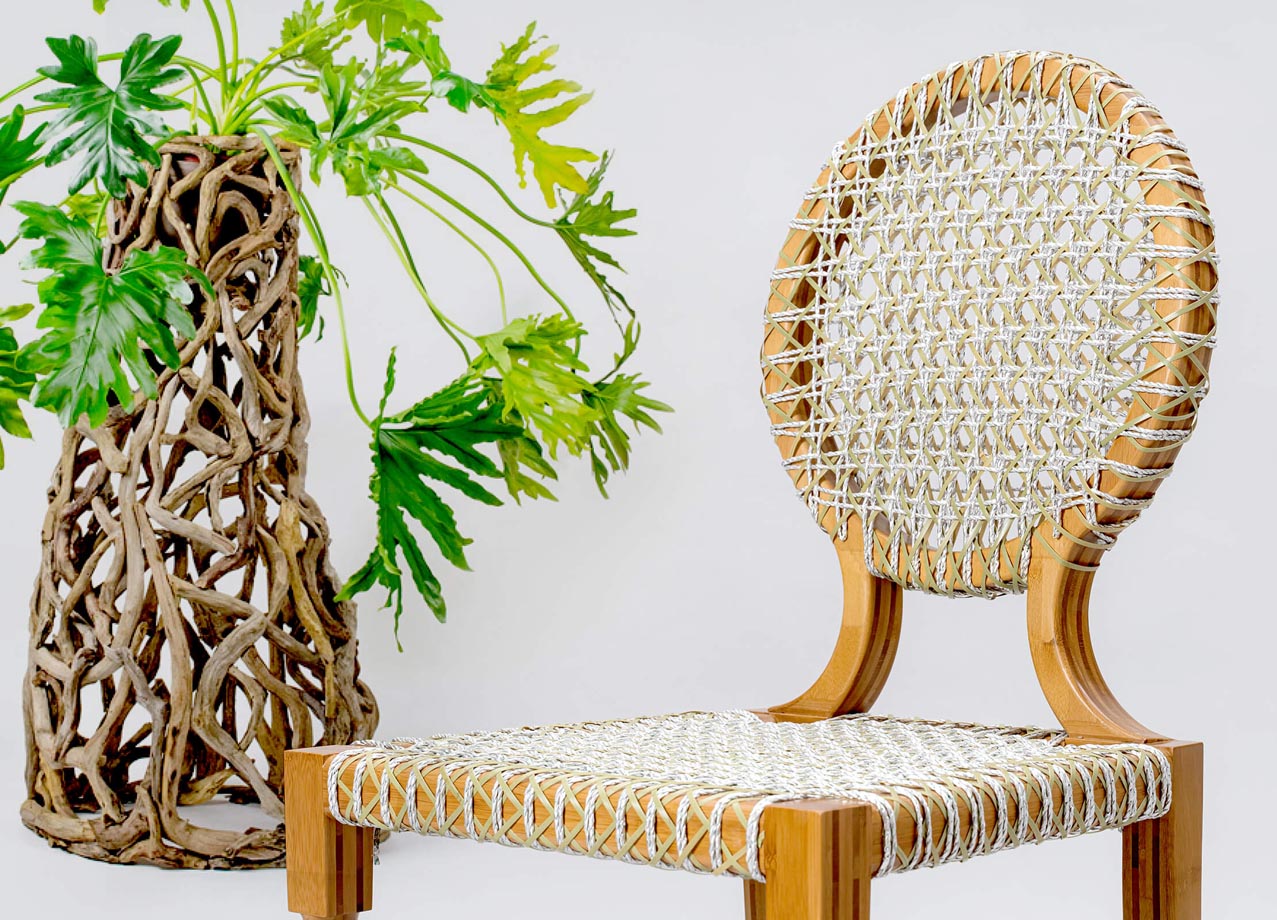 Sense and Sustainability
For their creative collaborations, these brands championed Asian sensibilities and meaningful practices in product design and production

by Vicky Montenegro

For the Creative EXPO Taiwan (CET) happening this April 21-25, Taiwanese and Filipino designers and manufacturers combined forces to create pieces that truly celebrate Asian sensibilities: ingenious design, masterful craftsmanship and artisanship, and a long-standing love affair with regional natural materials.
But a closer look at some of the pieces also reveals a high regard for sustainability in the design and production. It should come as no surprise then that two local names known for their sustainability and eco-friendly practices in product design and production are part of the Taiwan-Philippines Craft Cooperation Project: Idr. Wilhelmina "Willie" S. Garcia of Junk Not and James Doran Webb for Cebu Homecraft.
Junk Not is famous for their plastic waste material which Garcia transforms into furniture and accessories. Cebu Homecraft fashions second-life materials into hand-crafted furniture and lighting, and Webb is an artist/sculptor who works primarily with driftwood—or "long dead wood," as he calls it. He also makes sure to "return" what he's "taken" via 80,000 Trees, a community project he started seven years ago. "The goal is to actually grow the seedlings or saplings to full growth," Webb explains. "And that was a much harder goal to attain because you can put like 100 seedlings in the ground, and 50 of them are going to die during the next summer season."
Both Webb and Garcia are passionate about community projects. Webb puts in his own money and resources into JDW Community Projects, his non-stock, non-profit organization which runs Bantayan Crafts, Bangka Relief, and the aforementioned 80,000 Trees. Junk Not partners with the women of Brgy. Alas-as, San Nicolas, Batangas, whom Garcia has trained to collect, segregate, and clean household plastic waste which they then turn into ropes used for weaving.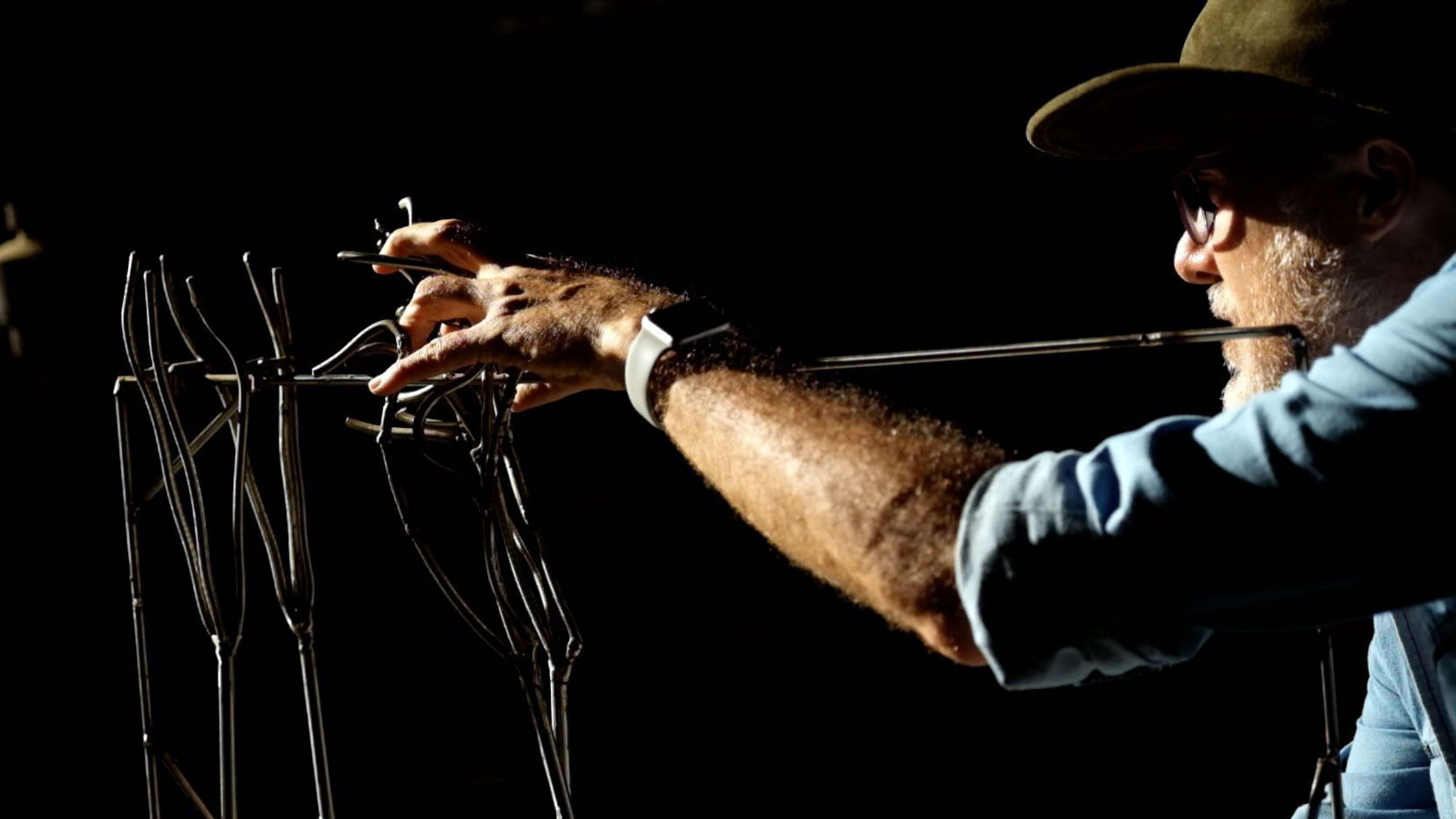 James Doran Webb is known for his works with driftwood, which he started in the mid 1990s. He says that working with driftwood and second-life materials "gives you that kind of ability to look at something and not see what's there in front of your eyes, but see the potential. And that's really important."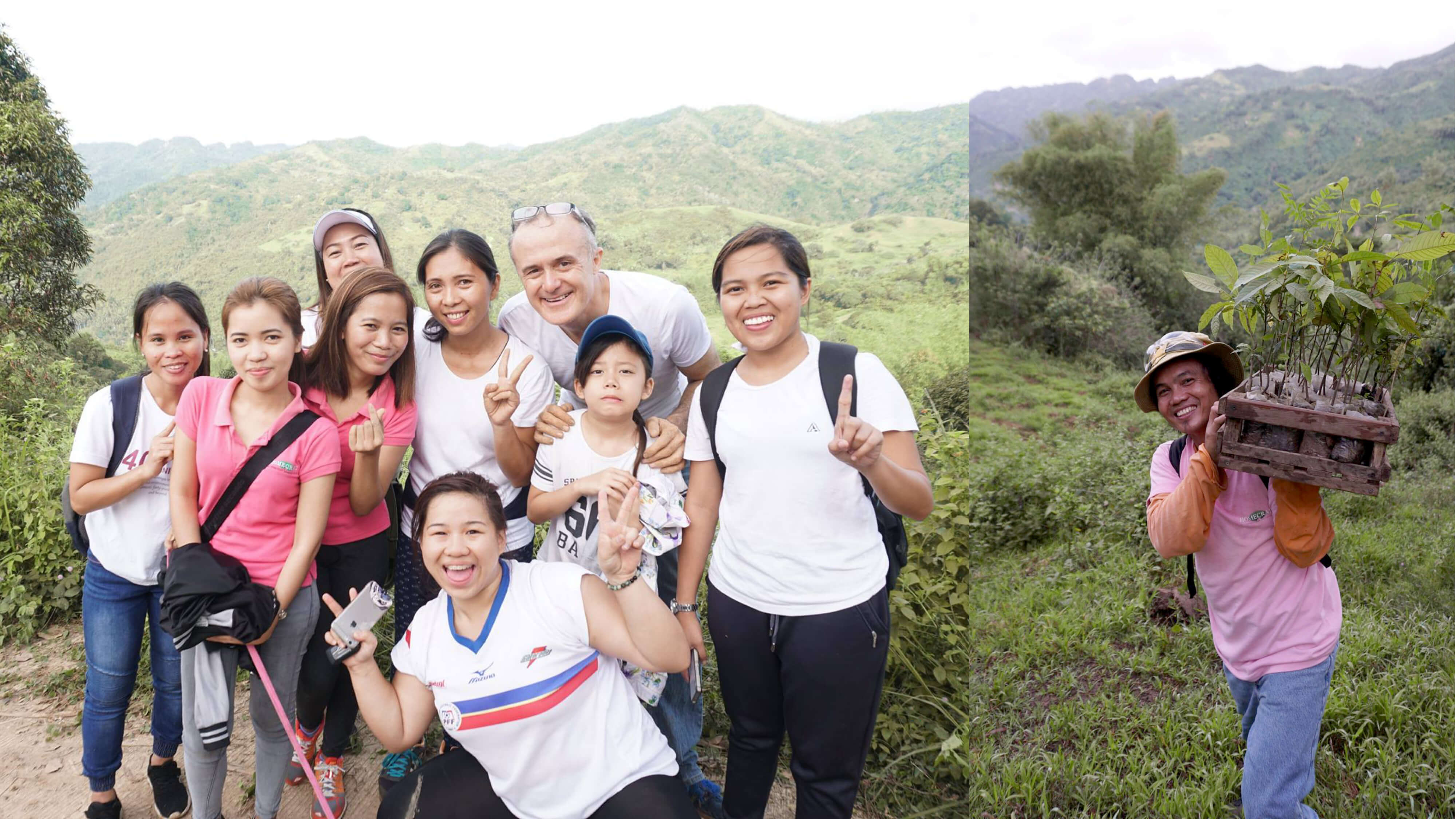 Webb and his team during a tree-planting activity in 2017. The 80,000 Trees program aims to plant 80,000 different varieties of trees in a 50-hectare land area: 25 hectares in the south and 25 hectares in the north of Cebu

PARTNERS IN SUSTAINABILITY
Eileen Chung, the lead designer and owner of Taiwanese textile company mee.textile and who collaborated with Webb and Garcia for this year's CET, is no stranger to sustainable practices as well. "The studio began re-weaving plans at the end of 2016, using the stocked yarns, fabrics, and people's old clothes from Taiwan factories," she explains. "When proposing a design, I always hope to find the possibility of discarded objects being reused, and I hope that humanistic care can be added as an element in the production of the product."
The use of second-life materials is something all three designers try to maximize. "By and large, our design principle goes: if we cannot use second-life materials, then we try and use something that is surplus to requirements," Webb shares. "If we cannot use surplus to requirements, we try to use organic. And as a basic principle, we steer away from anything that is very difficult to degrade, such as resin fiberglass."
Though "nothing we utilize is really fundamentally sustainable," Webb says that for designers and manufacturers to be sustainable, it will all boil down to commitment and desire. "Of course, you have to balance it out against the economic reality of where you are as an individual company. It's a struggle in that you have to want to do it; you have to focus on it; and then you have to use it as a kind of driving goal."
The key is to having the desire and commitment top of mind, and in the early part of the whole process. "The environment aspect is often forgotten when creating products," Garcia says. "In sustainable design, you don't just design for people, you also design with the environment in mind."
"It's definitely possible to become considerably more sustainable," Webb adds. "Even if you had like, a two-hour meeting on how to become more sustainable, you'd be amazed at what you can come up with. Even the lifespan of your product: if your product is better made or has more perceived value, it's not going to be in the landfill in two or three years. Simple as that."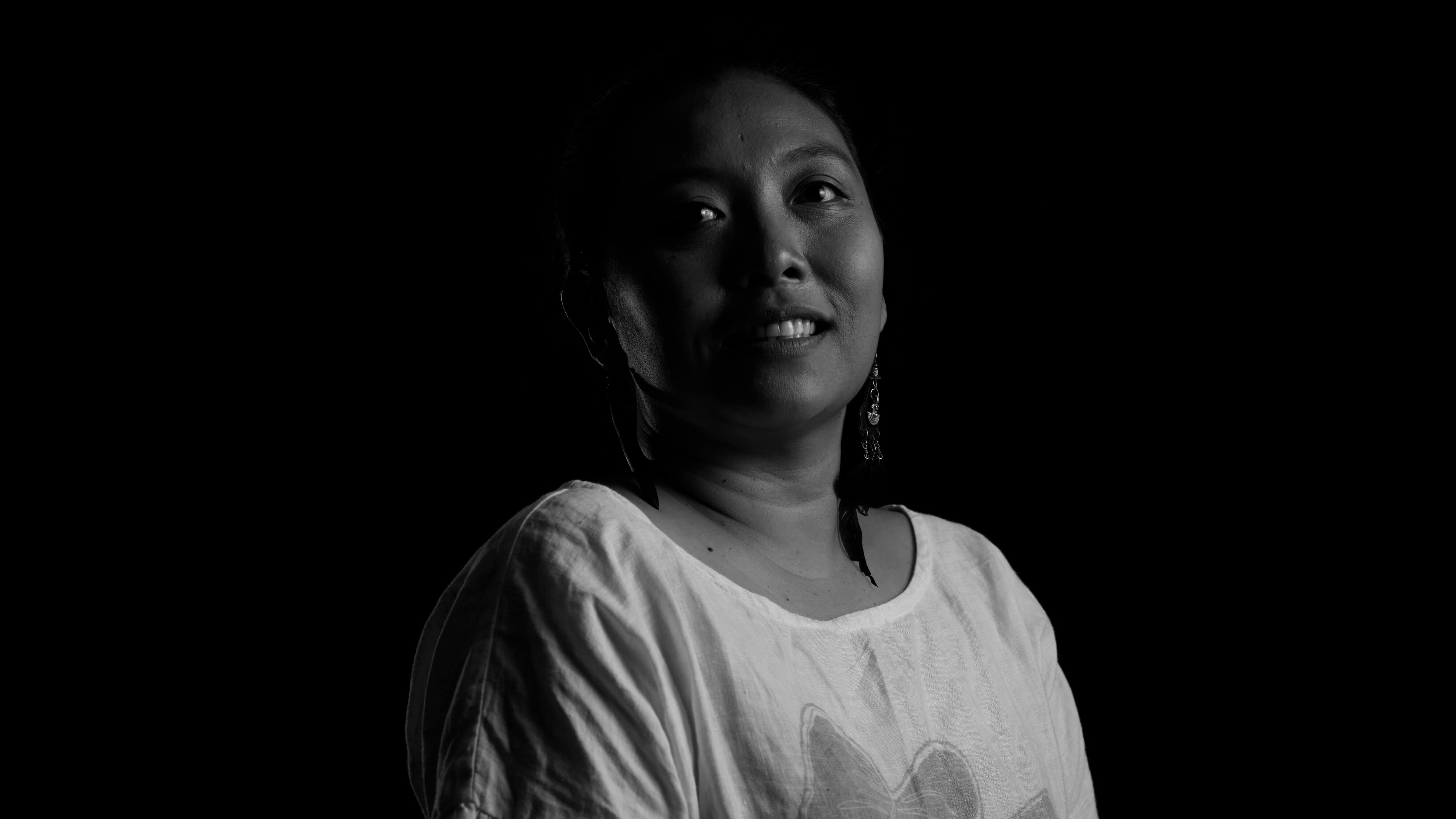 Idr. Wilhelmina "Willie" S. Garcia is a long-time environmental advocate. With Junk Not, she hopes to address waste management and its environmental impact and livelihood opportunities for underprivileged communities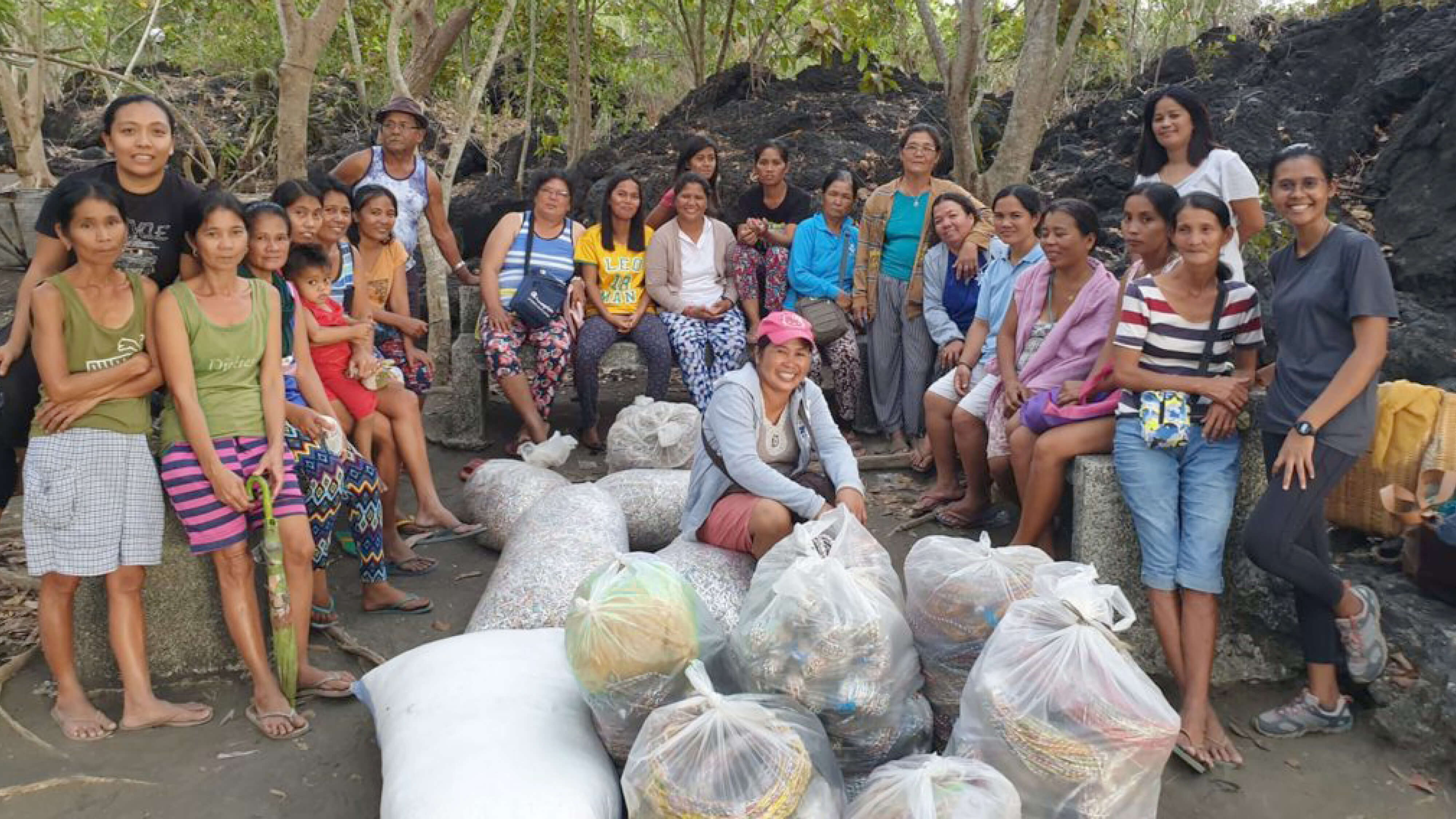 In 2014, DENR PASu-TVPL commissioned Garcia to conduct a livelihood program in Brgy. Alas-as, San Nicolas, Batangas. This is how the partnership between Junk Not and the women of Alas-as started

CREATIVE COLLABORATION
For the CET, Webb, Garcia, and Chung, like all other participants, explored key concepts in material research and development and product design.
The whole process began in 2019. "I was really excited at that time and wanted to stay longer to really work with the artisans," Garcia shares. But everything was cut short and prematurely by the pandemic, and Garcia and project partners had to resort to communicating online. "The Taiwanese designers were able to visit my studio prior, and I was able to tour manufacturing companies in Taiwan."
"And during that tour, I remember just being drawn to the waste materials that were just lying around the facility," she adds, laughing. "That was my focus: how to use all the waste I was seeing everywhere." Meanwhile, her Taiwanese counterparts, Garcia noticed, was focused on the Philippines' sustainable materials. "They are abundant in bamboo and they were very interested in other sustainable materials available in the Philippines, like the materials from Bicol."
Garcia's collaboration with Chung was on material. "Because our studio does fabric creation, the first thing that came to our mind was the fabric," Chung shares. "Therefore, I tried to find a partner with the same idea. When I first contacted Junk Not, I liked her idea very much, and I admired her for making disposable materials into wires and then weaving them. The wires made of aluminum foil have a hidden and unobtrusive gorgeous texture. I like it very much."
When Chung was "distressed about finding the right material for her design," she was introduced to Webb. "CITEM introduced Cebu Homecraft to us and we had the opportunity to have a meeting with James during Manila FAME," Chung recalls. "I was very happy to see Cebu Homecraft using fabric to make furniture. James assured us that there would be no problem executing the design, and that these recycled fabrics are all executed by women on his island. We were very happy that we could strike a balance between concept and design."
"James also gave substantial suggestions on the products," Chung adds. "We really appreciated their efforts so we can complete the sample in time. I was also very impressed by the women. They were always smiling, full of enthusiasm."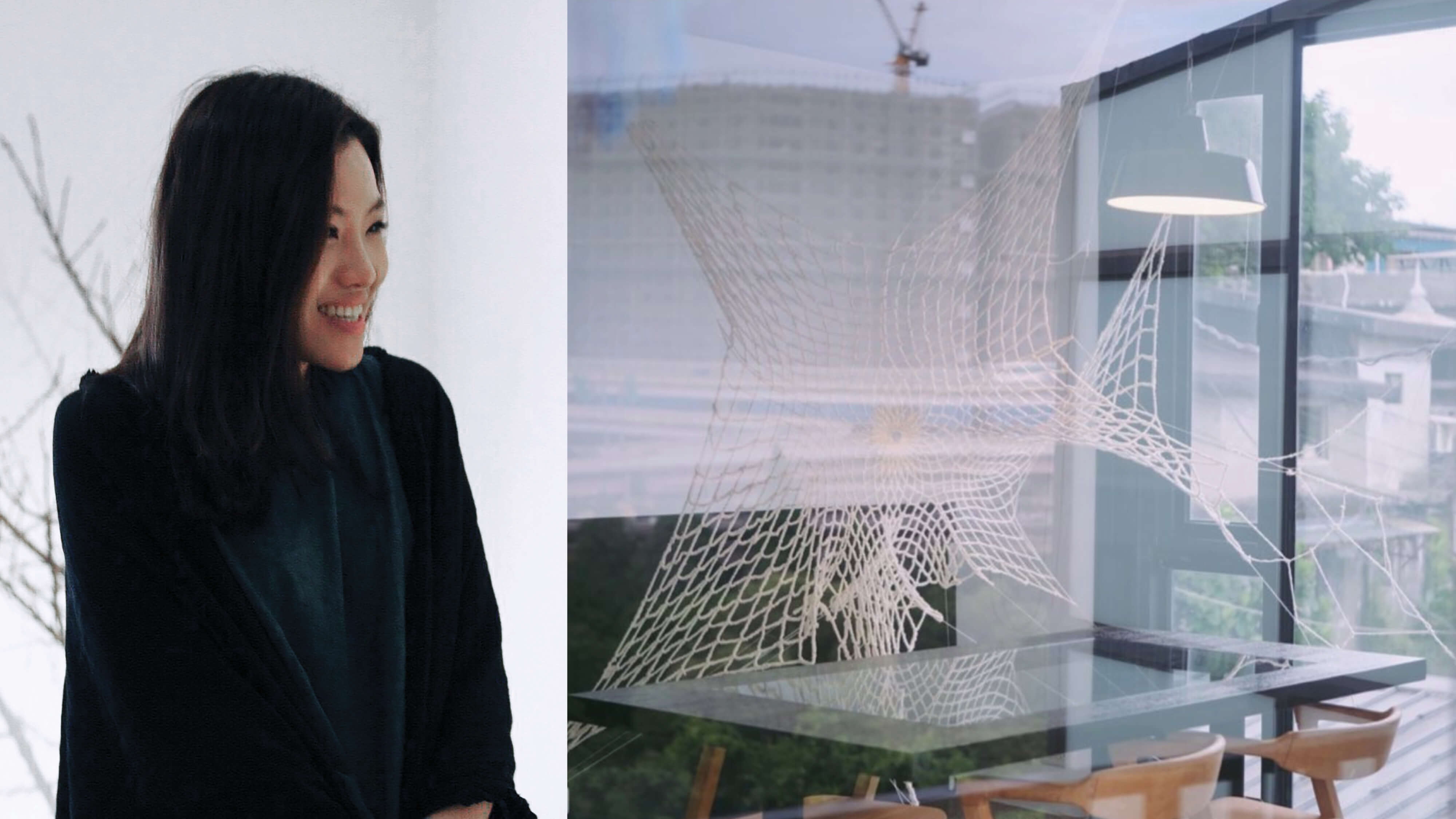 Eileen Chung is the lead designer of Taiwan-based textile company, mee.textile. "We weave and use waste fabrics to sew our works, so fabrics can have a new look before being recycled," she says

The whole creative exchange of ideas has been beneficial for all parties, Webb says.
"The reason we embark on these kinds of projects is really not for the financial gain, because that's a big question mark," he says. "It might or might not happen. It's more for what we learn through the collaboration. I think we've learned a lot, and I'm sure they've learned a lot."
Webb notes, in particular, the opportunity of working with the designers: Chung and Wanshan Lin and Helen Chen of A.M Ideas. "They worked directly with the sample makers and that was very beneficial for our staff," he points out. "The staff saw the desire to really get to a level of perfection. Goal-setting rubs off. Aside from that, working with designers, there's always a residual kind of impression and knowledge that will subconsciously drive you into places you wouldn't otherwise have visited have you not had the benefit of the collaboration."
"I learned a lot from them even from just my first visit," Garcia says. "Like their different weaving techniques that I can incorporate in my next designs and their technology. Bamboola's engineered wood, for example—I was really amazed by that because the output of their product is really beautiful. And that's because of the technology advancement they have. That is actually a challenge of mine for my export requirement. In Europe, they want me to replace my wood with engineered bamboo but we still don't have the technology for that. Hopefully, we can adopt that technology here so we can compete in the international market in terms of bamboo manufacturing."
And the Taiwanese artisans learned from their Filipino counterparts, too. "I think they would have been pretty impressed with the Filipino way of tackling problems, which is different, you know," Webb notes. "The Taiwanese are a bit like in the West, where people are very—if you can imagine a German engineer—structured in their thought process. Whereas the Filipino way is to just dive in and get it done. I think that that would have impressed them or, at least, given them another perspective. But I think they really enjoyed the couple of days they spent with us, the Filipino way of working, where everyone's really happy and nothing is too much to ask for."
"What did they learn from us? Yung pagiging basurera ko (My garbage picking and scavenging ways)," Garcia laughs. She is hopeful that more collaborative projects will happen in the future and, ideally, without a pandemic getting in the way. "The physical interaction is better because you can really engage with the artisans and really learn hand in hand," she says. "But online or off, these projects help expand your network. And you learn more about our Asian neighbors' techniques, their culture."
"More collaboration is better because we all learn so much," Webb adds. "There's a definite price tag that goes with such collaborations, though, and it can be quite considerable not just in the base labor costs but also in resources, like manpower. But the collaborative learning—and what we've taken away from it—it's really worthwhile."

THE PRODUCTS
JAMES DORAN WEBB OF CEBU HOMECRAFT FOR CREATIVE EXPO TAIWAN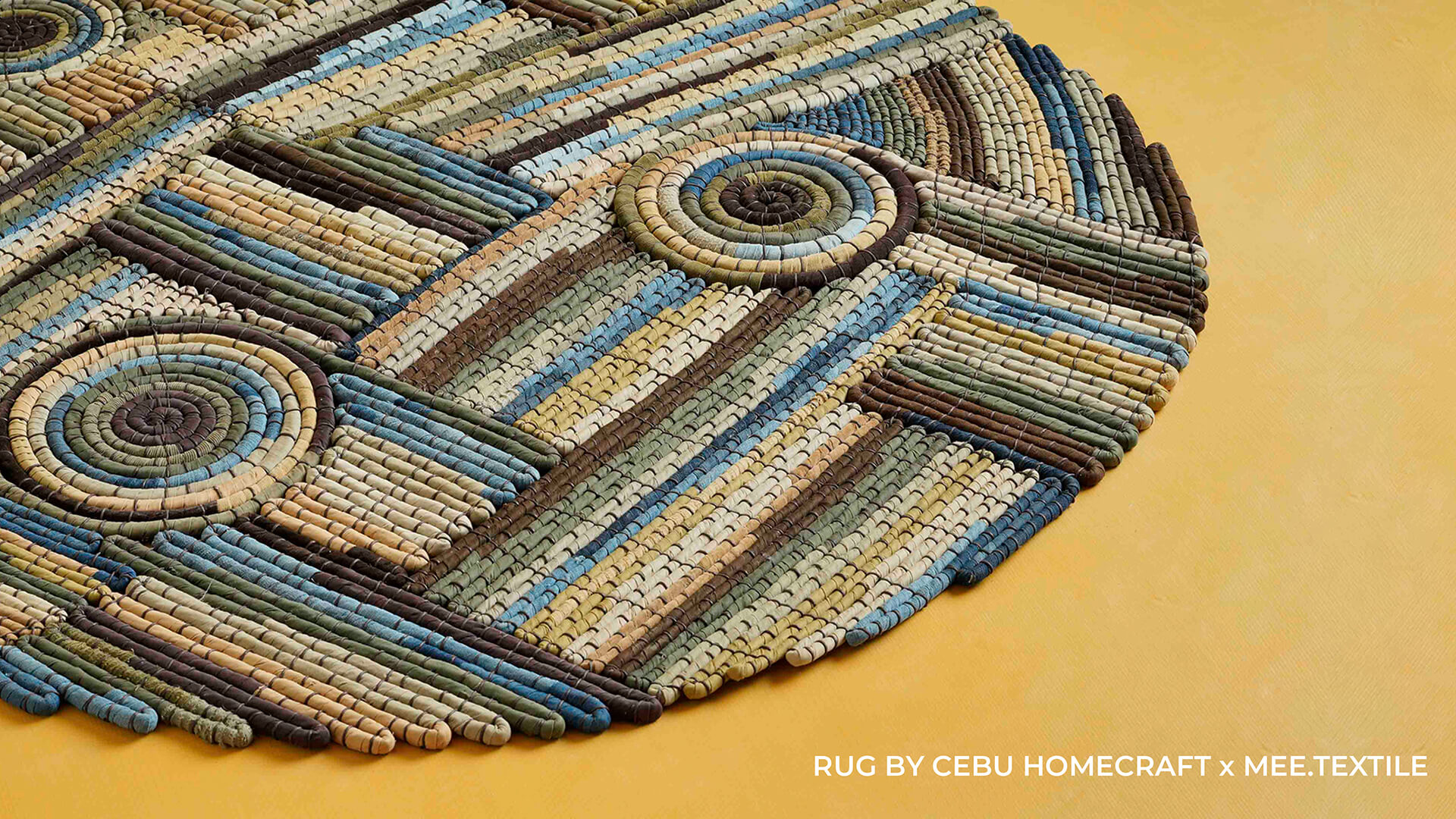 Rug by James Doran Webb of Cebu Homecraft X mee.textile
"We made a continuous core—a bit like string—with lampakanay and then we wrapped it with strips of recycled fabric, gluing as we went. And then we formed individual components—spiral, triangular, and rectangular shapes—and then pieced them together like a patchwork quilt. It was basically our original process of winding and forming and then Eileen came in with the design, which was very conceptual, mixing up all different shapes and stuff. She basically took our process and did something that we would never ever think of."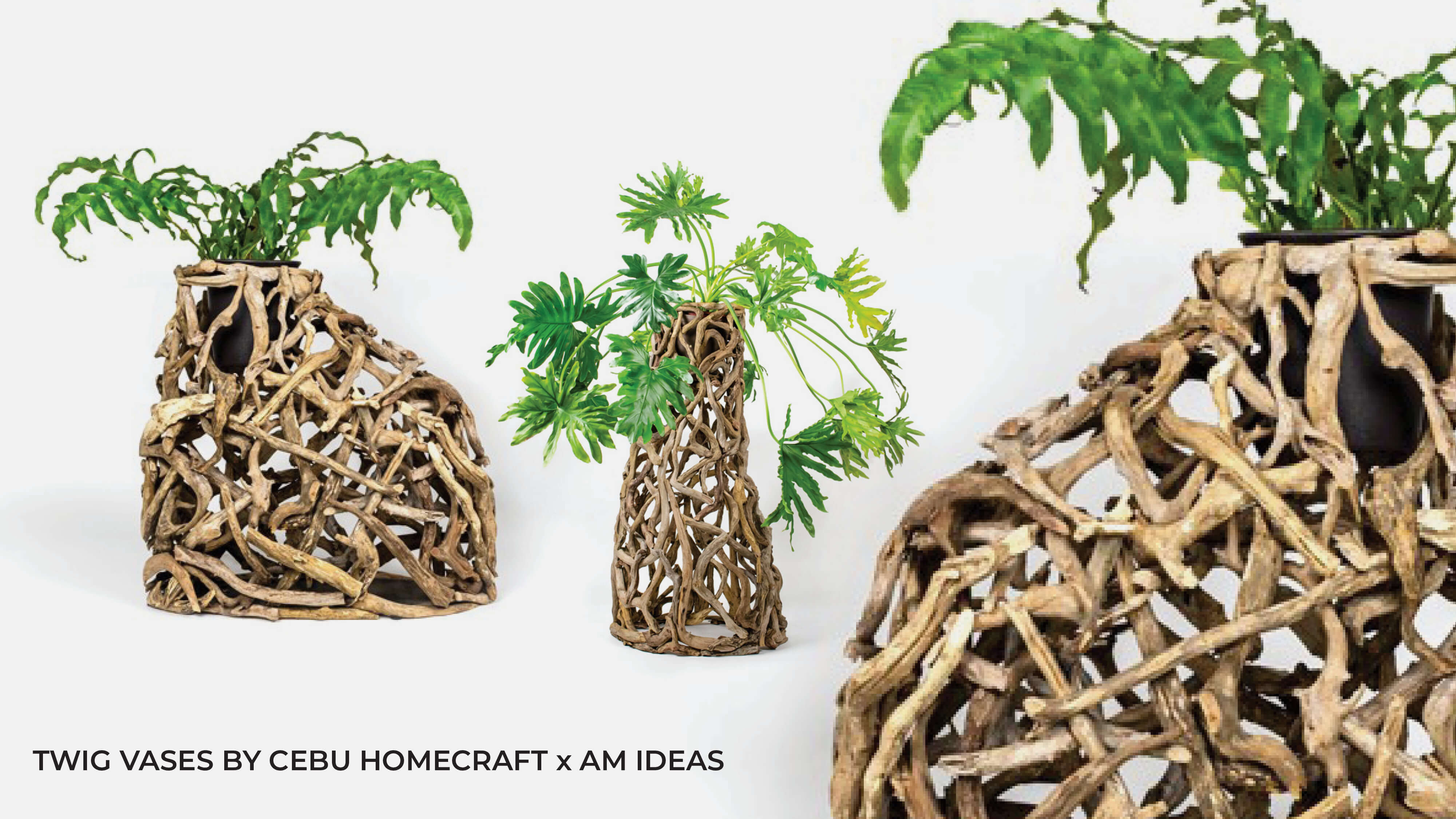 Twig Vases by James Doran Webb of Cebu Homecraft X A.M Ideas
"The material is long dead wood—wood that has died for at least 20-30 years. It's a species of wood that deteriorates very, very slowly. And the great thing about it is it provides income to the folk up in the hills who gather them—so it provides cash to people who badly need it. It also makes use of what might be used for fossil fuel if we didn't use it. Again, it's very much our type of process, but the shape is very much Wanshan and Helen's of A.M Ideas. The shape follows a vision, and that vision was to conceptually reproduce an animal form."

WILLIE GARCIA OF JUNK NOT FOR CREATIVE EXPO TAIWAN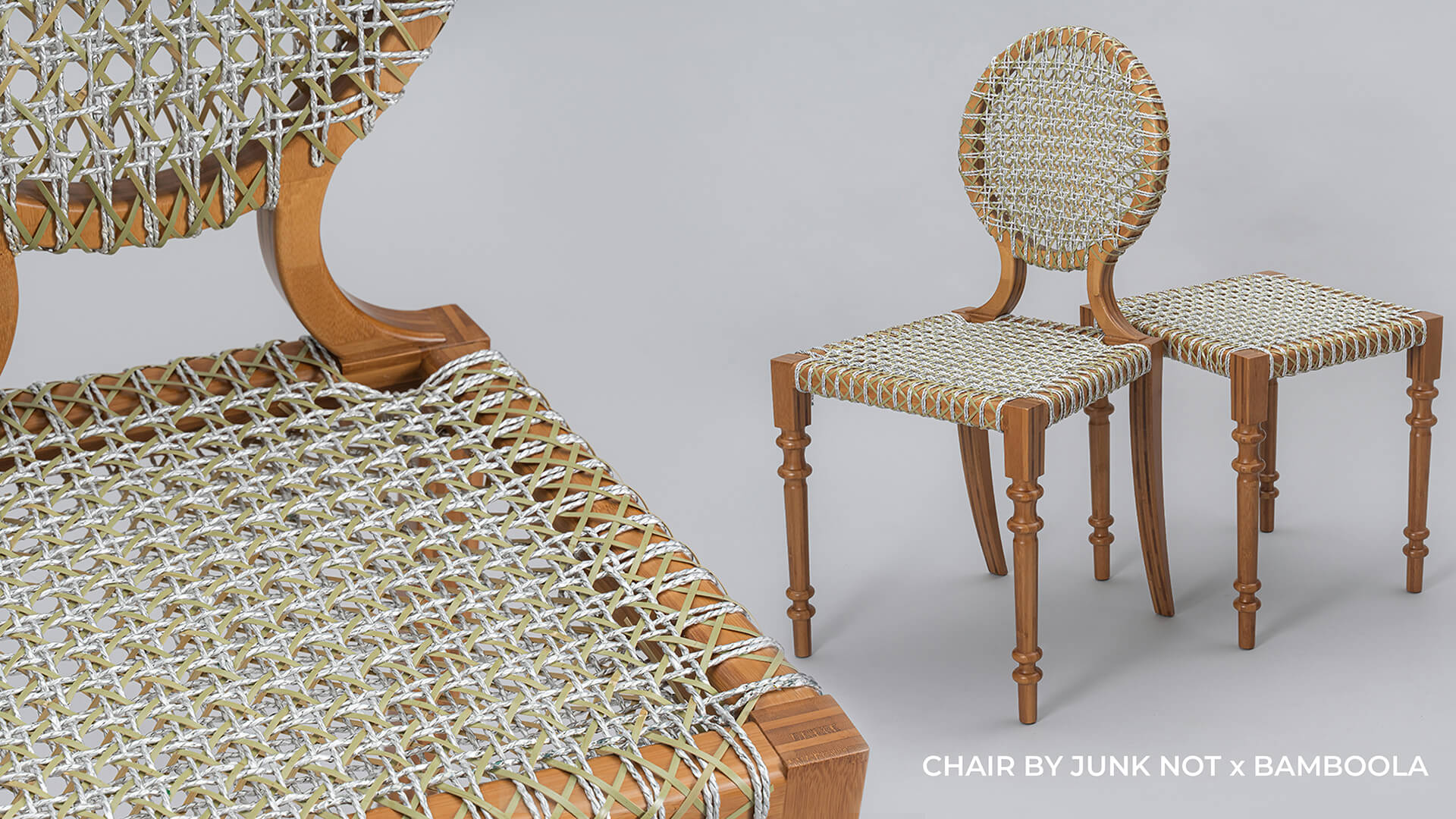 Chair by Junk Not X Bamboola
"Since I wanted to explore other weaving techniques in Taiwan, the original plan was to weave it together with Lin Mei-Ju, who is one of the known master weavers in Taiwan. But it wasn't possible due to the pandemic. The chair frame is made of engineered bamboo manufactured by Bamboola. To achieve the weaving material combination I designed, they sent the chair frame to the Philippines. After weaving the plastic waste by Junk Not, Lin Mei-ju weaved bamboo strips into it."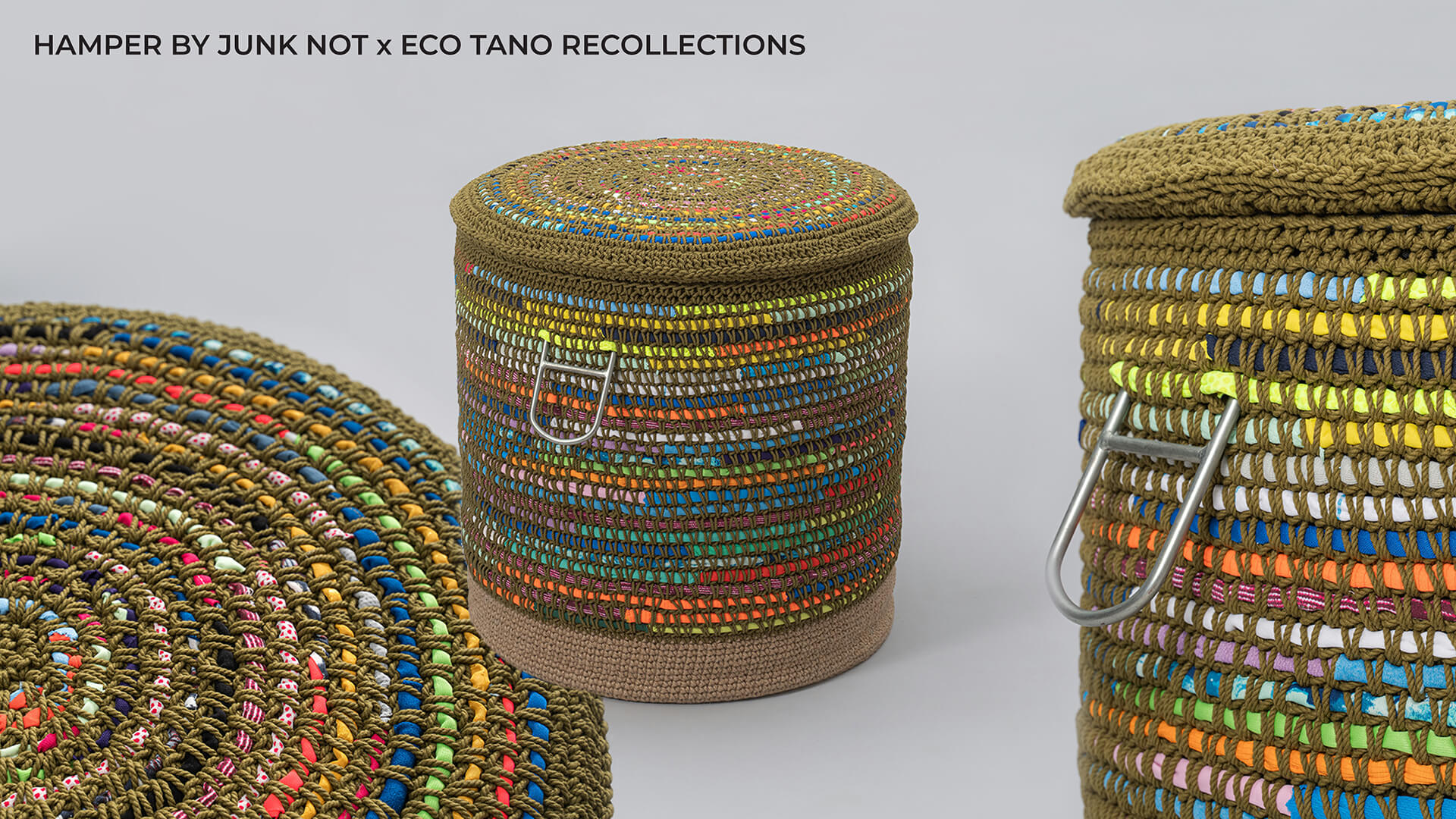 Hamper by Junk Not X Eco Tano Recollections
"The base is made of a carton shipping container from Good Gold combined with the scrap fabric from Eco Tano Collections. In my design, I essentially merged two different companies' waste materials to create this hamper/stool."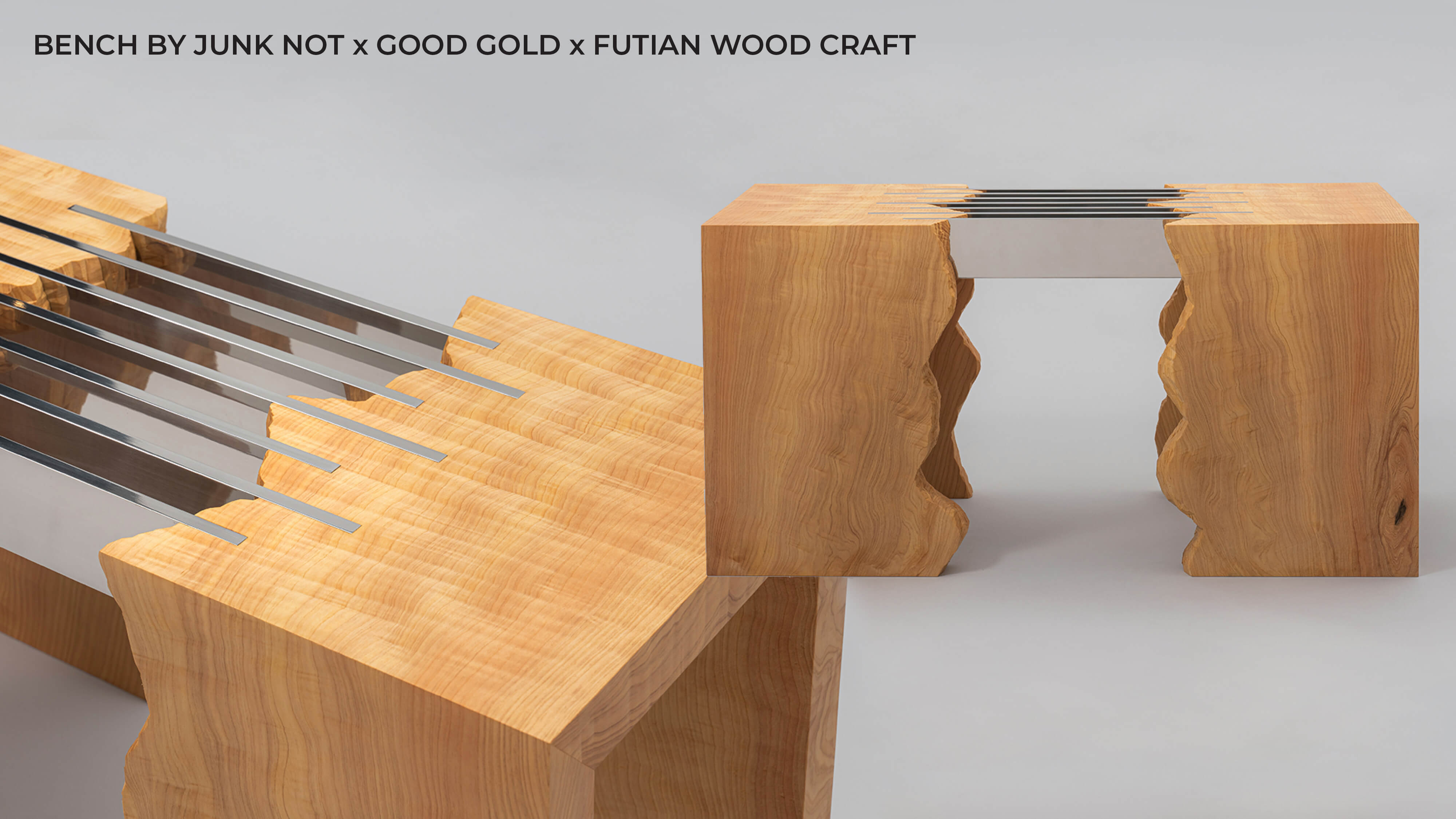 Bench by Junk Not X Good Gold X Futian Wood Craft
"I designed the bench and combined the scrap metal from Good Gold, a metal manufacturing company, with the wood from Futian Wood Craft. Futian manufactured the bench."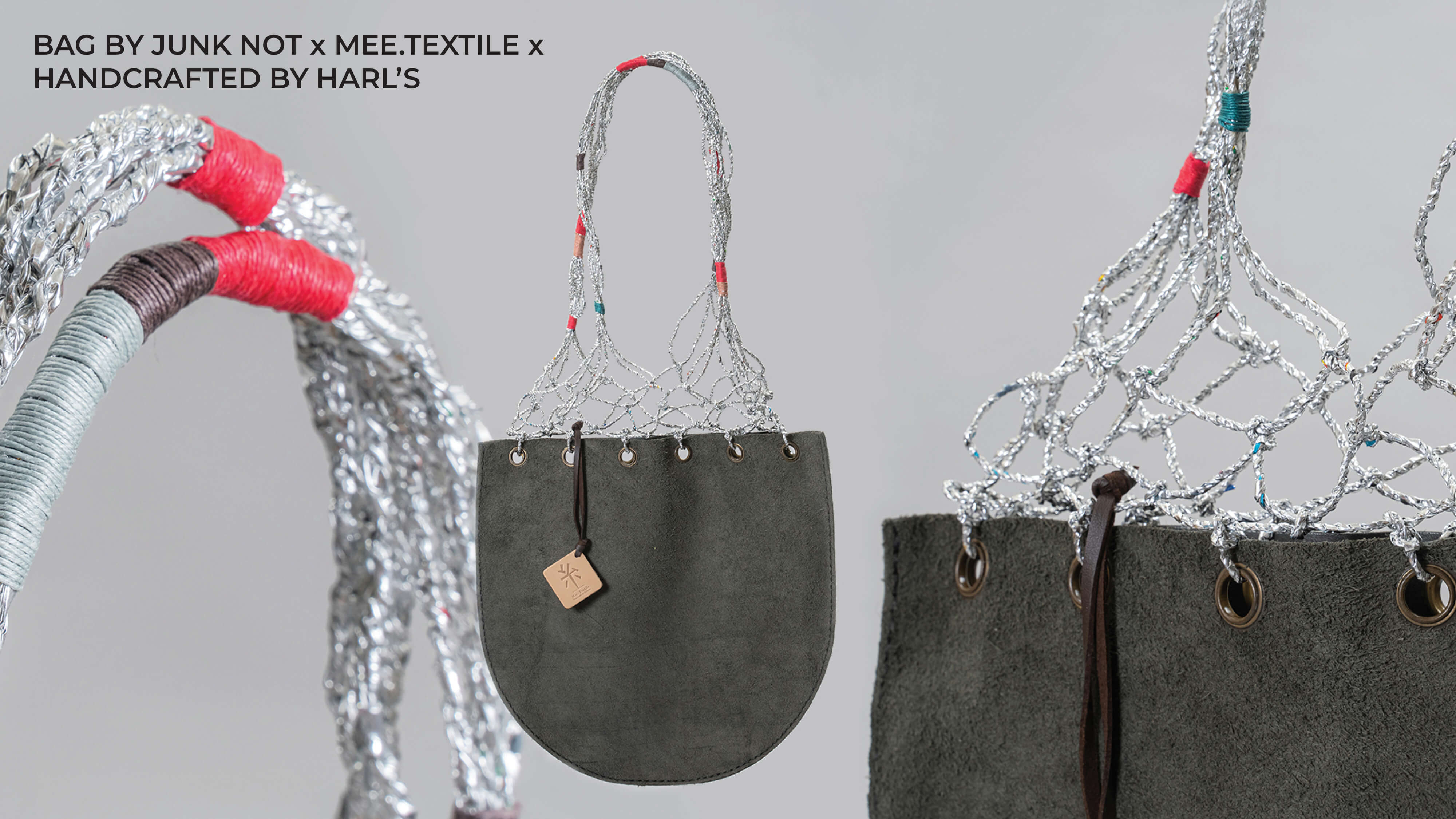 Bag by Junk Not X mee.textile X Handcrafted by Harl's
"My contribution to this is the material: our hand-twined plastic waste material. Eileen of mee.textile designed the bag. She weaved our material into a strap for the leather bag, which was made by Handcrafted by Harl's, a local company that creates handmade leather goods and also promotes sustainability."

To know more about the Taiwan-Philippines Craft Cooperation Project, visit Creative Expo Taiwan.
Photos courtesy of James Doran Webb/Cebu Homecraft, Willie Garcia/Junk Not, and Eileen Chung/mee.textile