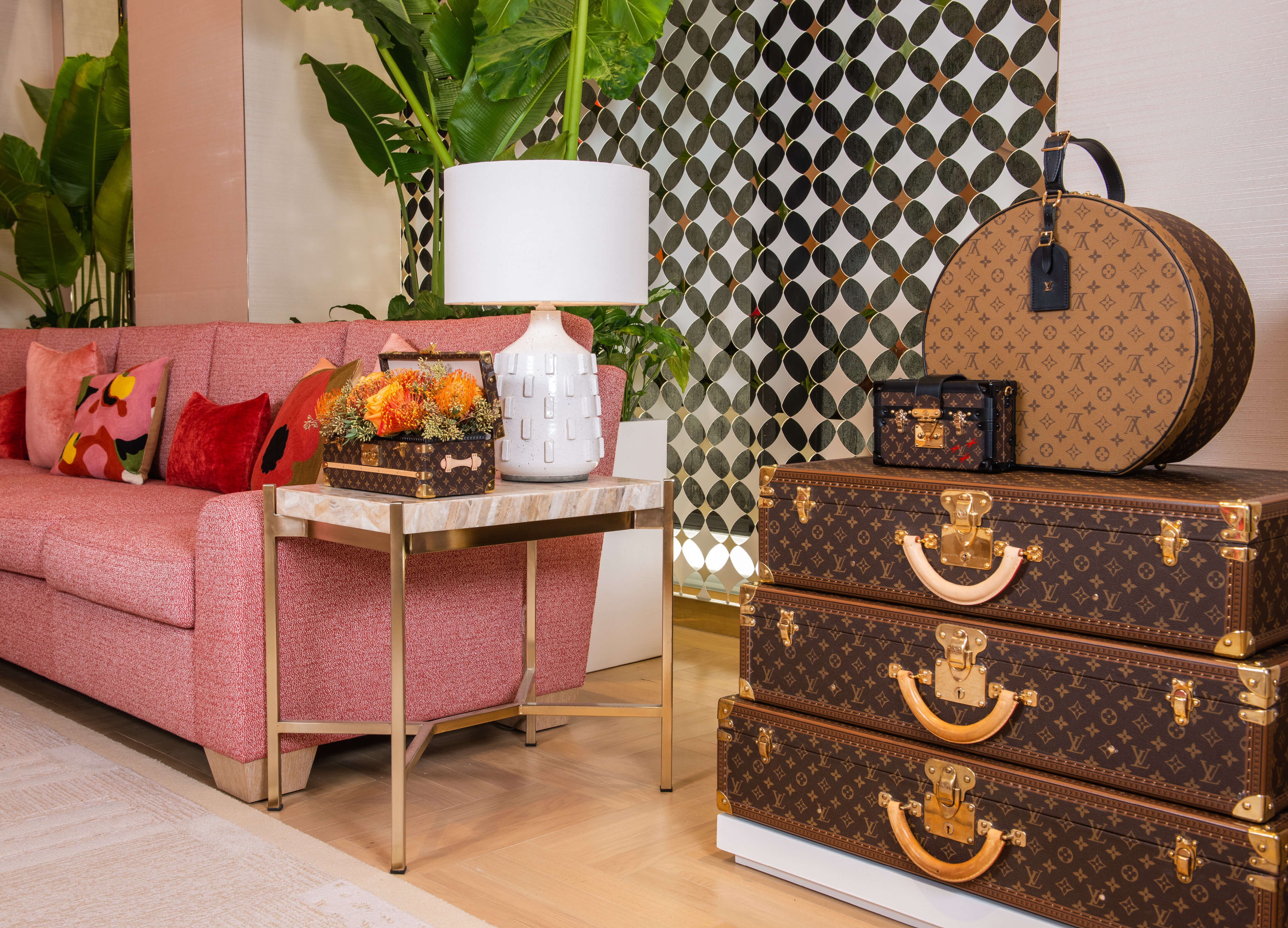 Philux Spaces collaborates with Louis Vuitton
The luxury brand's Philippine flagship store gets a taste of Filipino design and artistry
Philux Spaces, the interior design arm of furniture and lifestyle brand Philux, recently collaborated with Louis Vuitton on its latest and largest store in the Philippines, located in the brand-new luxury wing of Ayala Malls Makati, Greenbelt 3.
Sisters, designers, and co-managing directors Stephanie Kienle Gonzalez and Jessica Kienle Maxwell led the Philux Spaces team in curating furniture, accessories, artwork, rugs, decorative lighting, and installations to create a uniquely Filipino design story for Louis Vuitton. The goal was to celebrate the country's rich and colorful cultural heritage as well as embody the Filipinos' vast design talent and skilled craftsmanship. "This has certainly been an exciting and fulfilling cross-cultural collaboration with the Louis Vuitton teams in Paris and Hong Kong, and we are honored to be a part of it," Maxwell says.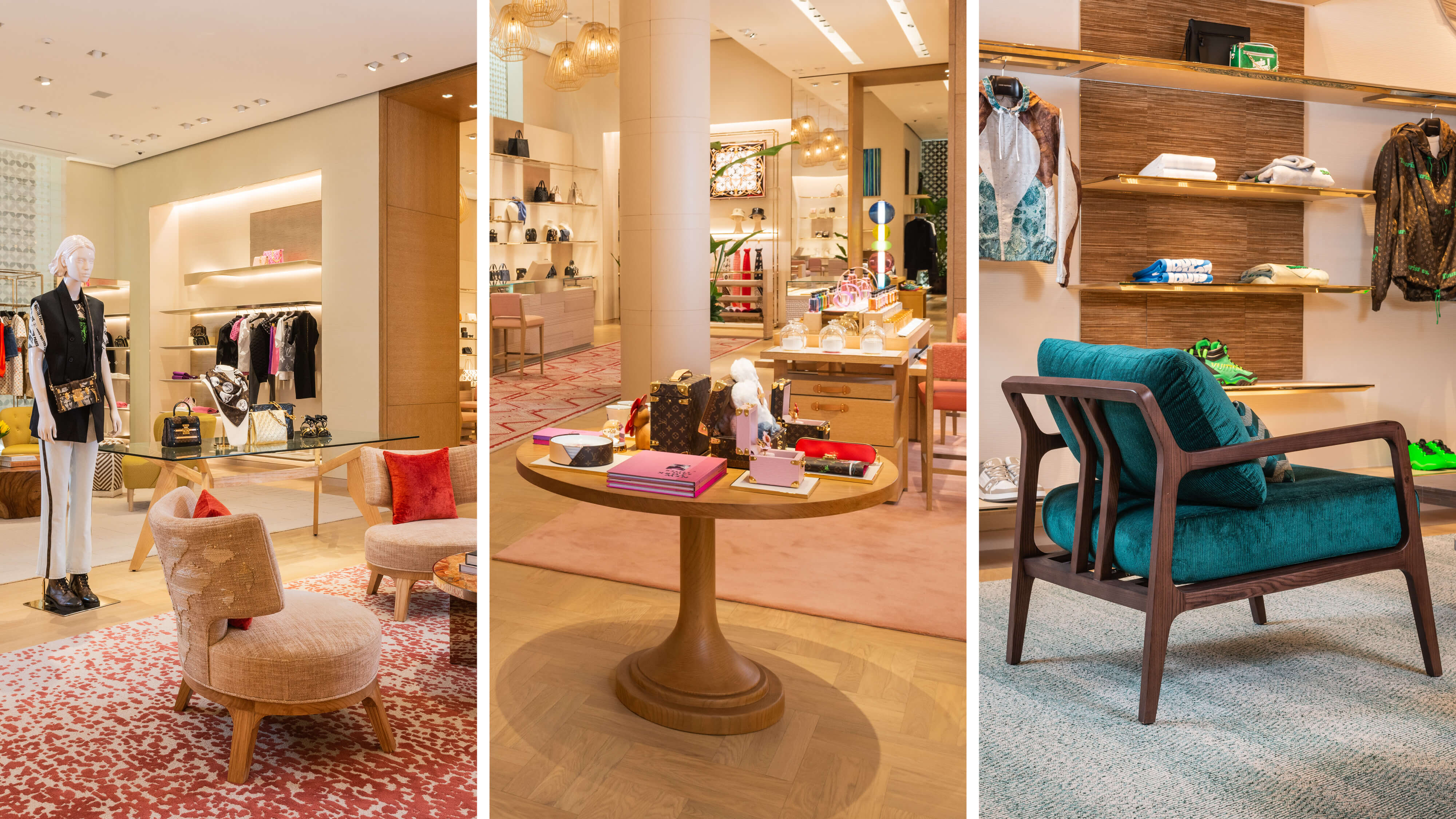 Some of the pieces in the Louis Vuitton Greenbelt, Makati store: (left) Philux Luna Accent Chair in collaboration with Bea and Marga Valdes, Philux M table, Iñigo Elizalde rug; (middle) Philux Torno table; (right) Philux Palma armchair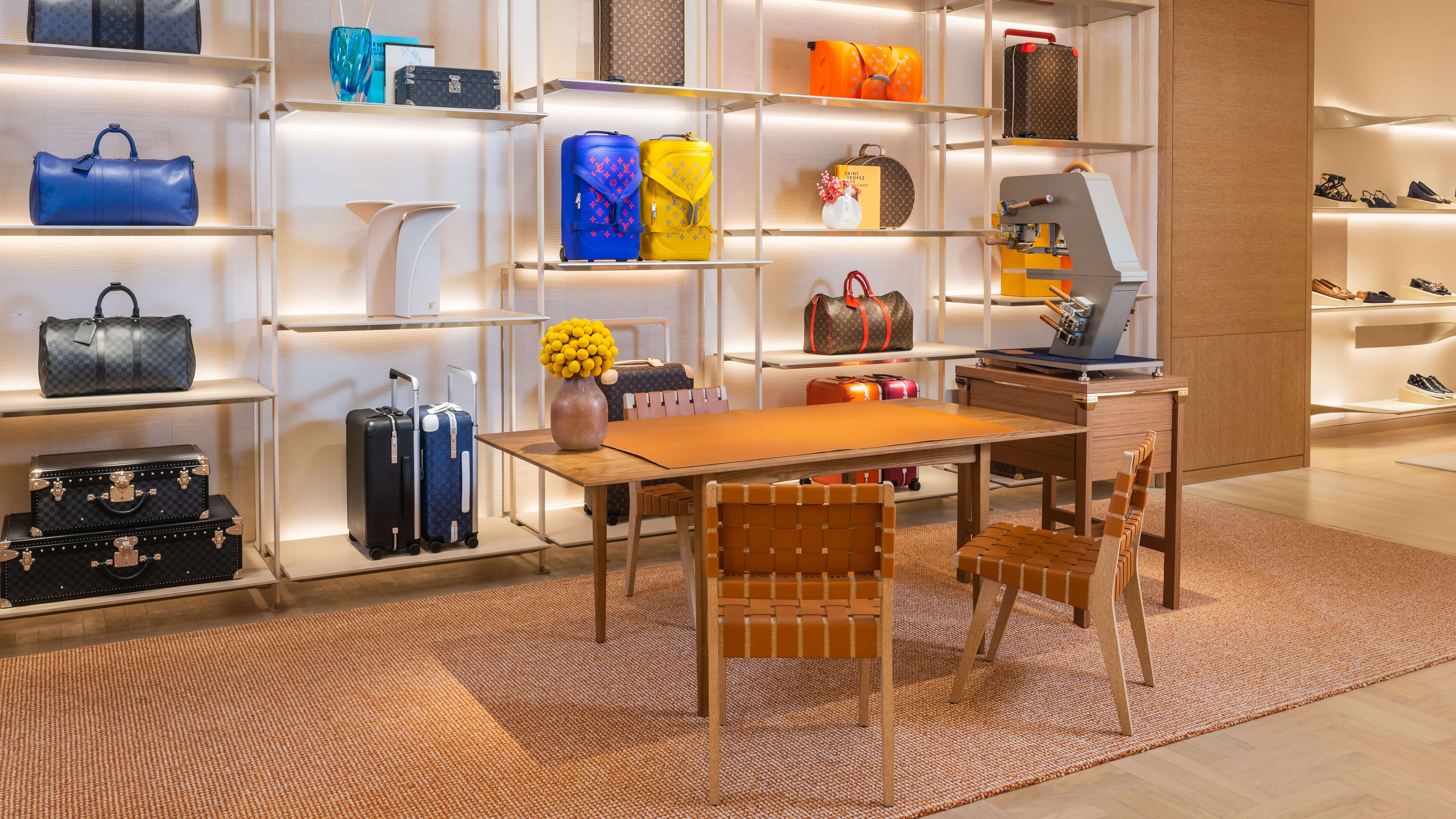 The Philux Leman table takes centerstage in the travel leather goods section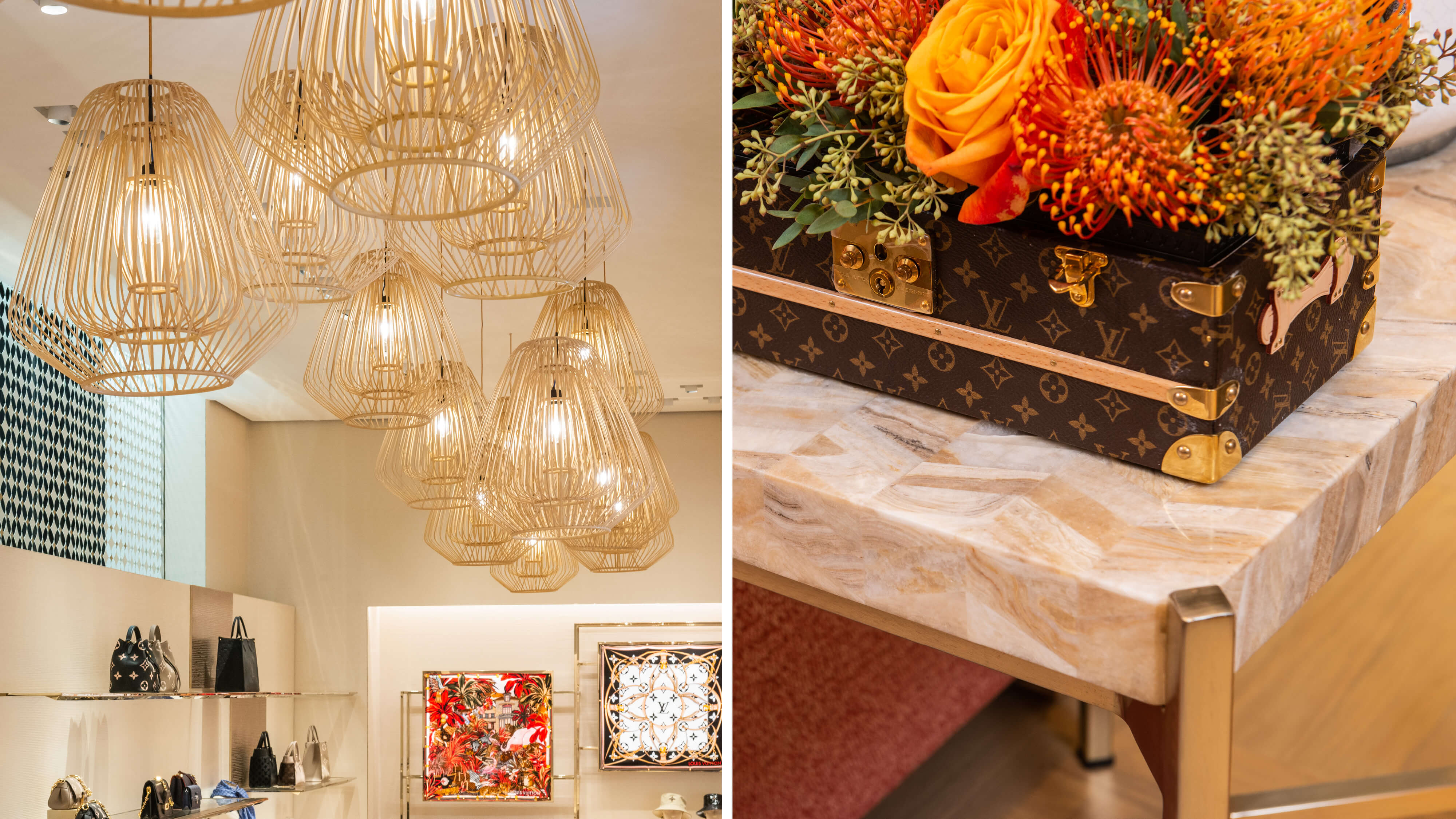 Bamboo pendant lamps installation conceptualized by Philux and the Philux Penshell Luna Side Table

DESIGN INSPIRATION: A WOVEN HERITAGE
The woven heritage of the Philippines—spread across 7,107 islands—inspired the design, and each thread is a metaphor of the Philippines' intrinsically and poetically diverse history, culture, spirituality, environment, community, talents, and aspirations. "In rediscovering our rich textile heritage and dynamically engaging it with modernity, we pay homage to the blending of local tradition and innovation through our design," Gonzalez explains.
This local motif is exquisitely elaborated through design elements that are reminiscent of the Filipino habi, or traditional weave-making. The ceiling installation, conceptualized and built by Philux, consists of panels made of raffia and saguran (textile made from the fiber of local leaves). The lighting installation in the women's leather goods area showcases bamboo teardrop lamps made by local craftsmen. The sliding doors in the VIC lounge are reminiscent of capiz windows often found in traditional bahay kubo and bahay na bato.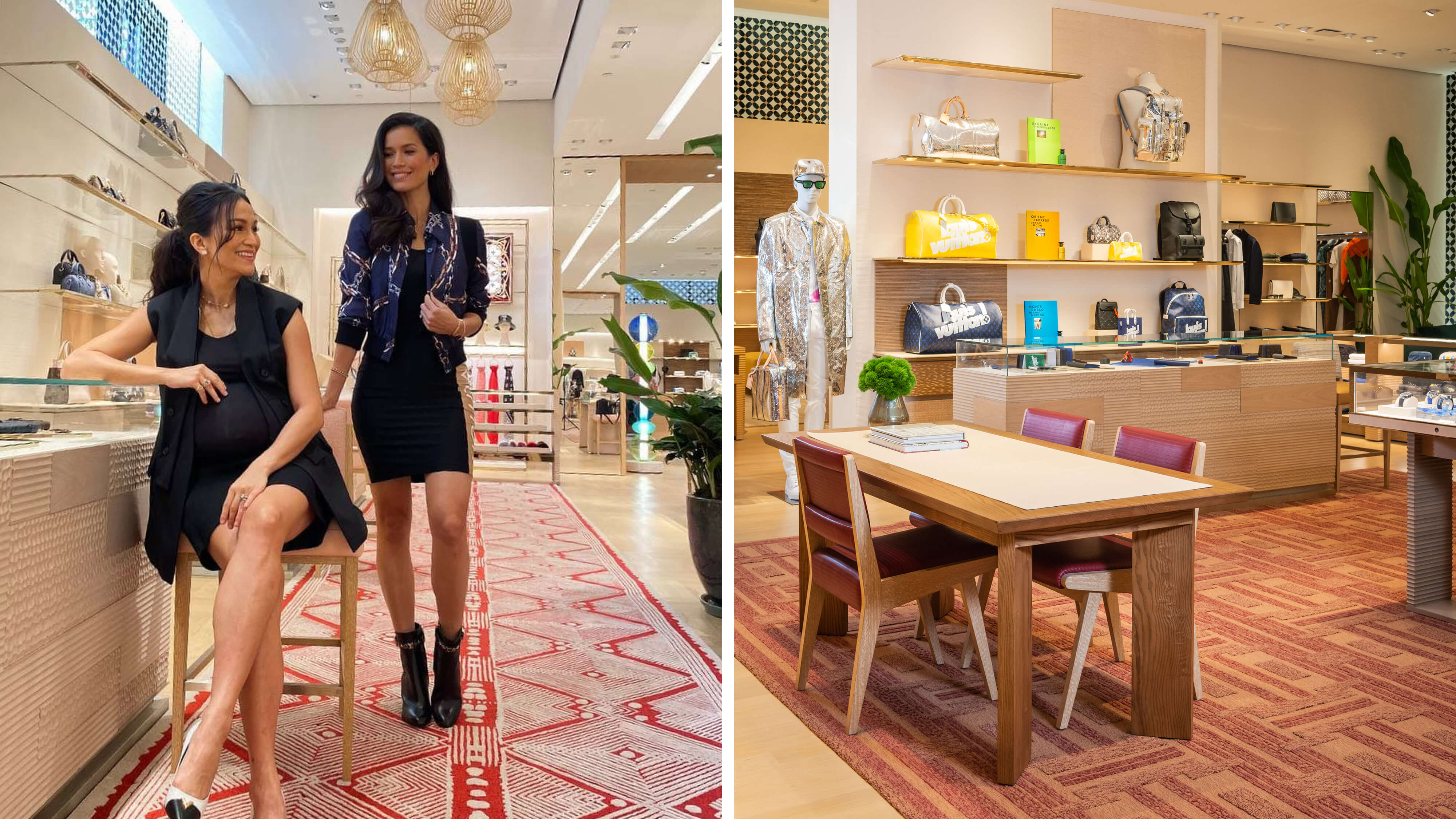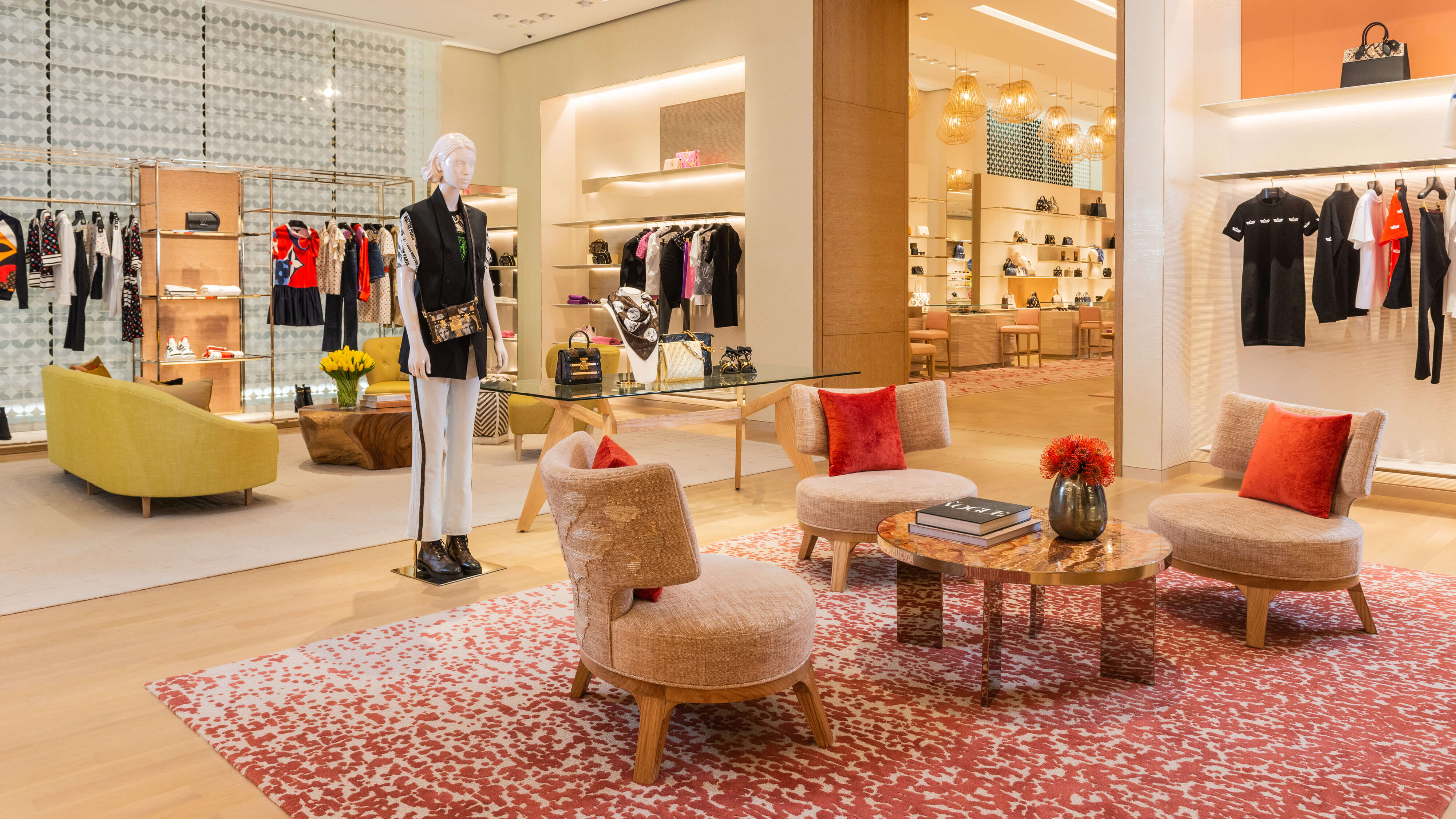 Sisters, designers, and co-managing directors Stephanie Kienle Gonzalez and Jessica Kienle Maxwell led the Philux Spaces team in creating a uniquely Filipino design story for Louis Vuitton Manila; the Philux Paris table in the Men's Accessories section

ARTISTIC COLLABORATIONS
The Philippines is home to world-class artists, four of whom Philux Spaces selected to create works that speak to the store's local design story: Bea and Marga Valdes, Iñigo Elizalde, Olivia D'Aboville, and Monica Delgado. Each individual artist brought their unique interpretations of the "woven heritage" concept to life in their craft, while simultaneously taking inspiration from various cultural and natural elements. "We view each piece as a poetic tribute to the enduring beauty of the Philippines—its history, culture, and people," Gonzalez shares. "And it has been a privilege to work with these brilliant artists."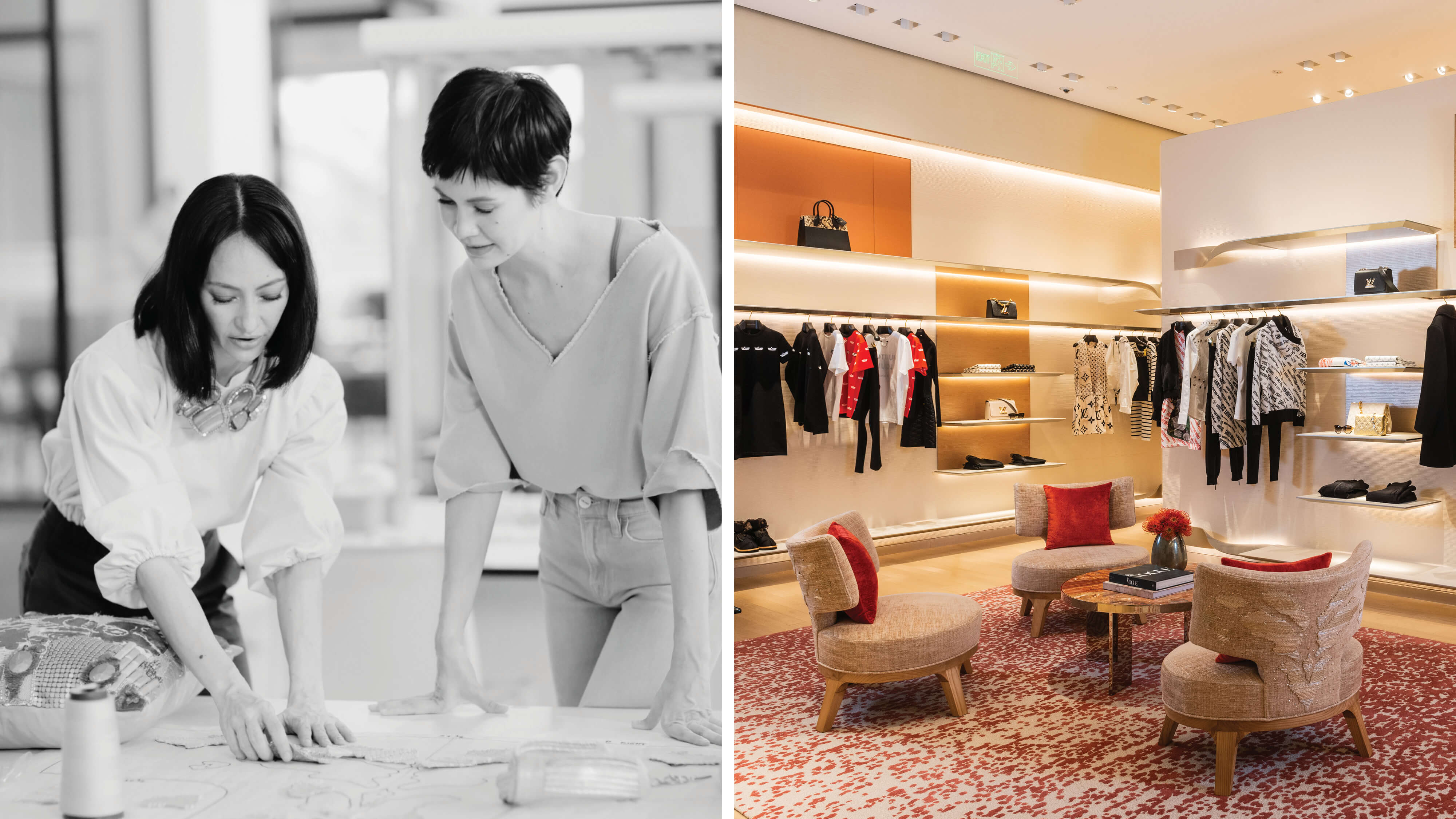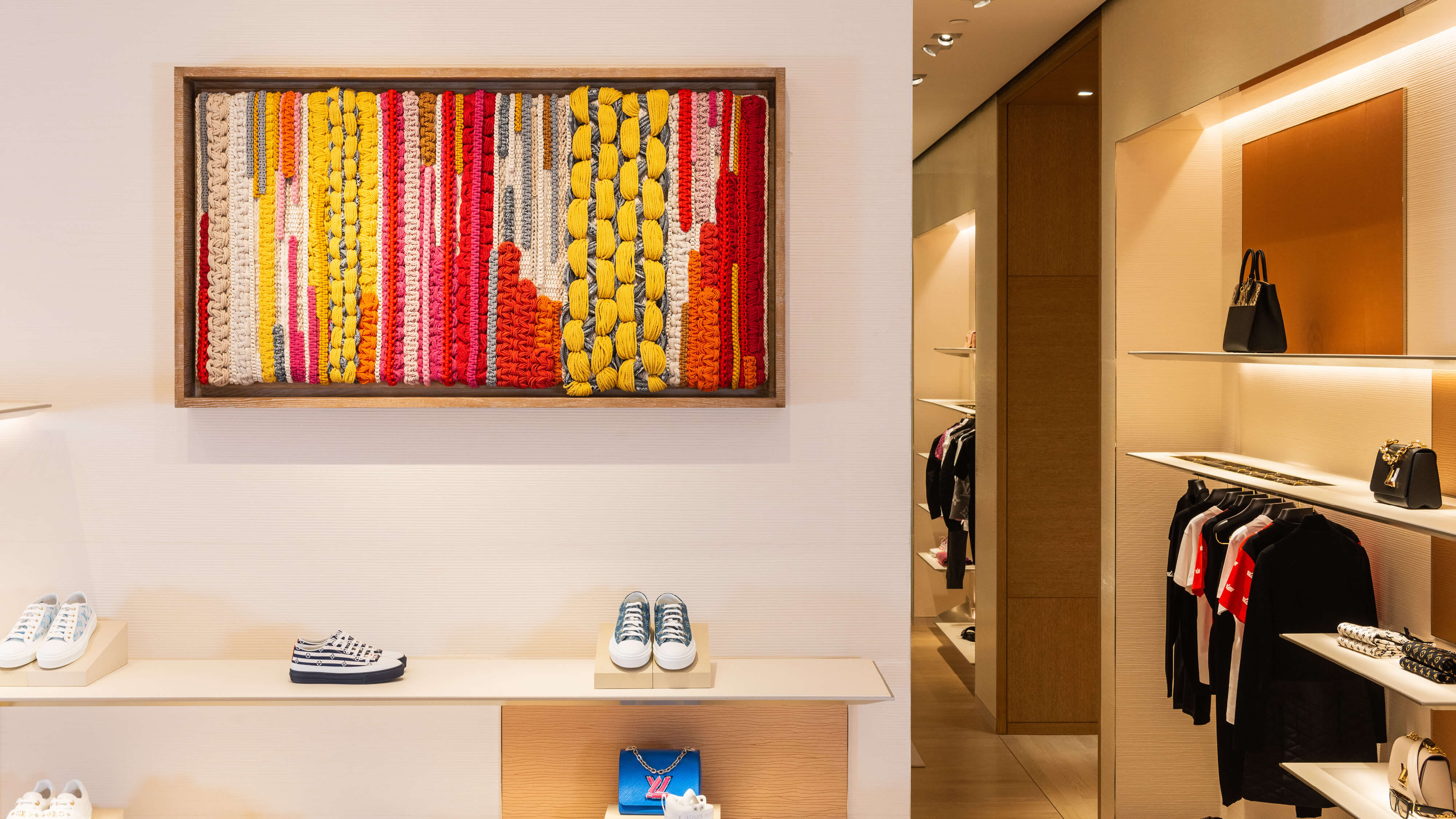 Designers Bea and Marga Valdes, the duo behind contemporary collections of bags, jewelry, and home décor that celebrate Filipino craftsmanship, are globally renowned for their inspired use of natural materials and infusion of local artistry and aesthetics into world-class luxe items. For Louis Vuitton Manila, the artists created "Hibla- 02" with cord, rope, and tapestry. An ode to Philippine textile arts, "it is an exploration of indigenous motifs, re-examined through a play of scale. Made through many hands, these fibers express hybrid heritage, and the accumulation of craft and culture," they explain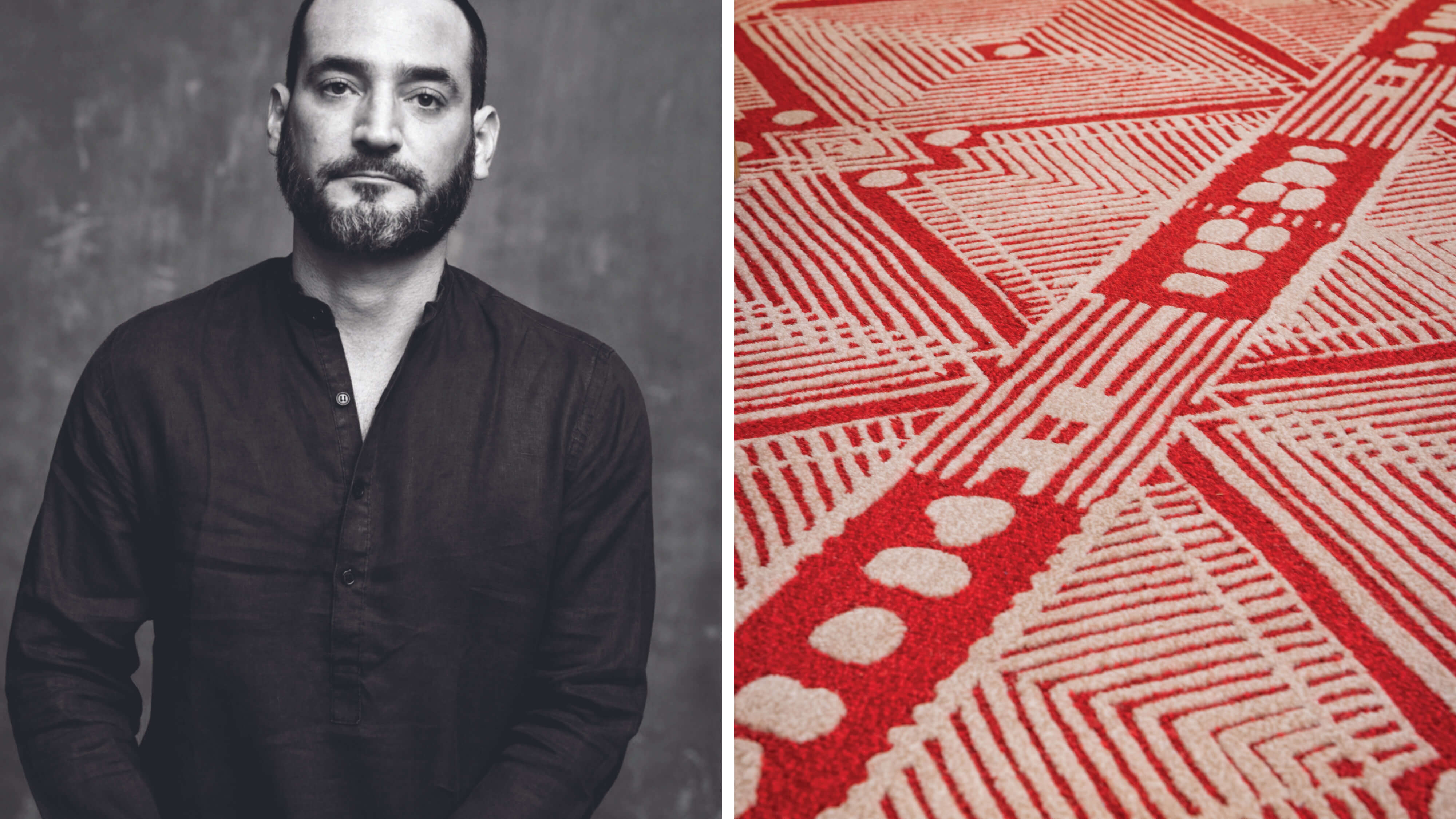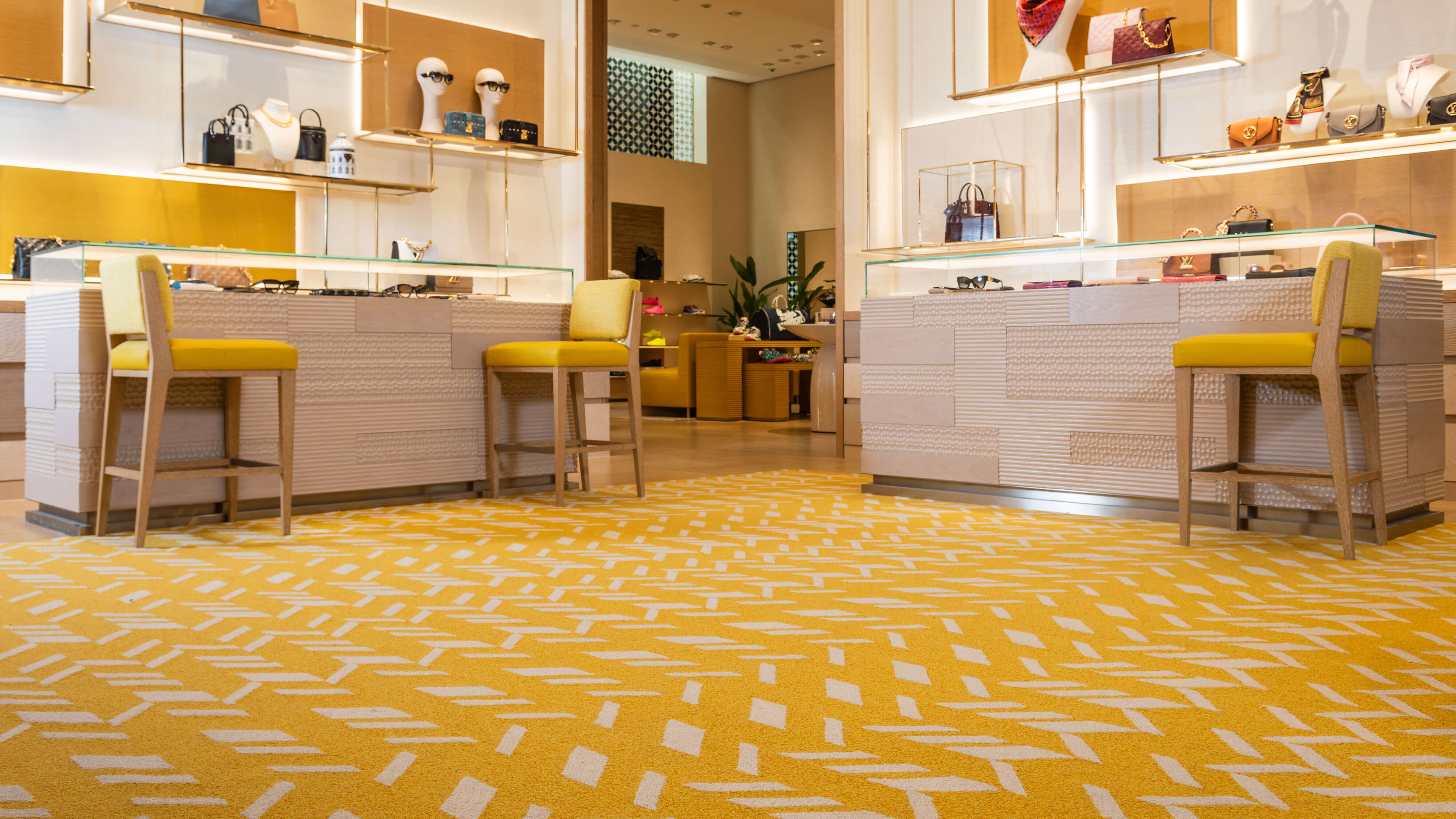 Iñigo Elizalde's work is eclectic and highly conceptual, and his inspirations range from travel and architecture to geographical formations and his Filipino roots. For Louis Vuitton Manila, the artist created rug designs inspired by all things Filipino—"from the complex tribal tattoo patterns found in the Southern part of the Philippines, to the majestic hand-carved rice terraces in the North, to the sparkling reflection of sunlight bouncing off the abundant tropical waters in the country's central regions," he says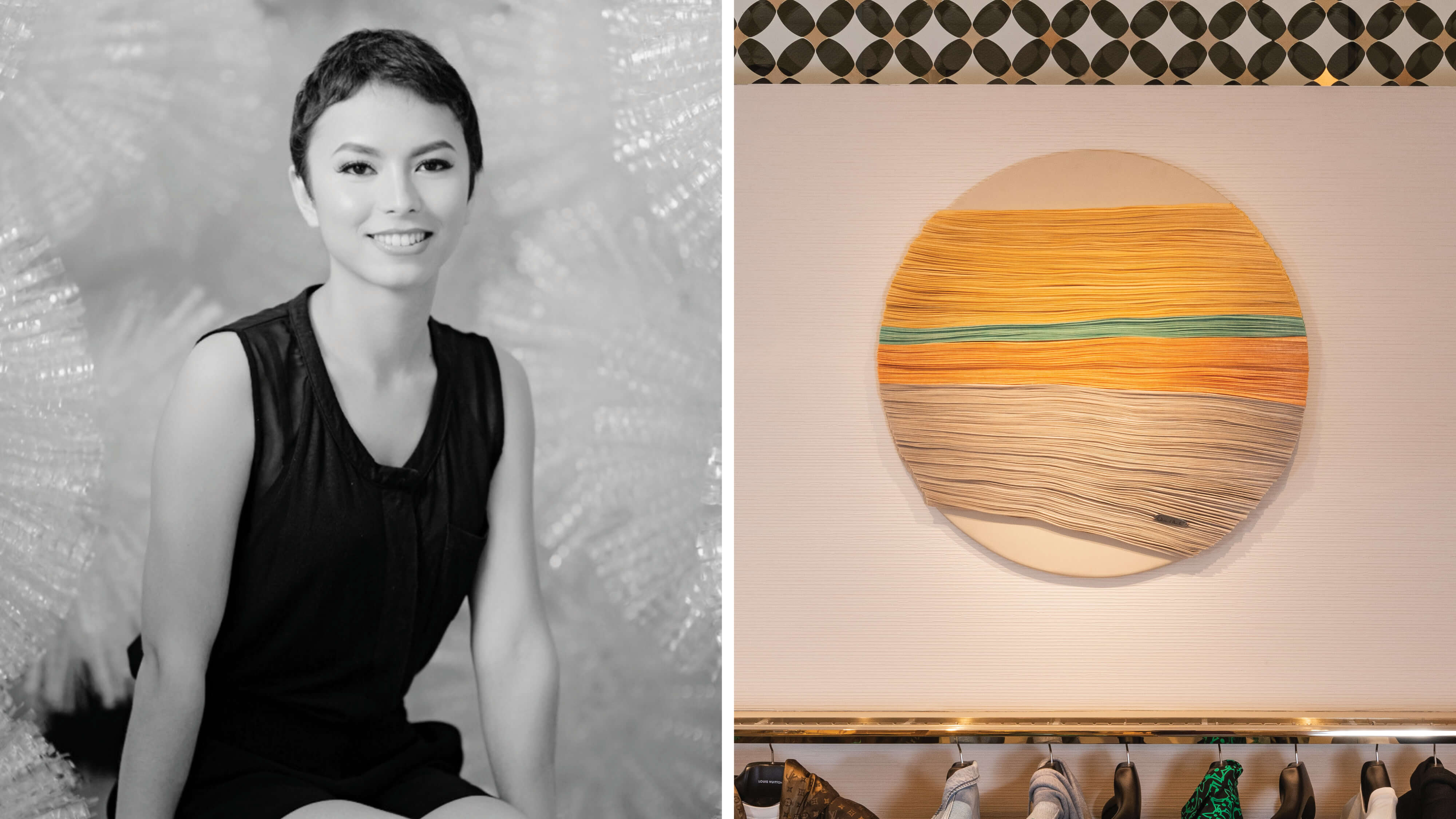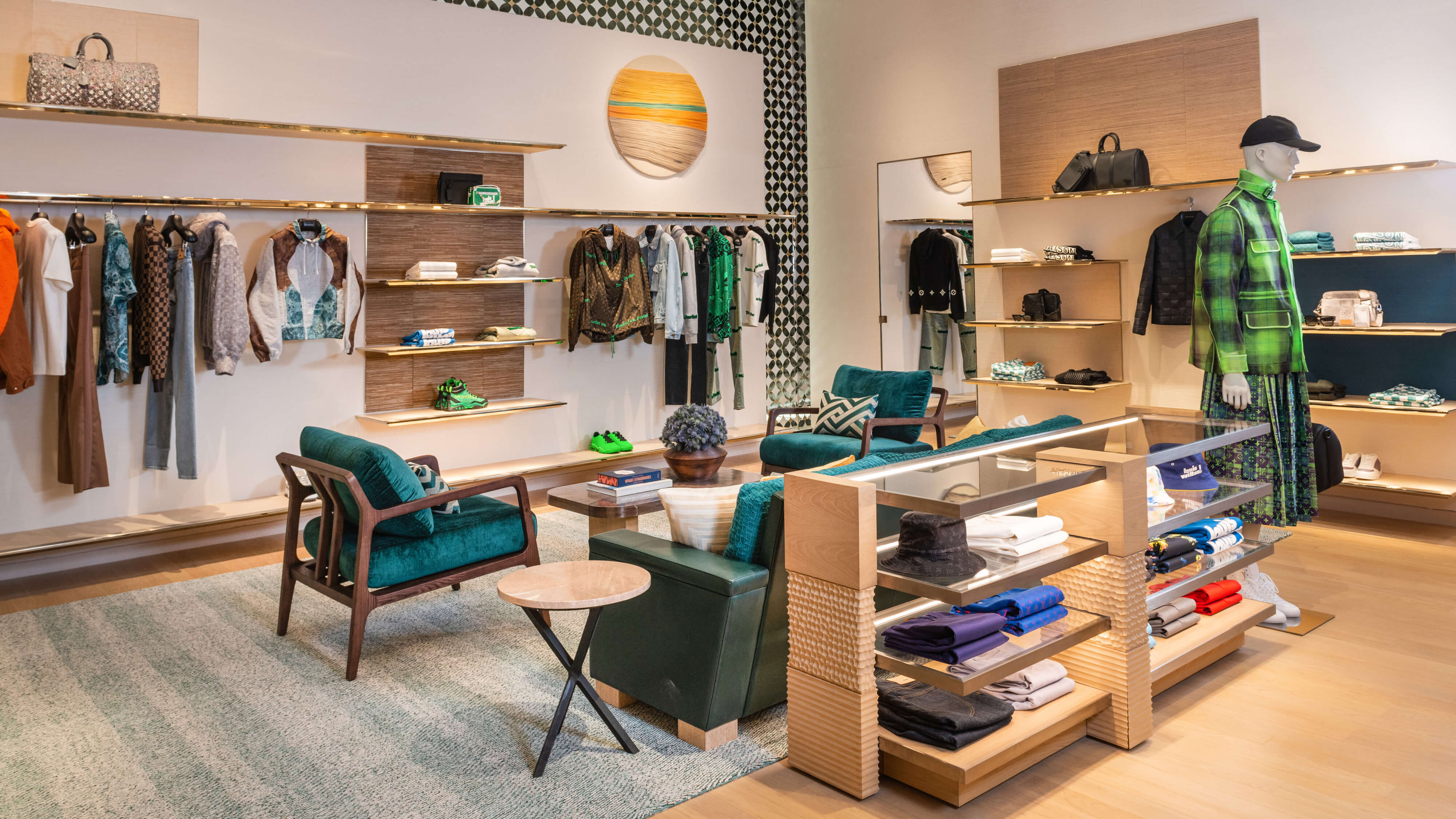 Olivia D'Aboville is a young French-Filipino artist specializing in tapestry and textile structures, and she adapted the techniques to create her own woven forms. She is now widely known for her textile manipulation of handwoven Filipino textiles, with works ranging from textile jewelry to sculptures, to lighting designs and art installation. For Louis Vuitton Manila, the artist created "Fields of Color (Circular)." For this piece, she "pleated 12 meters of abaca polyester fabric handwoven from Cebu," she explains, and was "inspired by landscapes from my travels."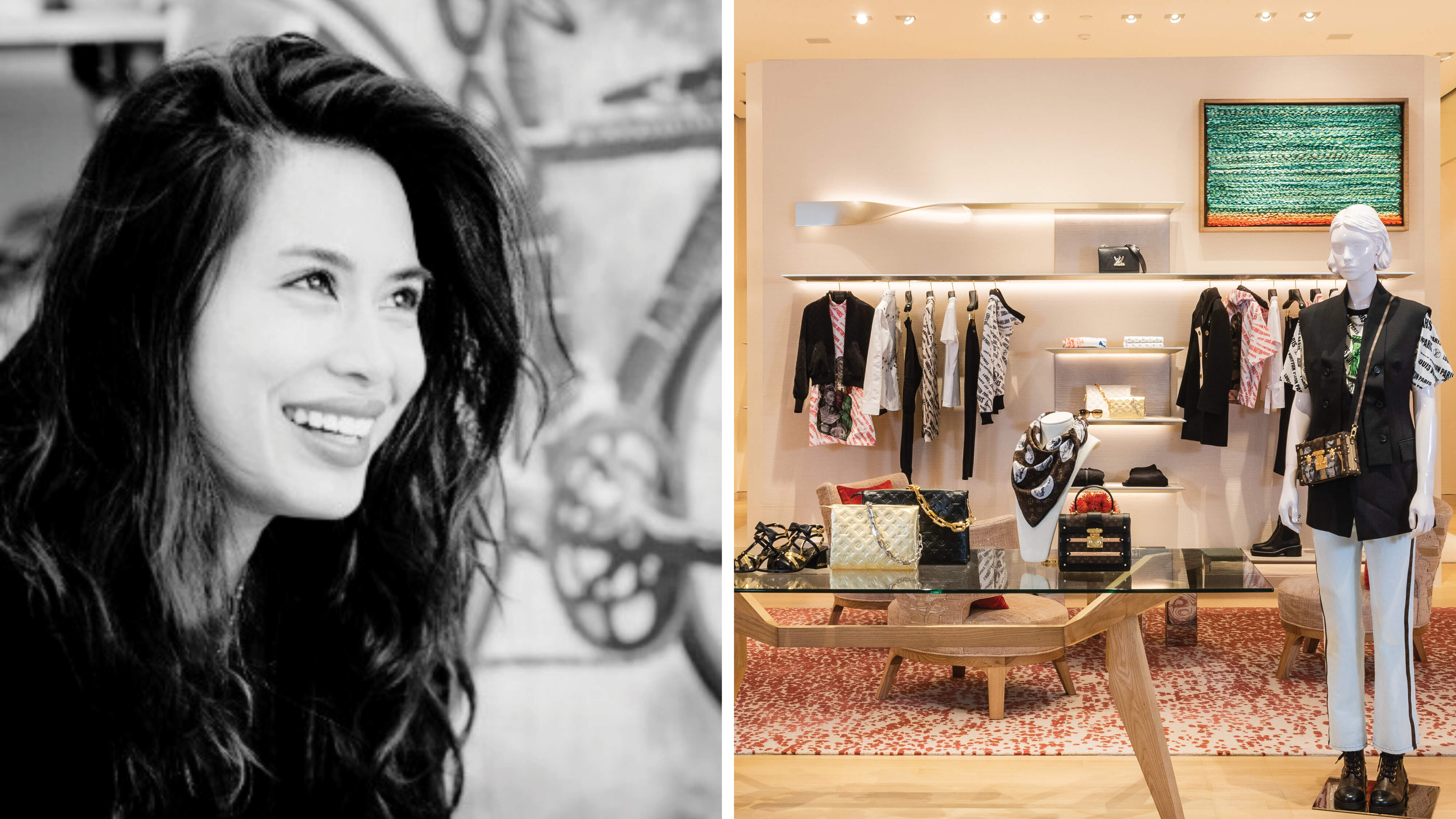 Monica Delgado works with acrylic paint with a sculptural approach—creating multidimensional explorations of the physicality of paint that trick the viewer into thinking the medium is fabric, canvas, paper, or plastic. She is currently represented by San Francisco's Maybaum Gallery, and lives and works in New York City. For Louis Vuitton Manila, the artist created "Bliss" with "strips of acrylic paint that were individually squeezed, dried, and layered," she says. "It was inspired by the mesmerizing ocean waters and sensational sunsets the Philippines has to offer."

Photos courtesy of Philux