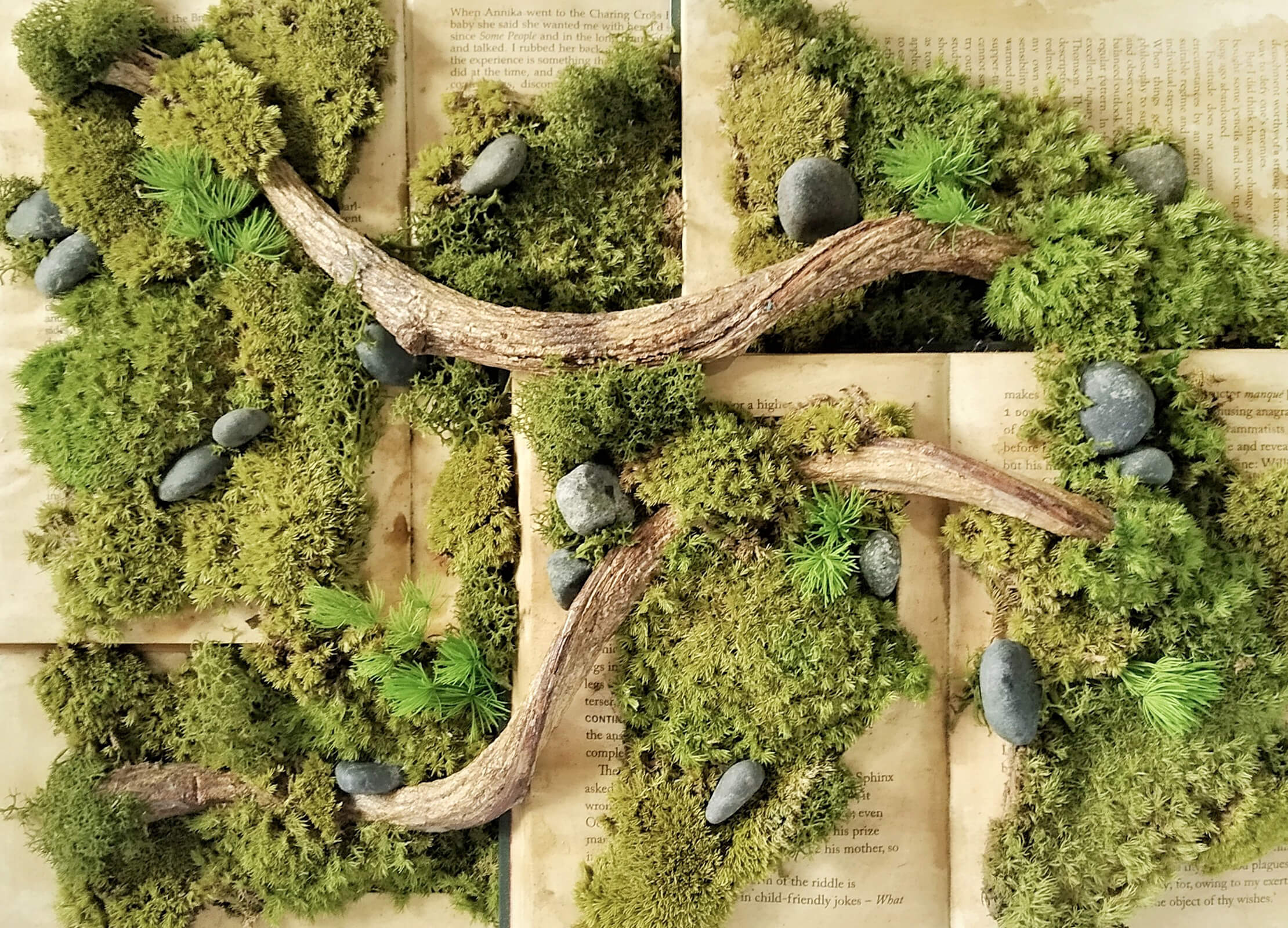 Coming Back Home to Nature
There's a collective desire to be reconnected with nature as stay-at-home orders make people involuntary shut-ins. Local furniture and home décor brands are responding by following their natural instincts
by Sunshine Selga Funa
As we all scrambled to cope with being holed up for practically 24 hours, seven days a week, a growing desire to experience the outdoors emerged. Scroll through social media, and you are most likely to find friends who have taken to urban gardening. "The COVID-19 quarantine seems to have reawakened our need to connect with nature as reflected by the surge of interest to bring the outdoors in," says interior designer Kristine Neri-Magturo.
It's not surprising, then, that furniture and home décor made of natural materials are regaining popularity. "Our clients are also asking for earth tones and nature patterns on fabrics and wallpaper. These seem to be popular across the board, but especially for city dwellers," remarks Neri-Magturo. Misty Floro, principal designer of interior design studio Morfosis, agrees. Both interior designers attest to the growing demand for natural materials like wood, organic fiber, and stone.
But what exactly makes these attractive, and how is the local furniture industry responding to this reborn trend?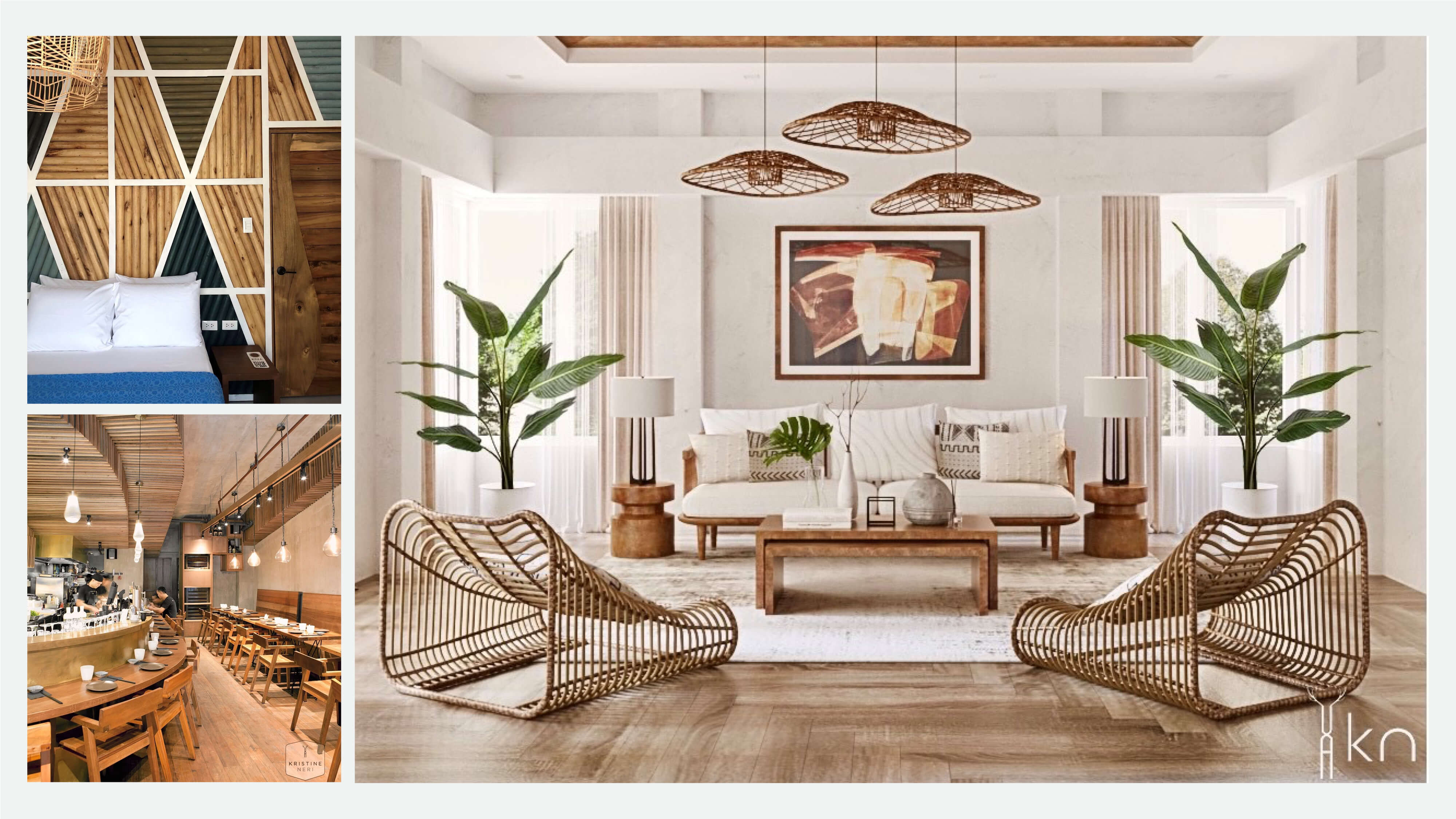 (clockwise from top left) Wood and rattan rendered with geometric details lend a contemporary air to Kaza Boutique Hotel in Siargao, one of Kristine Neri-Magturo's projects. Nothing spells relaxing more than a bright and airy space filled with tropical accents, like this rest house currently in construction in Naga City. Peppering this home are furniture pieces from Urban Abode, a furniture store overseen by Neri-Magturo's husband, Mike Magturo. Reclaimed wood heavily figures in this Nikkei branch in Makati

SPOTLIGHT ON NATURE
Humans have an inherent yearning to connect with nature, according to American biologist and naturalist Edward Osborne Wilson. This concept is called "biophilia." "We were stuck in our homes—cabin fever got real. Many of us did not have access to nature or greenery. So there has been a renewed interest in using natural materials in designing interior spaces, most especially homes. It makes people feel closer to nature, and improves health and well-being in so many ways," Floro elaborates.
Ina Gaston, creative director of Hacienda Crafts, adds that people hanker for safe spaces as a reaction to the fear of the pandemic. She says, "Natural materials provide this sense of calmness and security. Consumers look for honesty and authenticity to combat all the uncertainty these days."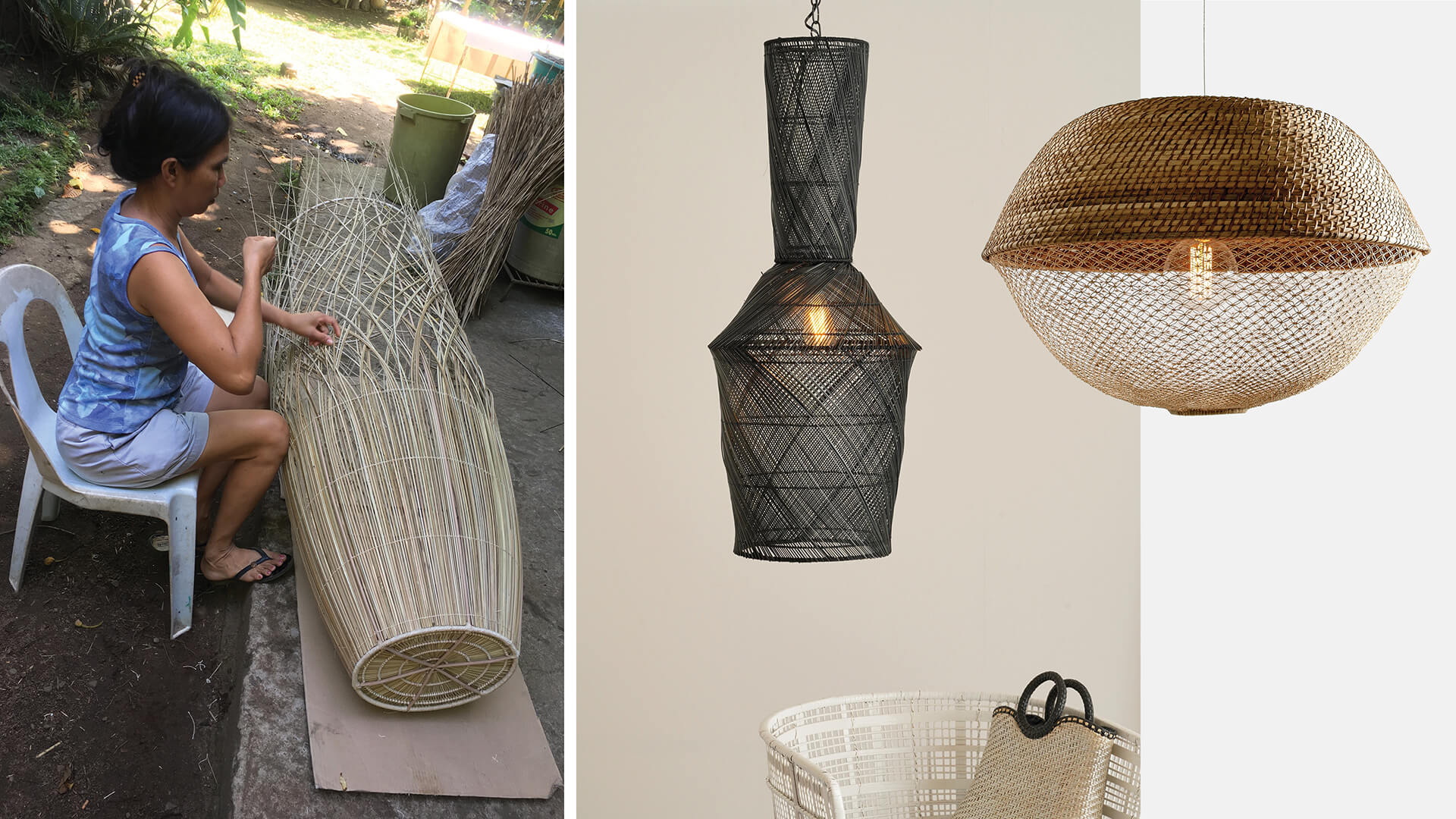 (from left) Since it was established in 1994, Hacienda Crafts has stayed committed to helping communities in the Negros Island by employing local weavers. Their lamps boast exquisite craftsmanship and unusual shapes that are not typically seen in mass-produced pieces, as seen in the Calligraphy 1.0 Hanging Lamp and Macrame Pendant Lamp

TIMELESS APPEAL
Trends come and go, but a well-made piece of furniture will always be a pièce de résistance. Lamana products, for example, sport clean, minimalist lines that can fit any interior style. And because they're made of high-quality wood, expect them to last you years. Says co-founder Jar Concengco, "We use all-weather wood like teak if the customer intends to use the furniture outdoors. If the customer prefers a more economical wood option and is keeping the pieces indoors, we use tanguile." He also vouches for the durability of their products. "We use the pieces ourselves and have kept some under the rain and sun for years now. They are very much alive and serving their purpose and have aged beautifully."
Meanwhile, Domesticity's products that are made of pandan, such as storage bins and placemats, have also seen a consistent demand because of their "simplistic, timeless, and minimalist nature," relates Mariel San Agustin, the brand's president and founder. "Sticking to earth tones or neutral colors always resonates with our buyers since they easily blend with their existing interiors."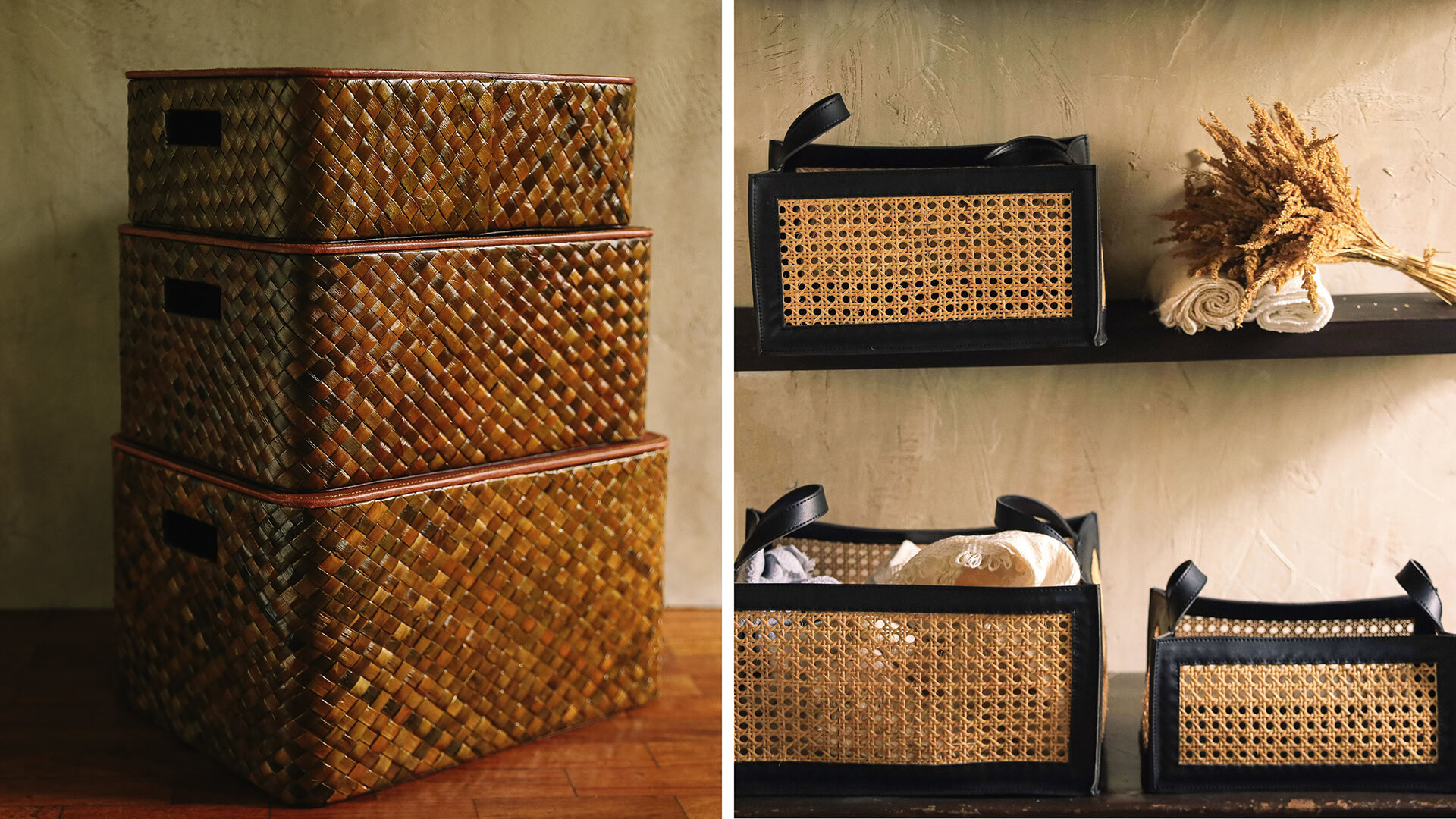 (from left) Domesticity started with pandan, which is abundant in Negros Occidental. Its pandan products, like these storage bins, are still in demand two decades after. These solihiya baskets with leather trim make for chic storage anywhere in the house

BORN OUT OF ADVERSITY
Items made of natural materials don't just go beyond trends; they also adapt to specific needs. Lamana, for instance, partnered with Ishinomaki Laboratory, a Japanese furniture brand that was established after a natural calamity struck the Miyagi Prefecture in Japan. Lamana co-founder Kay Consengco narrates, "Before becoming a brand, Ishinomaki Laboratory was a public workshop that aimed to teach the residents of Ishinomaki how to build the furniture they had lost to the 2011 Great Eastern earthquake and tsunami. The story of how notable architects came together for this effort is a very powerful narrative that really drew us in." When Ishinomaki Laboratory launched its "Made in Local" initiative, Lamana was the second brand it collaborated with outside Japan.
Local furniture makers have also stepped up to cater to the new demands that arose from stay-at-home protocols. In fact, Lamana's current bestsellers are the Prompt Desk and the Opus laptop stand-slash-desk organizer designed by Brian Ver and Makerspace Manila, respectively.
And it's not just about practical use. Jeng Cabrera of Bijin Craft relates how her pottery creations have served as a respite from the stressful lockdown. Cabrera's quirky stoneware pieces, like the Fugly Mugs, have become a source of entertainment. "Putting faces on the mugs brings life to them, and maybe that's what makes them appealing. Customers are now starting to realize that having coffee or tea in a handmade mug is more enjoyable."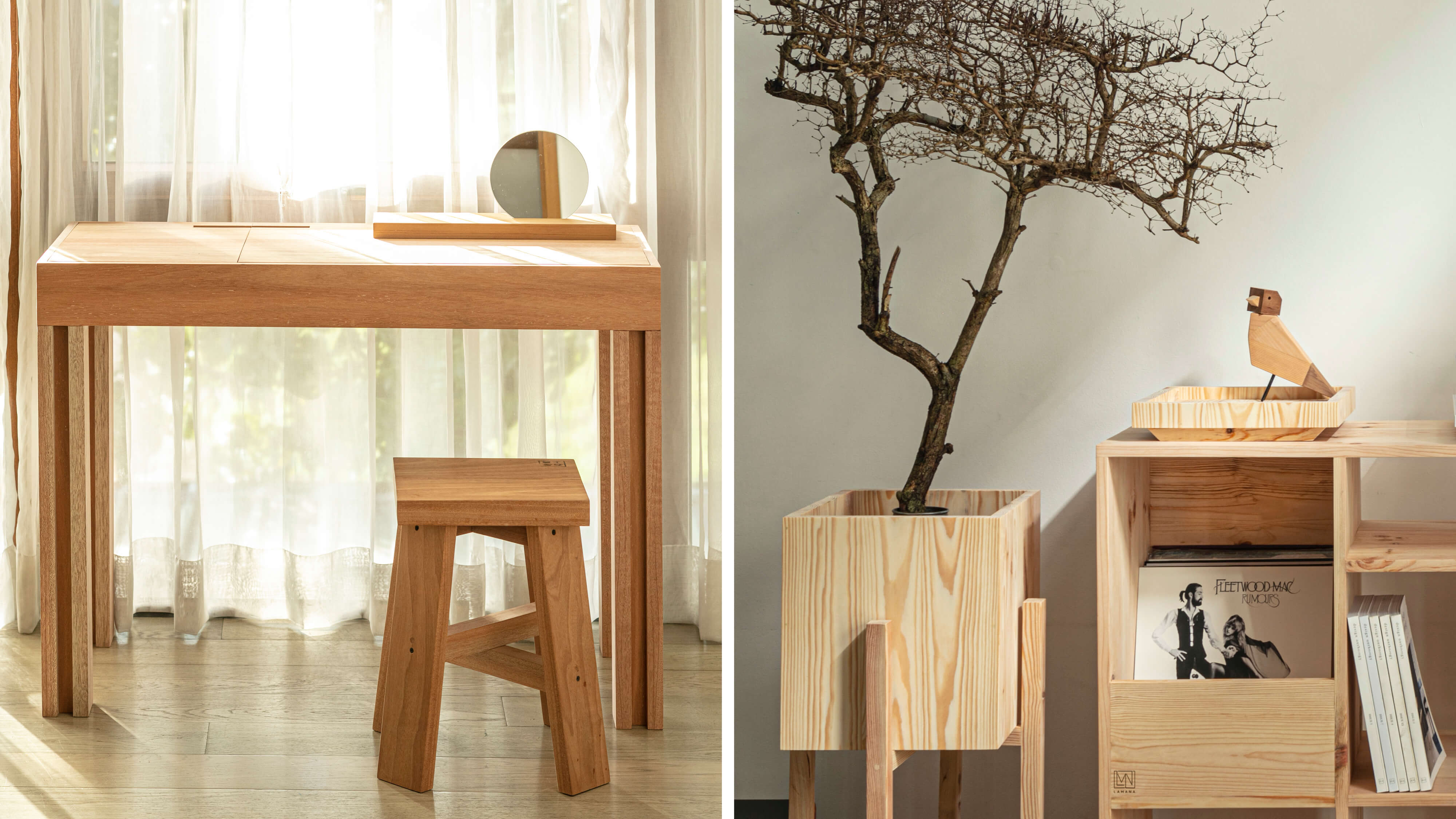 (from left) The Prompt Desk is a handsome worktable complete with concealed storage and a slot for cables. It's a popular buy for those working from home. The minimalist silhouette of Lamana pieces puts a spotlight on excellent woodwork done by local artisans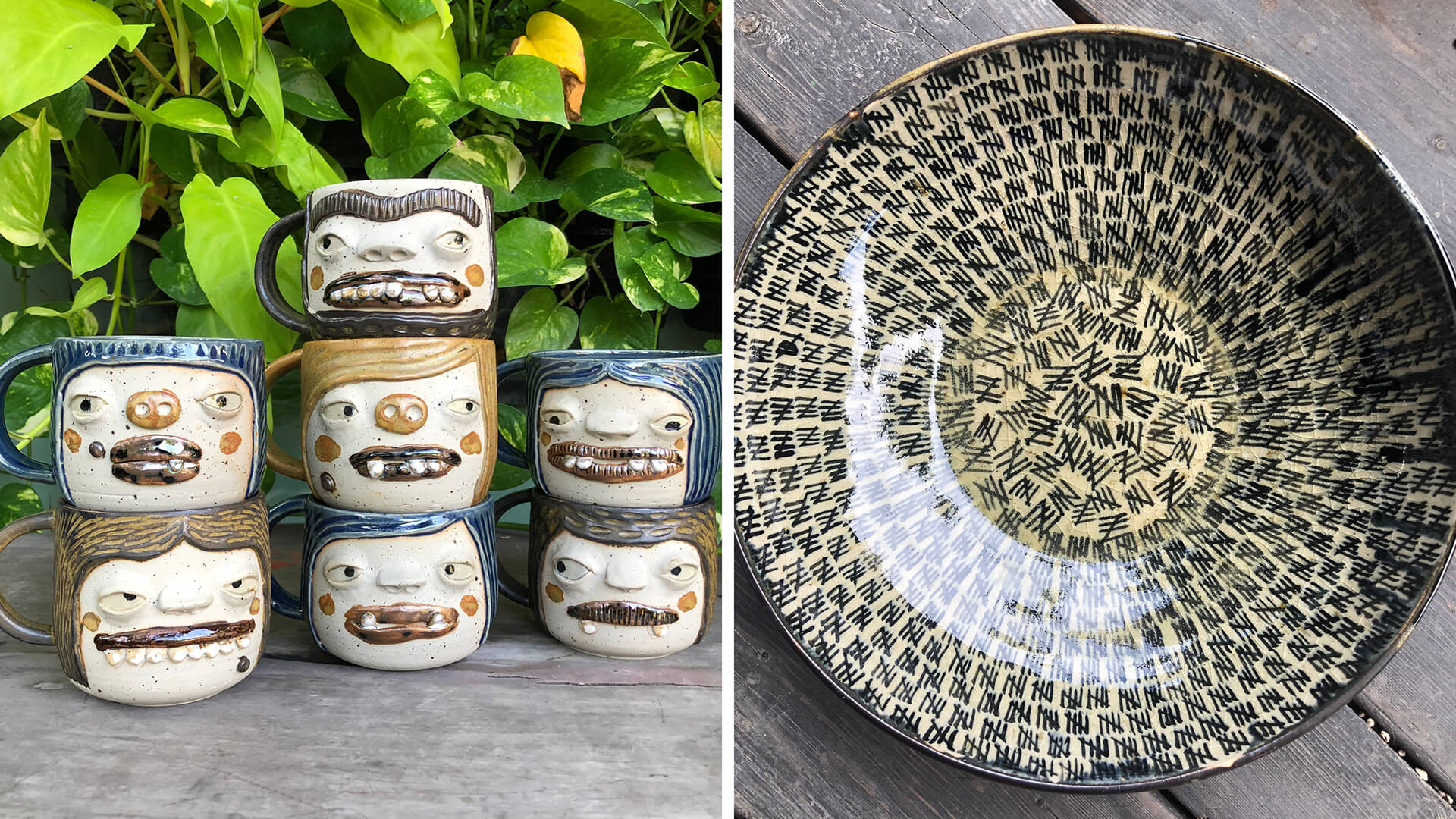 (from left) These Fugly Mugs from Bijin Craft have been popular with customers; planters that are equally quirky also sell well. This glazed bowl, from Cabrera's Freedom series, features tally marks in reference to the number of days people have been in lockdown

FORM AND FUNCTION
Versatility is one of the key factors that make a piece of furniture or décor worth investing in. Raw materials also need to be adaptable so artisans can freely transform them from a mere concept to a tangible product.
"My favorite part is when the clay is semi-hard and it's in its leather-dry form. You can carve on it and put more elements to make it more alive. The possibilities are endless!" says Cabrera about the primary material she uses.
Wood is also another material that is multidimensional. Miguel Habito, founder of Metryk, affirms, "Wood is a strong material that can be cut, shaped, carved, and sanded into different forms." Habito, who runs a wood workshop at home, creates whimsical décor and desk organizers as well as bespoke furniture.
Plants, which have further gained attention during the lockdown, also prove to be more than just pretty potted accents. Marvz Conti of Studio Habil shares what he loves about working with moss, in particular. "Preserved moss…can take on various forms—from being a wall-mount piece to a unique moss arrangement enclosed in a glass." Plus, Studio Habil's moss creations are low-maintenance, so there's no need to fuss about over- or underwatering them.
One might think that items made of organic materials are well-suited only for rustic and tropical-inspired interiors. Morfosis, with its edgy design style, proves otherwise. "We think that it's a misconception that avant-garde or modern styles don't use natural or organic materials," relates Floro. "We do use a lot of [these], but we do it by manipulating or creating new forms or using these materials in unexpected ways." In a shoe store project, for example, Morfosis used wooden shoe brushes as a wall finish—an eye-catching accent that greets customers.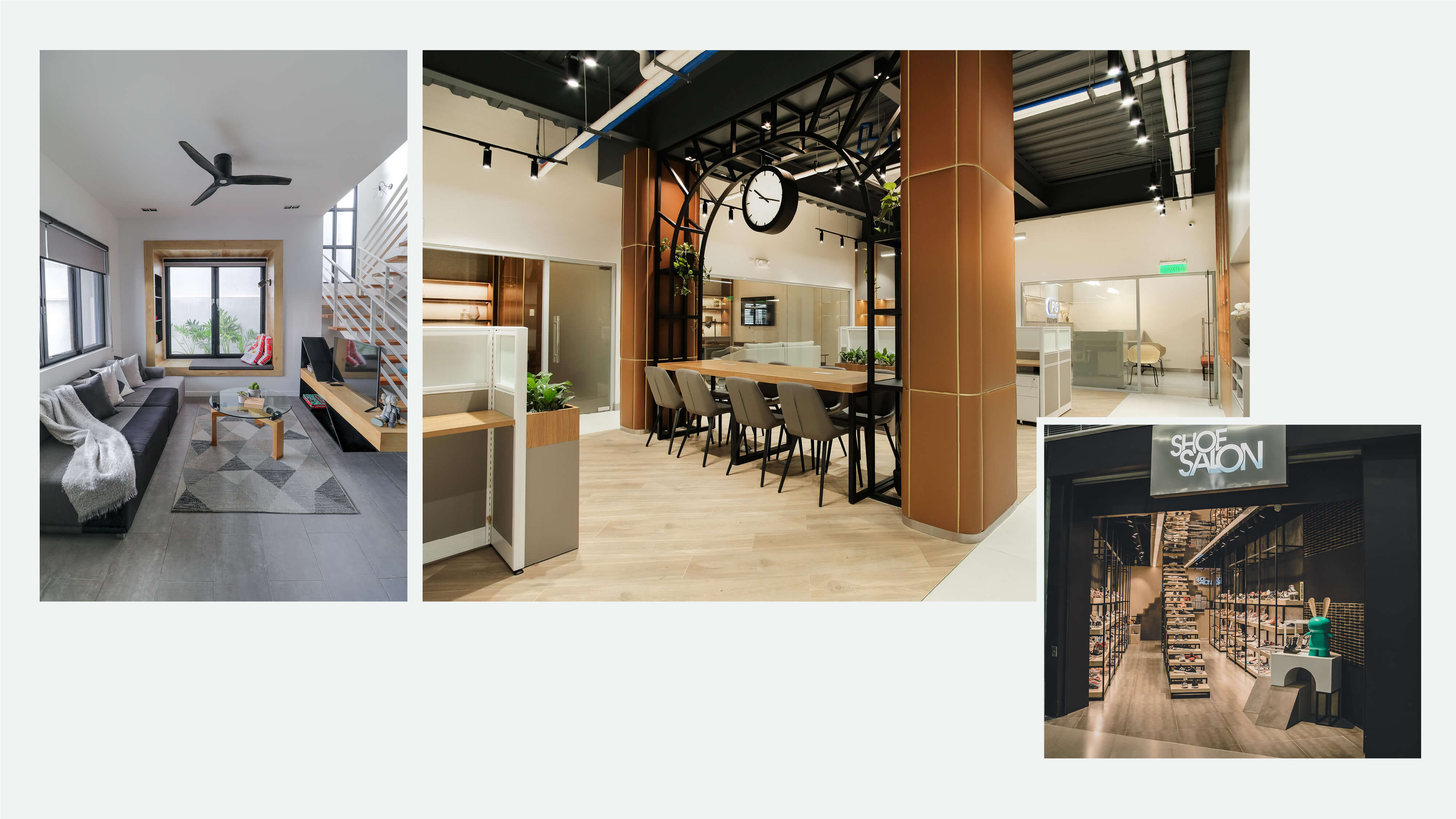 (from left) This residence in Antipolo was designed by Morfosis. Furniture pieces are custom-made, while wooden accents add warmth and interest to the monochromatic space. Neutral hues lend an airy ambiance to this 300-sqm office. The sleek interior of this retail store is made more interesting with a wall finish made of wooden shoe brushes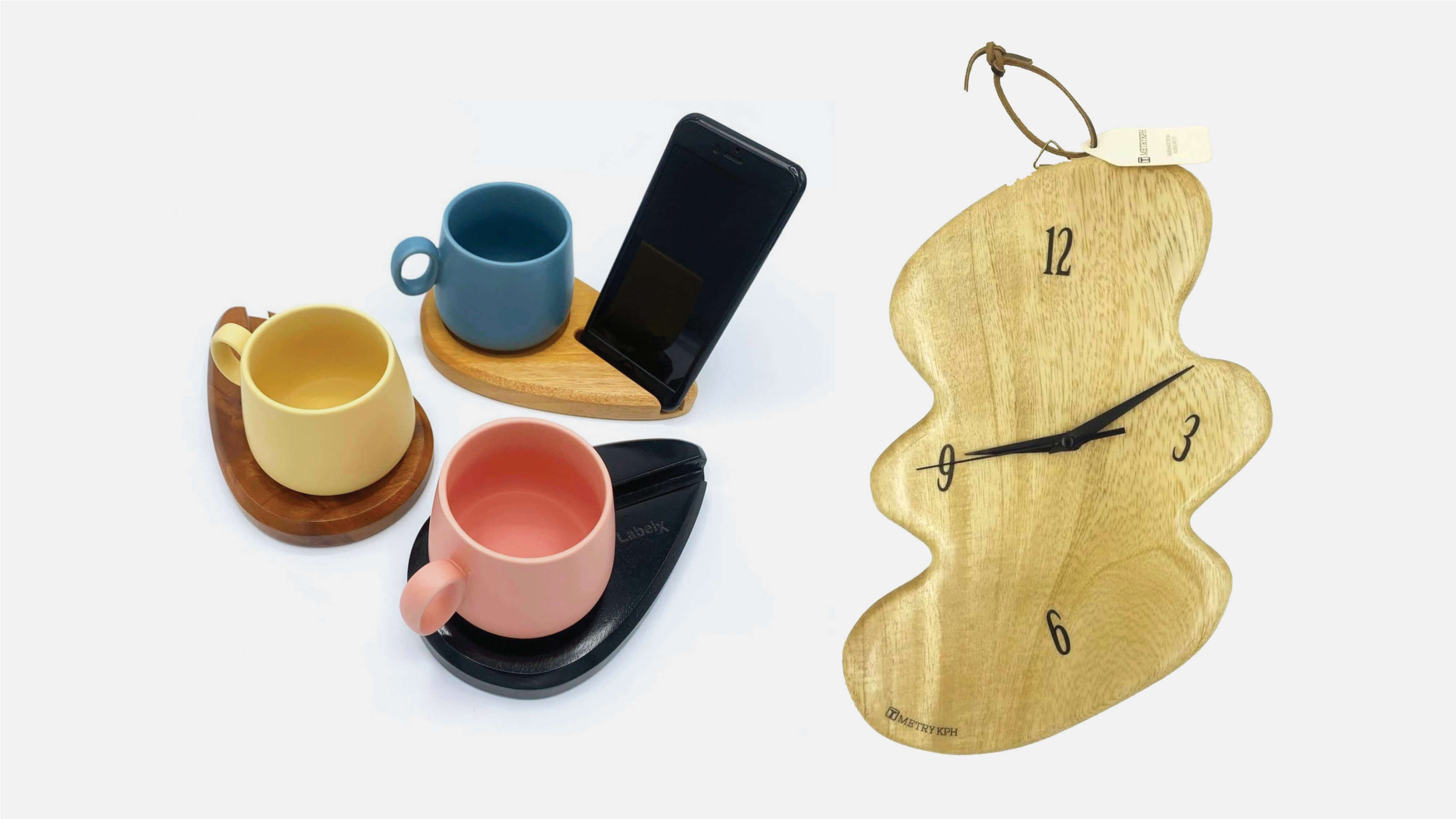 (from left) These coasters from Metryk can also hold a mobile phone. Since the lockdown began, this piece has seen a steady demand. Their wobble clock is a definite conversation starter

DISTINCT BEAUTY
There's no arguing how exquisite Filipino craftsmanship is. The growing list of Filipino furniture designers winning international awards is proof of that. Their common denominator? The innovative use of indigenous materials. "Organic materials offer a more unique and dynamic design impact," says Neri-Magturo, who is fond of using wood for wall treatments as well as quartz stone for counters and cladding in her projects. She has done interior design for homes and commercial spaces like boutique hotels and restaurants.
"The beauty of natural wood is undeniable. There are really no two pieces that are alike because the wood grains would vary all the time," explains J. Concengco. "Whatever imperfections wood has—the aging, the knots—they add to its character. You can't say the same for veneers, laminates, and plastic."
Hacienda Crafts, whose main product line includes lamps and lighting, takes pride in its use of natural fibers like abaca, cotton fibers, and coconut twig. "Our designs are not the usual or typical shapes available commercially since these are inspired by organic forms. They tell stories of our culture and tradition," describes Gaston.
It's not just organic materials that possess such unique characteristics. Metals, like aluminum, are inorganic natural resources that have their own aesthetic merits. Case in point: A. Garcia Crafts' Pamela Wire Chair made of powder-coated aluminum and steel. This iconic piece has already won multiple awards and is a conversation starter, whether used indoors or outdoors. It's been a consistent bestseller because of its unique yet simple design, according to this local furniture exporter, which has been in the business for more than 20 years.

(from left) To cater to the growing demand of customers who work from home, A. Garcia Crafts recently launched a line of work desks and storage made of wood and steel. The Parma Occasional Chair, which is made of powder-coated aluminum and can be used either outdoors or indoors, is an in-demand piece. Aside from being a consistent bestseller, their Pamela Wire Chair has also won several awards

A MAKER'S TOUCH
Indeed, the use of natural materials gives birth to exemplary products, but that doesn't mean everything is a walk in the park. Since most, if not all, are made by hand, artisans have to deal with the varying quirks and temperaments of their resources.
Natural fibers, for instance, have different reactions when exposed to processes like dyeing and weathering, says San Agustin. Wood, on the other hand, contracts and expands especially in the humid climate of the Philippines. States Habito, "Wood also needs to be dried, and proper jointing of wood is very vital for a piece to be sturdy."
Patience is also key, especially in pottery. Cabrera relates, "Making ceramics is an endless learning process. It takes time before you come up with a finished piece. One piece is not done overnight. It may even take a whole month to finish a single item."
Such precariousness and meticulous process make handmade products more unique and attractive. "Philippine-made products are more valuable to the local and export market because all of our items are handcrafted by our artisans, thus making them more durable and detailed," states A. Garcia.
Evelyn Vedasto, founder of Jireh Forge, Inc., shares the same pride. "Sell the talent, tenacity, and perseverance of our people instead of competing with machine-made furniture pieces sold inexpensively."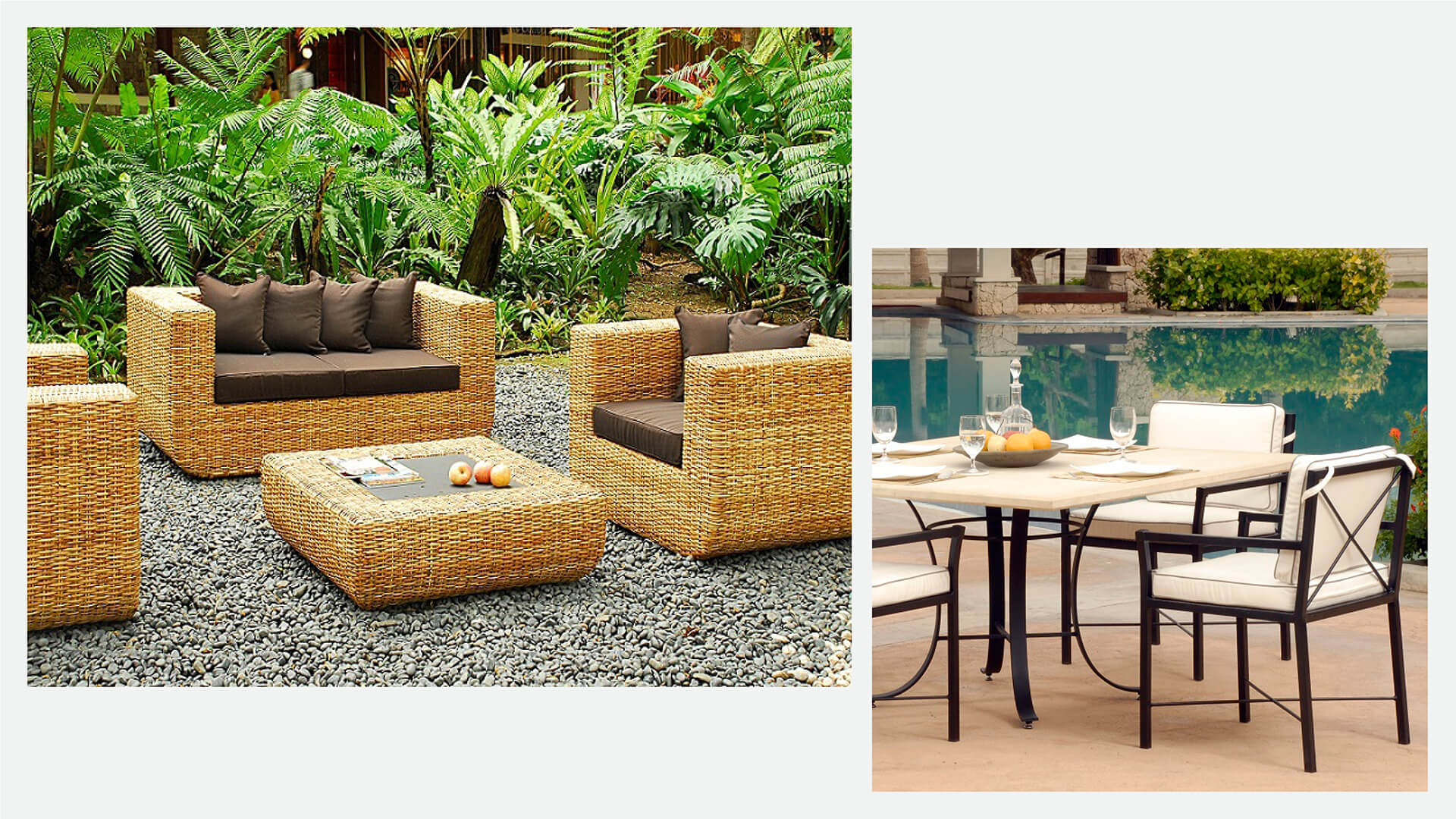 Jireh Forge, which was established in 1989, started with hand-forged wrought-iron products and has since combined them with rattan, wicker, havana seagrass, and abaca
SPOTLIGHT ON SUSTAINABILITY
Throughout the years, brands have become more conscious of their eco-social impact. It's not enough to just think about profits; it's also imperative to be environmentally and socially responsible.
For its moss preservation process, Studio Habil relies on 100% natural and non-toxic materials while upcycled wood is used as frames. Meanwhile, A. Garcia either repurposes scrap materials or turns them into swatches that they give to clients. Nothing goes to waste.
Hacienda Crafts, which was founded in 1994, has been committed to an envirosocial design philosophy. This serves as the backbone of the brand, ensuring that all its processes—from sourcing to production to trade—benefits everyone, artisans and Mother Nature included. Likewise, Domesticity also puts a premium on social responsibility by employing workers from underprivileged communities in Negros Occidental.
Partnering with local artisans not only benefits the communities they are part of. Doing so also guarantees continuous production despite logistical challenges posed by the pandemic. A good example: The Concengcos saw the huge advantage of running Lamana's operations within the same area as their production. "We try to source everything within the community of Rizal," the co-founders narrate. "Our lumberyard, our upholstery partner, metal retailer, and our manpower are all from Rizal, the same municipality as our workshop. Having set up our operations this way, we were able to operate seamlessly even during the lockdown because we never had to cross LGUs."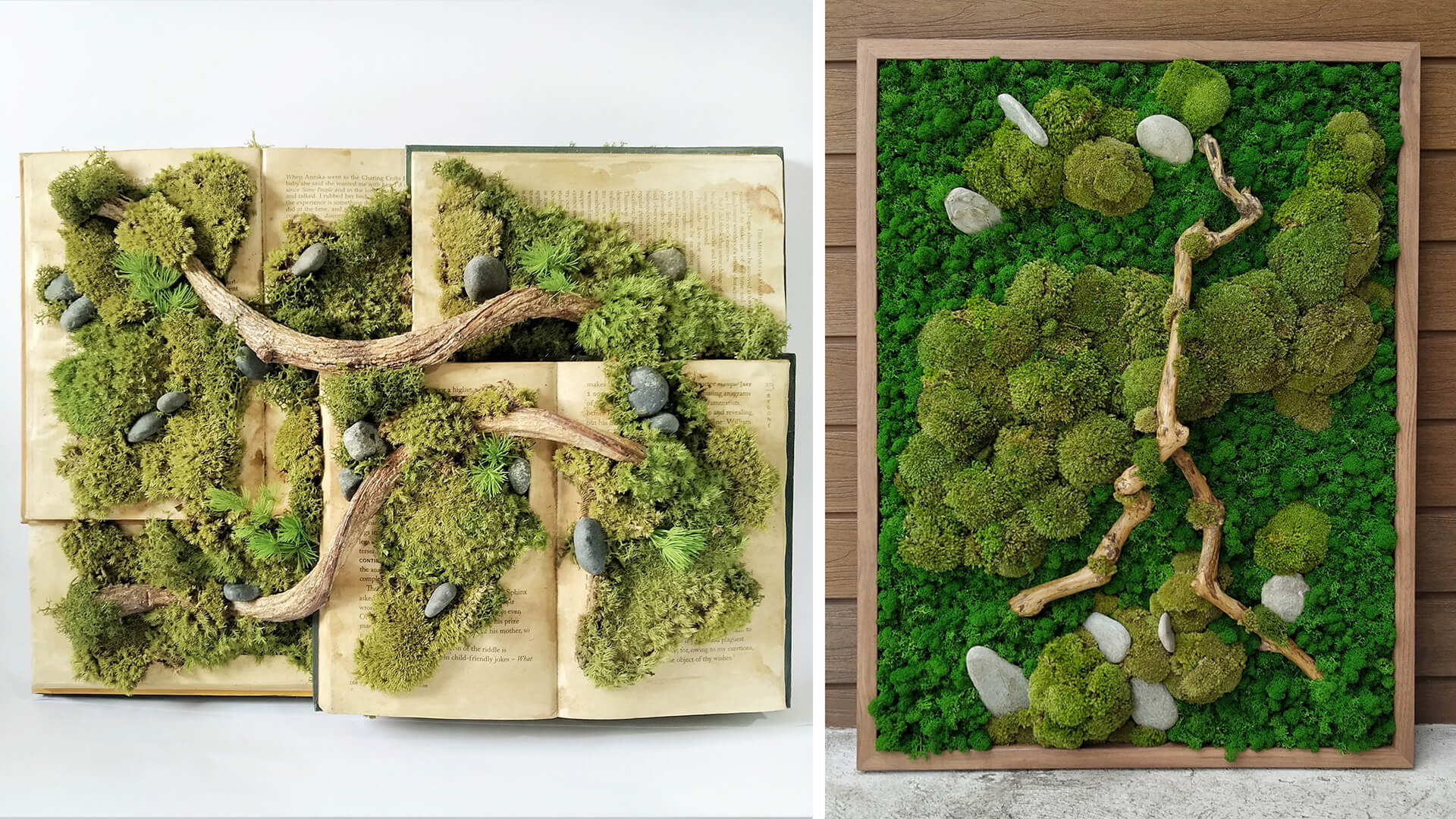 (from left) Varying textures and natural gradations of green make this moss wall art from Studio Habil a fascinating décor. Their "live" wall décor is made of preserved moss and upcycled wood

Gaston acknowledges the value of such an arrangement. She relates, "The pandemic has taught us a lot of things about the world and ourselves. For the brand, we have seen how the business has been a lifeline for our community, especially those in Negros Island because when logistics became difficult, the risks were exposed. We will definitely strive harder to strengthen our local supply chains. Sourcing closer to home just makes more sense now." The company procures most of their raw materials from individuals and cooperatives as part of its continuous advocacy to uplift local communities.
As more people recognize the need for spaces that promote well-being, local furniture and home décor brands are, of course, more than happy to rise to the occasion. They have taken advantage of e-commerce and digital marketing platforms to make sure their excellent products reach buyers despite existing restrictions.
"It never really went away," says Neri-Magturo about the renewed love for natural materials. "The appreciation for them may come and go in cycles, but here's hoping this sentiment stays with us for a long time."
Photos courtesy of brands