ROLLIN' IN THE DEEP
"It's like a feeding frenzy," observed one shopper of Ken Samudio's booth at a fashion fair, except instead of sharks, the stylish set were all hoping to get first dibs on his latest drop of luxe accessories. Whimsical, wondrous, and otherworldly, Samudio's creations are carried by premiere stockists worldwide and perennially in demand, ever since Vogue Italia anointed him as one of the Vogue Talents for Accessories in 2014.
The science of fashion
"I have always been creative, and I guess after years of working in the science field, the creative in me wanted to grow and flourish," shares Ken Samudio, who is a biologist by profession, specializing in marine biodiversity. "I paint, write fiction and poetry, but my dad would always discourage me because he thought there was no future in the arts. That's when I decided I should make something that will earn me a living and satisfy my artistic cravings." And it was while making beautiful trinkets for his mom that he realized he could pursue accessory design professionally.
Largely self-taught, Samudio's scientific and creative sensibilities meet to "create pieces and masterfully 'invent' signature techniques via trial and error." The upcycled beads that figure prominently in his pieces, for example, are crafted from plastic water bottles, recycled sea glass, and other sustainable materials. His gutsy experimental process boils down to: "Repeat and start all over again until you get exactly what you want, and of course, have imagination. I believe if you can imagine it, you can make it."
He applies couture techniques to shape mundane and indigenous materials—found objects, upcycled jewelry, traditional weaves—into fanciful pieces handmade by local artisans. "I love slow and thoughtful fashion, and the process that goes with it—creating one-of-a-kind pieces with soul."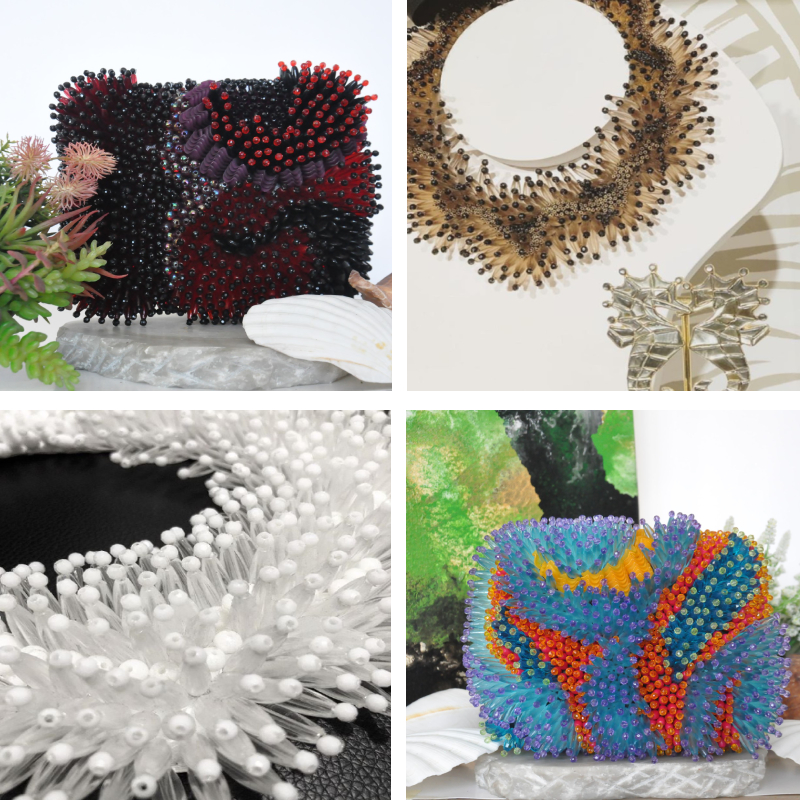 Finding Atlantis—clockwise from top left: Resembling endangered natural wonders, Ken Samudio's pieces are crafted to inspire awe but also "call attention to the plight of Mother Nature"; Coral Necklace in brown; Samudio takes inspiration from marine life, as seen in his Nemo Clutch; the Bollman necklace.
Under the sea
Samudio's innovative pieces are primarily inspired by nature, especially the diverse ecosystem of Philippine waters. His S/S 2015 "Aquapocalypse" collection—clutches and neckpieces overgrown with glowing rainbow reefs representing "the allegiance of marine organisms and alien life forms waging war against mankind and our destructive tendencies to nature"—paved the way for international recognition, cementing his eco-fashion trademark. His all-time favorite piece? "The Bollman Coral clutch, which landed me in the pages of Vogue Italy's 50th anniversary edition."
He reveals, "My biggest break was when I was selected out of hundreds of hopefuls around the world to show at Milan Fashion week via Vogue Talents 2014. I was able to show my collection to editors and luxury retailers such as Anna Wintour, the late Vogue Italia editor-in-chief Franca Sozzani, and Sara Maino." In fact, he was handpicked by Sozzani as one of the 12 emerging labels across the globe—and the sole Philippine representative—to show in the Vogue Talents Corner 2015 at Piazza Morando. Since then, he shares, "I have collaborated with Luisa Via Roma, Yoox, Net-a-Porter, San Pellegrino, and Swarovski, and I showed in Bergdorf Goodman in New York and sold my collection at Moda Operandi."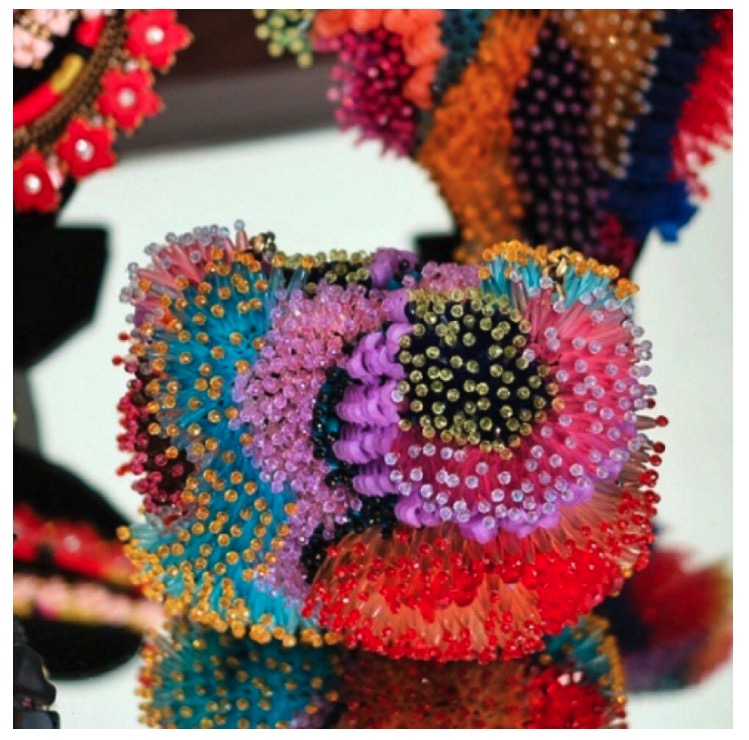 His career-defining, all-time favorite piece: "The Bollman Coral Clutch that landed me in the pages of Vogue Italy's 50th anniversary edition."
Matthew & Melka (Instagram: @matthewandmelka), Samudio's more accessible spin-off line, also draws inspiration from nature and local materials—starfish earrings, market totes blooming with flowers, chic headwraps in indigenous textiles. And who can forget the signature Fleur earrings a few summers back, hailed as the accessory of the season and worn by everyone from local celebrities to Drew Barrymore? Meanwhile, his collection for the 2018 edition of Manila FAME was a departure from trawling the treasures of the deep, and instead, celebrates the urban cacophony. "I made a collection of pieces inspired by the streets of Manila. Clutches embroidered with the ubiquitous signs on buses and jeepneys such as "Taft/Quaipo, Baclaran/Tambo. I also made quirky pieces with embroideries of fruits, veggies, sidecars, street food etc. I created a collection from the colorful, visual feast that is the streets of Manila."
Asked how he hopes his work represents Filipino design on a global level, he shares, "That it doesn't matter where you are based as a designer. As long as it is made with passion and made by loving, inspired hands, which we Filipinos have, we can compete on the global stage anytime."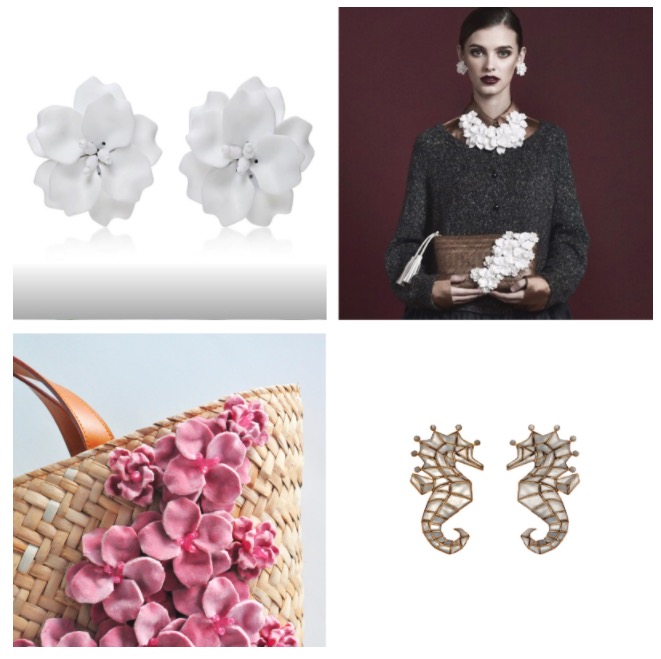 Pieces from Samudio's sister label, Matthew & Melka, clockwise from top left: the iconic Fleur earrings worn by Drew Barrymore; signature Fleur earrings in petite, Fleur necklace, and Fleur clutch in Blanc; Matthew & Melka's much-loved seahorse earrings are now only available in limited quantities, the brand's way of spreading the word about these gorgeous creatures in danger of extinction; market totes abloom.
Staying Afloat
As his brand grows, so do the challenges. "The biggest challenge for me is the business aspect of building a brand. If I can just design my whole life, I'd gladly do it; but growing the brand and learning the ropes of the business with these technicalities like production, accounting, procurement, and operations is sometimes too much to bear."
2019 was an especially tough year; with a devastating death in the family, business took a backseat, and even his participation in Manila FAME was out of the question. "[2019] was very turbulent. In fact, it kind of hindered my creative process and business aspirations," Samudio admits. "But 2020 seems promising. I have always believed that everything happens for a reason, and I know it is for the better. Looking forward to moving on and moving up."
Changing Course
These days, creative freedom and advocating sustainability are his top priorities. "For 2020 I have decided to do whatever I want, design anything as long as it makes me happy, not really minding if it's going to sell anymore. As long as I made it with passion, I know people will relate. After all, life is too short, so why not do things that will make you happy, right?" –Pierra Calasanz-Labrador
[CONTACT DETAILS]
KEN SAMUDIO
Telephone no: +(632) 7219 8079
URL: www.ken-samudio.com
Instagram: @kensamudio