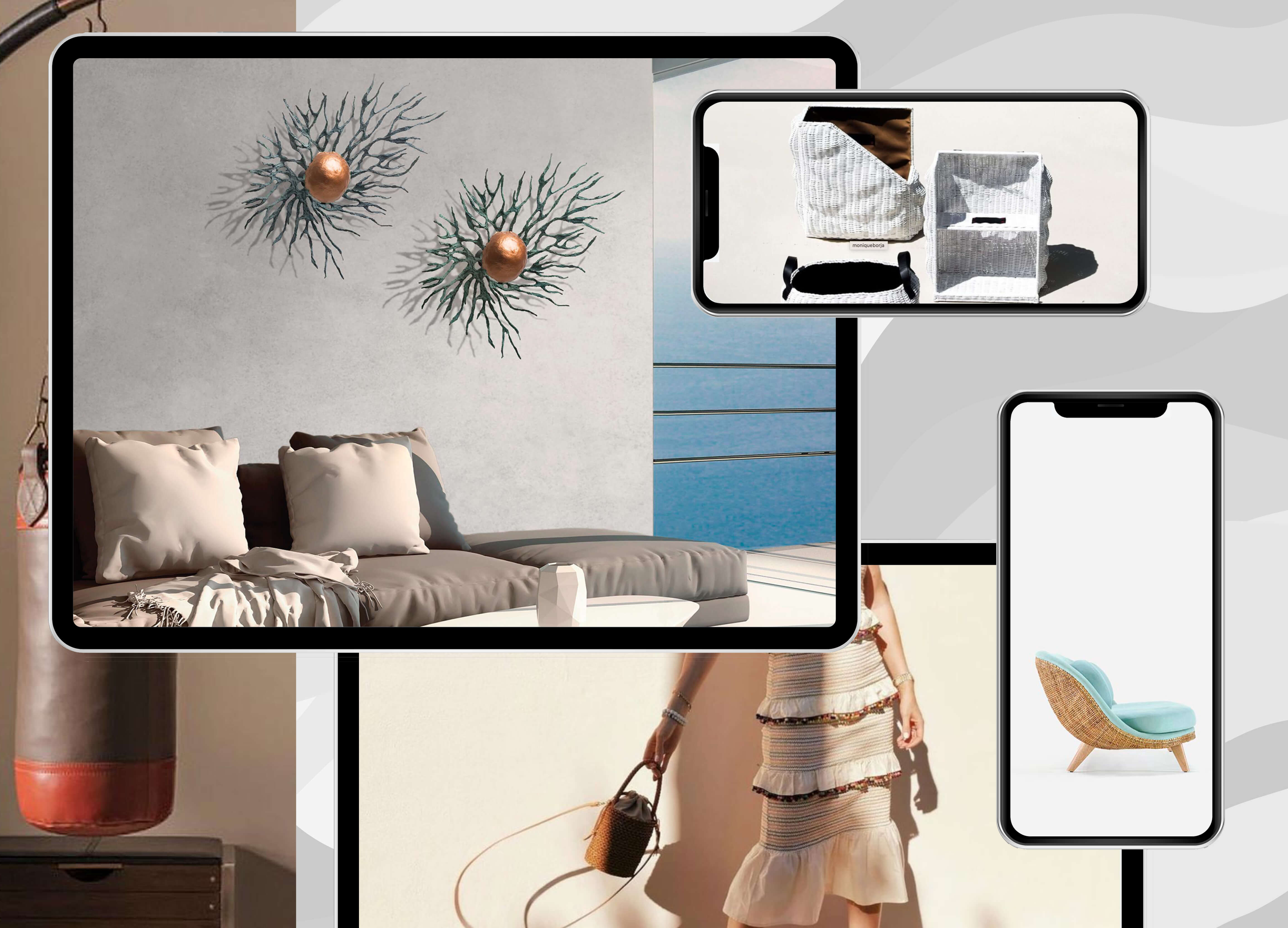 How to Go from Local to Global
Kenneth Cobonpue, Milo Naval, Rita Nazareno, Amina Aranaz-Alunan, and Matthew Brill share how they set about taking their brands worldwide so you can craft your own game plan
by Nana Caragay

Ask yourself: why do you want to go international? Is it to secure bragging rights or financial gain? Is it about hitting that next step in your vision board or the culmination of years spent honing your craft and technical skills?
It could be a combination of all of the above, but it's not going to be easy, so best to pin down your motives before you set out on the daunting task of expanding your reach to a global scale. But whatever your motivation, Kenneth Cobonpue, Milo Naval, Rita Nazareno, Amina Aranaz-Alunan, and Matthew Brill, who have all been successful in expanding their respective brands' global reach, all agree that there is one place to start: your product. Make sure it's great, and the rest will follow.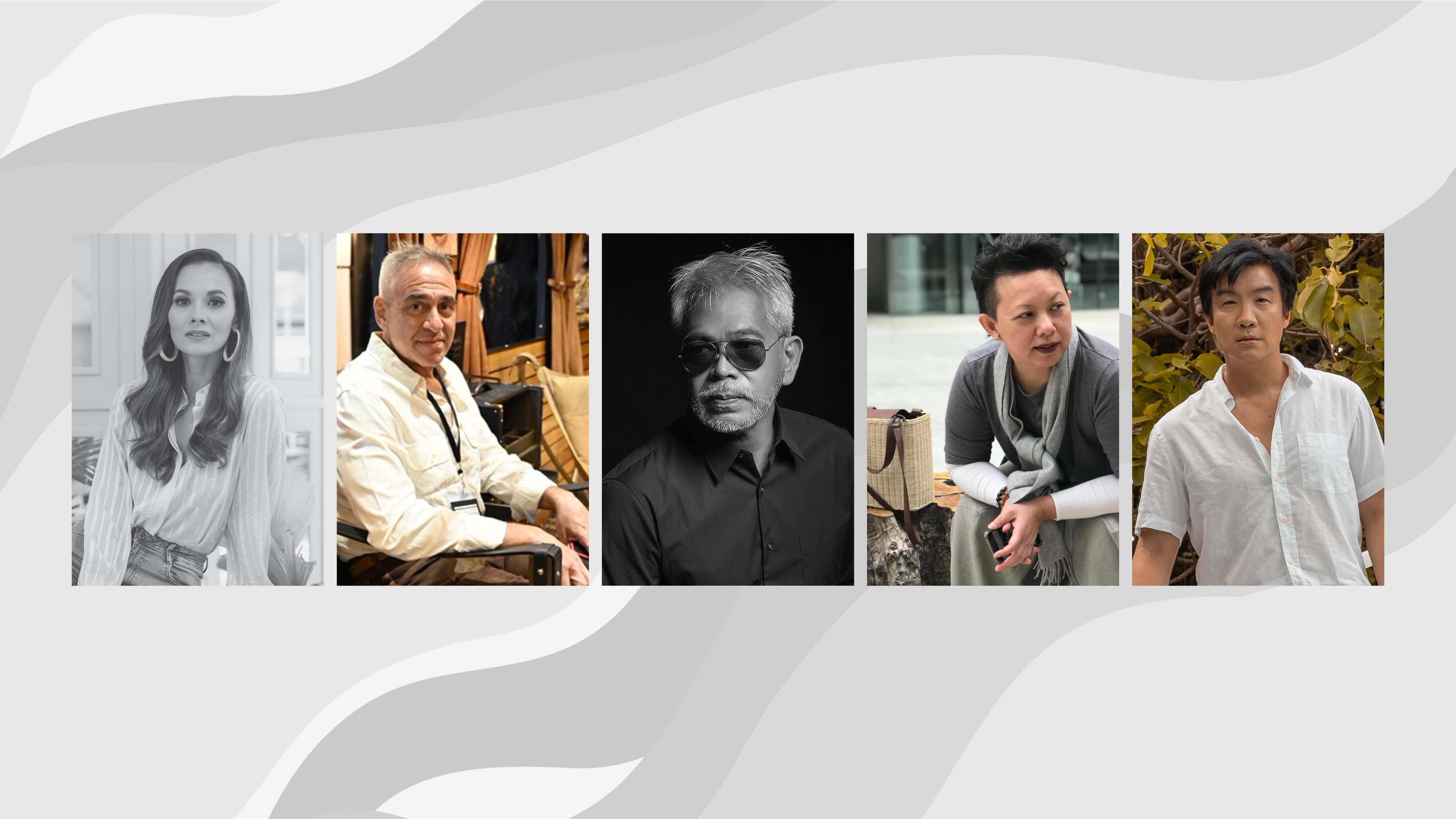 (from left) Amina Aranaz-Alunan of ARANAZ, Matthew Brill of Prizmic & Brill, Milo Naval of OMO Furniture, Rita Nazareno of Zacarias 1925, and Kenneth Cobonpue knew from the get-go that building an internationally recognized brand was the plan—and all actively worked on reaching that goal

THINK GLOBAL
Ambitious though it may sound, Cobonpue, Naval, Nazareno, Aranaz-Alunan, and Brill admitted that the goal of going international was something they always had in mind. Rita Nazareno dreamed up the idea of incorporating a contemporary twist to the traditional handwoven bags that had been created in her family's workshop since 1925, hence, Zacarias 1925. "I wanted to have a wide, varied audience who would appreciate the more unusual, structural designs, which was a leap for handwoven bags," she says.
Also coming from a family of longtime bag manufacturers and exporters, Amina Aranaz-Alunan decided to introduce her products to the Philippine market first by way of a namesake line, Aranaz, before expanding her reach to the rest of the world. "From the very start, the dream was always to bring Aranaz to the global audience," she says. "But introducing the brand to the local market was our first step and first priority."
Furniture makers Prizmic & Brill evolved from showcasing hand-loomed abaca woven by the indigenous tribes of Mindanao toward products featuring leather, brass, ramie fabric, and handwoven rattan. "Classic natural fibers and cowhide capture the feel of turn-of-the-century travel," says Matthew Brill. Though he had worked for years as an interior designer, Milo Naval of OMO Furniture had to shift his mindset when creating for a global audience: "When I started to come up with a collection for export, my mind was focused on the foreign market."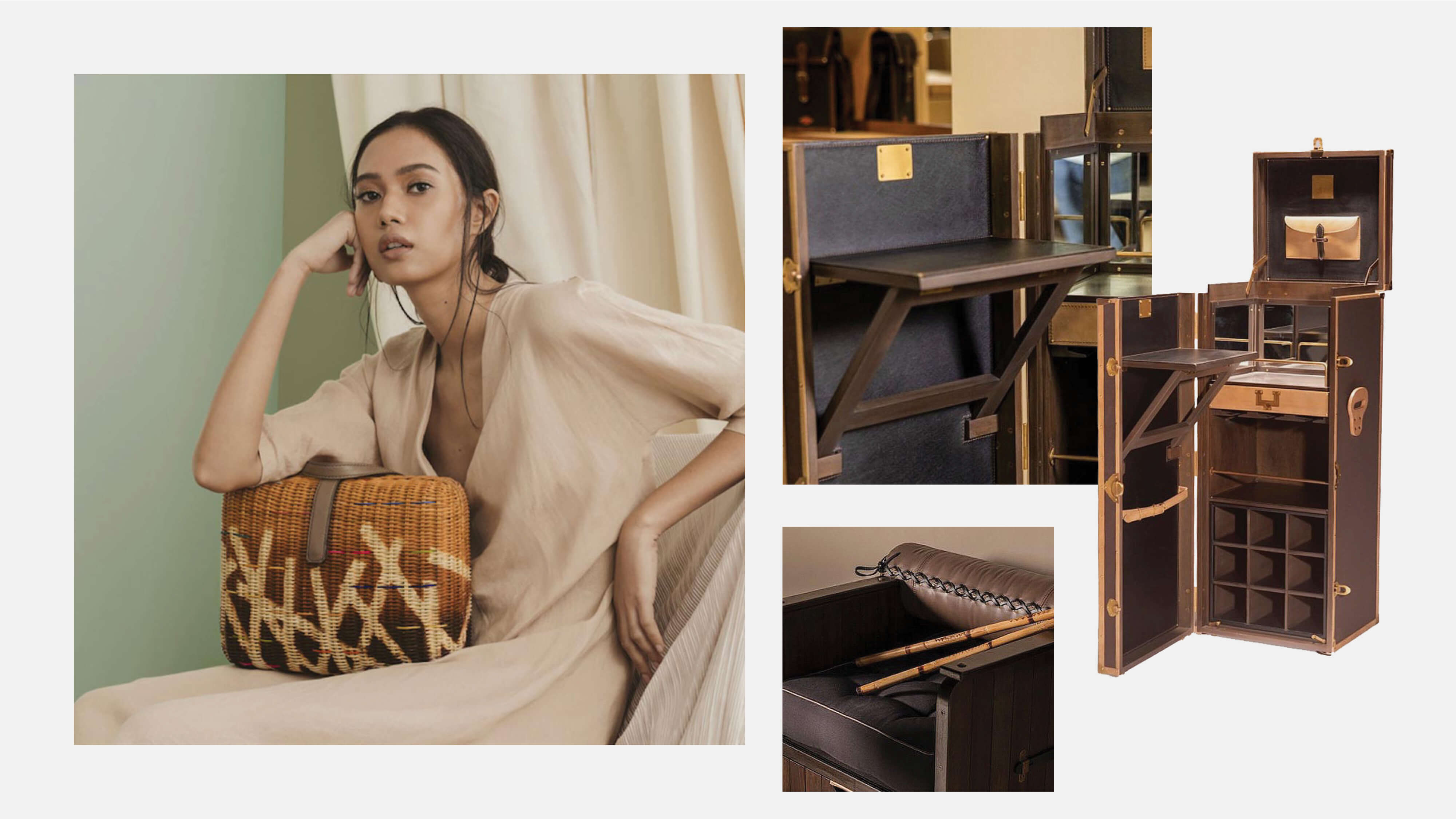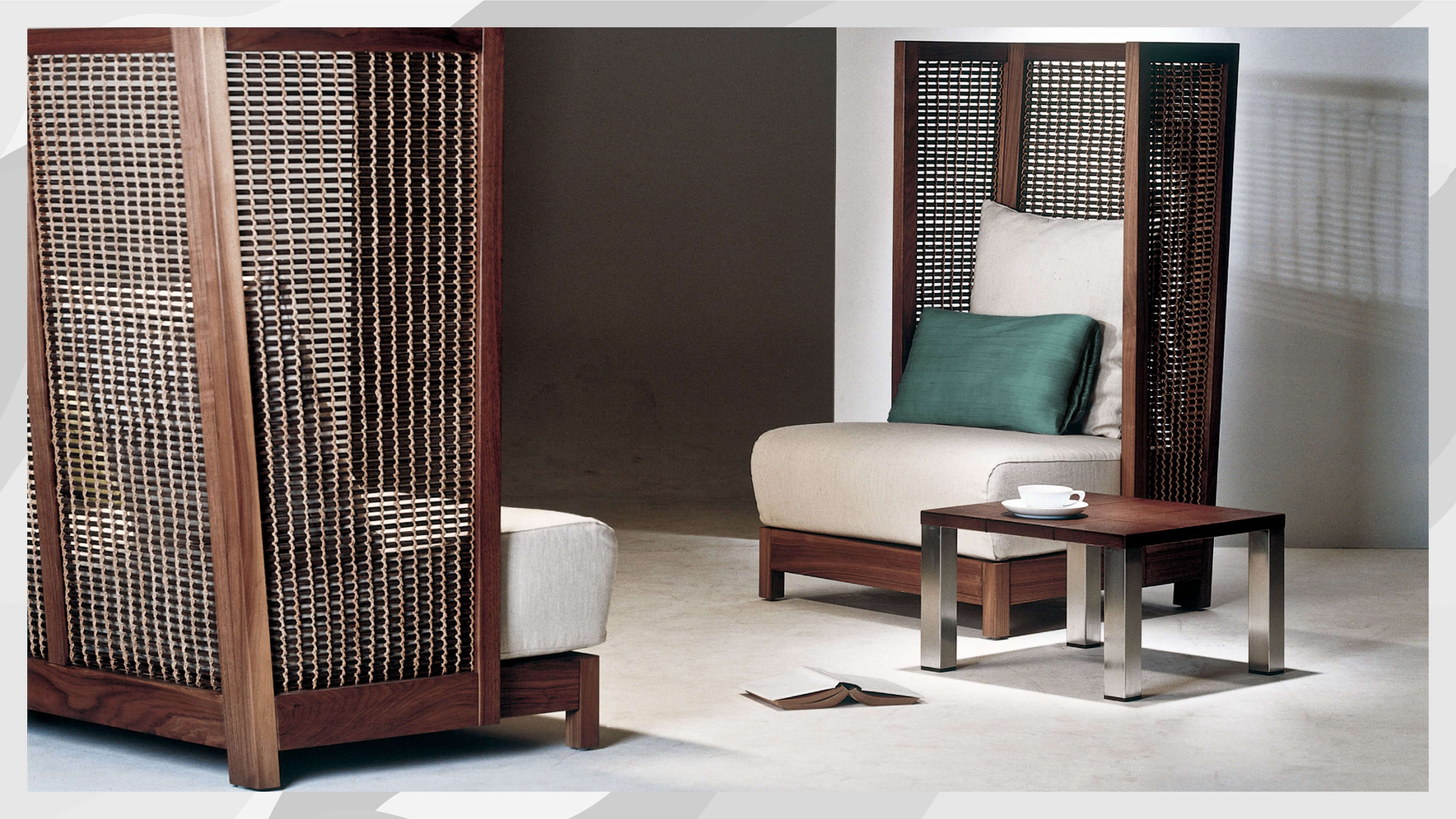 (top) With Zacarias 1925, Rita Nazareno incorporated a contemporary twist to the traditional handwoven bags that had been created in her family's workshop (via SC Vizcarra) since 1925. Prizmic & Brill's designs—featuring leather, brass, ramie fabric, and handwoven rattan—capture "turn-of-the-century travel." (bottom) Kenneth Cobonpue insisted on championing the label "Made in the Philippines'' for his designs. Seen here is the Suzy Wong Easy Armchair Highback
And when industrial designer Kenneth Cobonpue wanted to move away from the model of manufacturing products for other brands so he could launch his own, he was adamant it would carry his name and proudly champion the label, Made in the Philippines. "It was very difficult then because the traditional buyer of Filipino furniture wanted none of that," he admits. "It took a while to attract a different set of buyers—the ones who were mostly buying European brands, who would put the name of the designer and treat it as a valuable product from its country of origin."
Despite the difficulties, stick to your vision and keep the end goal in mind. But be flexible enough to make tweaks, because what works for your local client base may not sell abroad.
DO YOUR HOMEWORK
Naval emphasizes that when designing for the international market, your approach cannot be one-size-fits-all. Consider the intricacies and nuances of the design cues that appeal to others' cultural sensibilities, and apply them to your original ideas.
"The foreign market varies—European, American, Japanese, Middle Eastern. Every market that I sell my furniture to, I try to learn their needs and requirements. For example, the Japanese scale and lifestyle are different, so you have to study that," he says.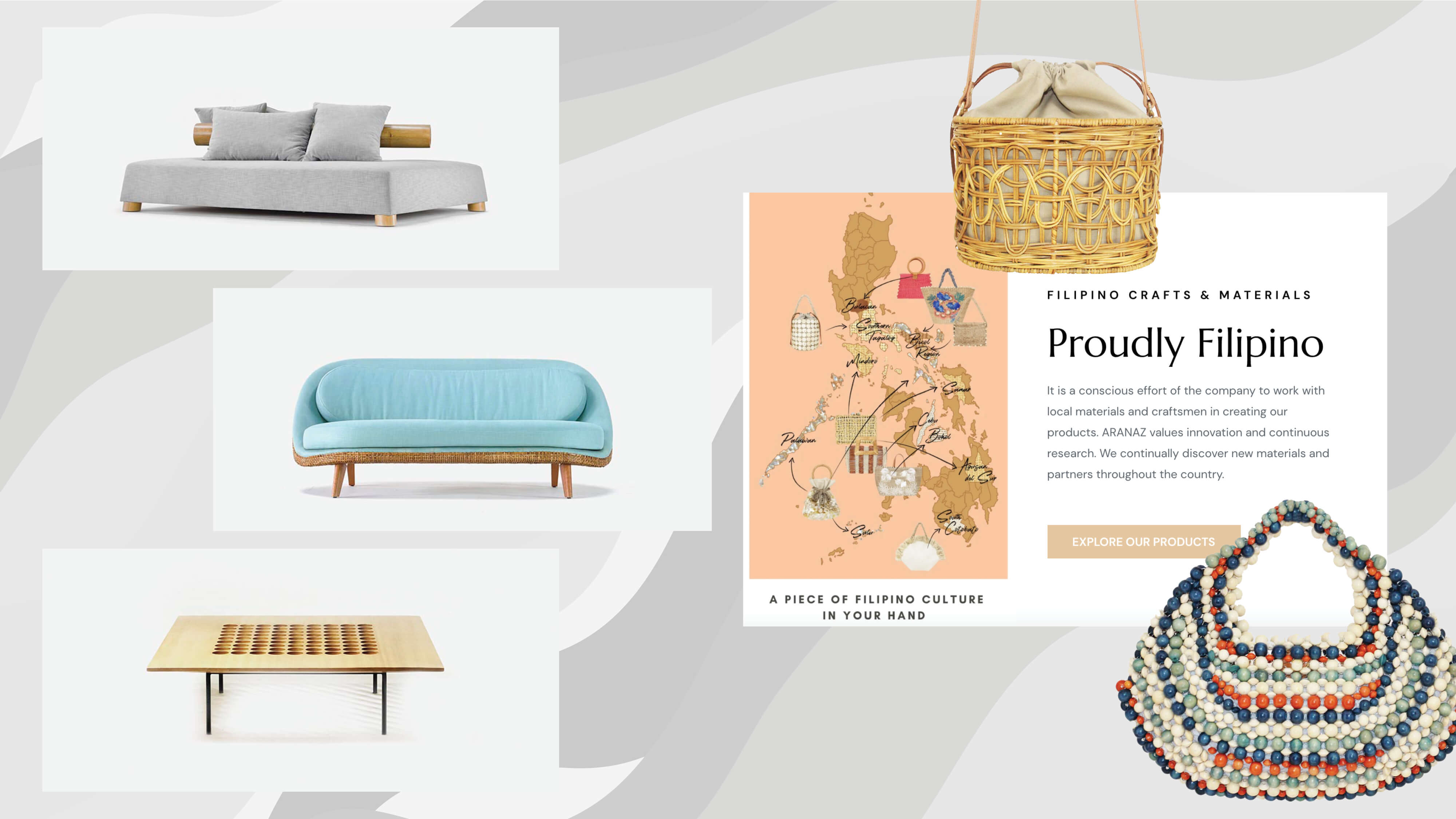 Milo Naval had to shift his mindset—from local to global—when he started designing collections for export, but maintained highlighting local materials and expertise, as seen in his (from top) Bamboo Island Sofa, Flamenco 3-Seater Sofa, and Solid Wood Coffee Table with Holes. ARANAZ likewise showed a Proudly Filipino aesthetic with their designs, among them, the Chloe Bucket and Lagrima Brights bags

But he warns against adjusting so much that you lose what makes your products unique. "You have to have some sort of an identity; you cannot be doing exactly what the Europeans are doing. I presented myself as coming from a nation-country, so I was doing a lot of stuff from the Philippines, like local weaves. But the designs have to be globally accepted."
Apart from studying your target, Aranaz-Alunan recommends preparing a sales kit with the international market in mind. Package and treat your brand as though it is already a global brand, and the market will follow. "Begin by having the proper 'selling tools': updated website and social media, seasonal collections, line sheets in international wholesale prices, look books, shipping and delivery options," she enumerates. Anticipate the questions prospective foreign buyers may bring up when you introduce yourself, and be ready to answer these before you even think about proceeding with the crucial last step: "Then put yourself out there," she says.

TELL A STORY
Whether it's a heritage craft that's been passed down through generations, a weaving technique perfected by an indigenous tribe, or a family business that has grown to fuel an entire cottage industry, incorporate these unique, singular details into your brand's mythology and wield it proudly as part of your product's back story.

Do not disregard the power of a good story: Prizmic & Brill products elicit old-world African safari chronicles, while Kenneth Cobonpue's imaginative product names—like Bloom chair and Dragon's Tail lamp—almost read like fairy tales and pique the customer's curiosity

The idea of taking the bags created in her mother's and grandmother's workshop and innovating them with bold, architectural touches came to Nazareno while she was a graduate student at the London College of Fashion. The designs of Prizmic & Brill that evoke nostalgic images of an old-world African safari are the product of a three-way partnership between co-founder Brill, a Hong Kong-based photographer, and a young Croatian traveler. Aranaz grew out of a family business, with Aranaz-Alunan's younger sister, Rosanna, also playing an active role in the brand today. These personalized touches from your background can capture the market's imagination and help your products come to life.
Nothing sells better than a really good story, something that Cobonpue, whose designs come with fanciful product names like the Bloom chair and the Dragon's Tail lamp, can attest to. "Most important is the product, of course, although in today's world, maybe the story is more important than the product," he says with a laugh. "In the age of social media, the story is everything. You have to make your story unique, and it has to resonate with people. And just like a story, you have to tell it many times in as various mediums as possible."

EXPAND YOUR NETWORK
Trade shows are a good place to give your products visibility and generate word-of-mouth. By participating in trade shows starting in the late '80s, Naval was able to serve as a design ambassador of sorts for the country, traveling to the likes of Valencia, Spain and Frankfurt, Germany and inviting buyers to see what his colleagues in the Philippines had to offer. "The idea was to display our stuff there, meet the clients, and invite them to come over to the Philippines. With all the exhibitors, you have to put your best foot forward."
Aranaz-Alunan recalls how being a part of CITEM's Manila Wear program helped form the backbone of Aranaz's international business plan. "I would really credit our participation in Manila Wear as the main factor that pushed us to seriously move forward toward this direction," she says. "We got ourselves organized in terms of making sure we had all the 'selling tools' to venture into the international wholesale market. Manila Wear was our 'practice'—it allowed us to get used to wholesale buying seasons, trade shows, meeting wholesale buyers, and then we took off from there. By putting ourselves out there and showing the market that we were ready to sell to the international audience, it automatically opened doors to international partners, such as agents, distributors, and stores. The partners we have today are here because we were approached by them; they took interest in our brand and we have thankfully found good and steady partners in various regions."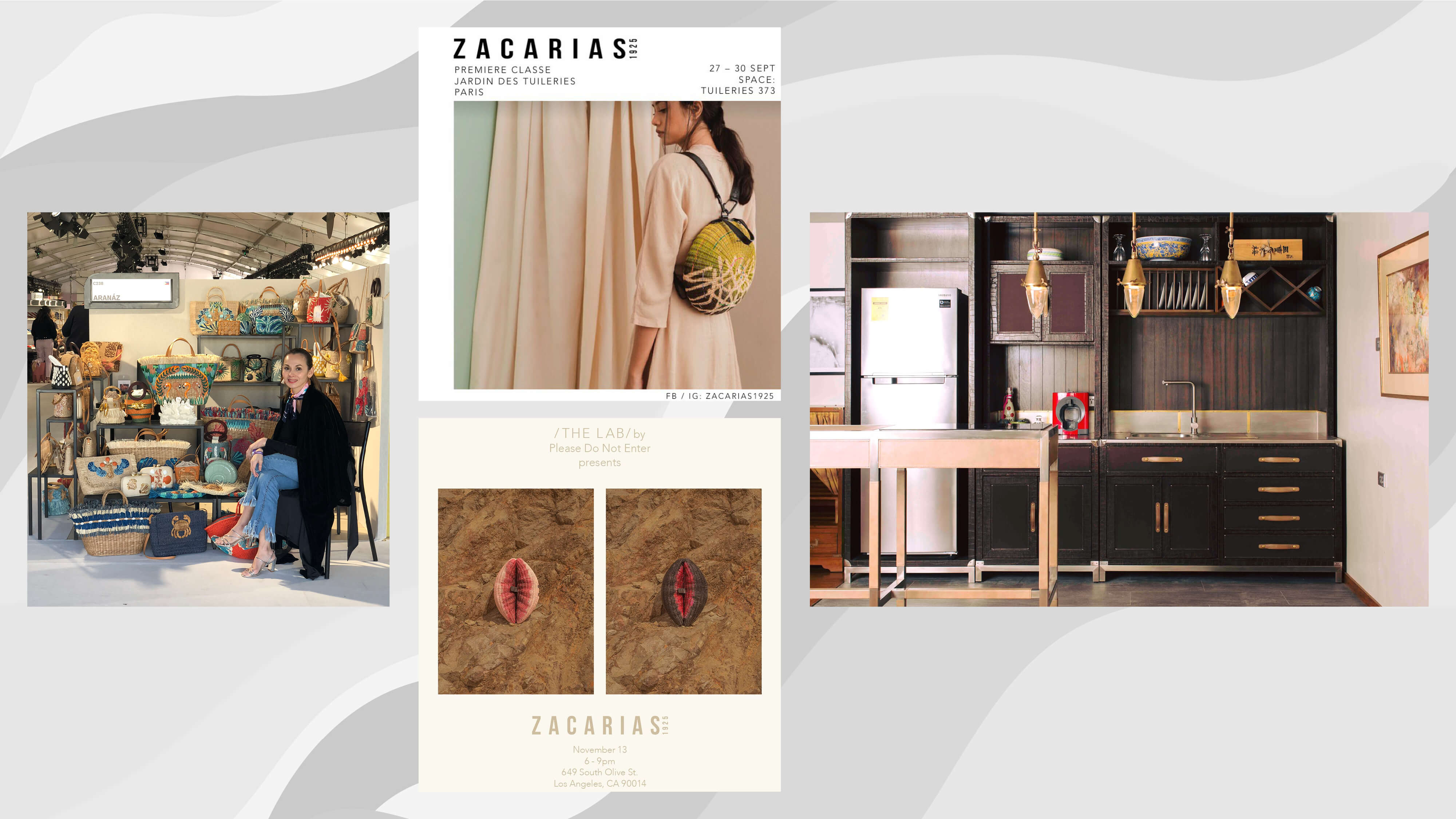 Joining local and international fair trades is a must—ARANAZ claims that CITEM's Manila Wear program served as a catalyst in their international plans and Zacarias 1925 started with pop-ups before finally joining the big shows, like the Premiere Classe in Paris. Prizmic & Brill advocates traditional brick-and-mortar retail—they managed to attract foreign buyers at their first space in Makati Shangri-La

If you aren't quite ready to invest in joining a large-scale trade show with exhibitors from all over the world, you can test the waters by showing in smaller, more intimate venues where you can introduce your products and see how people respond, which was the route Nazareno and her French business partner decided to take. "We both understood that we would have to build exposure of the bags in many minute ways," she relates. "We started doing pop-ups in Paris before starting on trade shows in London, Düsseldorf, Florence, and Maison et Objet Paris and Milan. I felt that buyers had to see our pieces up close and touch them, see the intricacies of the weaves. We finally got into Premiere Classe in Paris, which happens during Paris Fashion Week. When that happened, we knew that our hard work had paid off."
Don't discount the power of good old-fashioned, traditional brick-and-mortar retail, as Prizmic & Brill managed to attract foreign buyers at its first space in Makati Shangri-La that opened back in 1990. "We were discovered there by hotel guests from high-end resort groups and a very big Spanish importer," says Brill. "Amanpulo also found us there, and we work with these companies until now." This paved the way for them to supply furniture to American department store chain Bloomingdale's and be featured in the legendary J. Peterman catalog, whose frontiersman designs matched perfectly with their globe-trotting aesthetic.
Now that activity around the world is on hold due to the COVID-19 pandemic, trade shows have migrated to a virtual platform, giving brands another avenue to participate. Zacarias 1925 joined Maison & Objet's digital platform, Maison & Objet and More (MOM), just last year, and is also a part of the NY Now Digital Market and of course, FAME+.
USE TECHNOLOGY
In this social media day and age, it's de rigueur for a brand to have an online presence, a marketing tool you can use to your full advantage. It's important to build a website that reflects your identity and spirit, and invest in infrastructure that supports shipping worldwide.
"You need to be fully equipped and prepared to understand the entire ecosystem," Aranaz-Alunan advises. "First step is to ensure your brand and company is set up for export. Make sure you have a strong product or brand, get your selling tools or sales kit ready, and create a distribution strategy—whether you will go direct to stores, agents, or customers. Since you are selling your brand and not trying to be a supplier, brand presence is also key."
Another option is to partner with an e-tailer who can distribute your products abroad—Zacarias 1925 is available on the websites of New York-based Blue Tree, Vakko in Turkey, and LA's Please Do Not Enter, among others. "We have also been getting orders through Instagram direct messages and Facebook, which have been interesting because it is a bit more personal than through an e-commerce site. We get to chat with the clients who want more customized pieces," Nazareno says.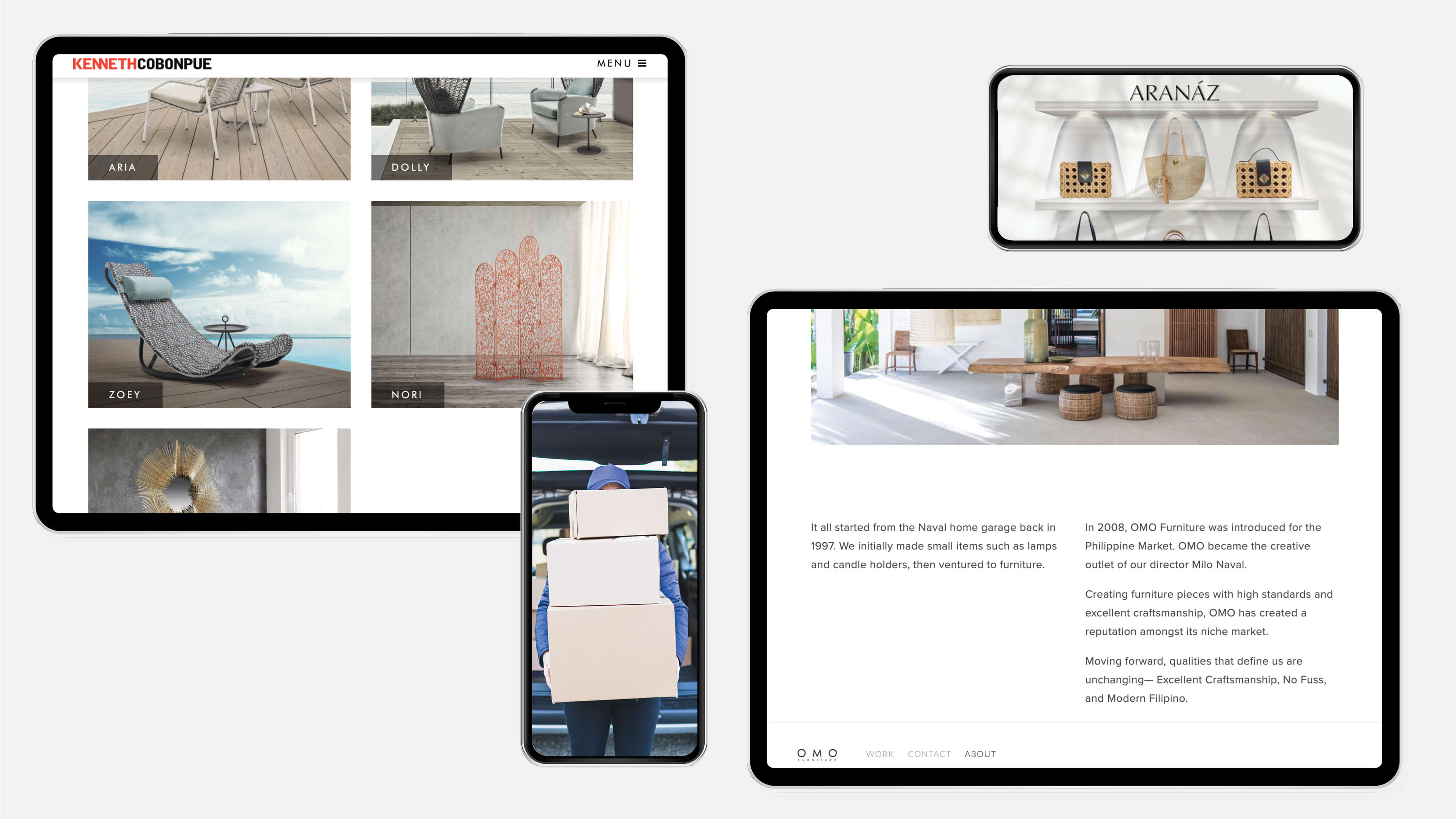 Having an online presence—via social media and/or a brand website with an e-commerce component—is a reality all brands should face

But online selling has its caveats. "E-commerce is a tricky thing—we do it now for small things, like lighting, but it's really not easy to sell furniture abroad," says Cobonpue. "In the US or Europe, the laws all favor the consumer, so they can return something to you if they don't want it, and it always ends up damaged when it arrives at your door so you practically have to throw that piece away. We use the internet for promotion, but very little of it goes into sales, in terms of high-end designer furniture."
Matthew Brill echoes this sentiment of being more selective when shipping furniture. "When viable, we can quote product sans freight via Fed-Ex. The only issue is that freight costs have gone through the roof lately," he says. "So, we don't put our pricing on any of the platforms until we discuss quantities, destination, and type of freight. It really depends on the volume of the order." Prizmic & Brill focuses instead on using their website and social media as a marketing tool, giving a global audience the chance to discover their brand and seek them out where they are available. "We can help and support our distributors with marketing, rather than try to ship internationally to the end user from the Philippines. The goal would be to find additional distributors to carry our brands in key cities around the world."

The difficulty with putting your designs online, however, is that you expose yourself to the dangers of having your work stolen or copied, so prepare yourself for this possibility. Cobonpue recommends registering for copyright protection and patenting your work. "We get it all the time—we send lawyers' letters every week and we're ready to enforce it," he says. "It can get expensive, but it has to be done." The silver lining is that social media posts, with their back-dating and the fact that nothing on the internet can ever truly be erased, may be used as evidence if someone has clearly been ripping off your work. "Because it's online, everything is out there," he points out.

CONSIDER YOUR OPTIONS
If the prospect of launching and marketing your own brand globally is overwhelming, there could be other ways. Consider the possibility of trying out manufacturing first—supplying products for other brands as a way of testing to see if you are ready to keep up with the demand.
"Making a brand is not for everybody," Cobonpue advises. "You can do well as a manufacturer, without branding. It requires a lot of time, money, effort put into marketing, and you have to be consistent. In manufacturing, you don't have the costs associated with branding and marketing, but you learn a lot: which product sells, how to improve your product, and what it takes to make it in an international market. You cut your teeth without really having to spend for it."
But if you have a unique product you believe in and you can't wait to share it with the world, Nazareno recommends arming yourself with grit, passion, and the right attitude to see your vision through. "It always starts with a well-designed and -executed product, then the rest should follow," she says. "Don't be afraid to start small; we always start somewhere. You need to be compassionate and kind, personally and professionally. Acts of kindness go a long way. Reach out to people and connect. Ask questions. Be willing to plow on through the tough moments. Create designs that reflect your passions. And dig deep."
Matthew Brill was able to take Prizmic & Brill's mission of elevating ethnic art and turning it into objects of desire that are now stocked alongside globally renowned names in the hallowed halls of Harrods in London. It all boils down to the basics that come with launching any good brand, either local or international: "Present an original product line, price it competitively, and go for it."
Photos courtesy of brands