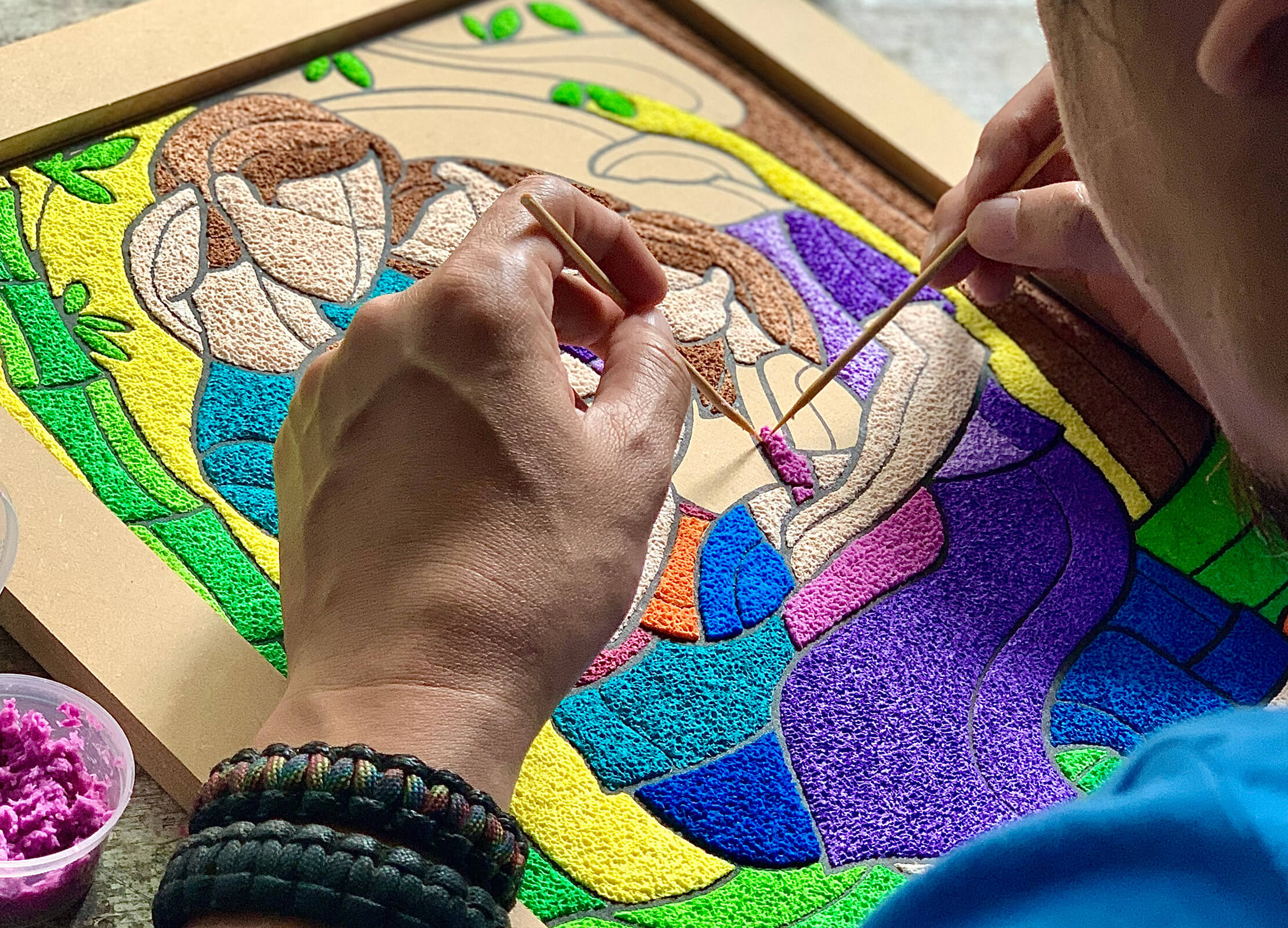 Art That Binds
Klaypel's unique art medium—recycled paper made into soft, colorful paper clay—has made art-making more accessible and fun for all, art professionals and artists-at-heart alike

by Patti Sunio

A work of art is powerful, and there's no telling how far it can go and impact an individual, an audience, more so a community. When Sue Morales decided to put up an art cafe in 2005, her goal was simply to find an avenue to express her creativity and in ways that could impact families positively, too. Her vision for the art cafe was to make it a welcome place for families to come together, bond, and have fun.
"Paper clay emerged as a product of an afternoon craft session between me and my mom, Sue," begins Anjela Morales of Klaypel. The mother and daughter tandem kept on experimenting with paper clay, until they finally ended up with a product they loved, and one that they could proudly call their own.
But this was just the beginning of a long and challenging, yet fulfilling journey. When the art cafe was launched, it was a time when entertainment centers for kids and families also began cropping up around the metro. There were arcade stations, hobby stores, and activities and play areas for kids everywhere. "Part of the birthing pains was keeping up with the competition," says Morales, adding that she and her mother had to rely heavily on word of mouth to gain traction at that time.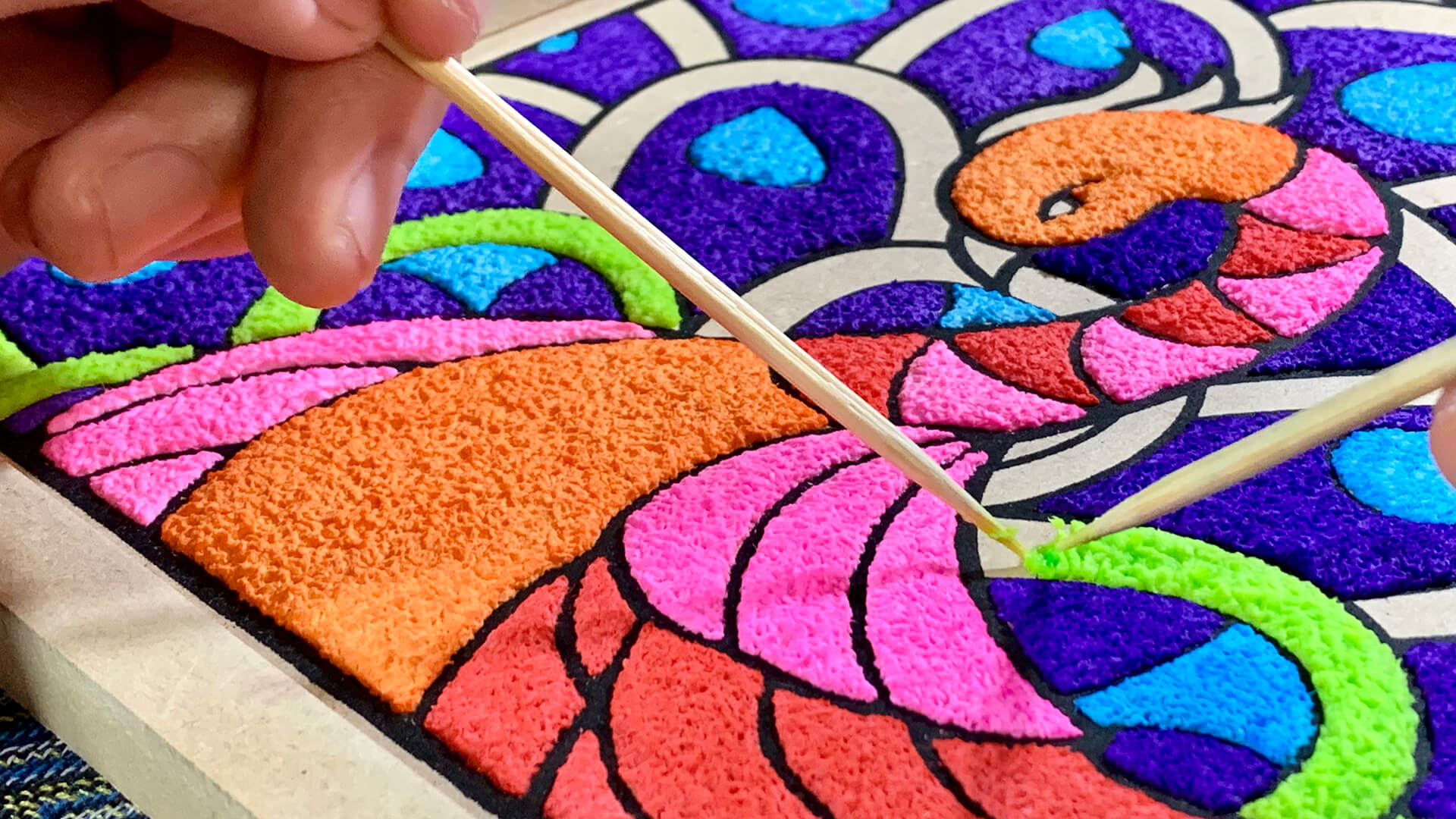 Paper clay was born out of a dream to find fun bonding activities that every family member can enjoy
"We underwent an identity crisis while setting up, unsure of the direction we really wanted to take," she confesses. "This led us back to our 'why', the very reason my mom started this all: our concept and heart's goal is to strengthen families through shared art experiences. This stood as a firm foundation for our company."
And to their own happy surprise, despite tough competition, customers continued to visit the cafe. They willingly tried their hands at crafting with paper clay. "Upon this was built the entire dutdot (Filipino term for 'to poke') empire. And today, even without the cafe, our heart remains the same."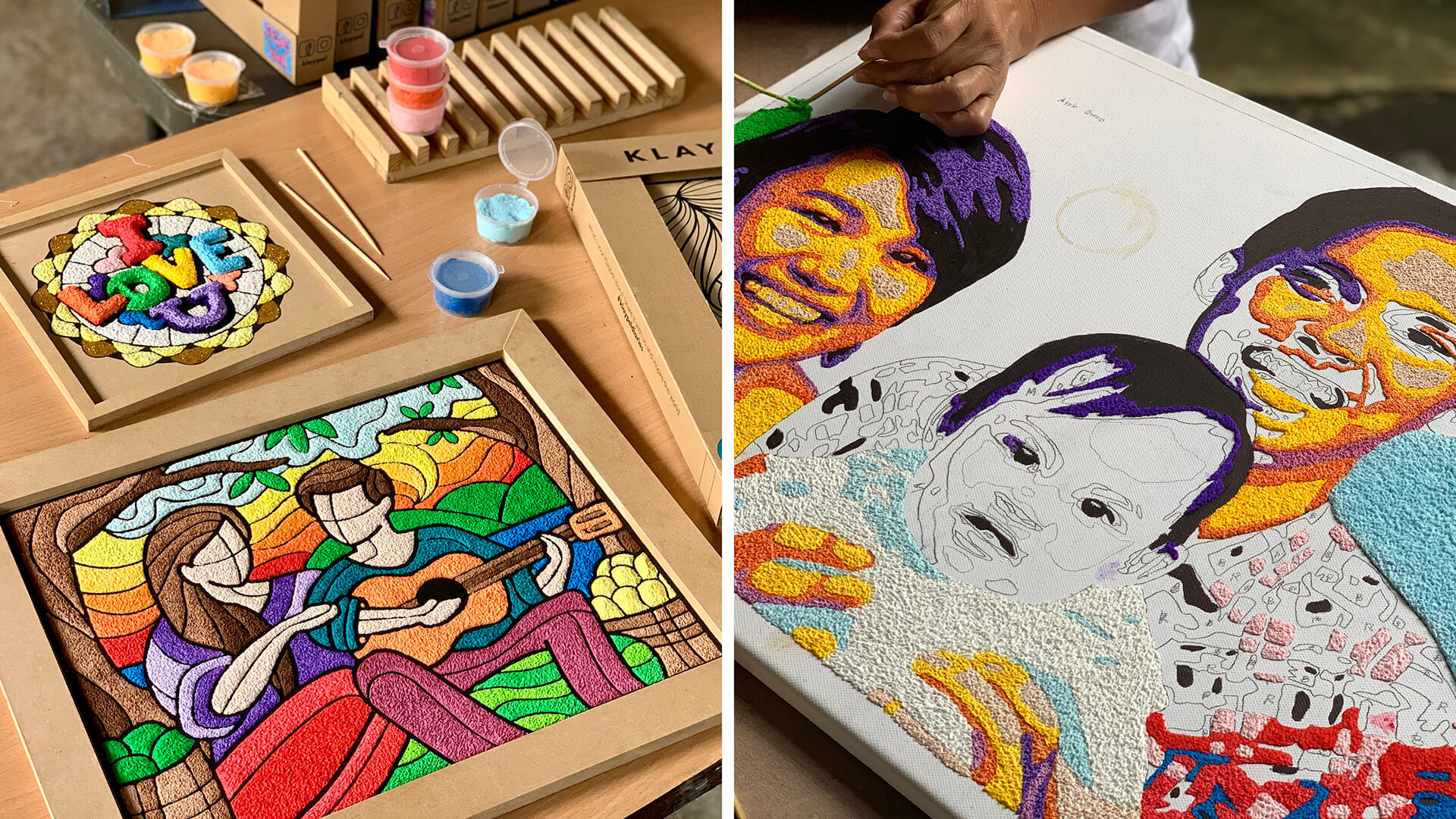 The brand also accommodates requests for custom artwork. Clients submit wedding pictures, family portraits, and even pet photos to be made into Klaypel art kits
Anjela and Sue Morales would continue to improve their product, reformulating and experimenting with paper clay through the years. They eventually developed DIY kits, made for every artist at heart, and had their paper clay patented. In 2017, the brand was overhauled into Klaypel, a portmanteau for 'clay' and papel or 'paper'.
Klaypel's paper clay is non-toxic and water-based, and is made out of recycled paper that is dyed and blended in a machine mixer. All the raw materials are sourced from suppliers who have been with the brand since the start.
The end results are soft, colorful recycled paper particles that can be used to color an artwork using any sharp or pointed tool to fill in the spaces, a unique process that the founders fondly call dutdot. The paper clays are naturally adhesive, making it an art medium that even kids or beginner artists can easily work with.

EVERYONE IS AN ARTIST
"Cliché as it may sound, we believe that creativity is inherent in everyone, and Klaypel is here for them to be able to harness this," says Morales. She likens the brand to "a person who is an includer" and one who values every individual's uniqueness and artistic genius. "We are an approachable, friendly brand that communicates casually, sometimes incorporating humor. We radiate a positive, spirited personality that puts a premium on family values."
In order to preserve a timeless style that's relatable to individuals from all walks of life, Klaypel incorporates drawings and artwork similar to illustrations from children's books, and prefers the use of traditional illustrations and bright solid colors in its artworks.
"Our aesthetic is maximum color, maximum texture," says Morales. "We want to be remembered for our highly-saturated paper clays and animated artworks."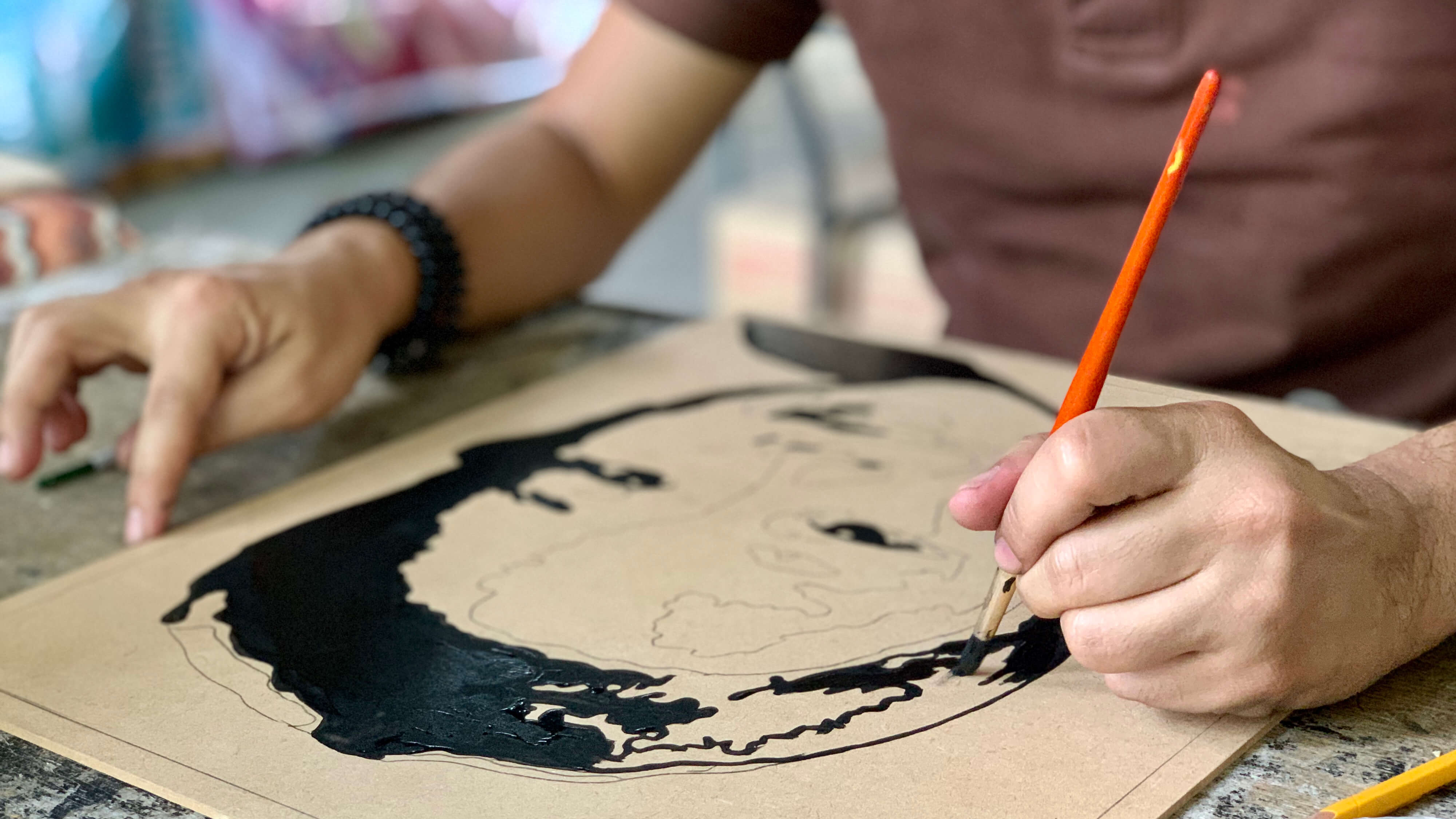 Bono Raymundo is the head artist behind Klaypel's traditional illustrations
Back in 2014, with the goal to explore how Klaypel can be expanded into a fine art medium, the founders mounted their first-ever art exhibit at Resorts World Manila to benefit Yolanda typhoon-ravaged artists in Tacloban. "These professional artists successfully used Klaypel as an art medium for their paintings, and their extraordinary work opened our eyes to a whole new world of possibilities," recalls Morales.
"We built relationships with Filipino artists from all walks of life and Klaypel was introduced to the Philippine art scene." Klaypel would eventually host art exhibits and contests every year, and they have also partnered with the Department of Education to introduce the paper clay art to students.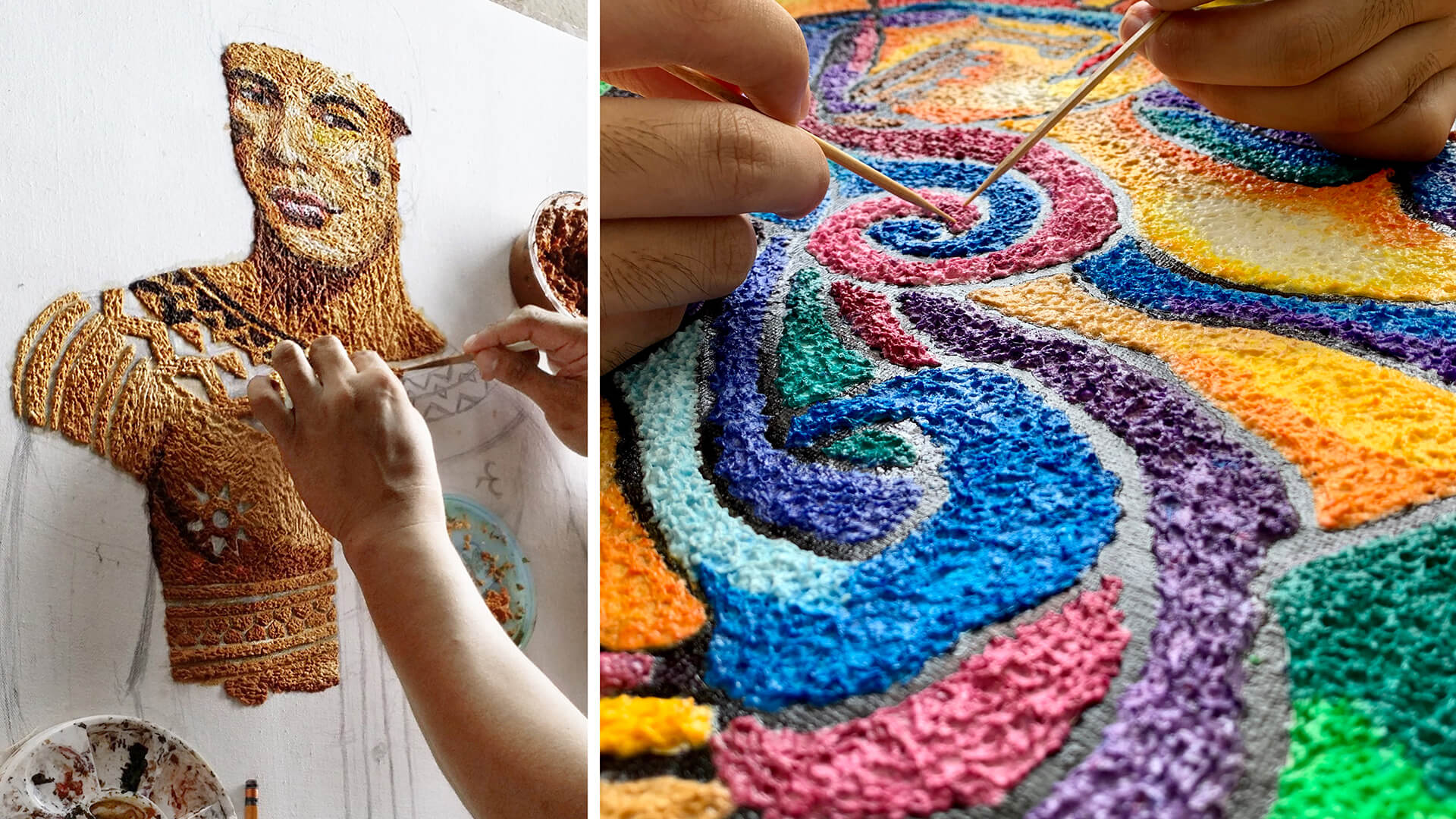 Klaypel's goal is to be an art medium that doesn't intimidate, nor discriminate. It can be used by children, millennials, adults, non-artists, and art professionals alike
"Our mission is really to inspire creativity and spark hope—one color, one artwork, one story at a time," says Morales. The goal is to have them start small and on simple artwork such as Klaypel's, slowly easing them into the craft, and in the process, build their confidence in their artistic instincts. "We want them to realize that wow, kaya ko pala 'to! (Wow, I can do this!)."

MORE THAN AN ART FORM
Going back to where they started, Klaypel also partnered with art cafes around the metro. "We wanted to establish our kits as a hip activity for restless millennials who run on coffee and grew up watching 'Art Attack.' It gave them a chance to unwind, dine with friends, and become the artist they always wanted to be."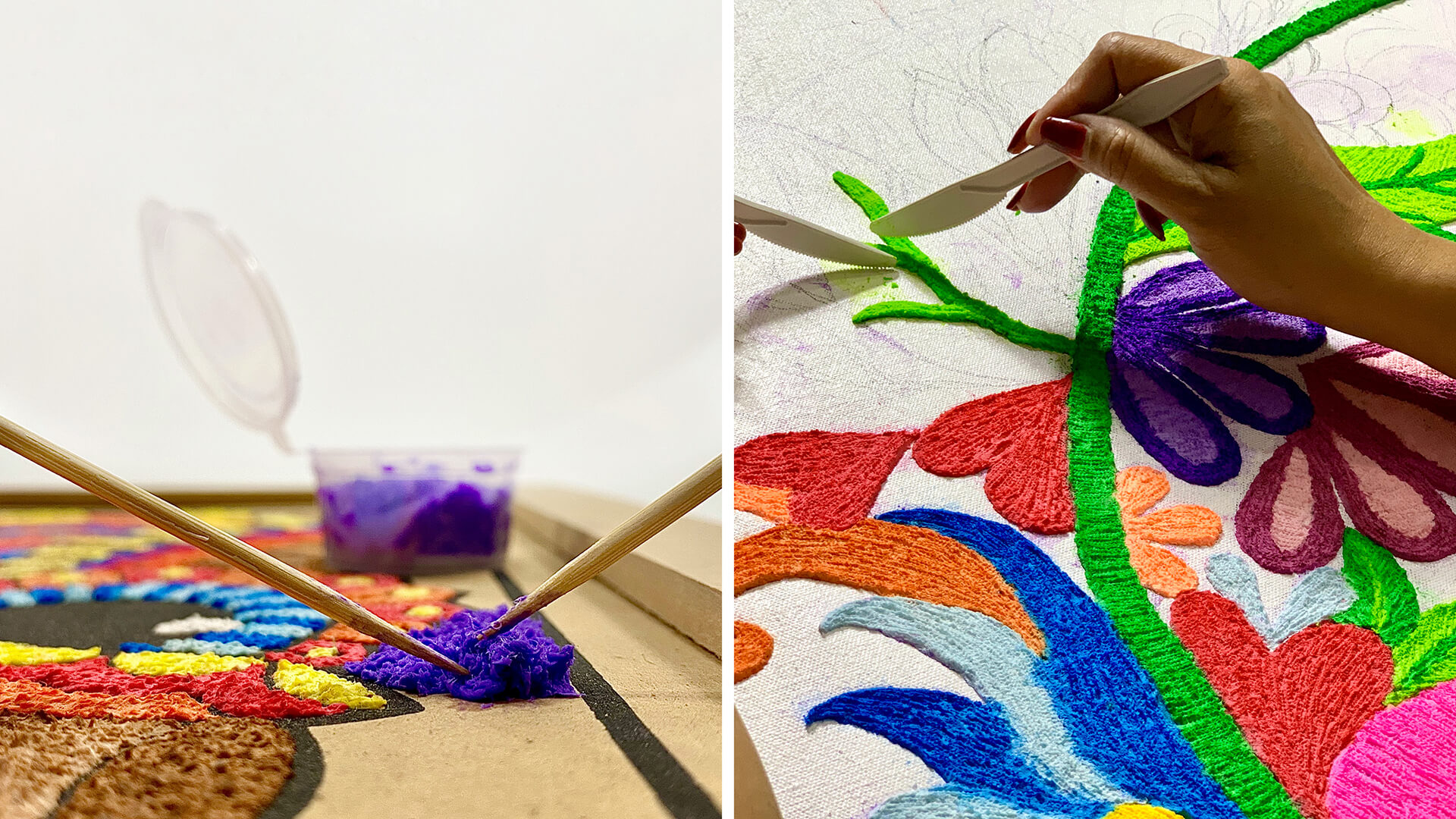 A closeup of the hyper-pigmented, super saturated colors of paper clay and the dutdot process
Fast forward to today, Klaypel continues to come in handy, especially at this time of pandemic. The immersive art medium serves as a way to keep our hands off our gadgets, and likewise explore one's inner artist. "It has become an activity that relieves stress and fosters bonding between families and friends. Customers have also shared how it has helped them through a grieving process, or bridged a hurting relationship," shares Morales.
Not only did Klaypel's art kits land in the hands of non-artists, these were also given to inmates, as well as patients undergoing chemotherapy. "If we have the ability to strengthen families through this and create a culture of positivity, imagine the impact we could have in the grand scheme of things."

Photos courtesy of Klaypel