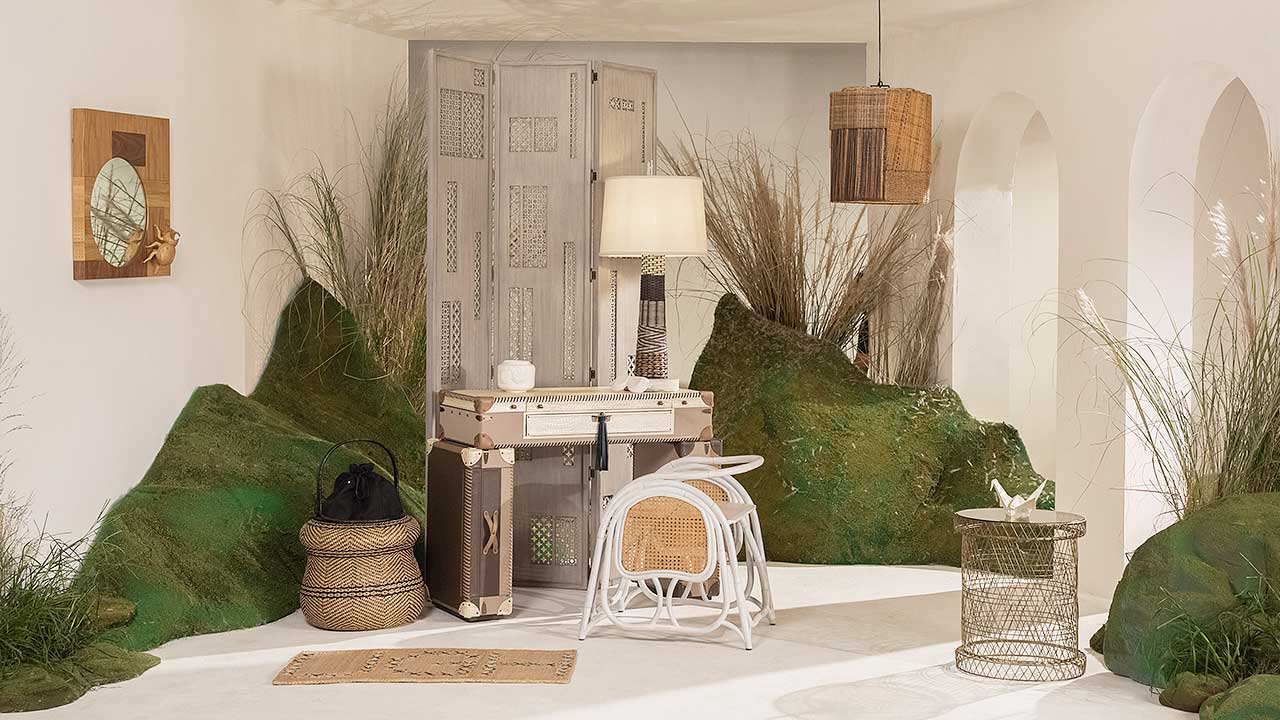 7 Ways to Elevate Your Office Space
by Dalisay Guerrero
As remote and hybrid work schemes become the norm, homes have evolved to accommodate the return of defined spaces, and most of all, of home offices.
While home offices are nothing new, they have become a necessity as COVID-19 caused country-wide lockdowns and pushed companies to accelerate their telecommuting strategies. Three years since the start of the pandemic, even as most of the world has already reopened, the home office remains an integral part of the modern abode–now more flexible and less antiseptic than their commercial counterparts.
Today, a home office is any area of the house where you can work with a laptop. If, however, you have the privilege of defining your own working space, you can try zoning while still keeping everything stylish and cohesive.
If you're planning to level up from working on the dining table, we've got you covered. Below are tips on how to create or add a bit of oomph to your home office.
1. Blend form and function
There's nothing wrong with the stern-looking office desk and the quintessential reclining office chair, but as you're not mandated to follow any corporate standard when it comes to your interiors, feel free to play around with shapes and textures. Throw in a rug, play with lighting, and allow your area a bit of coziness.
2. Go for a chair made from natural materials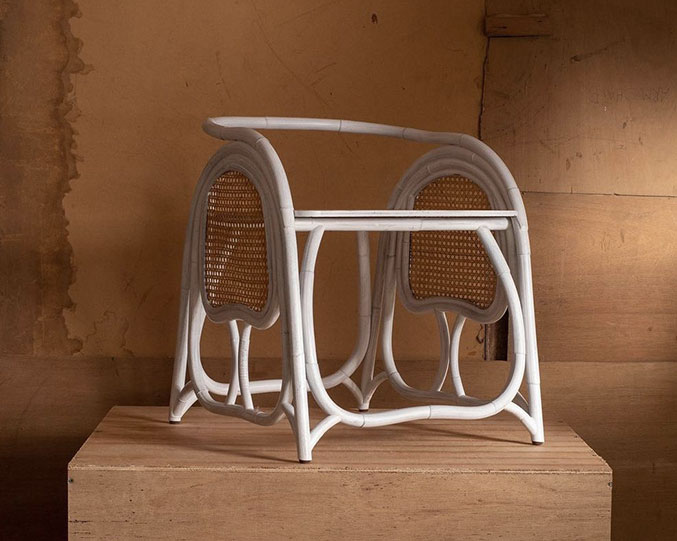 It's quite understandable to choose an ergonomic chair especially if you work long hours–and there are definitely a lot of beautifully designed choices in the market–but sometimes, going for a piece with natural materials can be the comfortable way to go.
E. Murio's Ping-Pong Chair, which is made from flame-bent rattan and solihiya, offers proper air circulation while also adding a tropical Filipino touch to your work area.
3. Pick a statement desk
A surface is a surface is a surface, but there's no rule that says you can't be playful when it comes to choosing your work table.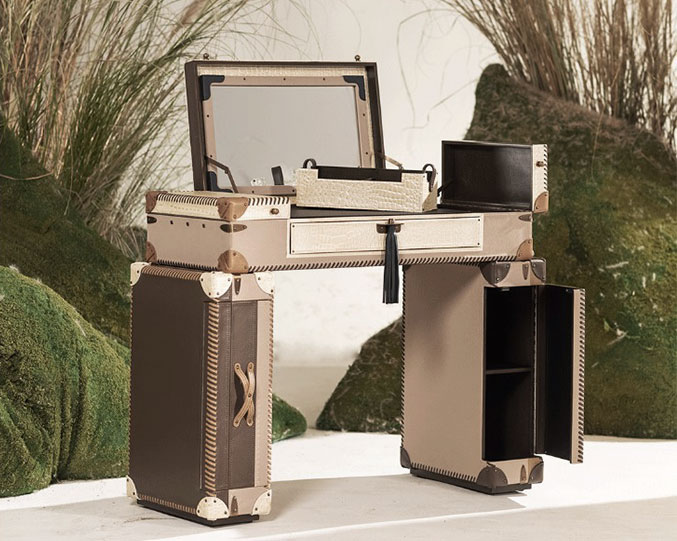 [IMAGE: BOHO FLORENTINE VANITY by PRIZMIC & BRILL (fameplus.com)]

Prizmic and Brill's Boho Florentine Vanity Desk quaintly looks like stacked luggage. It comes with functional compartments and even a mirror, which definitely comes in handy when you want to freshen up just before that two-hour Zoom call. Upholstered in white leather, it gives you a stylish and luxurious experience while being flexible enough to go from work to play.
4. Have ample lighting
Unfortunately, a lot of people take lighting for granted. As long as there's a working overhead lamp, many forgo additional light sources, when in fact these don't only add to the mood of the room but also makes working a whole lot easier.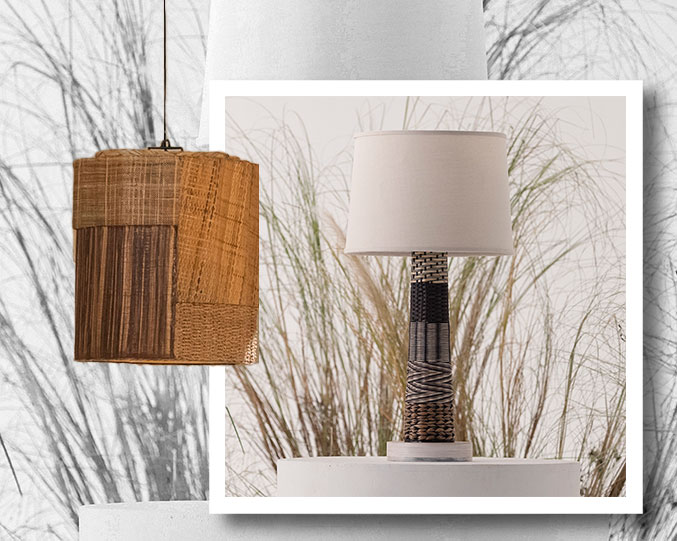 [IMAGE: Obra Cebuana Pendant Light]
A woven pendant light from Obra Cebuana offers a diffused glow that reduces eye strain, while the 1L desk lamp from Zacarias 1925 made from wicker, water hyacinth, and chaircane, gives focused illumination and adds interesting textures to your work space.
[IMAGE: 1L LAMP by ZACARIAS 1925 (fameplus.com)]
5. Don't forget about storage
Your flexible Prizmic and Brill desk already has drawers and cabinets, but one more functioning container can't hurt.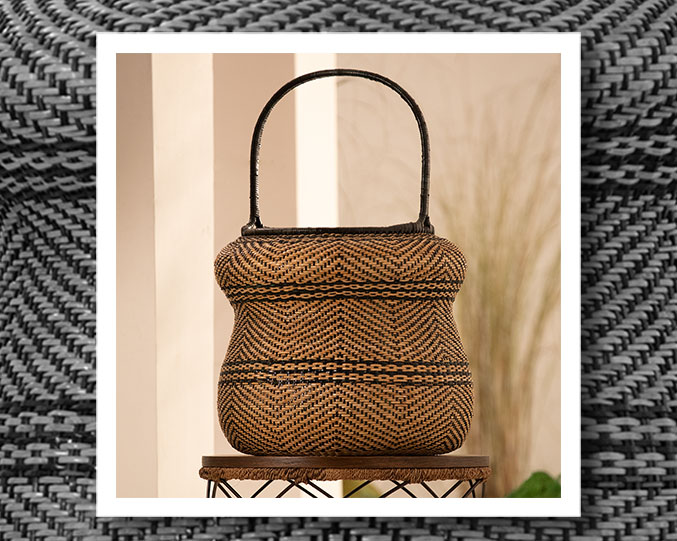 [IMAGE: https://fameplus.com/product/details/bucket-bag]
SC Vizcarra's Bucket Bag isn't only great to carry around; it can also double as a storage solution beside your desk. Handwoven and complete with lining, you're sure that your items are safe, protected from dust, and can easily be moved from one room to another.
6. Define your space
As open layouts slowly become a thing of the past, it's important to find creative ways of defining your space without walls.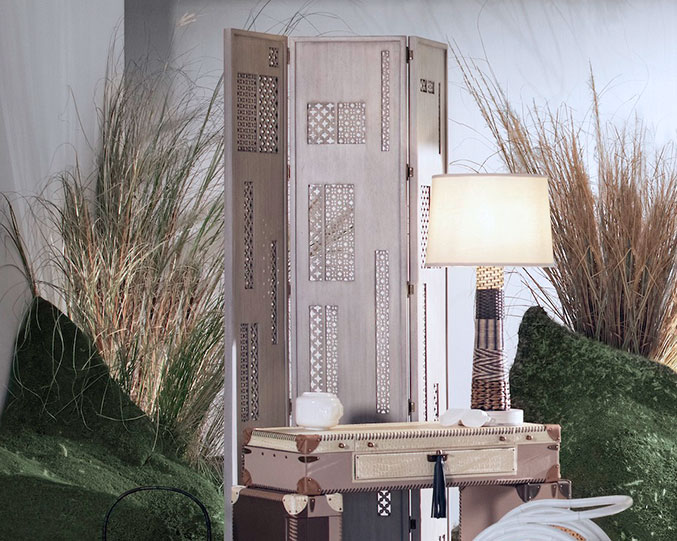 [IMAGE: HAVEE WALL DIVIDER by MEJORE (fameplus.com)]
Mejore's Havee Wall Divider is a great way to give you privacy without harshly cutting the flow of the room. Its three panels are inspired by embroideries of the traditional Barong Tagalog, which also makes it an interesting conversation starter should you have guests.
7. Embellish
Every space needs a personal touch. Don't be afraid to add a few more interesting pieces in your work area.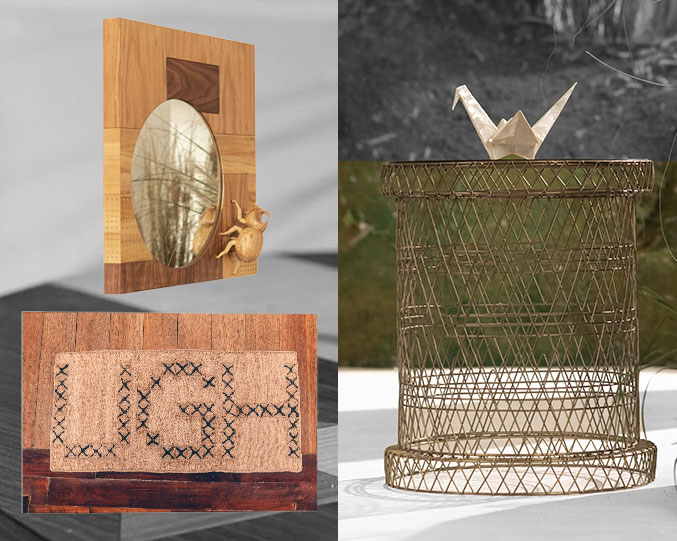 [IMAGE: UGH DOORMAT by WEAVEMANILA INC. (fameplus.com)]
Weavemanila Inc.'s UGH Doormat can work as a throw rug, especially if it ties up the space and becomes quite relatable at the end of a long day.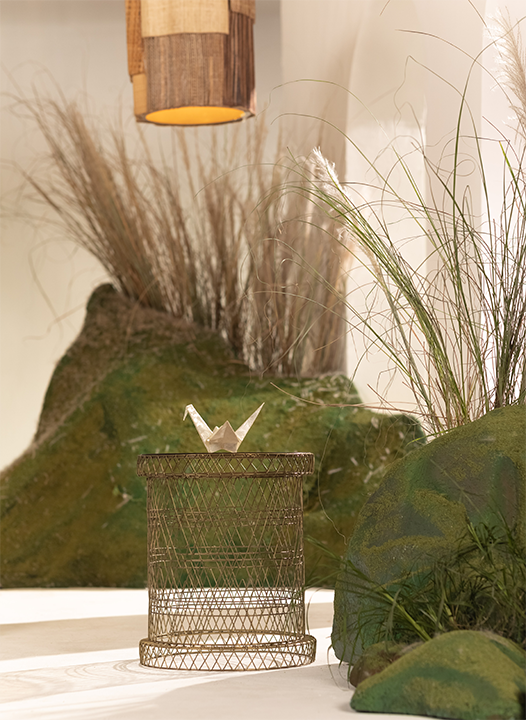 [IMAGE: Wire side table from Prado Filipino Artisans Inc.]
[IMAGE: CAPIZ SHELL ORIGAMI CRANE by STARWOOD MFG CO INC (fameplus.com)]
For those who live in small homes, a side table made from woven wire from Prado Filipino Artisans Inc.and a capiz shell origami crane from Starwood Mfg. Co. Inc. can help your office area transition into your living area.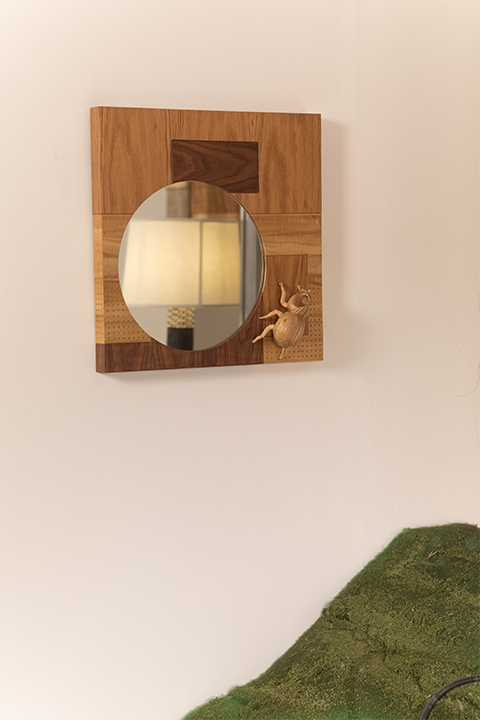 [IMAGE: Accent mirror by JB Woodcraft]
This mirror created by JB Woodcraft gives summer vibes with its rhinoceros beetle accent–a perfect reminder for you to file vacation leaves for a bit of R&R.
Work areas will continue to be staples in the post-pandemic home, requiring flexibility and taking into account both function and design while still respecting personal spaces. The key is to slowly curate items that will help increase your efficiency, and to invest in important things that are often overlooked, such as lighting, acoustics, storage, and even something as specific as cable management. Don't box yourself in getting pieces purely out of practicality. Allow yourself to enjoy picks that are equal parts beautiful and utilitarian. A space you'll love working in will keep you productive.