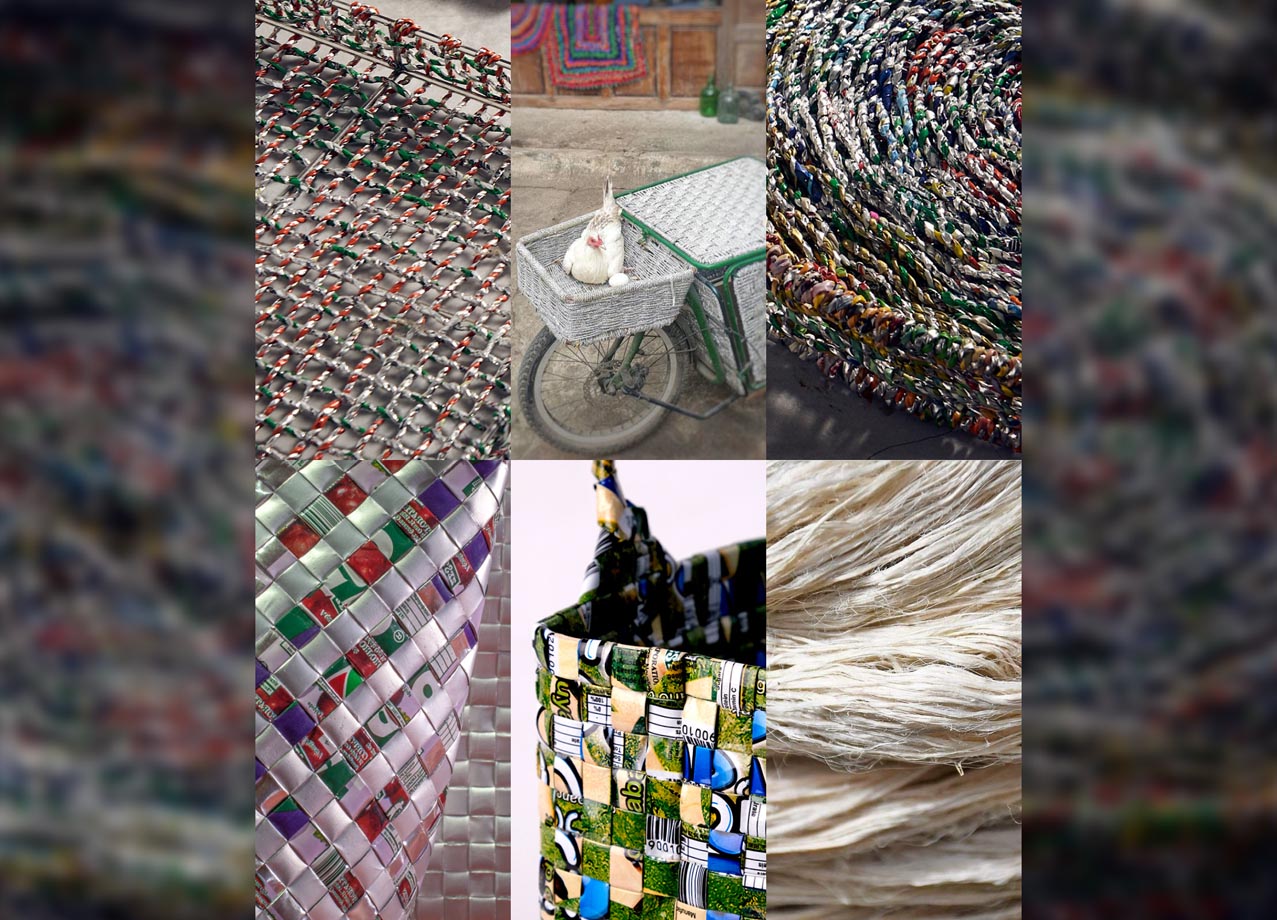 3 Brands that Push Sustainable Fashion and Décor Forward
Discover Philippine brands and designers who transform waste from the past to create a more sustainable future
It's a consumer cycle we've become too familiar with: We welcome the trendiest of accessories and furniture pieces into our collections, only to find them outdated and even disposable soon after. Many emerging local artists and entrepreneurs, however, are making it possible for us to re-think this cycle—presenting design solutions to slow down our consumption without us resorting to boycotting brands.
Welcome to the Circular Economy. Here, the unwanted is re-imagined and given new life, time and action are taken to consciously care for the planet, and sustainability is not a mere buzzword but a long-term commitment. We talked to three Philippine fashion and décor brands who design and create around sustainability.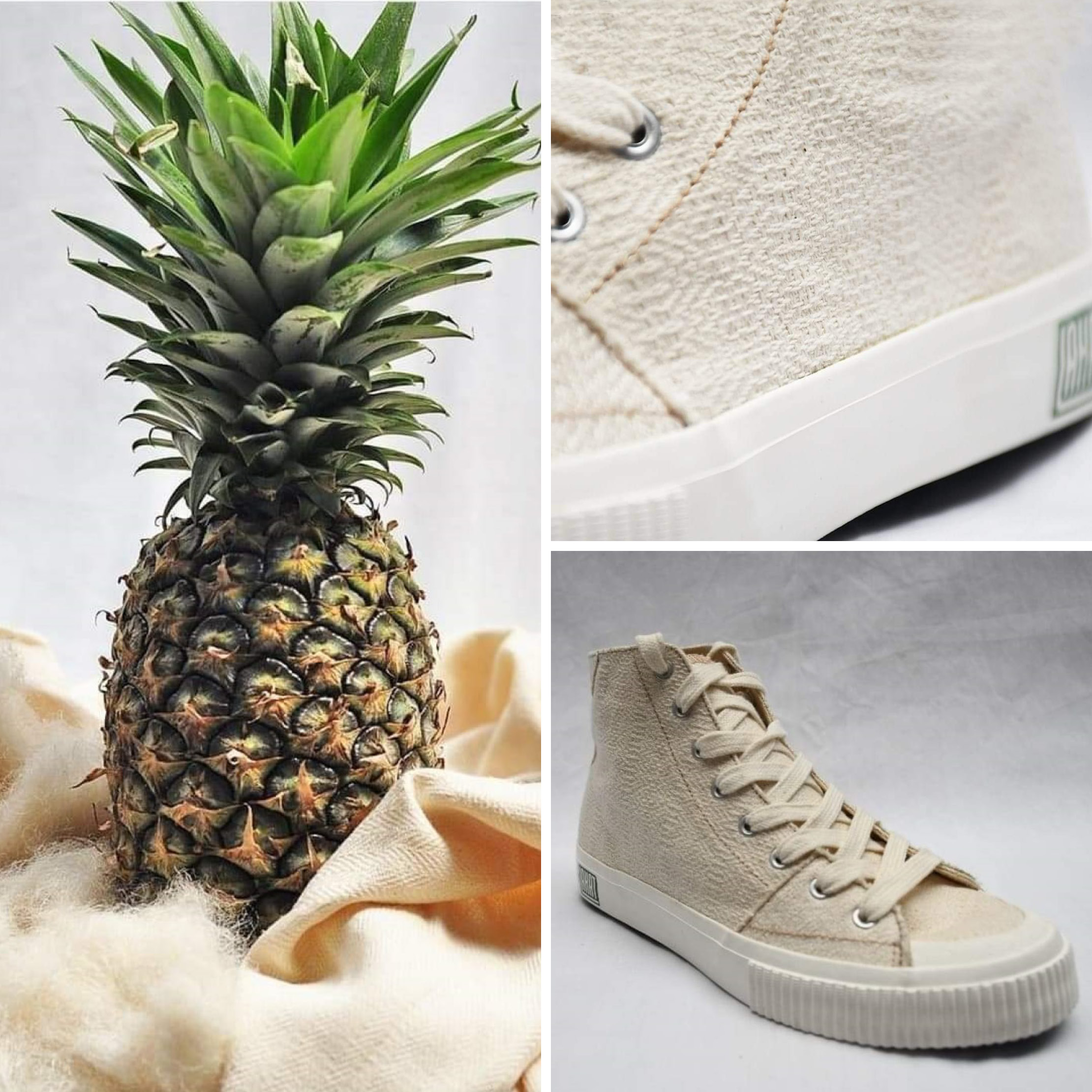 Creative Definitions recently worked with FAME/Design Center of the Philippines and the Philippine Textile Research Institute to create a textile blend made out of pineapple waste (left). The end result is a fine, sophisticated weave (upper right) that paired with coco coir insoles and recycled rubber soles makes the Lakat Shoes (lower right) very eco-friendly.
Walk in an eco-conscious shoe
"Sustainability means that there should be a balance between the environment, the economy, and ethics," says Michael Claparols of the Negros-based ethical fashion brand Creative Definitions.
And Lakat Sustainables, the footwear line by Creative Definitions, is walking the eco-conscious talk. Their shoes are made with handwoven pineapple-cotton blend fabric, and research is being done to include abaca, banana, and bamboo into the mix. "We utilize indigenous raw materials because they are not only environment-friendly—with natural fibers being biodegradable—but more importantly, the Philippines is gifted with so many fibers that can be converted into something wearable on a daily basis," Claparols says.
The initial collection of Lakat shoes, launched in the Design Commune at Manila FAME's 2019 edition, was a hit with its habi (woven indigenous fiber) uppers, and coco coir insoles and recycled rubber soles. Claparols reveals that now, they are taking the Lakat literally one step further. "When things opened up in June 2020, Creative Definitions decided to embark further on product development into improving the footwear, which we are still doing as of this time," he says. "It was also this period that Creative Definitions started collaborating with FAME/ Design Center of the Philippines (DCP), and the Philippine Textile Research Institute. We also evolved the design of the outsoles by incorporating the waste materials into the yarn production process into the rubber."
"We are evolving our designs by incorporating waste materials in the yarn spinning process into the rubber for the outsoles," Claparols adds. "Inspired by the advocacy of improving the lives of our fiber crop farmers, we see the huge potential of sustainable products and the need towards self-sufficiency. The Philippines has a big chance in taking advantage of opportunities in these areas, with Negros island another potential sustainable textile hub."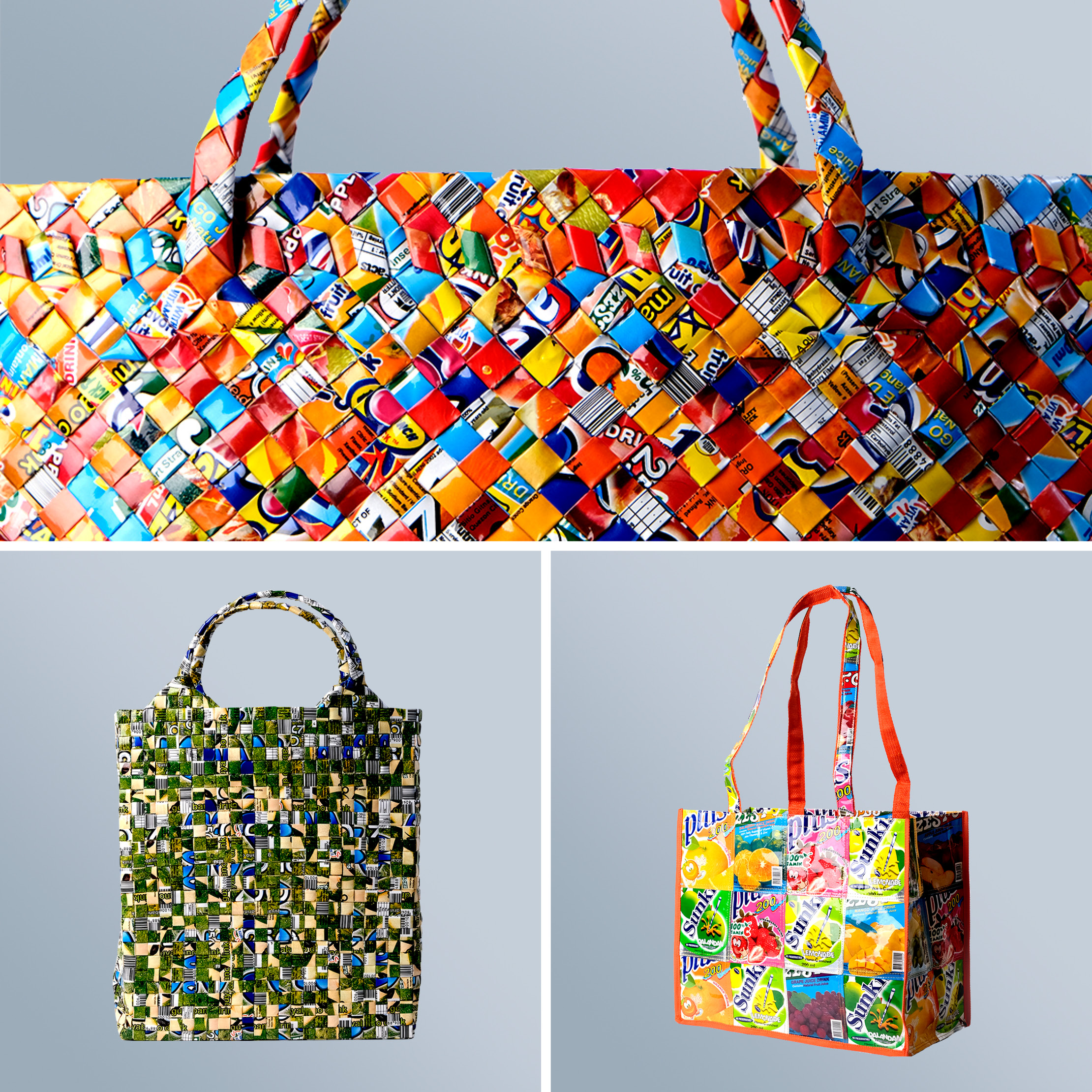 KILUS Foundation was one of the first manufacturers in the country to create fashion accessories made from junkfood wrappers and doy (juice) packs. (Clockwise from top): KILUS's classic Medium Woven Beach Bag; Medium Sized Bag made out of recycled juice packs; and Woven Square Tote are all reminiscent of classic Filipino banig weaves.
Making weaves from waste
Upcycling clearly encourages creativity, problem solving, and a connection to communities. "Recycled and upcycled items are mostly made by artisans and small businesses so there is a social benefit when we support them," describes Marichris Legaspi, Marketing Manager of KILUS Foundation.
Formed in 2001, Kababaihang Iisa ang Layuning Umunlad ang Sambayanan (roughly translated, "Women for the Progress of Society") or KILUS is a cooperative that focuses on creating livelihood opportunities for housewives and stay-at-home moms in Barangay Ugong, Pasig. "Our initial goal was to recycle waste that was abundant. We identified the doy juice packs as our main material, and with their form and size, it seemed appropriate to make bags and accessories out of them. The processes needed in the production—sewing and weaving—seemed easy enough for our members to learn," Legaspi recalls.
From small pouches made from a few pieces of juice packs, KILUS' signature upcycled bag was born. More than two decades since it was first introduced to the market, this line remains the best-selling favorite among the export markets in Europe, East Asia, and Australia, and the American expat community here in the Philippines.
"The market for our products locally is, sadly, still small compared to the foreign market but we're hopeful that it will grow," shares Legaspi. "Many are already aware of the effects of recycling and upcycling, and it gives them satisfaction to know that they're doing their part in it. Educating people about these benefits encourages them to support the enterprises that belong to the movement," she adds.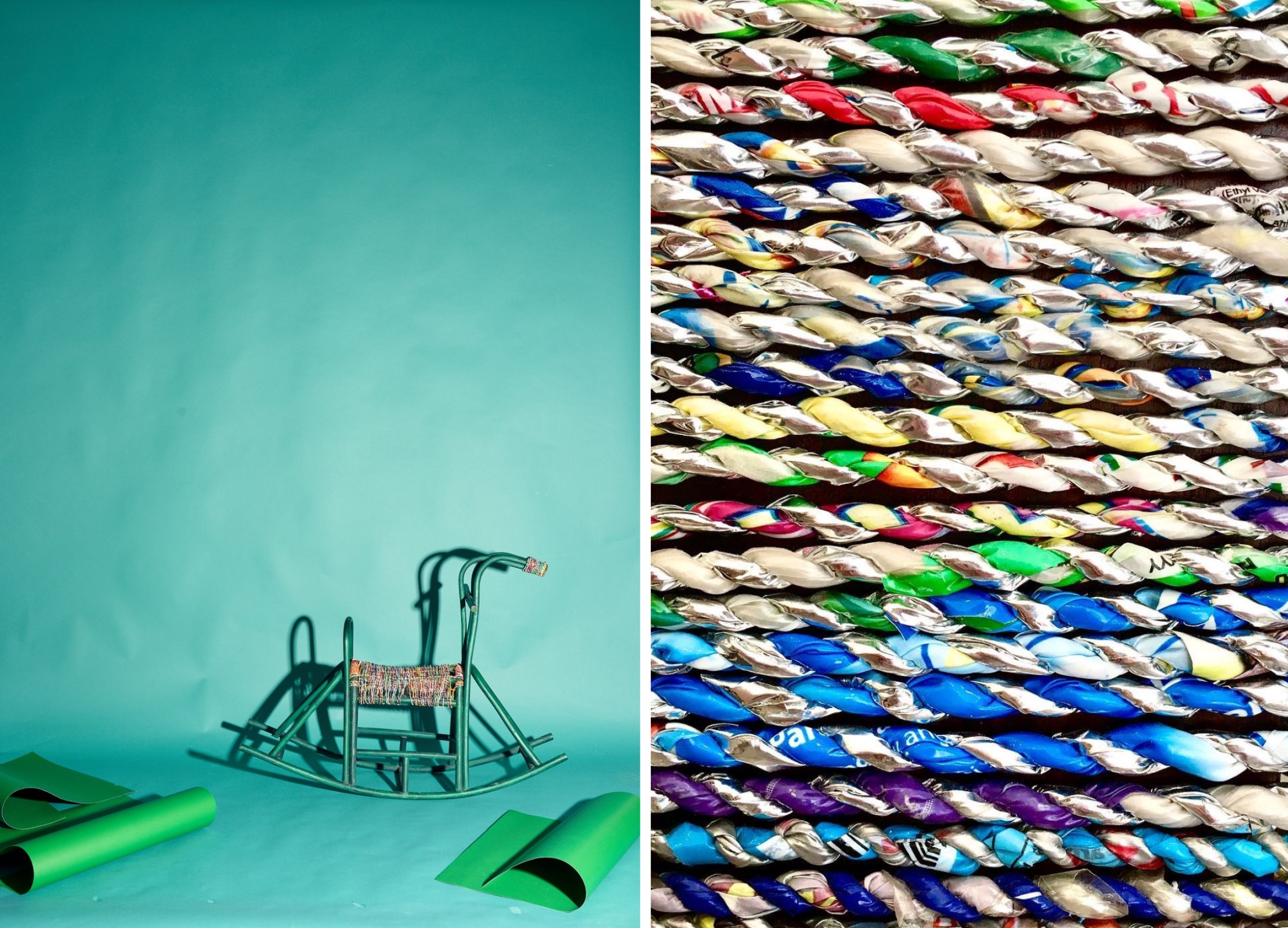 Junk Not! Eco Creatives has focused on sustainable production from the very beginning. This rattan and recycled-plastic rocking horse by Junk Not! (left) was produced using woven strips of disposed junkfood wrappers (right), cleaned and processed by a community in Batangas.
Be a trash-to-design trailblazer
It is this similar passion for education that drives interior designer Wilhelmina "Willie" Garcia in her work as the founder and principal designer of JUNK NOT! Eco Creatives. Known for her signature furniture pieces that use plastic twines woven into upcycled wooden chairs, rocking horses, and more, Garcia is an advocate on a mission.
"I started joining coastal clean-ups right after college. From the trash we gathered, only some materials were being recycled, or sent to the junk shop. For the residuals, particularly plastics, there was no other solution except shedding. That what when I thought that I need to do something. There was an urgency to address the plastic problem," Garcia says.
Fast forward to today, JUNK NOT! is now considered a trailblazer and a prominent voice in the local sustainable design community. Garcia's work has gained several recognitions—notably from Manila FAME and as sole foreign exhibitor at Paris Design Week in 2018.
But even with awards and achievements, Garcia is quick to point out that she's most proud of her work with underprivileged communities. The women of San Nicolas in Batangas—one of JUNK NOT!'s first livelihood partners—continue to tell Garcia: "They couldn't believe that even during the pandemic and tourism was slow in Taal, they still had a steady income from making the plastic twines for our projects. They were able to buy what they needed at home—sofas, solar panels," she shares.
As a practicing interior designer, Garcia gets her clients involved in the design process, often telling them they can't buy new furnishings unless they've rummaged through their storage. Clients can also get furniture pieces from JUNK NOT!, provided they collect and turnover the plastic materials to make these pieces. "It's a reminder of the waste they generate and how long it takes to create something out of it, usually six months to one year. It teaches them to reduce, reuse, recycle, and be responsible. Because otherwise, the plastic from their house will end up in the oceans or landfills," explains Garcia.
For JUNK NOT!, KILUS, and Creative Definitions, sustainability and being part of the circular economy means being part of a partnership: Eco-warriors, artists, entrepreneurs, and the community creating real change with lasting impact.
"When you look at the bigger picture, the source of the pollution problem is really us—the community. We now have to take on this responsibility as individuals and as a community to give back to the earth. When we think of sustainability, we have to know that sustainability thinks of the future generations," says Garcia.
Words by Anna Felipe. Recycled Tray and Rocking Horse photos by Dairy Darilag, other mages courtesy of the brands.