Shoe-cial Enterprise
Would you wear shoes with a past? You're bound to consider it if they're by Maco Custodio.
Creating a stir with his foil pack bags, it seems only natural for Maco to expand his portfolio to include a footwear label, Lalapatos, which debuted at Manila FAME October 2018. It's a collaborative endeavor between Maco and Zapateria, a Marikina-based collective of young people with a passion for shoes.
At first glance, Lalapatos seems like fun togs for walking or a light gym workout but looking closely reveals neat strips of used foil packaging woven in with leather.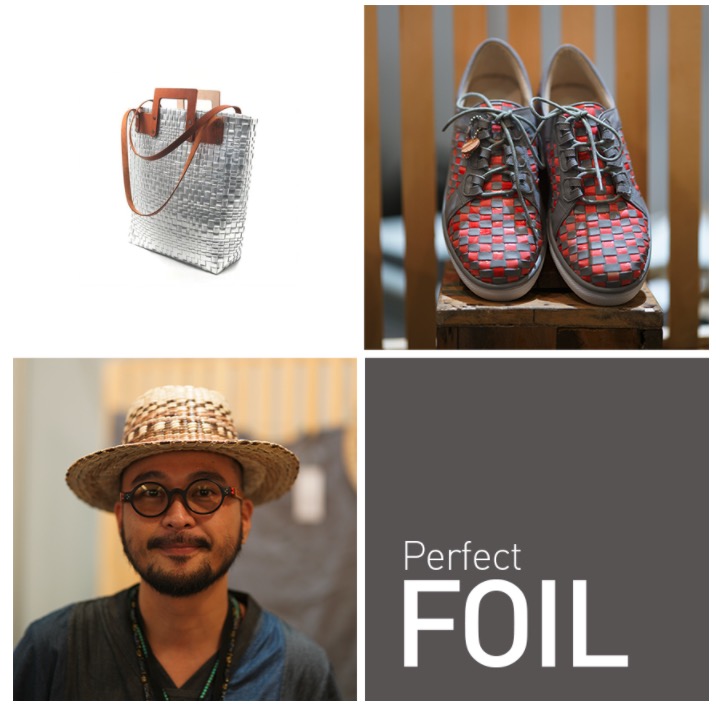 Clockwise from above : The designer wearing a hat from his own collection; A bag from Maco's silver foil and leather series; A pair of Lalapatos.

Each Lalapatos pair's journey starts in HABI, a community in Baseco where used foil packs are sorted, cleaned, and folded before another community in RIzal province combines them with leather panels. The parts are then transported to their penultimate stop in Marikina for the final assembly by the shoe capital's fine artisans. After all that, a Lalapatos' new owner can take it to its next life.
At Manila FAME, Maco also launched a new line of hats alongside another community-based project. The designer showcased works by the famed T'boli master brass casters—from buttons used as accent for Maco's clothing line to astrological signs that adorn key holders.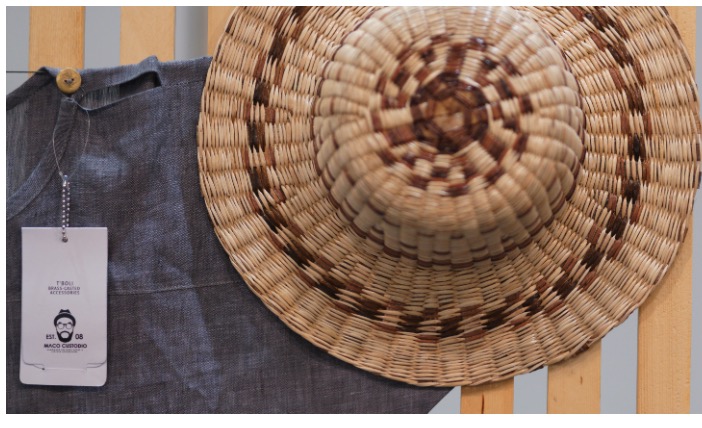 A brass button adorns a top from Maco's clothing line; the hat is also a new undertaking with weaving communities.

The project was a result of Maco's immersion in the B'laan, T'boli and Bogobo communities of Mindanao through a program initiated by the Philippine Commission on Women. His experience gave him the opportunity to observe the indigenous groups' various crafts while gaining insights about their traditional ways.
Maco decided to work with the T'boli brass casters who didn't immediately warm up to the idea of sampling simpler designs. "They wanted something more intricate, which is what they're used to" Maco explained.
After hearing about the taste preferences of Maco's target audience, the T'boli brass casters finally agreed. Apart from the initial collection, Maco is set to introduce other brass products in the coming months while continuing his partnership with the Baseco community in Tondo.
CONTACT INFORMATION

Maco Custodio
Designer/Owner

63 02 3470241
maco.custodio@gmail.com
www.maco-custodio.com
170-C Earth Street, Tandang Sora Avenue,Quezon City, Metro Manila, PHILIPPINES