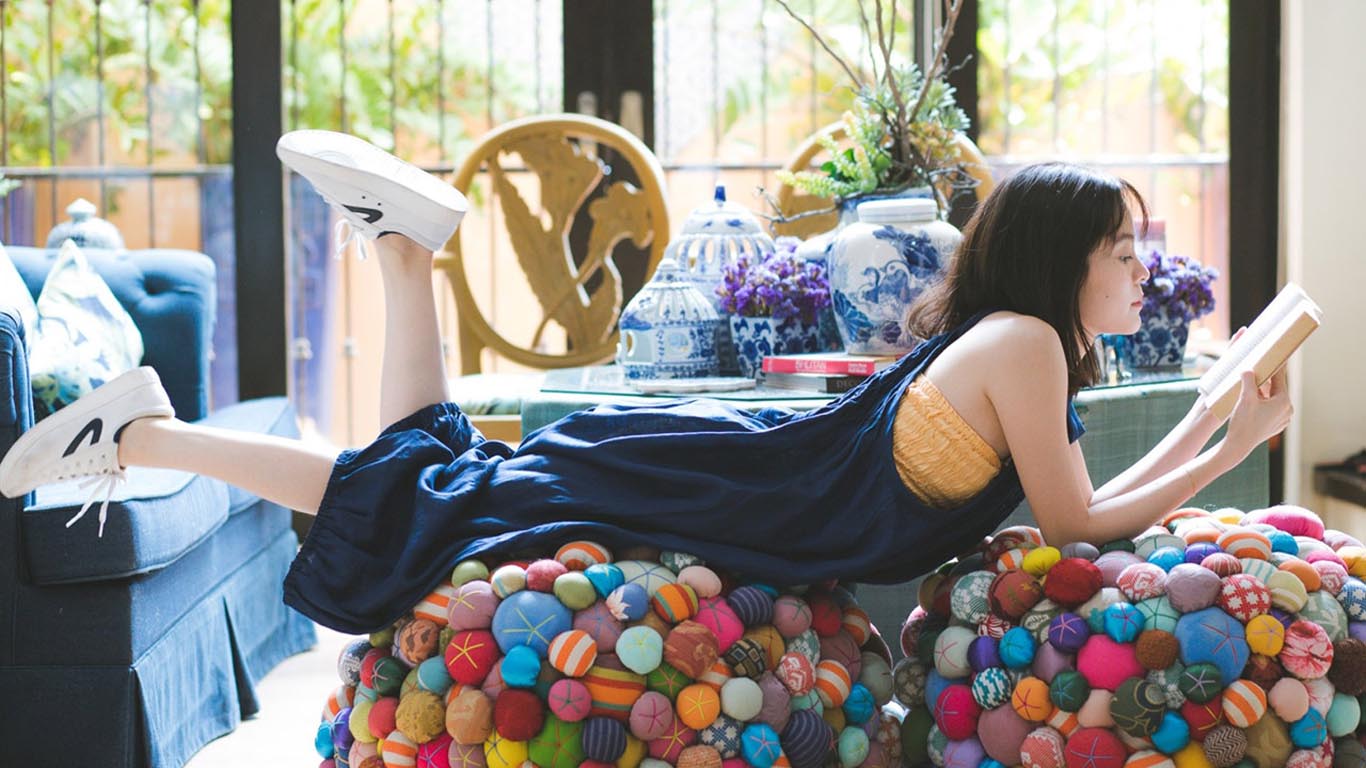 The Beauty of Slow Living
"Slow living for me is generally a shift in lifestyle where we appreciate every little thing that we experience and have in life."
—Sheila Fuentes, Forth Co.
"Life at a slow pace is generally simple living...one that is essentially rejuvenating physically, emotionally, and spiritually."
—Marlon Palomo, Palomo WoodShop
"Slow living is a lifestyle. It is the path we take when we say 'Enough' to a life full of 'busy-ness' and distractions. It is a conscious choice to savor each moment as it comes."
—Apol Lejano Massebieau, Good Luck, Humans
"In our industry, slow living is about considering the makers, the creative process involved, and making intentional pieces. Especially when working with artisans, slow living respects human dignity."
—Kylie Misa, WVN Home Textiles
The concept of slow living takes on unique meanings for social enterprises. For some, these social enterprises saw its beginnings in the personal journey of its founders. But across all their stories, the principle remains the same: Slow living is a lifestyle centered on sustainability, tranquility, and an overall appreciation of small details that one can make use of to fashion out wonderful creations.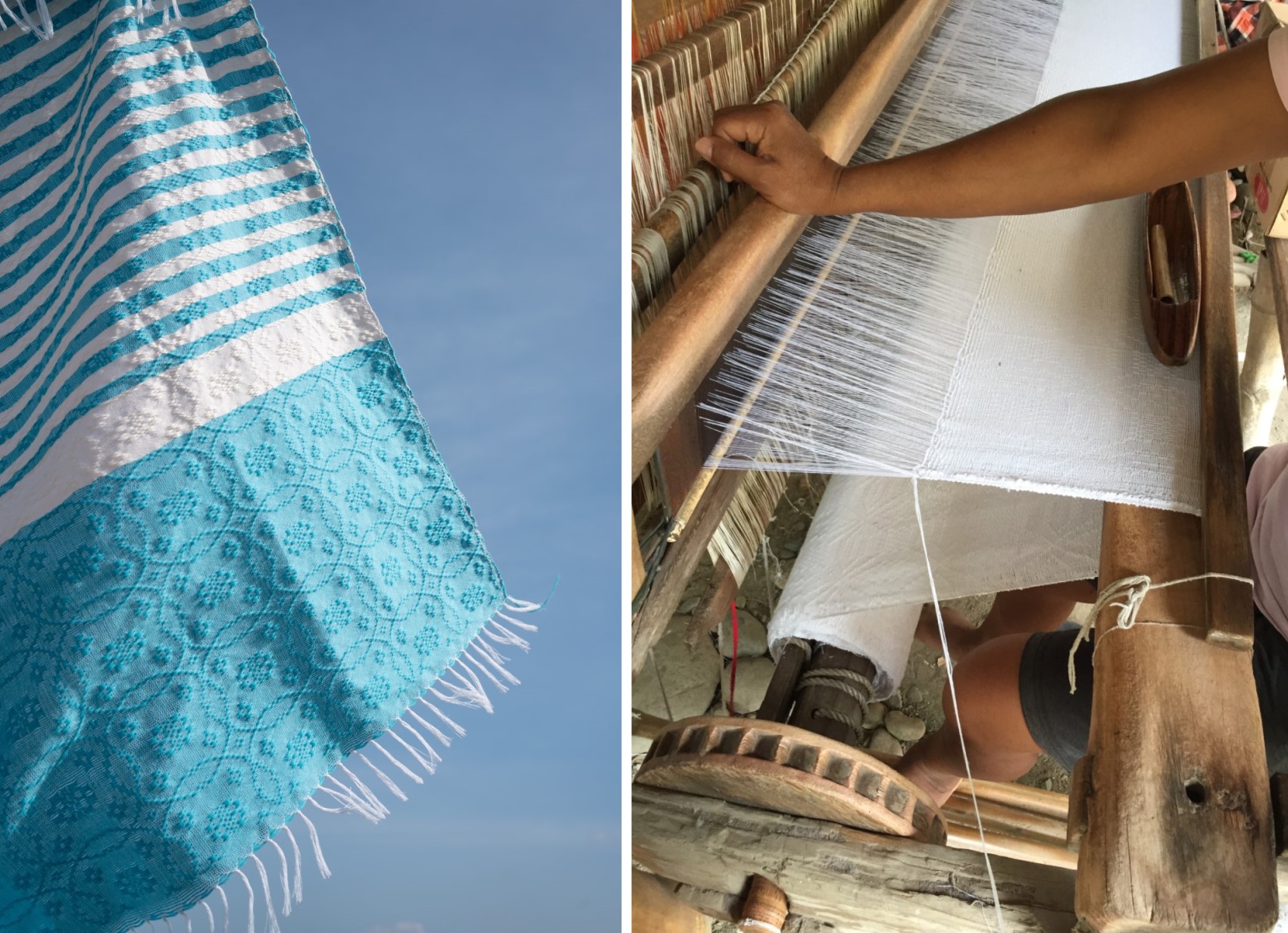 (Left): WVN Home Textiles' Aquamarine Sarong Towel; (right): all of WVN's inabel blankets and towels are hand-woven by weavers from the Ilocos region.
Quality over quantity

For Sheila Fuentes, founder of online platform Forth Co., slow living entails consuming less and extending the usage of items or products that are already existing. "It is a form or sustainability as we don't tend to consume more raw materials to support fast production of items," she explains.
WVN Home Textiles, a women-owned enterprise co-creating contemporary handwoven textiles for the beach and home, gives respect to the energy put into weaving their products, so it strives to utilize all fabrics one hundred percent. "We collaborate with partners to come up with products that use the scrap fabrics and rejected textiles, if any," says Kylie Misa, WVN Home Textiles co-founder.
It's amazing how all this is done without compromising quality. "Our products are made 'slow,' but they are durable and last a long time. Until now, inabel blankets have been passed down by Filipino families, showing the longevity of our products," adds Misa.
Apol Lejano-Massebieau, founder of Good Luck, Humans, which produces handcrafted objects inspired by textile crafting techniques, sums it up beautifully: "[Slow living] is a conscious choice to savor each moment as it comes. It means you choose quality over quantity. You choose to do things well instead of doing them fast. You choose to pay attention to the beautiful details that make up daily life."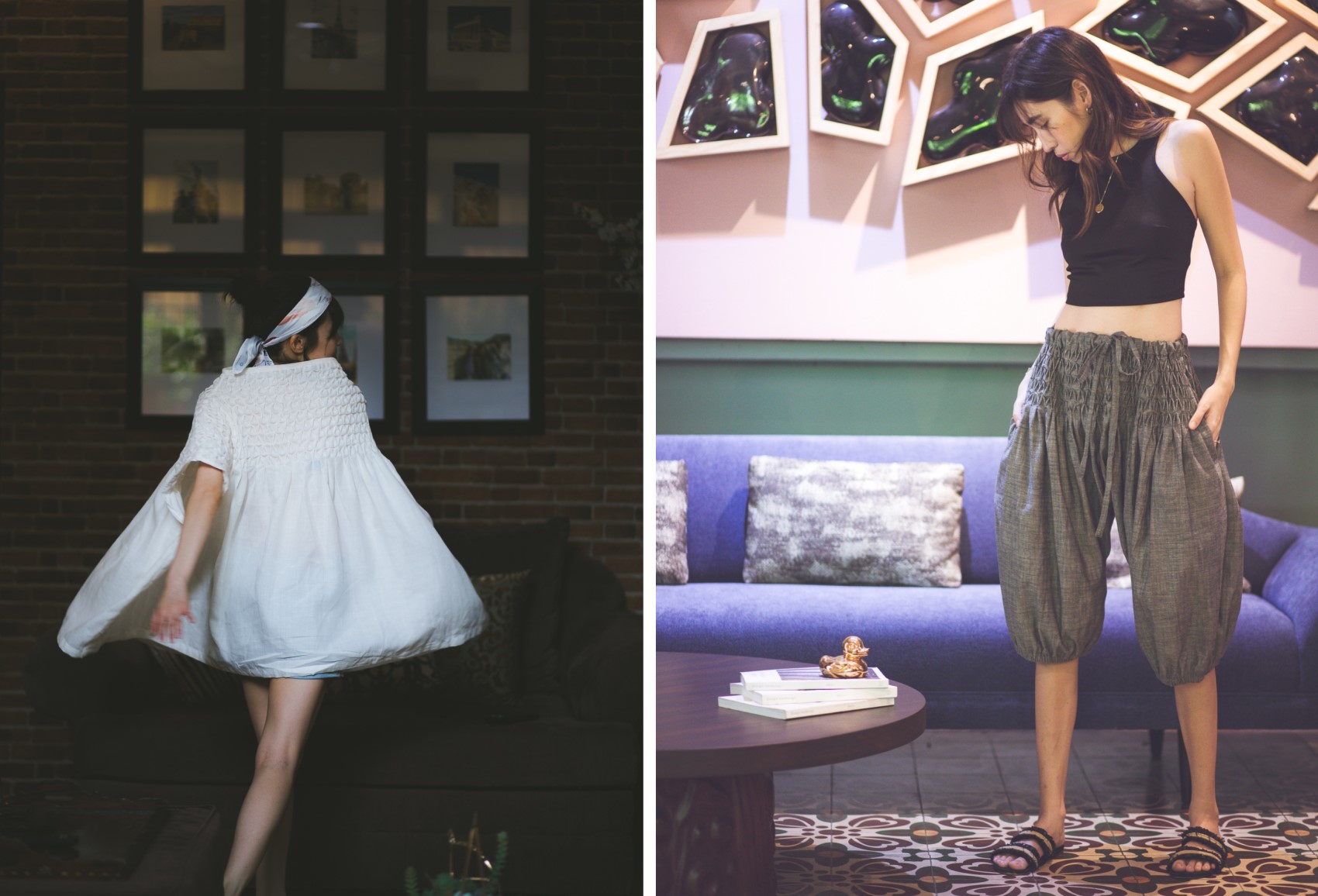 Smocked dresses with astounding detail, hand-sewn using re-imagined fabric crafting techniques, form part of Good Luck, Humans' repertoire of contemporary clothing and accessories. (Left) Lily Mock Turtleneck in white linen; (right): Rabat Knee-Length Harem Pants in smocked chambray. (Top photo) Stella Jumpsuit, model lying on Lucky Buttons Ottoman
Personal journeys and experiences

With mindfulness as one of its basic tenets, slow living came to Lejano-Massebieau personally in the 2000s, when she took a break from a demanding career and chose to live on an island for a while. Needless to say, moving from a bustling city to the middle of nowhere was a huge culture shock.
"But it started to open my eyes to what brought me joy, and it was really simple things like sharing freshly baked bread with friends, listening to the wind moving through the leaves of a palm tree, or getting on a boat and unexpectedly finding myself swimming with dolphins.
Since then, Lejano-Massebieau has moved to different places, including a sleepy village in the south of France, most times carrying only what she needed in a backpack.
"I grew my own garden, made jam, ate local, recycled a lot, made my own clothes, sat down to three-hour lunches, took time to go on picnics with friends. Living slow really became my way of life," relates Lejano-Massebieau.
The experience of growing and nurturing their own food, and raising and feeding livestock animals is one that Marlon Palomo, proprietor and co-builder of Palomo WoodShop, has been relishing since their farm was set up in 2001.
"At Palomo's Farm, we grow and nurture our own food of veggies, fruits, and fibers. We water the plants when needed, fertilize them using the farm's natural composts. We get excited waiting for the plants to bear fruit and eventually savor the moment of harvesting, cooking, and serving it on our table," Palomo shares.
He considers life in the farm a unique opportunity to enjoy the tranquility of nature, to stand in awe of towering trees whose weathered trunks eventually find their way into customized wooden furniture pieces.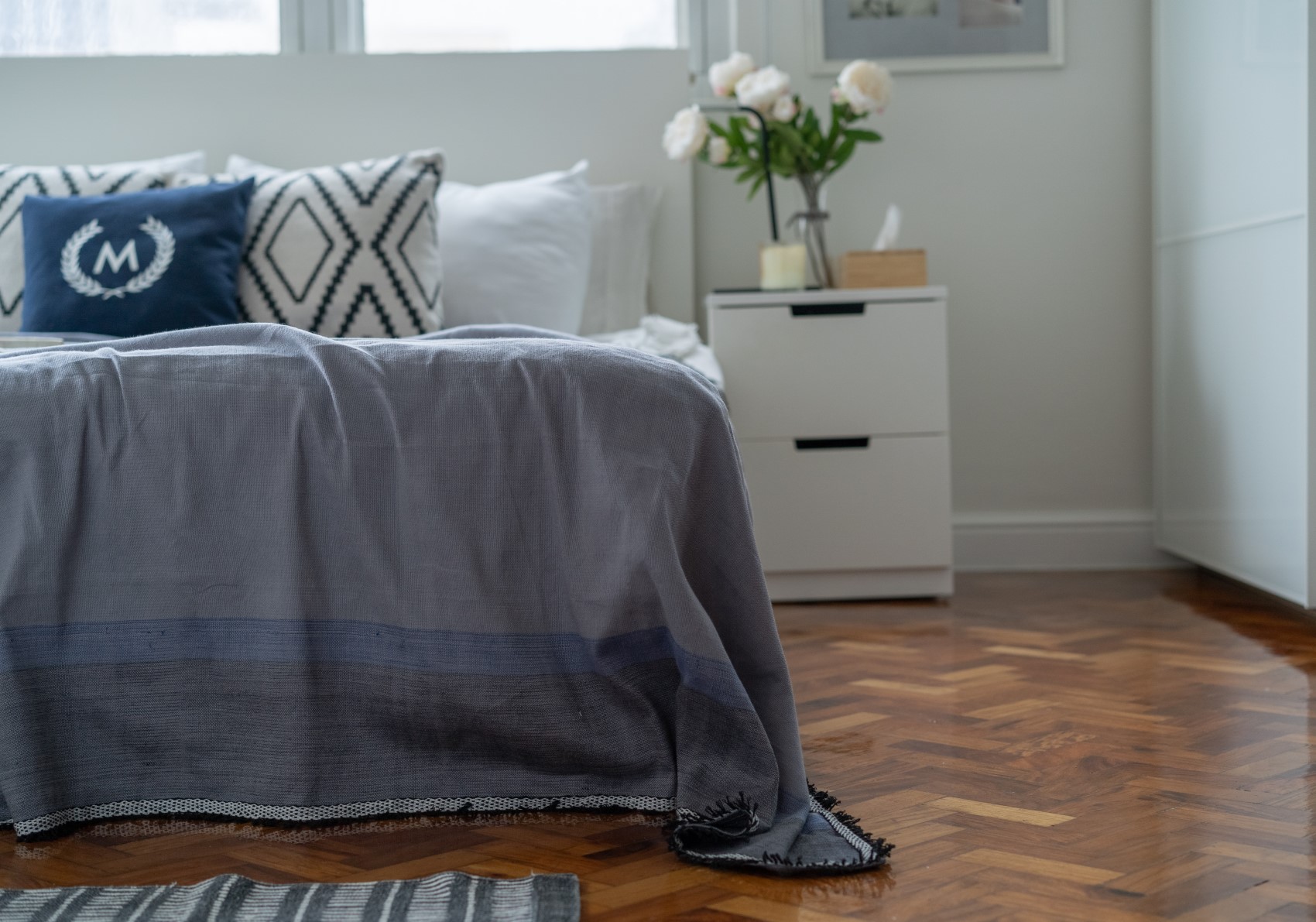 WVN's collaboration with designer Marilen Faustino-Montenegro's includes handwoven blankets, throws, and other home linen from La Union.
It's all interconnected

It is this rich mix of personal experiences and the principles of slow living which come into play in the design and production of local and eco-friendly home and fashion items. Forth Co., Good Luck, Humans, WVN Home Textiles, and Palomo WoodShop are taking this approach not only to grow their respective social enterprises but to deepen connections as well, whether it's with one's art, oneself, or with others.
"Forth Co. supports local brands that advocate for eco-friendly and slow fashion. We are proving an online platform to support, empower and showcase our partner brands. Through this, we collectively help advance the slow living movement in the country and also to support their partner communities further," says Fuentes.
WVN Home Textiles considers the "people" side of their business as their main focus. Misa explains, "We spend a lot of time on the ground with weaving communities around the Philippines who use traditional weaving methods. Many of them are small, family-run operations that have grown with us." These local communities benefit directly from initiatives targeting product development and innovation.
Good Luck, Humans, whose core offerings include clothes, personal accoutrements, and a household line made using hand-sewing techniques, makes only limited quantities per design. As Lejano-Massebieau says, "Hand-sewing really requires that you take your time. It's not something that can be hurried."
Working with a small team also means they have the flexibility to make design experiments and figure out new applications for their hand-sewing techniques, which are derived from smocking, embroidery, and quilting.
Palomo WoodShop sources wood for rustic furniture pieces right inside their farm. "We utilize root systems of hardwoods buried through the ages, remnants of branches and tree trunks that are already curved by nature. We follow the contours of the hardened parts, and in the process, create beautiful furniture pieces out of something one would consider scrap," shares Palomo.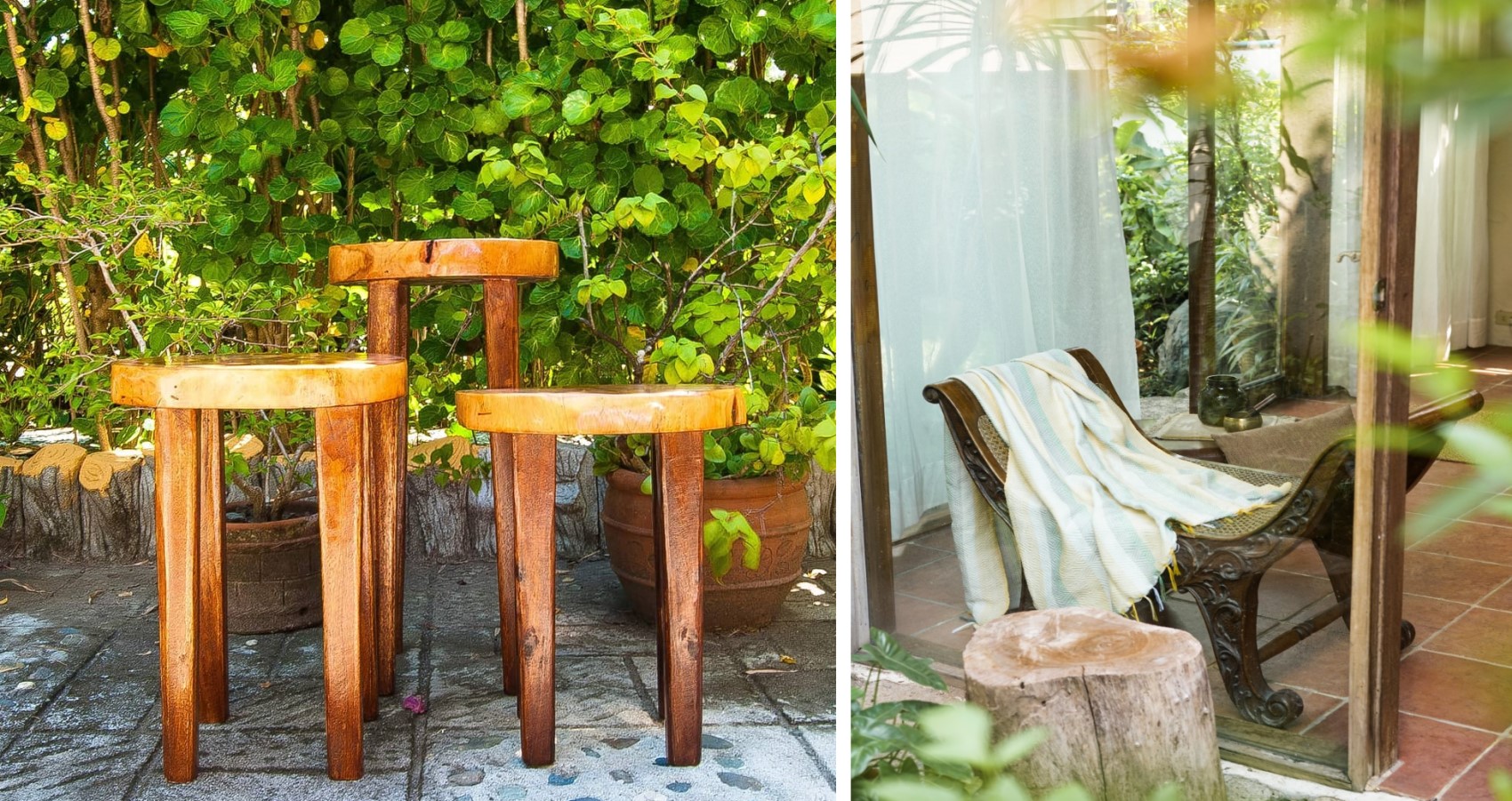 (Left) With Palomo WoodShop's furniture pieces, natural imperfections and visible wood grains are a common sight. These capture the essence of every wooden material sourced from their farm; (right) the Fiesta Towel by WVN Home Textiles.
An evolving mindset

If the story of Good Luck, Humans is any indication, then the potential for these social enterprises to grow further and expand their customer base is definitely on the horizon.
"We're a very young brand that only really began three years ago. We cater to the local market, predominantly, and the response has been really, really good. We take it as a sign of our clients' satisfaction that they've continued to support us through these strange times," Lejano-Massebieau says.
Both Fuentes and Misa share the observation that consumers today give more thought to the products they support, taking into consideration their social impact on local communities. Hence, Fuentes says it's time for brands to incorporate sustainability in their core business strategies. "In the long run, we see that this may be the new norm," Fuentes adds.
"We have a growing customer base that appreciates artisanal and handmade products. Now that people are more conscious about who makes their products, and with more access to conscious brands, the market can now purchase locally-made items that relate to causes that they believe in. Lastly, the sustainability trend is taking the world by storm, and this has really helped in the adoption of brands like ours both locally and internationally," shares Misa.
[CONTACT DETAILS]
WVN Home Textiles
Facebook: https://www.facebook.com/WVNhome
Instagram: @wvnhome
Email: hello.wvn@gmail.com
Website: https://linktr.ee/wvnhome
Palomo WoodShop
Address: 355 Purok Cuatro, Brgy. Bacayao, 3115 Guimba, Nueva Ecija, Philippines
Facebook: https://www.facebook.com/palomowoodshop
Mobile No. +63916 641 2290
Email: kmarkopalomo@gmail.com
Good Luck, Humans
Facebook: https://www.facebook.com/goodluckhumans
Instagram: @goodluckhumans
Email: hello@goodluckhumans.com
Website: http://goodluckhumans.com/
Forth Co.
Email: contact@si-lo.co
Website: forthco.ph