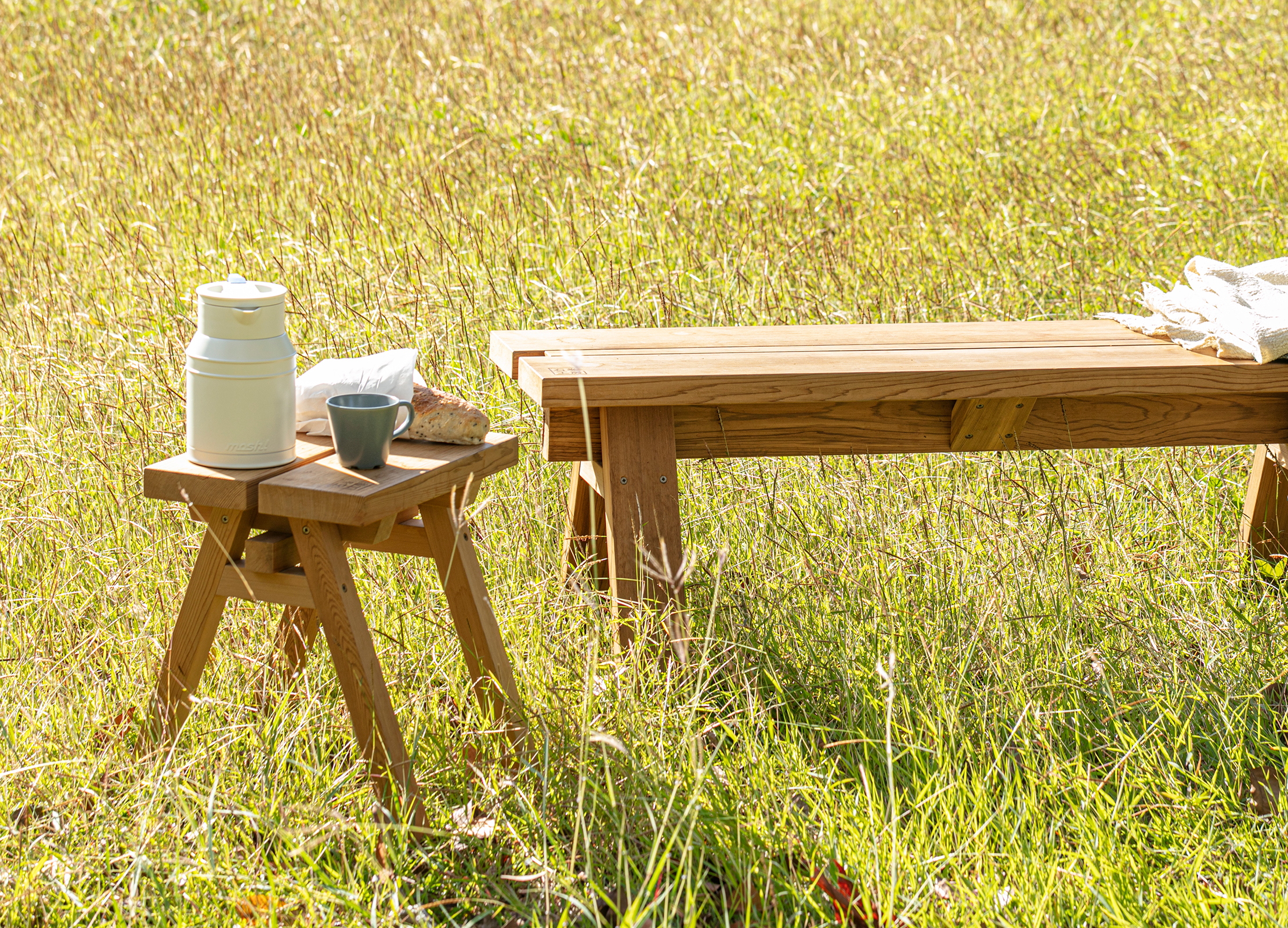 The Art of Woodwork
Three homegrown brands share their insights on the craft that brings artistry and function into our homes
by Joy Celine Asto

In a country rich in natural resources, it's inevitable to get inspired to work with wood and make it a staple in every home. Behind each brand is a distinct origin story and approach to the craft, but the heart is the same: transforming the material into something both beautiful and functional.
For some brands like Freden Export, the beginnings may be small but far-reaching. Co-founder Dick Perez was initially making wood carving projects for the Torrijos Central School in Marinduque as a wood craft teacher in 1970. His wife, Eden, eventually turned these carvings into souvenir items for the annual Moriones Festival. This introduction to the handicrafts industry rewarded them with the Panday Pira Award two years later, and eventually led to Dick doing wood carvings full-time under Woodstock Art Crafts.
In 1982, the husband-and-wife team rebranded the company to Freden Handicrafts. They also expanded their lineup with products that incorporated vines, fibers, and bark. Seven years later, they added log baskets and birdhouses, leading to their first export to the USA and, later, Europe, Australia, and Japan.
"Ever since the 1970s, Freden has been part of the Philippine handicraft industry, and known for its creativity," says Pamela Perez-Gonzalez on the legacy left by her parents. Constant innovation in design and use of materials, she adds, are guided by the brand's goal to offer only original designs. "With a long history and a wide variety of products, the constants are pushing the design thought and the drive to create something new and different."
For business partners and architects Charina Haltland and Eric Gonzalez, Haspe Design Studio started out as a small project. "I was looking for furniture pieces for my personal design projects, and couldn't find any available in the market that fit my requirements," Haltland shares. "So we tried to produce them on our own, and that's how it started. One project was followed by another, until we decided to make it a formal business in 2016."
With both architects based in Bulacan, it's not surprising that they tapped the woodcrafts, such as furniture, solihiya making, carving and inlay, that Baliuag has been known for. "We have a lot of talented artisans who still practice these up to the present. We design products that would showcase the talents and skills of our craftsmen. At the same time, we want to modernize it to cater to the present needs of our customers. We aim to sustain and keep the livelihood of woodworking alive."
Lamana, meanwhile, is a much younger brand with an equally remarkable start. Established in 2018 and officially launched a year later, this venture by husband-and-wife Jar and Kay Concengco was born from a partnership with Ishinomaki Laboratory. Through their Made in Local initiative, the Japanese furniture brand aims to invigorate local and international communities with good design. Lamana now exclusively manufactures Ishinomaki Laboratory pieces under the initiative's Manila outpost, alongside their own original designs.
"It's not possible to talk about Lamana without speaking a bit about Ishinomaki Laboratory's story," says Jar Concengco on the brand that inspired their quest for stylish and practical design. Ten years ago, Ishinomaki Lab started out as a workshop that helped the coastal town it was named after to rebuild after the devastating tsunami. "Residents who needed help to build would go to this workshop and would have access to tools and wood. Some of the furniture designs built during this time became popular even outside of Ishinomaki."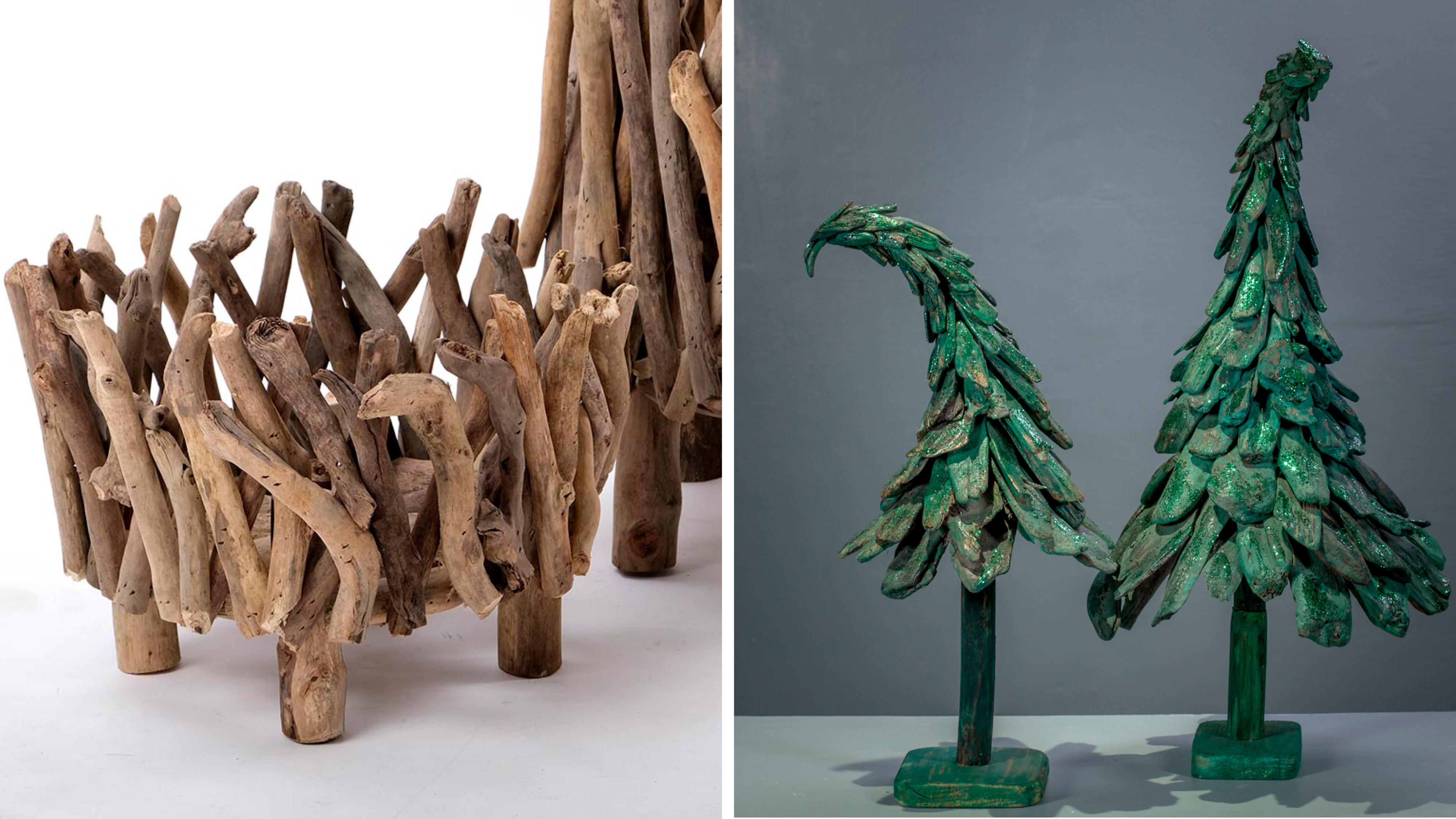 Established in 1970, Freden Export Philippines Corporation has turned its backyard family business into a pioneer global exporter, crafting a wide range of home decor made of driftwood and natural fibers. The company has since been known for its versatility, churning out crafted animal-shaped decor, Christmas ornaments, and the like

SOURCING WOOD SUSTAINABLY
Freden Export's pieces are mostly crafted using driftwood and recycled pallets. For Perez-Gonzalez, their choice of materials has always been their source of creativity. It also reflects their sensitivity to nature and the environment since the beginning. "Our thinking is, 'I have this material, what can I do with it?' This adds to the products' character and rawness."
"The first lines of handicrafts were made with black twigs, distressed wood, driftwood, and bark. As the brand grew, there came a need for more materials. But even then, it was important to uphold pre-existing values. The practice of using non-endangered, recycled wood is still important to the brand today."
With the same sentiments, Haspe Design Studio taps lumber suppliers of locally and sustainably farmed Gmelina and Mahogany wood. "These are kiln dried so the wood has less movement once made into furniture pieces," Haltland also notes.
Because Lamana essentially upholds dual brand standards, their requirements are a bit more complex. According to Kay Concengco, their first requirement is for the wood to be legitimately obtained from vetted sources, complete with paperwork. The wood should also be kiln dried. Ishinomaki Lab pieces are also known to be good for the outdoors, so they also work with teak and larch, which she points out are both excellent outdoor wood species with beautiful grains.
"Japan uses Western Red Cedar which we also use in some of the pieces we make locally. As our climate and the ways we use our furniture locally here in the Philippines are different from Japan, we do not make all the products with cedar. We also offer meranti (tanguile) as a more economical option for hardwood, though this is only for indoor use," she adds.
Some Lamana Originals pieces were made using European pine to make the price point more accessible to a wider audience. Other wood types such as oak, ash, beech, and birch plywood are also used, depending on client needs. "Every wood species behaves differently," Concengco notes. "Only experience and a whole lot of studying and reading will equip you best. We are not limited by what is easy; we work to give what is best for the client's requirements and we learn how to work with that."
Lamana also believes that working with their immediate community is a sustainable practice in itself. So, they have everything they need for the business within reach, with their office, workshop, lumberyard, and craftsmen all based in Rizal. "We are in the same community, so it is very accessible for us to go back and forth."
"Following the principles of Made in Local, we only source whatever is already in the country. They have been imported by the lumberyard, but not by us. We do not place orders for species that are not available," Concengco reiterates. "We do not over order or stock so much timber in our workshop just to save on travel and deliveries. In quarantine, when movements are restricted, we are able to continue with our operations unhampered because everything we need from raw materials to manpower are all existing in the same community."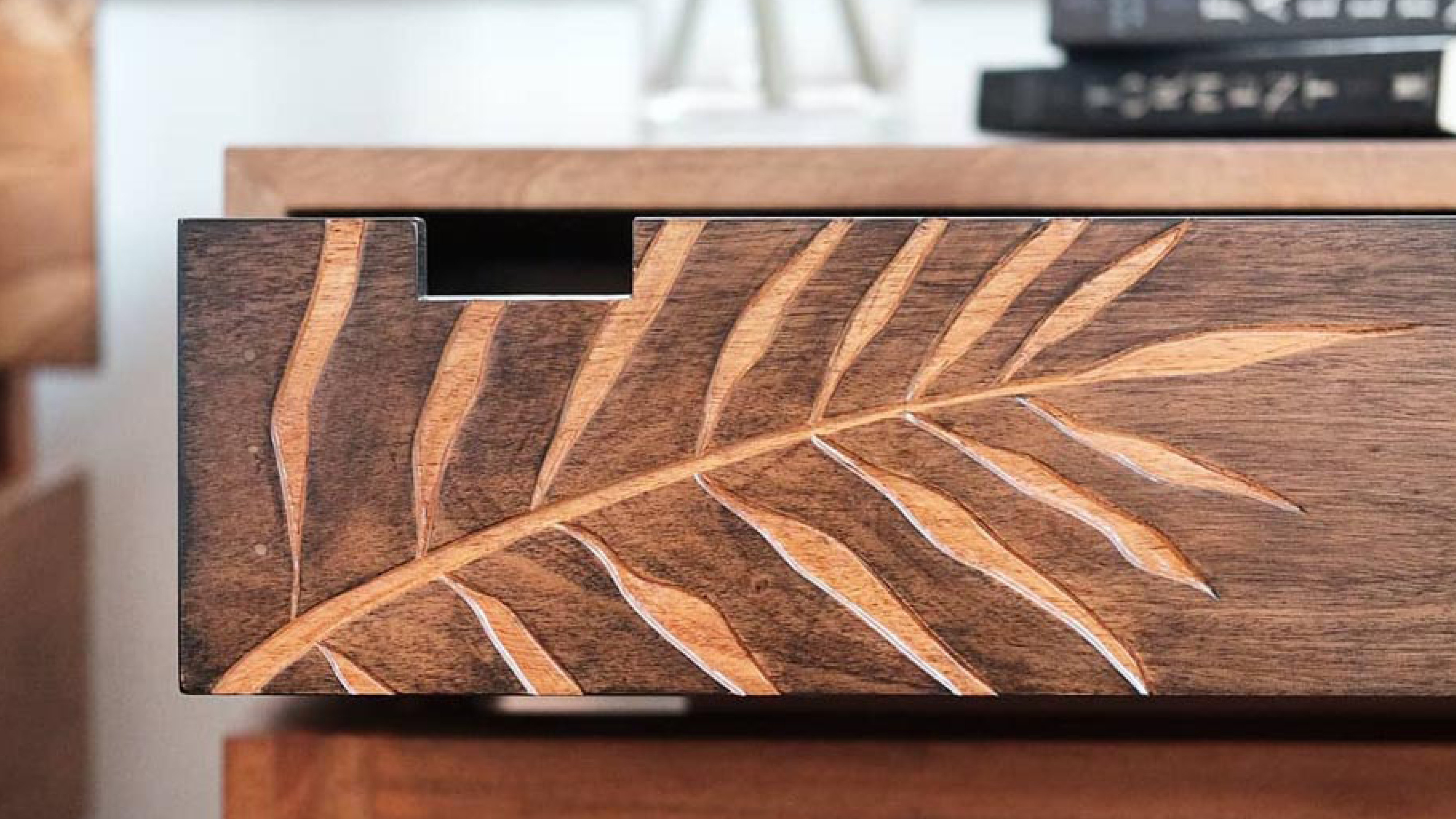 Beautiful, functional, and innovative: These are the design tenets of business partners and architects Charina Haltland and Eric Gonzalez. With the goal to sustain the wood making industry in Bulacan, as well as uplift their local community's livelihood, the two have established Haspe Design Studio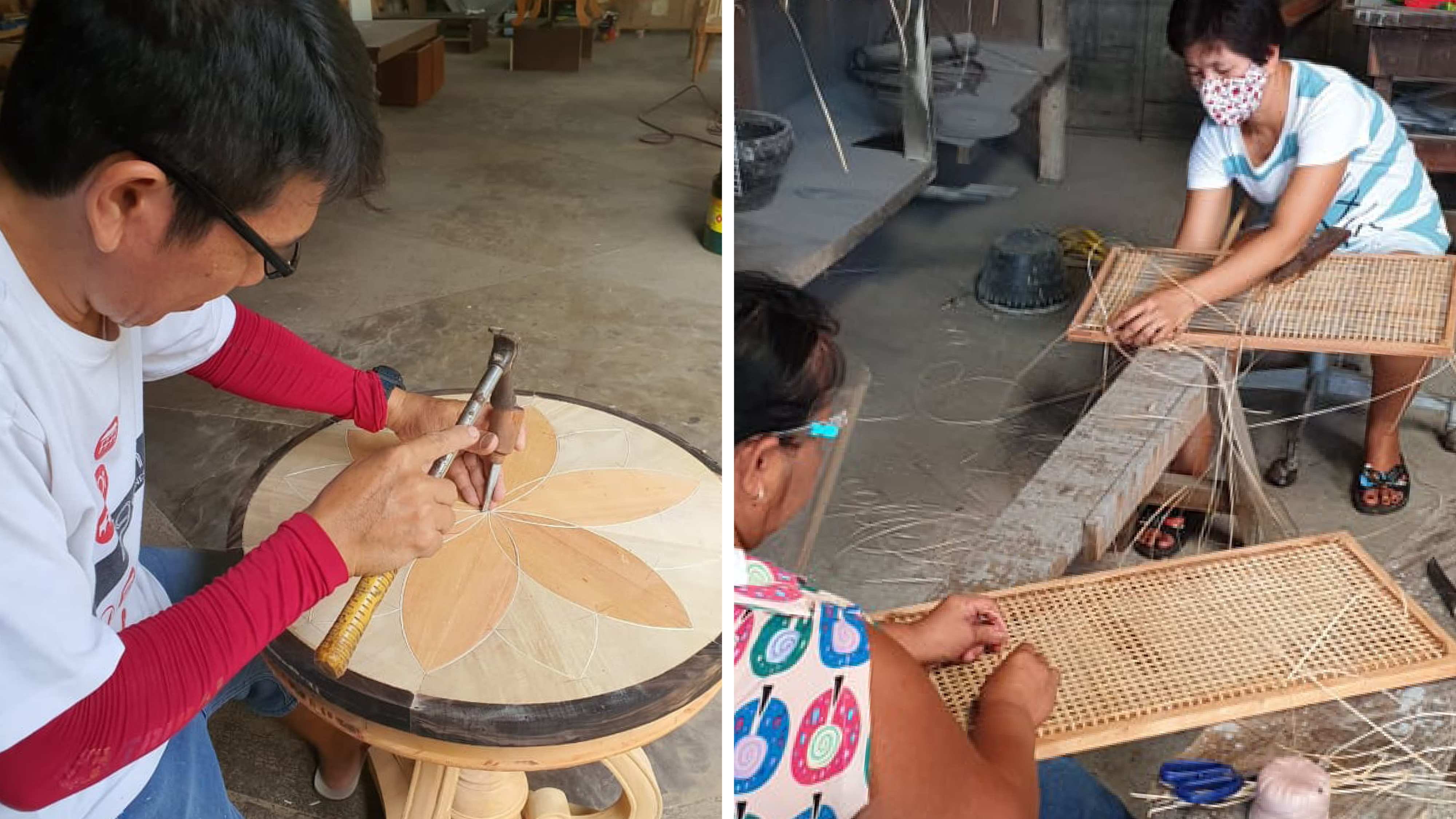 All the work is done within their small community in Baliuag, Bulacan. The craftsmen are adept at woodworking, as well as in other handmade crafts such as weaving rattan, carving, and bone in-laying via a process called 'imbute'

THE ARTISANS WHO SHAPE THE BRAND
At the heart of Freden Export's vision to build a harmonious home are the craftsmen behind their original and innovative woodcraft. The brand has been providing a continuous livelihood program for out-of-school individuals and stay-at-home moms who, according to Perez-Gonzalez, continue to grow as the brand does.
Meanwhile, most of Haspe Design Studio's artisans are family members, or are connected to each other as they come from the same community. According to Haltland, this allows them to learn and improve the craft as a team, and explore new methods and techniques together, as they are already comfortable with and accustomed to each other. Their skills are further improved and enhanced through the use of modern technology.
"We use tools and machines but the skills of our artisans are the highlight and the very nature of our business," Haltland says. "Our solihiya rattan weave is done by stitching every strand of rattan to the wood frame and braiding it, so it is very sturdy. We have carvers who do everything by hand. Our inlays are embedded piece by piece in the wood. We make sure the craftsmanship and skills are matched by excellent workmanship and quality. We aim to produce artwork in every furniture piece."
Prior to starting Lamana, the Concengcos had only very minimal knowledge about woodworking. Ishinomaki Laboratory's workshop leader, Takahiro Chiba, provided their craftsmen with the necessary training to build the products. These pieces each have a designer behind every product, among them the renowned architect and designer Keiji Ashizawa and Torafu Architects. For their all-original designed line called Lamana Originals, they collaborated with local talent to design the pieces.

According to Jar Concengco, when they were looking for designers for Lamana Originals, they sought out people who were passionate and shared their enthusiasm for simple and functional furniture. Their craftsmen also pitched in on how these original pieces were to be built.
He also mentioned that their workshop trains craftsmen who have also previously worked in woodworking or a related craft. "While they have experience, they have to unlearn some practices and acquire new methodology and principles as they craft our pieces."
"We have trained our craftsmen to work meticulously and not settle for pwede na (or 'this will do') just to beat deadlines," Kay Concengco adds. "We have also started implementing that one stool, for instance, will only be built by one craftsman from start to finish. This gives the craftsman a sense of ownership and would really aspire to make it well."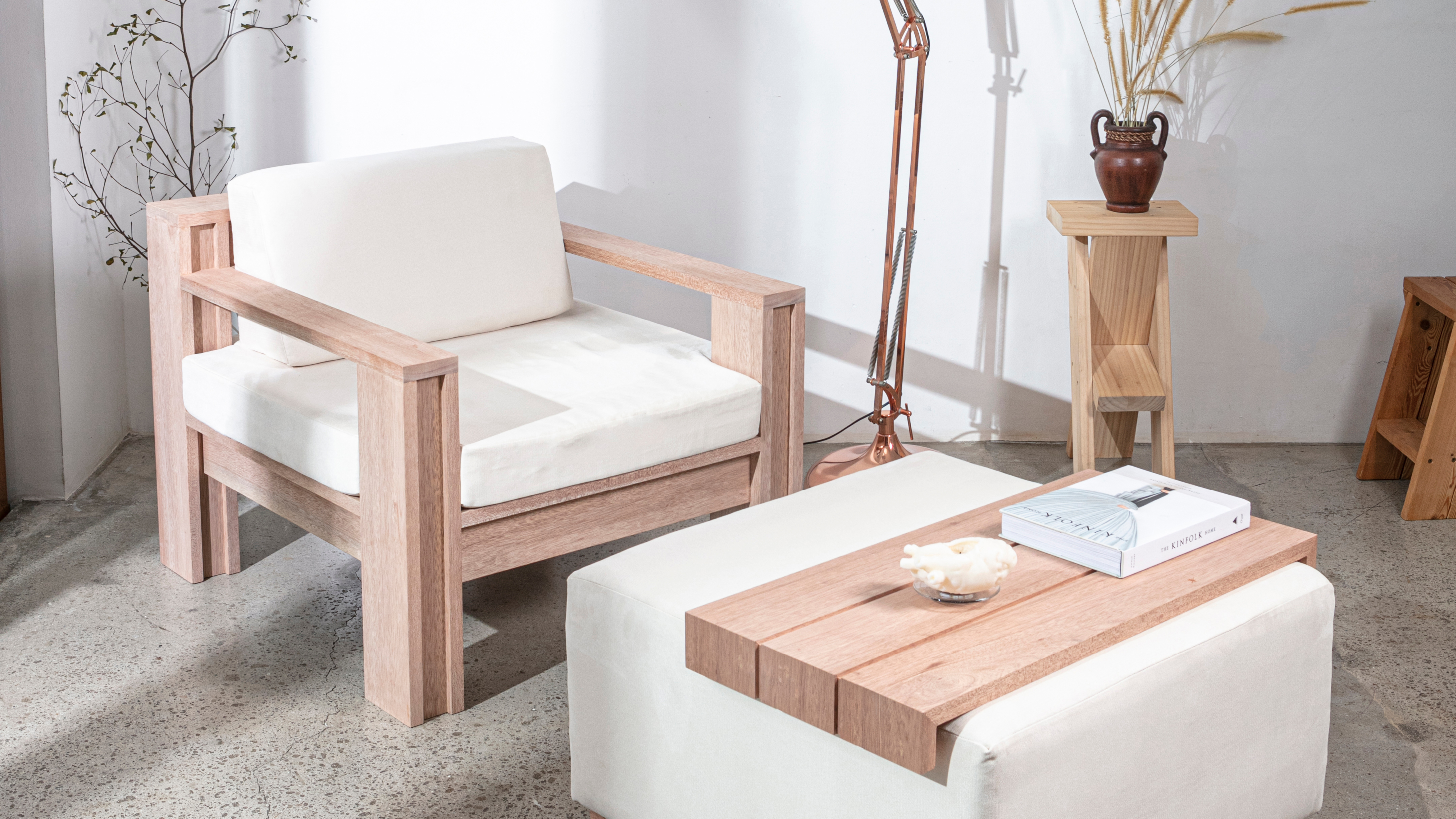 From Japan to Manila, Lamana takes its passion for woodcraft to the local market and the local makers. Founders Jar and Kay Concengco are passionate designers and teachers, eager to impart the craft and joy of wood making to the next generation of craftsmen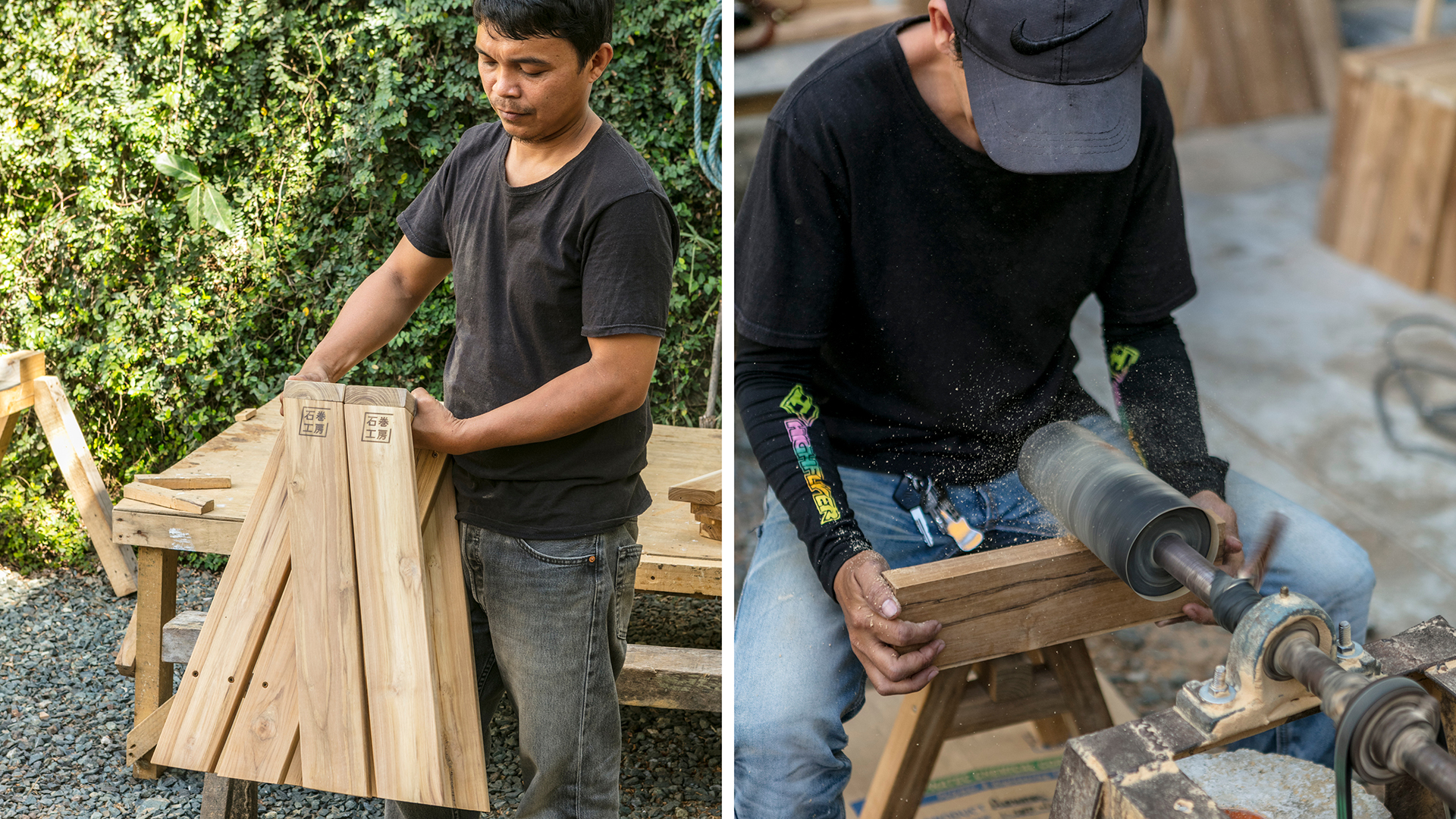 There is no assembly line: One stool is to be created by only one craftsman, from start to finish. This gives them a sense of ownership and pride, and the dedication to make what's in their hands the best it can be

A TOUCH OF NATURE IN THE HOME
Freden Export's pieces imbue the feeling of home by incorporating familiarity and nature into a space. For Perez-Gonzalez, wood pieces effectively create this feeling, even with the fast-paced changes happening in design. "The products become so distinct, with a touch of nature and craft, reminding its users that even with new, modern, and complex designs, it holds an essential part of a home: humanity."
Likewise, Haspe Design Studio believes that wood will continue to be an essential part of our homes. "It adds beauty and warmth. Over the years, the wood pieces also tell a story. Good quality wood furniture can be passed on from one generation to another and the designs can withstand trends over time."
Related to these sentiments is Lamana's observation that the home improvement sector of the industry has experienced a boom during the pandemic. More and more homeowners are choosing genuine and carefully designed wood pieces to adorn their homes. "It's great that people are paying more attention to their spaces at home and investing in them," Jar Concengco says. "Wood is a natural material that is quite timeless with many benefits. It's a great way to bring the outside in, and is warm to the eye."
"The best part about using wood for furniture and even for cladding is that wood ages beautifully. Every dent or impaction will become part of its story and will add to its charm and character. But of course, not all wooden pieces are created equal. It is a combination of carefully selected timber, well thought of design, and excellent craftsmanship. One can have a piece to last for generations."

GROOMING THE NEXT GENERATION OF WOODCRAFTERS
While Freden Export is guided by the idea that creativity has no bounds, they also know that the brand is constantly evolving. This is where the participation and ideas of the younger generation are paramount. Being a family business passed on to Perez-Gonzalez and her siblings, the brand is set to carry on and evolve with Dick and Eden Perez's grandchildren.
"Their involvement has been encouraged as they grew up, from taking on different tasks in the factory, being present in trade shows, to having major or minor roles in the design process. With this experience and the interest in continuing the craft, there is a coming change as the newer generation begin to take on bigger roles in the business."
Jar Concengco shares how Lamana conducted workshops before the pandemic for those interested in woodworking, even for those with no experience in the craft. Since there was quite a bit of interest in it, they hope to do it again and even do outreach activities to teach children simple woodworking so that they can discover the power of their hands. "There is definitely so much interest in woodworking these days. We can't even say that it's just a particular demographic because we've had participants from all ages and very diverse backgrounds," Kay Concengco also points out.
She also observes how the art of wood has been kept alive and passed on, more so in recent years than ever. The Concengcos see this not only within their business but also in the curious minds who can keep the craft alive. "Our craftsmen are only in their mid-30s and only one is above 40. Their fathers were all woodworkers as well. Our own kids are curious and interested, and we involve them, we teach them. We do our workshops with the intent of keeping the craft alive. When the pandemic ends, we can imagine ourselves going back into teaching. It has been my dream to be able to partner with schools and teach basic woodworking to children so their interest can begin early on."

Photos courtesy of Freden Export, Haspe Design Studio, and Lamana