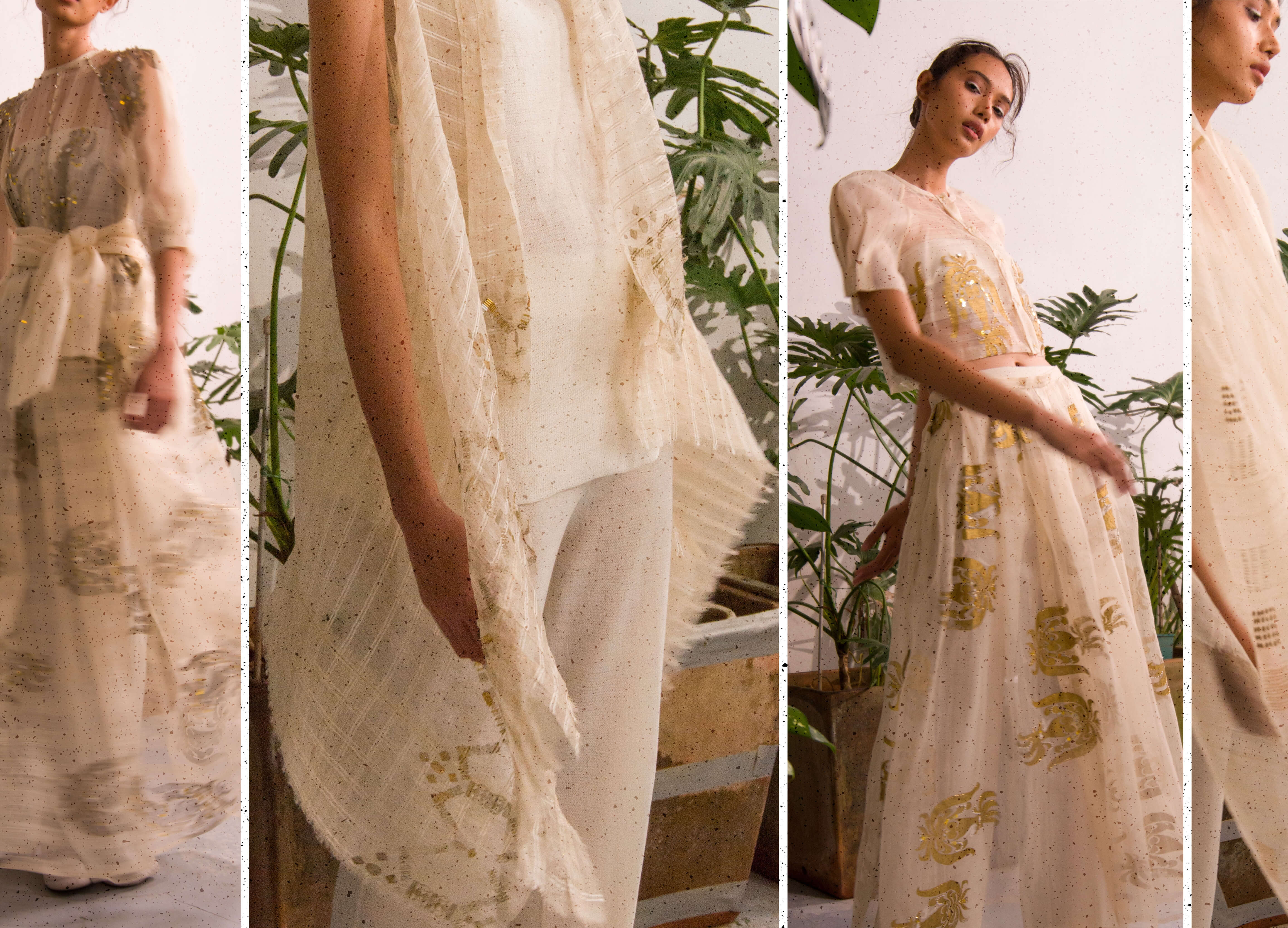 Lulu Tan-Gan Celebrates Decades of Weaving
Throughout her career, Lulu Tan-Gan has become known for intertwining sustainability, innovation, and indigenous elements into her designer knitwear
by Joy Celine Asto

One may be quick to ask Filipina designer Lulu Tan-Gan why she chose to specialize in knitwear for her iconic fashion label, TAN-GAN . After all, it's the last thing you'll consider to wear in a tropical country, unless you live in the mountains up north. Regardless, Tan-Gan's creative spirit and love for crafts led her to explore the wonderful world of knits, and she knew she was onto something. For the forward-thinking designer, it was a path she simply had to follow and see where it could lead.
"Love of craft is second nature to me," Tan-Gan shares. "When I got into fashion, I was attracted to knitwear as I realized that I could design my fabric first. And then there's the weaving, using the same yarn. The yarn is my medium. The handloom is my tool."
Despite raised eyebrows and doubts on her plans to venture into knitwear at the time, Tan-Gan was persistent—she already had the vision for innovation, sustainability, and craft-based fashion.
"I recall the repeated comments: 'Knitwear? Who is going to buy knits when it is so hot in Manila?' I turned a deaf ear," Tan-Gan wrote in her essay for Japan Foundation, Manila's ART ARCHIVE 03. "I simply knew what I wanted and that was to create what was unavailable in the market. More than following trends, my path as a designer was through the innovation of products not found in the Philippine market."
And that was the start of something new—and sustainable. From buying fabrics and pieces from top designer brands, Tan-Gan set her sights on creating her own material using yarn as her main medium. Fast-forward to the present, her creations have become more than just pieces that have caught the attention of expatriates, foreign tourists, and jet-setting Filipinos who frequented colder destinations. Her knitwear have become covetable, signature Tan-Gan pieces appreciated locally, too.

"I think my career happened organically," she says of her decades-long creative journey and the "travel-friendly" designer brand she has built out of it. From its inception in the early to mid-1980s, TAN-GAN embraced its creative identity as a pioneer of merging local and international aesthetics through her handcrafted knits.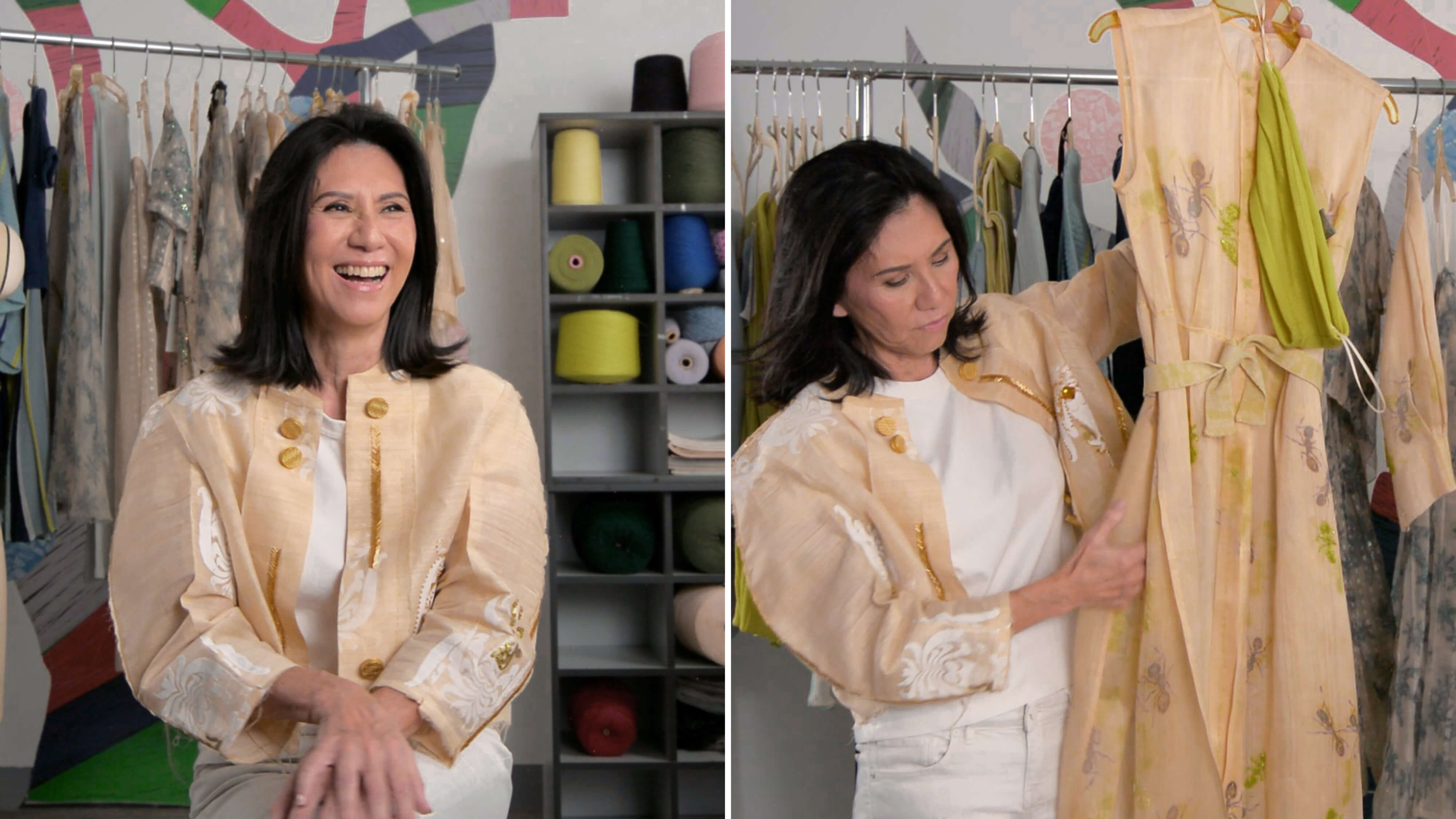 Queen of Knitwear: Filipino fashion designer Lulu Tan-Gan dared to venture into knits, paying no heed to those who questioned how her knitwear can thrive in a tropical country

FINDING HER FOOTING IN KNITWEAR
Political Science was Tan-Gan's first interest, but her love for arts and crafts was her gateway to becoming a fashion designer. There were no fashion schools during her time, she said, so she took up Fine Arts instead. Despite this, she found herself enrolling and spending her college summers training at the Madonna School of Fashion and Costume Design, which, back then, only offered short courses.
In the early 1980s, Tan-Gan started to take her career in design seriously. At that time, however, the fabrics available were very limited. Sourcing fabrics from department stores, Divisoria (a commercial center in Manila that offers a vast selection of fabric and supplies), and a few other importers was the norm. And so when Tan-Gan discovered the hand-operated knit loom, it at once gave her the idea to produce her own fabrics in an eco-friendly way.
Since her pieces are 100% handcrafted in small batches, she initially had challenges partnering with knitwear exporters. Tan-Gan took matters into her own hands and began to take care of exporting herself.
She eventually received an offer from Tessie Sy of SM (then known as ShoeMart), one of the biggest department store chains in the Philippines. Tan-Gan then began consigning her work at the SM Boutique Square, and as SM expanded, so did her brand. Eventually, the name TAN-GAN became synonymous with knitwear in the Philippines, establishing itself as a designer label for confident, fashionable, and on-the-go Filipinas.
"During the day, I was in SM. At night, I worked to fulfill my export orders," she recalls. "I added three more looms and three knitters, worked until midnight and, on weekends, outsourced hand crochet work in Carmona and weaving in Baguio, cities outside of Manila!"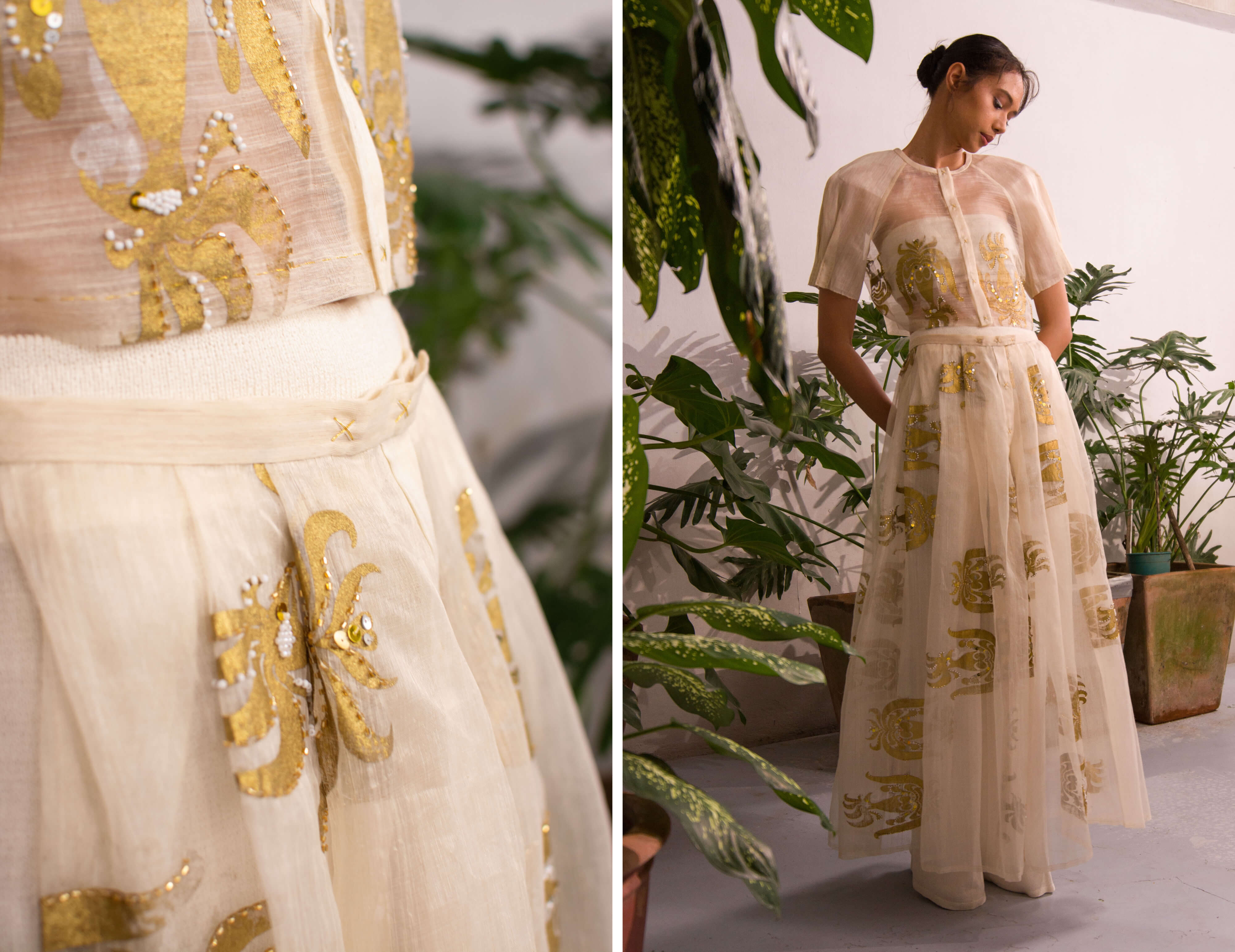 Craft-based fashion for the modern Filipina: "How do you avoid being just like another designer who copies another designer or another brand?" Tan-Gan asks. "It is very important to still use your hands. That's why craft is important," she says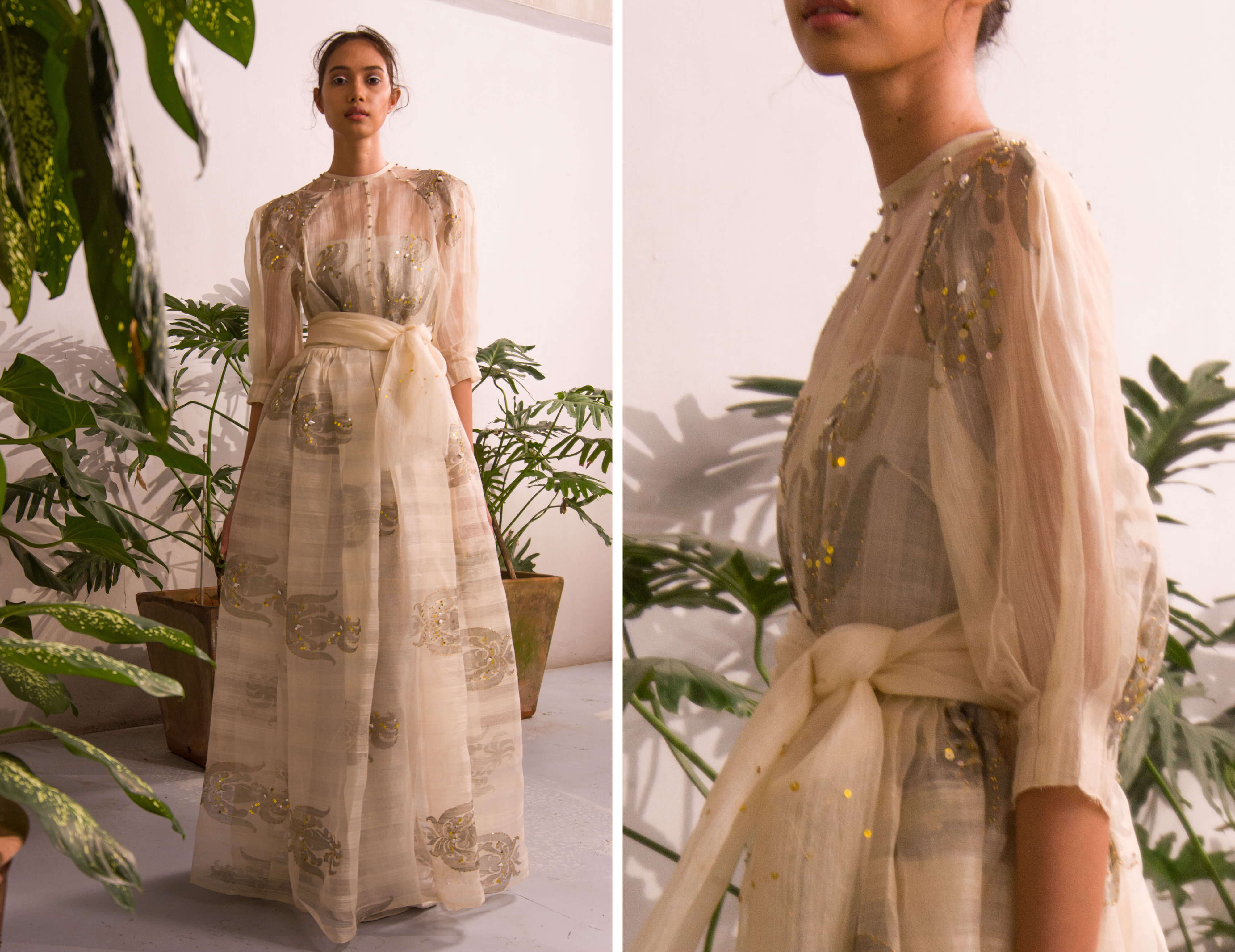 Timeless appeal: To last in the industry, one must remain relevant. This means designing clothes that won't look dated and will be appreciated by the new generation. One can see in Tan-Gan's piña designs how she works them into ready-to-wear pieces that will be liked and worn by women across generations
TOOLS AND MATTERS OF THE TRADE
To make her production process a thoughtful, conscious, and sustainable one was what ultimately cemented handcrafted knitwear as Tan-Gan's medium of choice. It allowed her to be innovative with yarn and explore the different ways in which she can create her own fabric. As early as back in the 1980s, she was already conscious of wastage, and wanted to minimize it in her works. The handloom proved perfect, she said, as it didn't require electricity.
"Because the knit that I use is full-fashion, the loom can weave out from yarn to a fabric or a part of a garment, by adding and reducing warp stitches. No cutting is required. You then just seam the parts of the garment together. There is almost no wastage of material," she explains.
In 2007, Tan-Gan also began experimenting with piña to give her brand an indigenous touch. Her pieces remained handcraft-based. Around the same time, she also began exploring hand-loom weaving the piña.
"I thought that our local fashion was purely an adoption of western fashion, from materials to the designs," she observes. "With an abundance of local talent both in design and in crafts skill, I thought to jumpstart or at least influence Filipino fashion through ready-to-wear. Filipino-inspired motifs are applied, but I make sure that I keep our brand identity as travel-friendly and contemporary."

OVERCOMING THE CHALLENGES OF INNOVATION
While knitwear allowed Tan-Gan plenty of room to create fabrics, patterns, and designs as she pleased, one of the things she had to keep in mind was to keep it from looking like "craft"—it had to be a fashion piece. "In the 1980s, I had to make my designs look fashionable, following trends," she says. "But, I must say that I was met with many technical limitations in knitwear. Also, handcrafted pieces were not highly valued in the local market, though they were highly valued in Europe. It was only in the last five years that our local market started to appreciate local and handmade fashion."
When Tan-Gan decided to combine piña with knitwear, she found herself working with two opposing mediums. "Construction-wise, cotton-blended knit stretches, but piña weave does not. Cotton-blended knit is modern, strong, thick, and opaque. Piña weave is traditional, fragile, very fine, and translucent."
By patiently experimenting, she was able to arrive at a cohesive solution to marry the two. First was to make both textures look compatible with each other. Next was to keep the color of the knitwear in neutral shades, such as ecru, white, and beige, to mimic the piña fabric's natural color. Lastly, the two fabrics needed to function together. She actually found a new use for knitwear to solve the last problem.
"The knitwear became the innerwear for the piña. Piña can be too fragile, too transparent, and not skin-friendly. But knitwear stretches, thus allowing piña to be more relevant to use."


Beauty in the details: After a fabric is made from weaving or knitting from yarn, she and her team explore ways to add character to the clothing, such as with beadwork, or undone stitches at the hem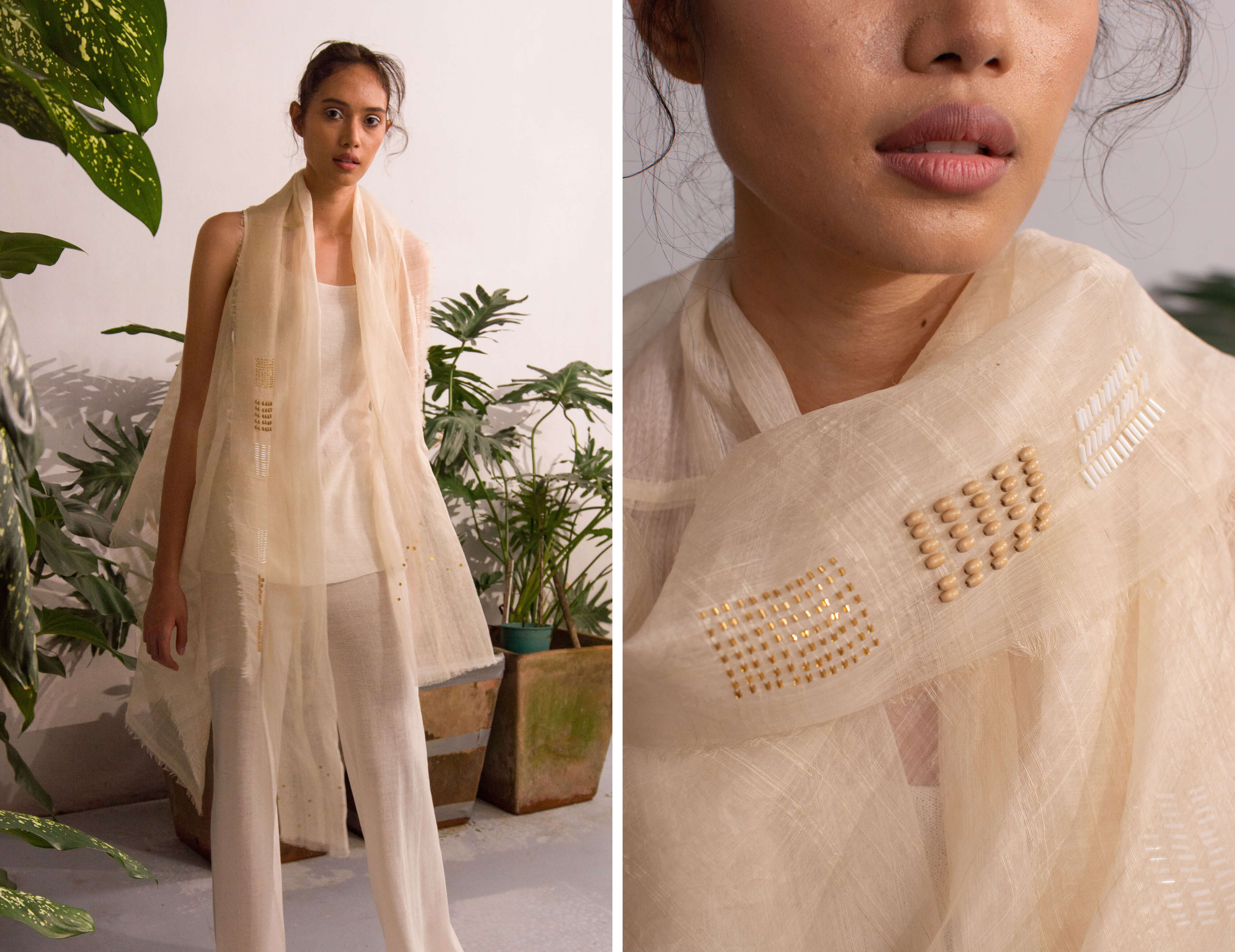 Style it yourself: Tan-Gan is a fan of multi-purpose pieces, like a vest that can be styled as a scarf (as seen in photo), or a belt that can be worn as a sash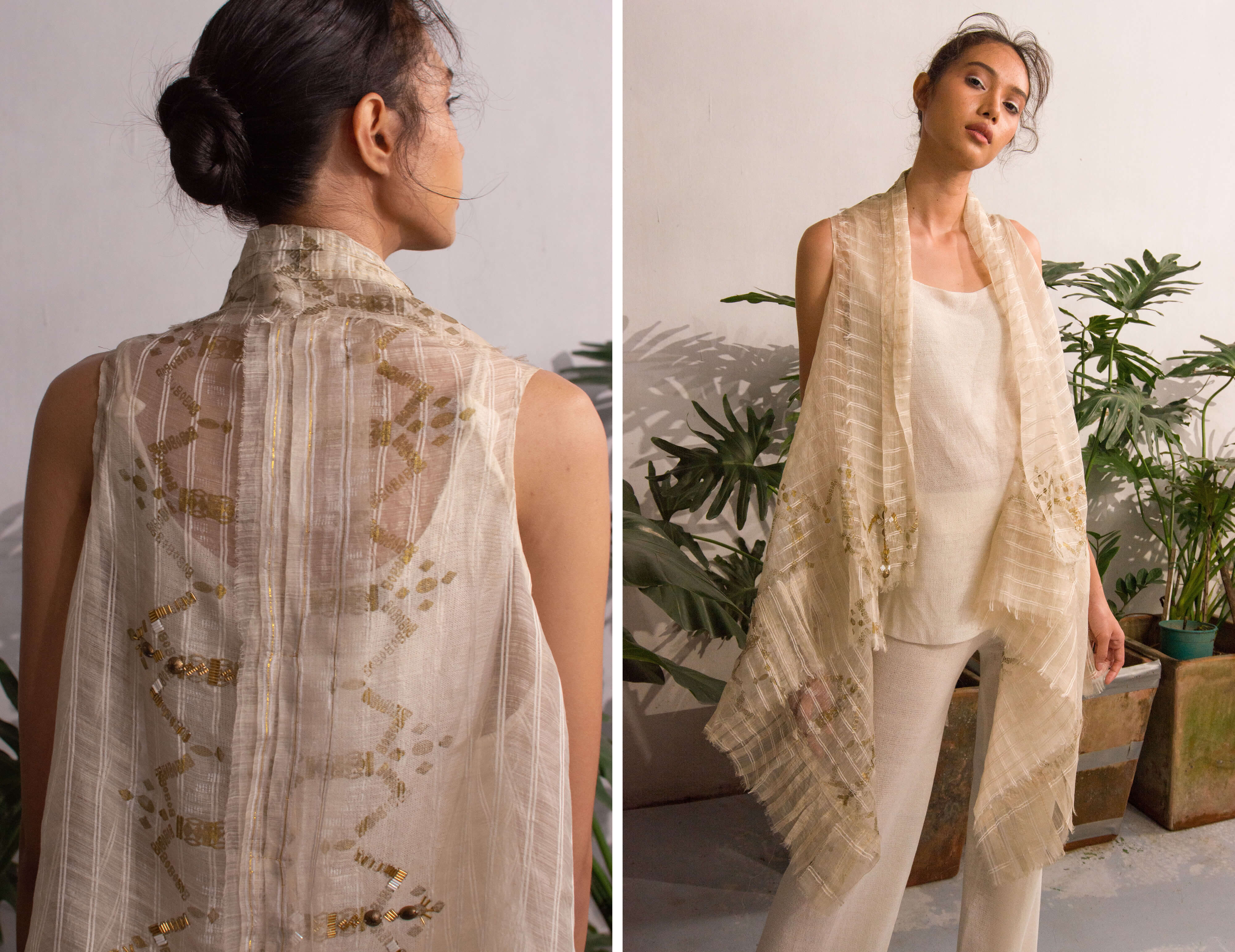 Piñawear: It's an innovation very characteristic of Tan-Gan. Driven by imagination and intuition, who would think using her knitwear as the inner wear of the delicate piña pieces would work so well together seamlessly?

GOOD DESIGN AS A SUSTAINABLE, INNOVATIVE, AND FUNCTIONAL ART
Tan-Gan's sentiments on good design echo those of artisans and brands from different creative disciplines and industries. "Good design is innovative and it communicates. Good design is functional art. It should be appealing to the current generation and relevant to use. Furthermore, good design always considers sustainability as a major factor."
She also believes that artisanal fashion follows good design for its timelessness and uniqueness. "Old world charm," "understated elegance," "nostalgia," were some of the words she used. "There's a softer hand-feel at the seams. And a story behind every garment, supporting craftsmen that were once going extinct," muses Tan-Gan.
To achieve her vision of good design, she boldly declares that the foundation of her pieces will always be craft-based and sustainable. The only processes added are design manipulation techniques like dyeing, printing, folding, pleating, beading, and embroidery. Rest assured that the remnants from the production are repaired, refurbished, and upcycled. And in her ten years of piña use, Tan-Gan says that the byproduct of her production would be less than one kilo.

AN ENDURING FASHION BRAND AND DESIGNER CAREER
In her decades of experimenting, innovating, and fine-tuning her craft, Tan-Gan has attributed her brand's success to three things: finding a niche, staying focused, and staying relevant.
By specializing in craftwork her whole life, she was able to discover and master a specialty and make it her own. Championing sustainability early on also enabled her to establish a brand that pioneered eco-friendly fashion in the country.
"An advanced world is driven by industrialization and, now, digitization," she points out. "But, I think in our world of creativity and skilled craftsmen, it's also the best time for us to go forward in this new world that supports and practices sustainability."

Staying focused on TAN-GAN's creative identity, processes, and goals means working with restrictions, which she said isn't always negative. "Restrictions can push creativity," she stresses. "Problem-solving drives me into innovation. It's only by staying disciplined and focused that you will surpass all challenges."

Of course, staying relevant and making sure that your product appeals to a buying market is crucial to every brand. For Tan-Gan, however, it's not just about creativity or concentrating on a brand concept, contrary to what most people may think. "I am partially a fashion technician, a craft person that loves my medium and my tools," she adds. "Challenging the norms of commercial sewing, I continuously manipulate my materials with my hands to find new shapes and techniques. Innovation just happens."
"In whatever construction or material that I encounter, I just take some steps to make them contemporary enough to use. Keeping up with the times just means being relevant. As a designer, we can sometimes be ahead of our time."
Tying all of these together is an advocacy born out of Tan-Gan's craft: to showcase a culturally rooted design aesthetic that is unmistakably Filipino. She poignantly described this in her ART ARCHIVE 03 essay: "I saw that knits were meant for more than just clothing the Filipino in an unexpected fashion. Knits can also be the perfect material that can amalgamate with indigenous textiles, which are distinctly Filipino but have become dissonant with our everyday lives… I realized that the advocacy I was about to embrace was bigger than my art, even bigger than the fashion industry. Besides our individuality, our fashion choices define our collective cultural identity as a nation. In my search for direction, my advocacy has become a question of Filipino identity. Wearing a cultural trademark is tantamount to expressing this."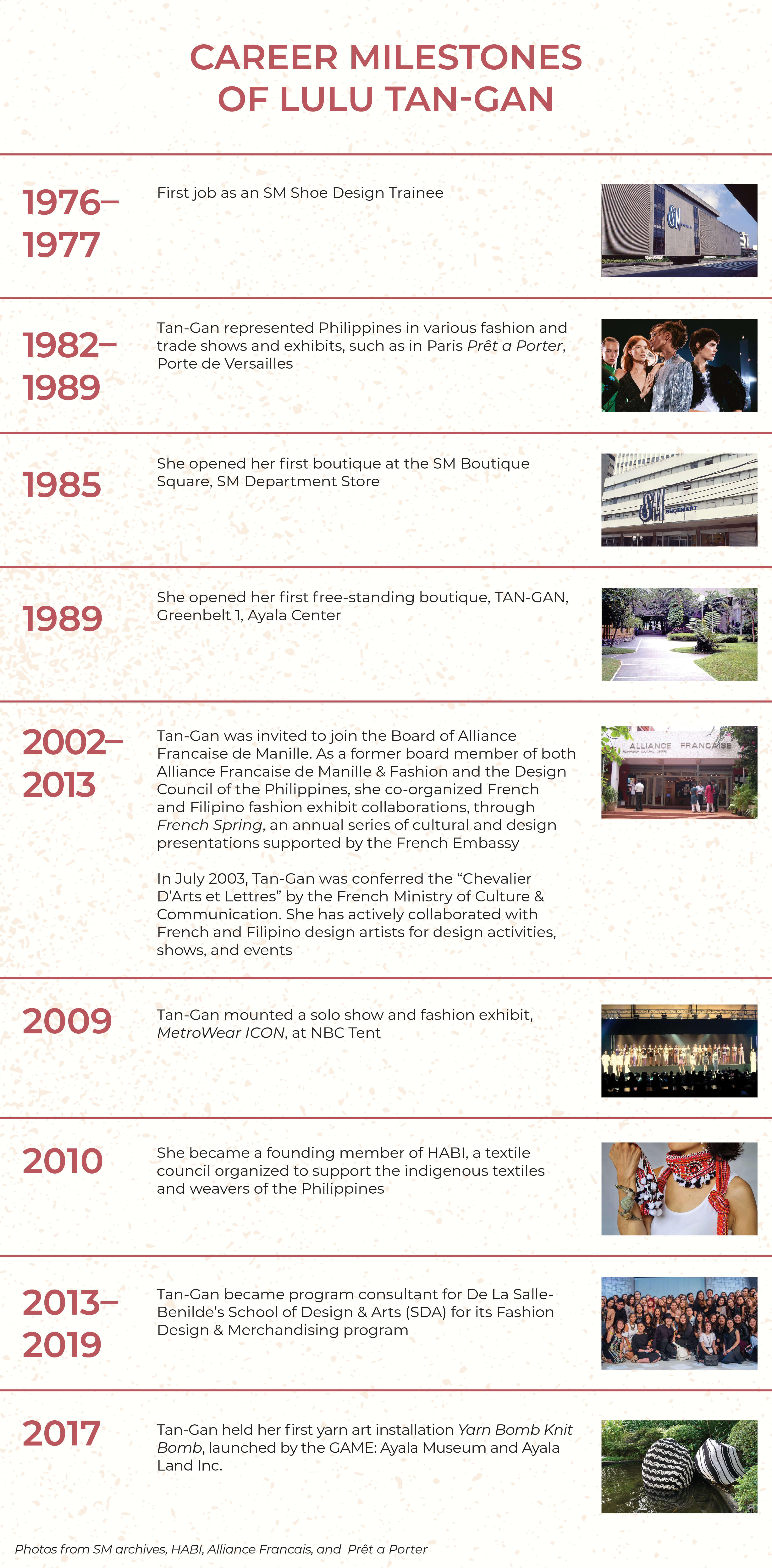 Art Direction Kit Singson
Photography and Videography Nathan Santos
Assisted by Qeren Bartido
Editor Nathan Santos
Makeup Gex Garcia
Hair and Makeup Aldrin Jalandoni
Model Yaofa Dela Cruz
Sittings Editor Patti Sunio
Production Manager Erica Seran