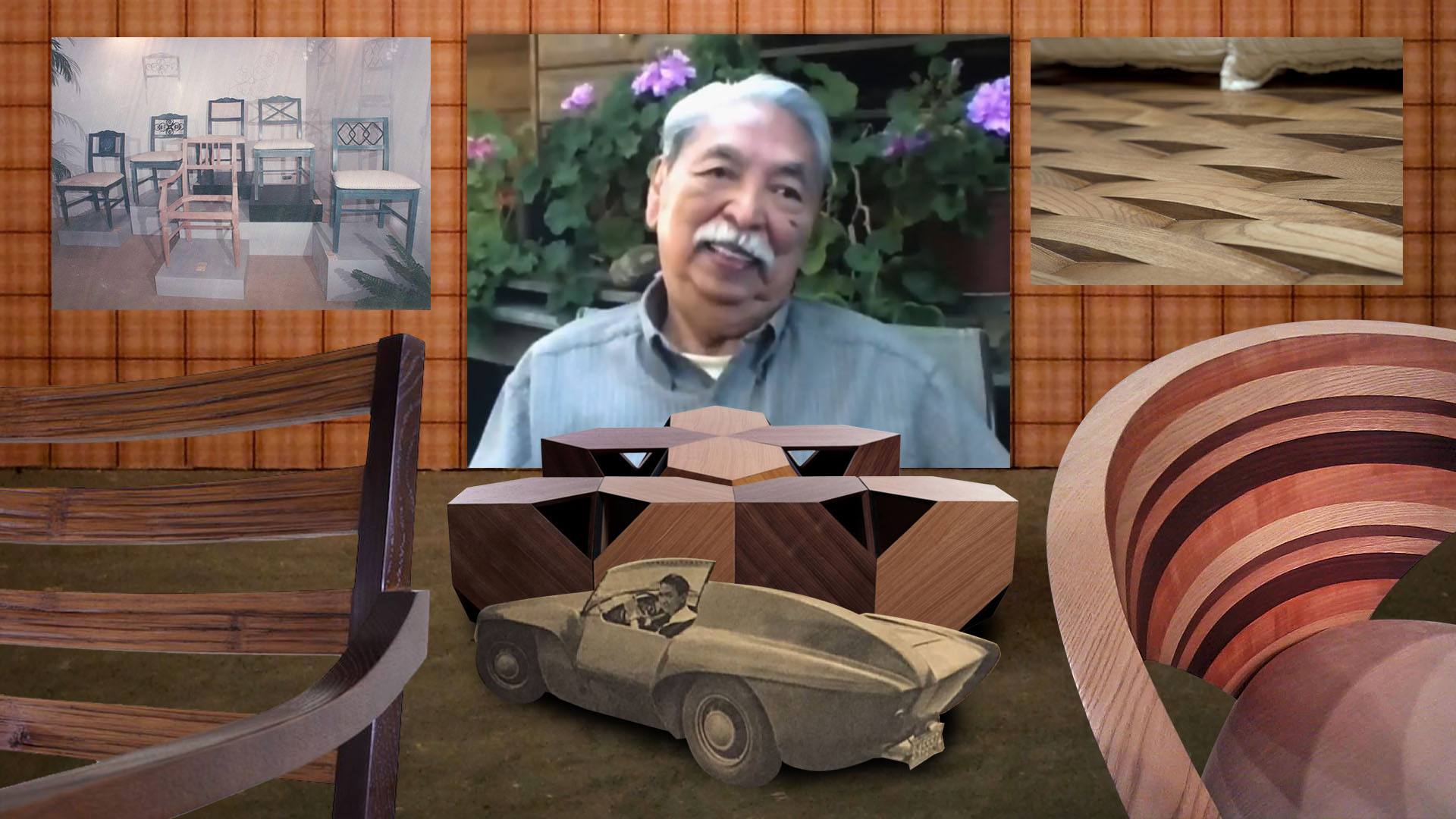 From Cars to Chairs: A Design Journey
Design Ligna's founder Al de Lange shares his memories of being the Philippines' first industrial designer
Those in the Philippine furniture industry know of Al De Lange as the founder of furniture brand Designs Ligna, and as one of the co-founders of the Design Center of the Philippines. But did you know that De Lange holds the distinction as this country's first industrial designer?
In Design Center of the Philippines' (DCP's) ID x Conversations last year, a series of online talks with design luminaries, Al—in his candid and self-effacing way—shared his long and colorful journey from student in the US and his breakthrough car design, to his eventual return to the Philippines and his discovery of fine furniture making.
Student days and the car that started it all
"I was at Vanderbilt [University], and I didn't enjoy math at all. I was the only engineer who was taking up sculpture at that time. Then this guy says: 'I can get you in the Cleveland Institute of Art. That's where they get car designers for Ford!'," Al recalls. He eventually transferred to the Cleveland Institute of Art, and shares that he had to support himself by doing odd jobs such as raking leaves and trimming grass to get by.

What threw Al into the serious world of industrial design was when he and friend started tinkering with a car that he designed. "My breakthrough moment was a fiberglass car. That opened so many doors for me. It was a car a friend of mine and I worked on in school. There were two people from General Motors who were scouting around the school. And they were very curious about where we saw this design. They took us to one of their prototype trucks and they brought put the tail end of a racing Corvette and it was exactly like our car!"
Unfortunately, while the young designer was putting the finishing touches on his car, the embassy called to inform him that his US visa was expiring soon. In spite of taking the offer of extending, he decided to return to his home country. "I was waving the flag. I figured I learned something, I would try to introduce it and brought it back to the Philippines.

Furniture throwback: A Designs Ligna exhibit at Manila FAME in the 1980s. The brand has participated consistently at FAME ever since. From 1969 onwards, Al and Kay De Lange's Designs Ligna grew to become one of the top fine furniture brands in the country.
A teaching and learning phase
In a country wherein industrial design as a course only gained ground in the 1980s and '90s, Al was definitely a rarity. It didn't take long before the University of Santo Tomas in Manila snapped him up as an instructor for the course.
"When I came back to the Philippines, there was hardly any industry to speak of, I really didn't know what I was going to do," he says. "I ended up in UST [University of Santo Tomas] as an instructor, because they said they wanted to set up the course of Industrial Design. School year started, I had over a hundred students in my class. And they had no seats, no tables, we were just standing around. I said, 'Father. I have too many students, they don't have seats.' He said, 'Oh, we'll worry about that later on.' I said, 'Father, under this condition, I cannot teach.' So, I resigned. Although I enjoyed teaching."
After his teaching stint, Al was hired as director of design at DRB marketing, where he created household appliances for the local market. His first hit at DRB was a portable radio. It became so popular, selling in the thousands, that the BIR paid them a visit asking them where they go their "imported" radios. "This is not imported, that's all made here," he balked. "This is local!"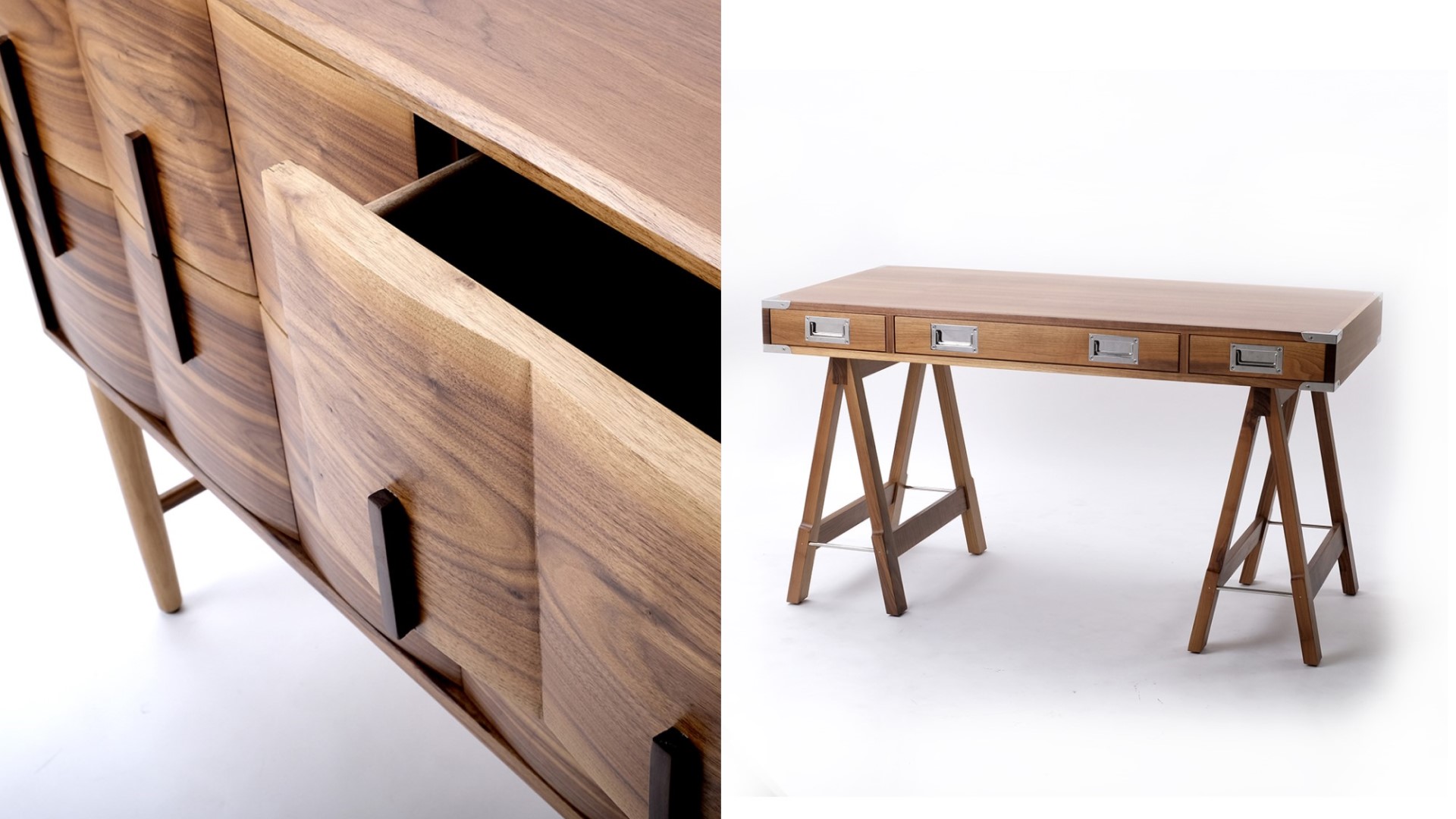 (Left) A detail of Designs Ligna's Brooks Console in walnut veneer and solid wood; (right) Al de Lange's design of the classic Campaign Desk, with its sawhorse-style base, has been a popular product of the brand ever since.
A flooded factory and the birth of the Design Center
De Lange offered to buy out the design department of DRB, and transferred its workshop to his front yard. "Friends would come over and say, 'When you're not busy, can you make me a desk?' And then more people asked, it became bigger and bigger, I had to move. I found a furniture factory a couple of blocks from my place. The only problem with that, the place, whenever it rained, it got flooded."
In spite of the factory's state, the orders—and clients—kept on coming. "If the visitors wanted to see their furniture in process, they have to put on high boots so they can wade through the water," recalls Kay De Lange, Al's wife. In 1969, the De Langes founded Designs Ligna, which is now one of the leading furniture manufacturers and exporters in the country.
Some of Al's fondest memories were of the Design Center of the Philippines—which he helped establish with a bit of nudging from National Artist Arturo Luz, who was DCP's founding executive director in 1973.
"I was very involved with the furniture industry, I was assigned to the wood sector, and then Arturo [Luz] came along and asked me to do something," Al recalls. "He said that the First Lady [Imelda Marcos] came back from London, and saw the London Design Centre, and she wanted one, too! So, OB Mapua and I sat nights and so we laid out the Design Center."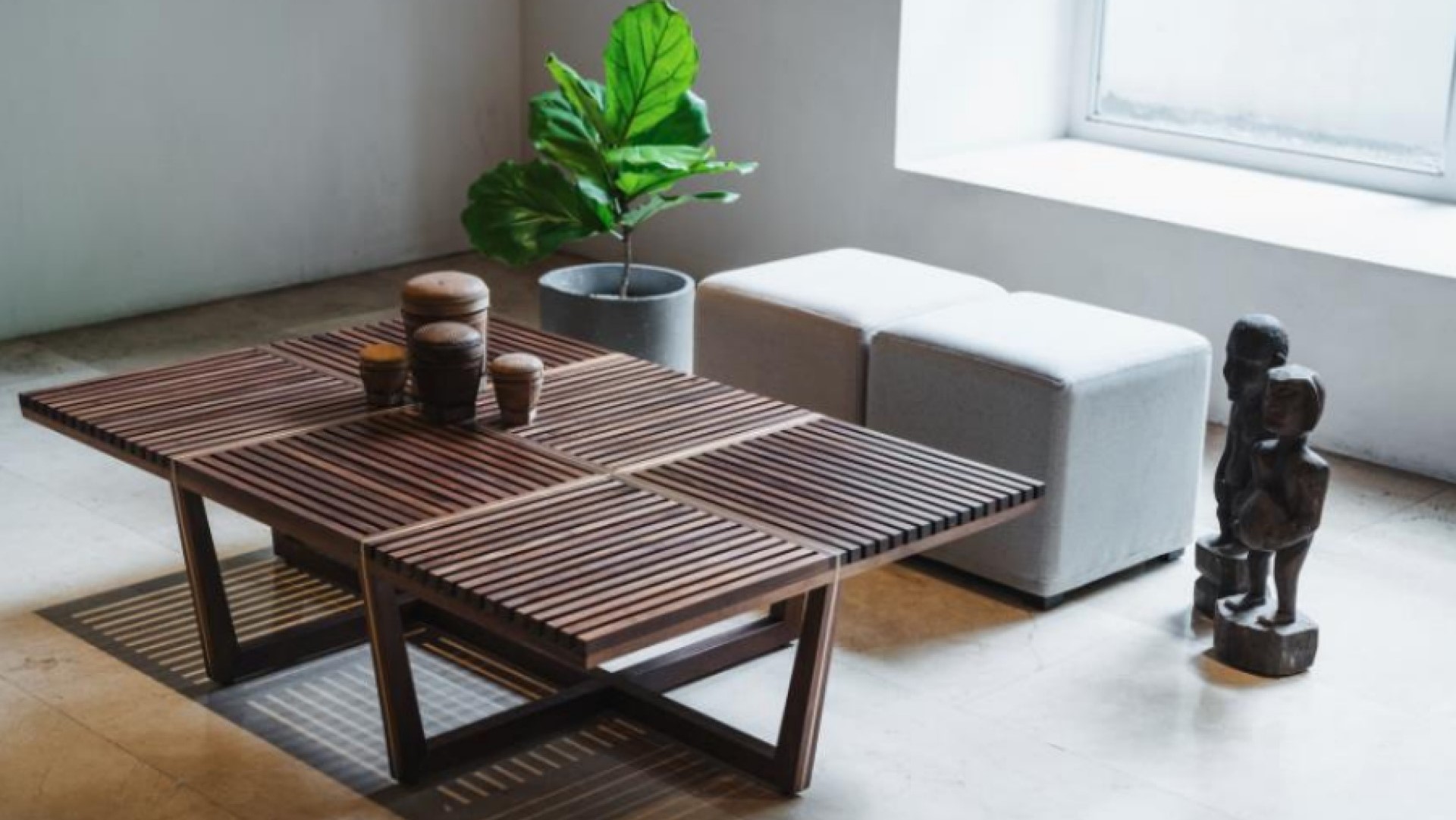 Another Designs Ligna classic is the Bauen Coffee Table in solid wood with brass trim. It's an elegant and versatile piece, and its crisscrossing, parquet-like pattern casts dramatic, linear shadows on the floor.
A life of design continues
De Lange's furniture brand Designs Ligna has been going strong for almost 52 years, and is now headed by their son Nicolaas de Lange, who is also president of the Chamber of Furniture Industry of the Philippines (CFIP). Designs Ligna focuses on well-made, fine wood furniture, and collaborates with top industrial and furniture designers worldwide.
"When we started making furniture, we tried to show the natural beauty of them, not just jazzing them up," explains Kay. "That showed the simplicity of the wood, of the finish, of the leather, that was his thing."
Incidentally, there are now thousands of industrial designers and industrial design students in the Philippines, with the course being offered among 11 universities and colleges nationwide. This is something Al would be proud of, as the industry has come a long way from a crowded classroom with no chairs and tables.
Words by Rachelle Medina. Images courtesy of Designs Ligna.