A Natural Flair
Philippine Treasures Inc. has come a long way from its beginnings as a souvenir shop which opened back in 1972. Today, it is a leading exporter of seasonal decor and accent pieces made from both natural and synthetic materials.
Its materials may vary - from dried twigs, leaves, flowers and other natural components, to recycled glass and paper - but the company's signature look has always been rooted to its rustic style. Using its core materials, the company's artisans assemble dazzling holiday trees, wreaths, figurines, and other seasonal decor.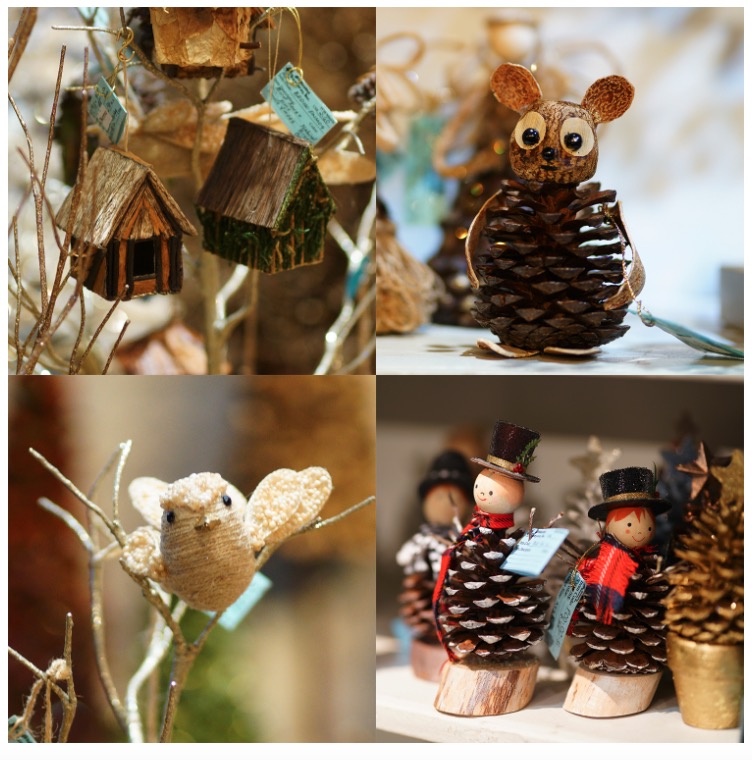 Philippine Treasures range of Christmas tree trims seen at Manila FAME October 2018.
At Manila FAME's October 2018 edition, Philippine Treasure's booth was certainly one of the most festive, filled to the brim with its award-winning Christmas decor. Viewers were drawn to the company's centerpiece display of different Christmas trees made from dried twigs, pine cones, dried bark, recycled paper, etc., which sparkled with gold and silver highlights.
Apart from the seasonal decor, Philippine Treasures displayed some of their home accents, that included votives adorned with glass fragments, a tree with delicate leaves made from recycled glass and paper, and delicate butterflies fashioned from wire and fabric. Each piece on show was thoughtfully designed to convey the laid back charm of nature, and lift the mood inside the home.
Animal sculptures made from dried pine cone, local fibers and yarns, wood and metal.

The new designs maybe challenging to produce, but Rita knows that innovation is essential for a company's survival. She continues to push boundaries with an extension line of home furnishings and accessories, some of which were created in collaboration with other designers and artists.
Just last year, mother and daughter opened S.C. Vizcarra's first flagship store. Inside, Rita's collections mingle with her mother's classic models to express their vision for the future where tradition and modernity reside in harmony.
Top photo: Rover mini cylinder sling bags in leather.
CONTACT INFORMATION

Eugenio R. Fabregas
General Manager

6374 4443443
pti_baguio@yahoo.com
www.philippinetreasuresinc.com
No. 12 F Baltazar St, Barangay Gibraltar,Baguio, 2600 Benguet