Here's Your Ultimate Guide to FAME+ Market Days
Navigate your way through the three-day Philippine Design and Lifestyle Digital Sourcing Festival via HopIn. Tune in to the talks on the Stage, explore the Expo, watch the Sessions, and engage in the B2B meetings
by Patti Sunio

After a year since the launch of FAME+ (fameplus.com), "the ultimate home for Philippine design," the Center for International Trade Expositions and Missions (CITEM) is set to launch FAME+ Market Days, a three-day virtual expo that offers an all-new sourcing experience that's immersive and interactive, happening from October 20 to 22, 2021 via HopIn.
Below, a quick guide on the program and how you can make the most out of the event:

DAY 1:
The event begins at 10:00 AM, with welcoming remarks from the Department of Trade and Industry (DTI) Sec. Ramon M. Lopez, Trade Promotions Groups Undersecretary Abdulgani Macatoman, and CITEM Executive Director Pauline Suaco-Juan.
Following shortly is the Design Commune Roundtable on the Stage at 10:20 AM. Design Commune product designers and creative directors Stanley Ruiz of Estudio Ruiz, Rachelle Dagñalan of RADA Collab, and Rita Nazareno and Gabby Lichauco of Nazareno/Lichauco share the interesting stories behind their latest creations; while architect Aya Maceda of New York-based design firm ALAO Design, architect Nicole Tan of Boon, and Stenie Coyiuto-Tay of Casa Bella discuss how they've integrated these items into their virtual spaces.
The Design Commune in the Expo section, meanwhile, showcases inspiring virtual spaces that put front and center the latest Spring-Summer 2022 collections you'll also find on FAME+. Centering on the theme, "Light The Way," the vignettes inspire a new design direction—one that is positive, balanced, and ultimately, maaliwalas, which in Filipino, means light and airy.
Next up is the launch of the Better Normal By Design program at 11:50 AM. Initiated by the Design Center of the Philippines (DCP), the program introduces ideas and solutions on reviving the Philippine design industry as it slowly, but surely, gets back on its feet post-pandemic.
At 1:00 PM, tune in to PH Fashion: The Leap to Global with presenters from Vogue Business—head of advisory Arusha Couttigane, retail and marketing editor Kati Chitrakorn, editorial associate Bella Webb, and advisory manager for China Jasmine Gao, as they share insights on the state and future of the global luxury sector, and how Filipino businesses can enter the competitive landscape and succeed at conquering it.
New York-based trend forecasting agency Fashion Snoops takes over the Stage at 2:20 PM, with its Fall-Winter 2022/2023 Trend Forecast on fashion, home, and lifestyle. Following shortly at 3:40 PM are the Fall-Winter 2022/2023 Trend Immersion breakout sessions, which covers the practical applications on how these trends can help guide product development and conceptualization.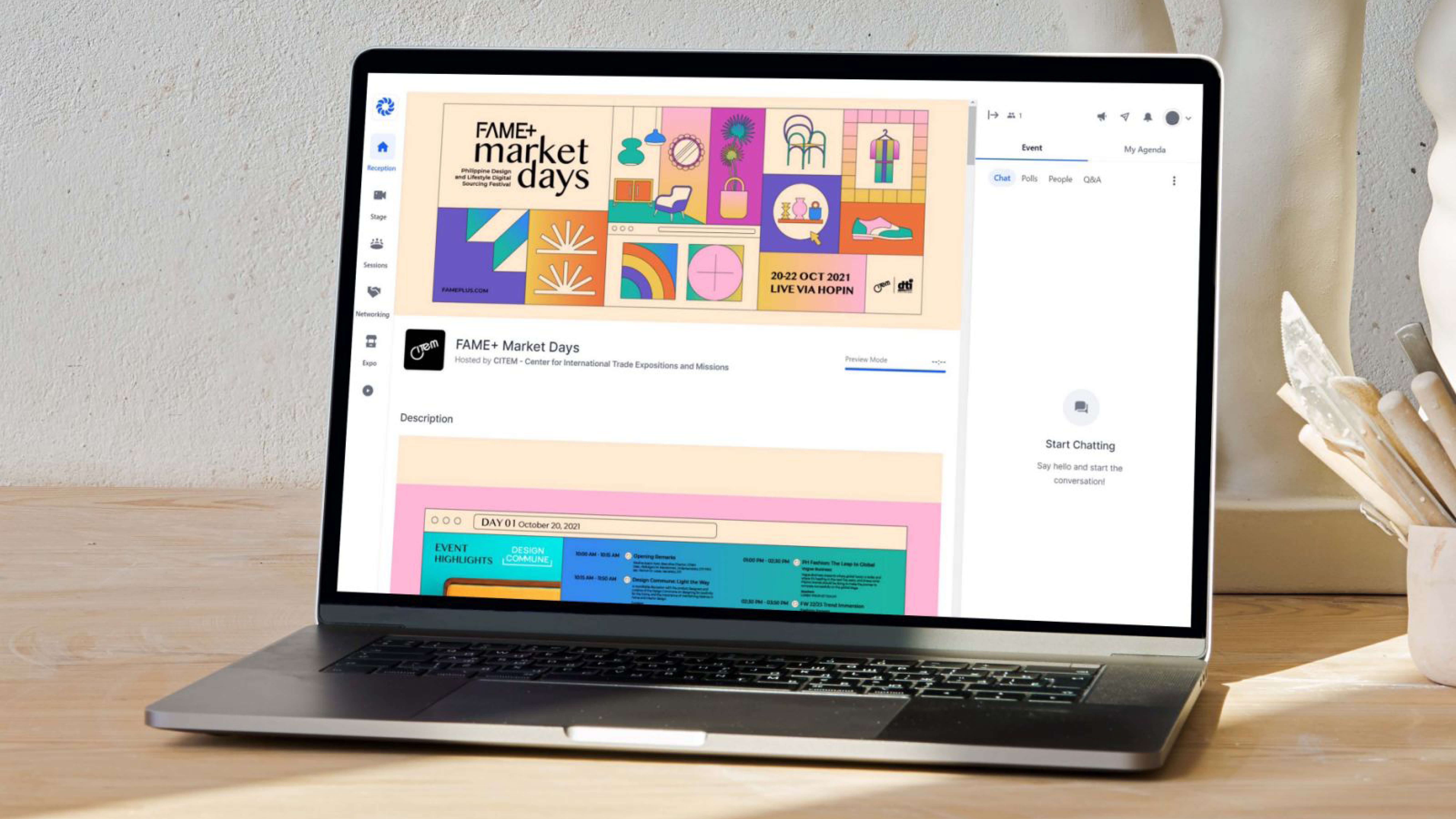 FAME+ Market Days coincides with the second year of fameplus.com, which now houses a 3,286-strong catalogue of homeware, furniture, lighting, apparel, footwear, jewelry, art, and lifestyle products. Its online magazine, TouchPoint, tells the stories behind these brands, the artisans and creatives involved, studying the materials used, and exploring the years-long traditions and new techniques utilized in the making of these proudly Filipino products

DAY 2:
Begin the day with Raw Potential: Manifesting Materials into Concepts at 10:00 AM. Presented by renowned Filipino designer Tony Gonzales, he explores the endless possibilities of Philippine indigenous materials—and how these can be reinvented and re-engineered to be used in various ways.
At 11:45 AM, Creative Definitions founder Mike Claparols gives an in-depth discussion on sustainability—likewise a 'buzzword' and a concept that should be carefully understood. Here, he defines what sustainability truly entails and shares how their brand—known for its handwoven textiles and innovations using natural materials—strives to incorporate sustainable measures every step of the way.
Carlo Delantar, co-founder of design studio Altum, talks about Circular Economy: Future-proofing Your Lifestyle Business at 11:15 AM. The discussion will zero in on how environmental impact has become a primary factor that buyers consider when purchasing goods—and, in turn, how businesses must adapt to this.
At 1:00 PM, DHL Express business development manager Jeffrey Francisco opens the discussion on cross-border e-commerce. From going online to growing global, this segment highlights how efficient logistics can impact trade and export and customer service.

Up next is Canva for Negosyo at 2:00 PM. Canva Philippines' social media and community lead Gladys Laporte shares the basic digital tools that can help brands and businesses level up their presence online.
At 3:00 PM, veteran PR and brand strategist Ginggay Joven-dela Merced gives a branding and storytelling talk. She discusses key points on building your brand image, communicating your brand identity, and how to use the various media platforms to reach out to and connect with your target audience.
Last but not the least for the day is Speaking with Screens, a social media marketing talk at 4:00 PM, with Sunnies co-founder and brand director Georgina Wilson, hosted by CITEM Executive Director Pauline Suaco-Juan. Wilson gives the lowdown on the frequently asked questions with regards to utilizing social media for businesses—from viral videos to analytics, to the platforms to use, and the basics of telling a brand's story through social media.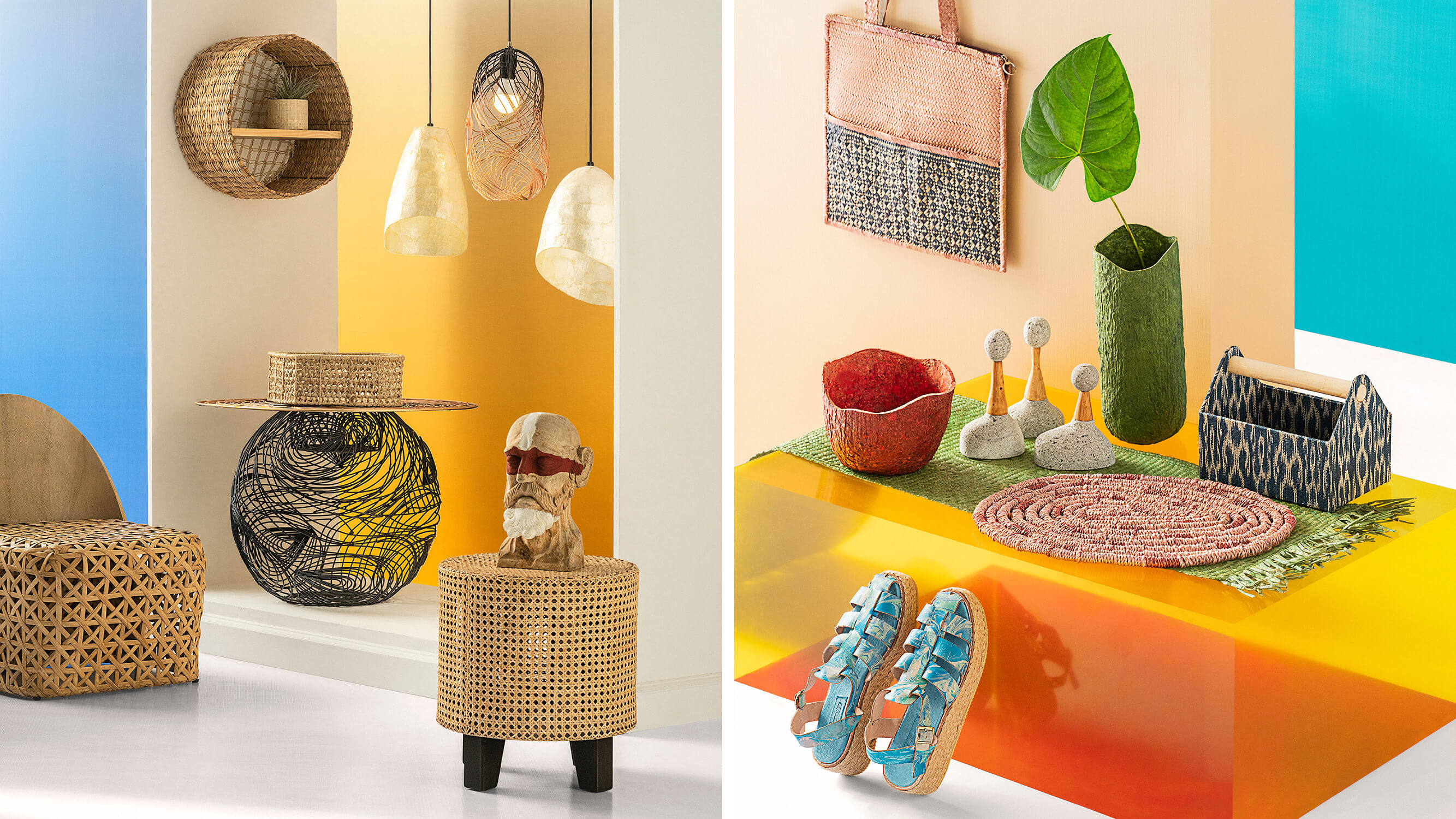 From home accessories to lighting and furniture, the new design direction tilts toward concepts of nostalgia, with lots of joy and color, as seen in the pieces CITEM's product designers have made for their Spring-Summer 2022 collections. What do these design trends imply and how can brands translate these into their products? Don't miss the talks from esteemed design experts from the Philippines and abroad on Market Days

DAY 3:
Market Days' third day gives you the chance to revisit all the Stages and Sessions that you might have missed. A must-watch Session is the fashion film produced by Romblon-based interior designer and visual master Vianca Soleil, which features her choice pieces from the FAME+ Catalogue. Also in Sessions is the video library put together by the DCP, showcasing a wide array of various Philippine materials and crafts from the archives; as well as a short film on merienda cena styling with food photographer and stylist Chichi Tullao.
Take advantage of the HopIn platform to make connections, get to know the FAME+ exhibitors, and engage in one-on-one meetings with them through the Shop Talk: B2B meetings in Sessions.
Finally, explore the Expo page to discover the exhibitor booths, which features up to 300 exhibitors, including a group participation from DTI Region 3 (Central Luzon), Region 4-A (Calabarzon), and Region 11 (Davao Region).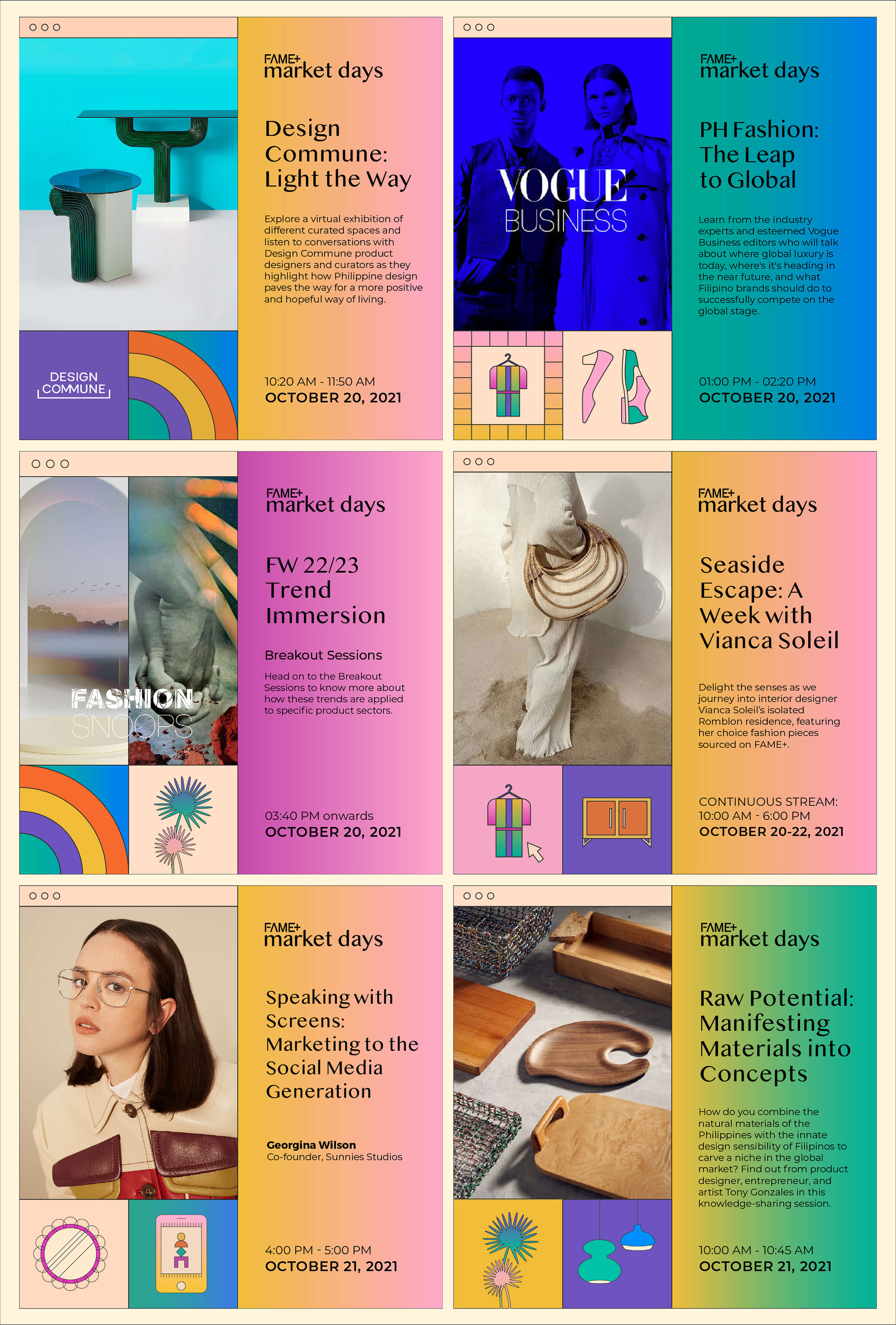 FAME+ Market Days happens online from October 20 to 22, 2021 at HopIn! Philippine design marks its second year online with this immersive digital expo, showcasing more than 200 storefronts and thousands of the finest home, fashion, and lifestyle products.
Don't miss the talks on the future of design, Philippine fashion, brand storytelling, and marketing by local and international thought-leaders. Grab the opportunity to connect with buyers, exhibitors, industry professionals all in one digital marketplace. To register for the FAME+ Market Days event, visit the HopIn Market Days registration page. Visit fameplus.com or follow FAME+ on Instagram and Facebook.