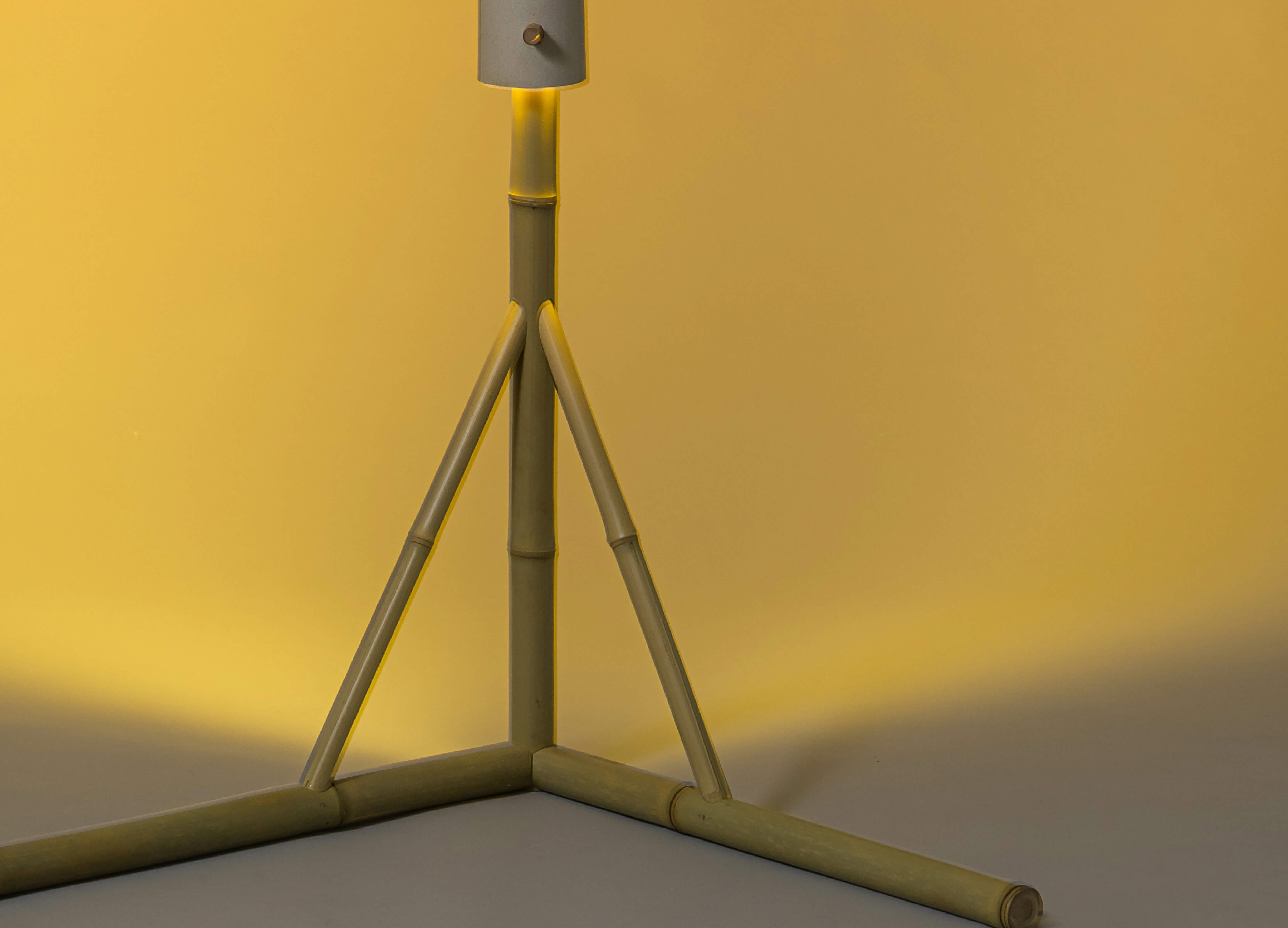 The Enduring Aesthetic of Heritage
E. Murio, Shuili Snake Kiln Ceramics, and Tai-Hwa Pottery combine decades of experience crafting homeware using time-honored techniques to create rustic products with a modern touch
by Nana Caragay
Dalgona coffee, sourdough starters, indoor gardening, baked sushi—these are just a few of the lifestyle trends that have come and gone since the start of the country's one-year-and-counting community quarantine. Another somewhat unexpected trend that took social media by storm while we found ourselves in a collective infinite-scrolling state: Instagram accounts showcasing rattan furniture and ceramic pottery.
You get a sense that everyone suddenly felt the urge to start sipping sake out of speckled cups while lounging on a reclining woven chair. Maybe it's a nostalgic longing for simpler times or a desire to reconnect with nature via homespun, earthbound materials. We were all stuck indoors, anyway, so our attention inevitably turned to home accessorizing.
It may feel like rattan furniture is experiencing a resurgence of late—with peacock chairs, planter baskets, and abaca divider screens enjoying a moment as the aesthetic du jour—but E. Murio has been in the business of handcrafting fine furniture out of tropical wood, fiber, grass weaves, bamboo, and yes, rattan, since 1984. The second-generation family-run workshop has exported products all around Asia, Africa, America, and Europe, and prefers their pieces to be regarded less as furniture and more like "intimate architecture for the body."
And while a new generation appears to have just discovered the charms of rough-hewn stoneware, Shuili Snake Kiln Ceramics located in Nantou County, Taiwan has been producing pottery out of a wood-fired kiln since the 1920s. It closed temporarily when the snake-shaped kiln (hence, the name) was damaged in a 1999 earthquake. But the following year, it returned stronger than ever, unveiling a 6.68-meter tall pot to commemorate the occasion, earning a spot in the Guinness Book of World Records as the World's Tallest Kiln Work.
For those with a newfound appreciation for ceramics and porcelain as functional art, Tai-Hwa Pottery is the absolute benchmark, such that their showroom has even earned itself a nickname as the National Palace Museum of Yingge, New Taipei City. Their fine painted porcelains are often given as state gifts by Taiwan's president and Ministry of Foreign Affairs, and their pieces have come to be regarded as modern-day imperial porcelain—a stark evolution from the company's humble beginnings as a contract manufacturer of everyday ceramics back in 1983.
OLD MEETS NEW
These pillars of their respective industries, each boasting decades' worth of experience and expertise, were a natural match for the Taiwan-Philippines Craft Cooperation Project, a design exchange program that put together designers from the Philippines with crafters and manufacturers from Taiwan. "Annie [Chen] was the one who paired us with Shuili Snake Kiln based on the designs I gave," says E. Murio creative director Tisha de Borja, referring to a representative from the National Taiwan Craft Research and Development Institute who worked with CITEM to coordinate the brands on each side. "But I was really drawn to the beauty of both the place and their work. I felt that this was an opportunity to combine different materials. The entire trip and visits to various workshops were quite inspiring, especially seeing how we may use the same materials in different ways because of cultural and social traditions, as well as the variations in the material due to geography."
Blending their world-renowned ceramics with furniture was not entirely new to the craft masters at Shuili Snake Kiln, who incorporate more recent developments with time-honored techniques, allowing them to refine their processes and stay up-to-date. "Existing ceramic technologies have matured in Taiwan, and through this mixed-media cooperation, it creates a unique quality that lets it compete in the market effectively," they say.
Shuili Snake Kiln's products have, in fact, appeared in the properties of Aman Resorts, the hotel group whose luxury destinations are spread out over 20 countries, including Palawan's famous Amanpulo. "We have had experience in collaborative development with top designers and continue to cooperate to this day. This time, it was very pleasant to be able to work with designers from the Philippines."
Though Tai-Hwa Pottery has earned recognition for inventive collaborations with some of Taiwan's most exciting artists, this marked the brand's first joint effort with a Filipino designer: Miguel Rosales, creative director of Caramel Creative Consultancy Phils. Inc. His discerning eye has curated some of the country's most covetable art collections, notably that of Shangri-La at the Fort, but this was a first for him, too: "I have worked with other ceramic artists and factories before in the Philippines, but never with one abroad," he admits. "I have a passion for ceramics and took classes many years ago, which taught me to have even more respect for ceramic artists and the difficulties involved in producing beautiful ceramic works of art."
Tai-Hwa's cultural creative division chief Chuang Hsiu-Ling found a kindred spirit in Rosales as well. "I think he is a very emotional person who attaches great importance to feelings and experiences around living," she observes, an approach that their company shares. "We were very happy to have the opportunity to complete a work together."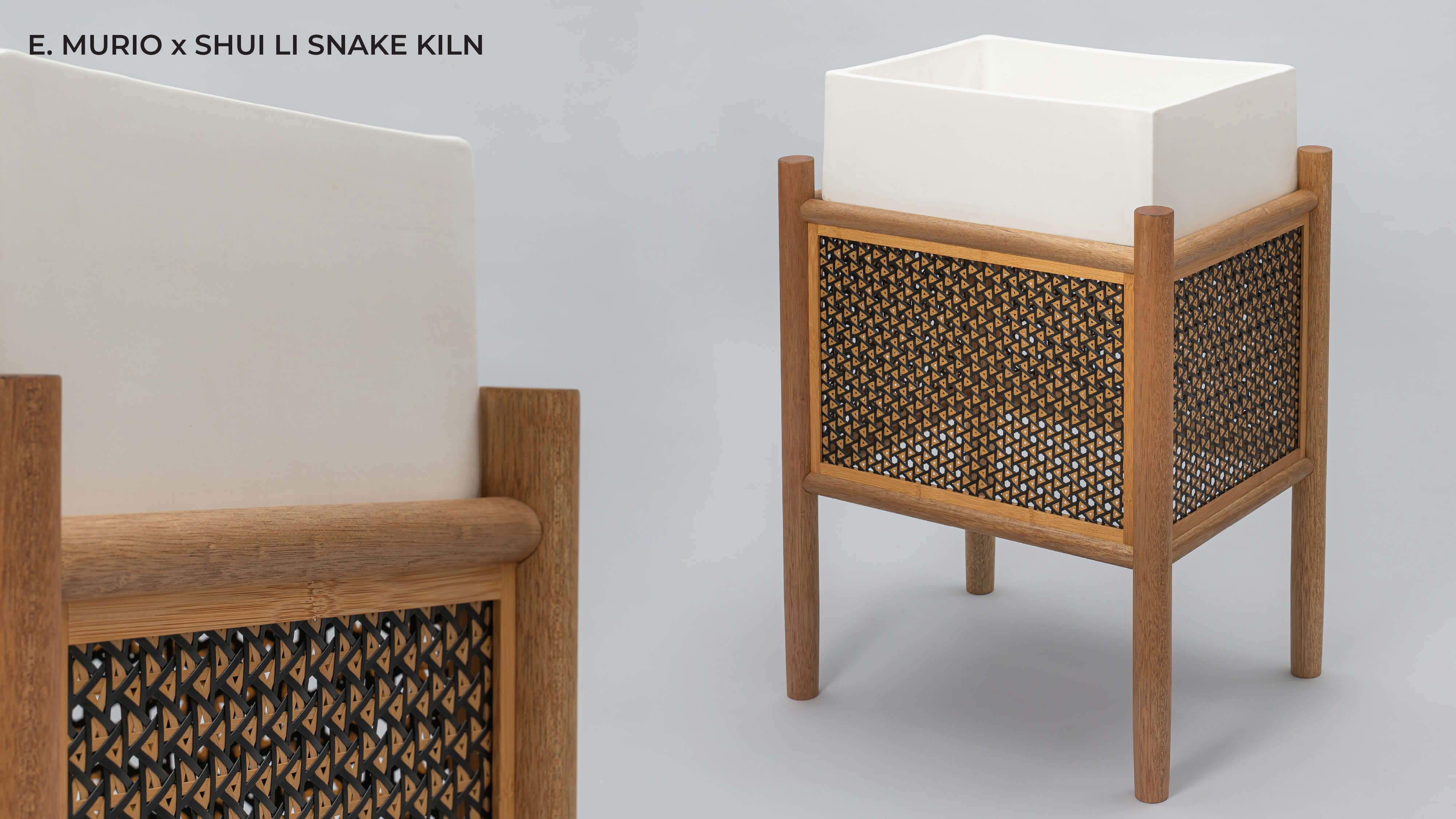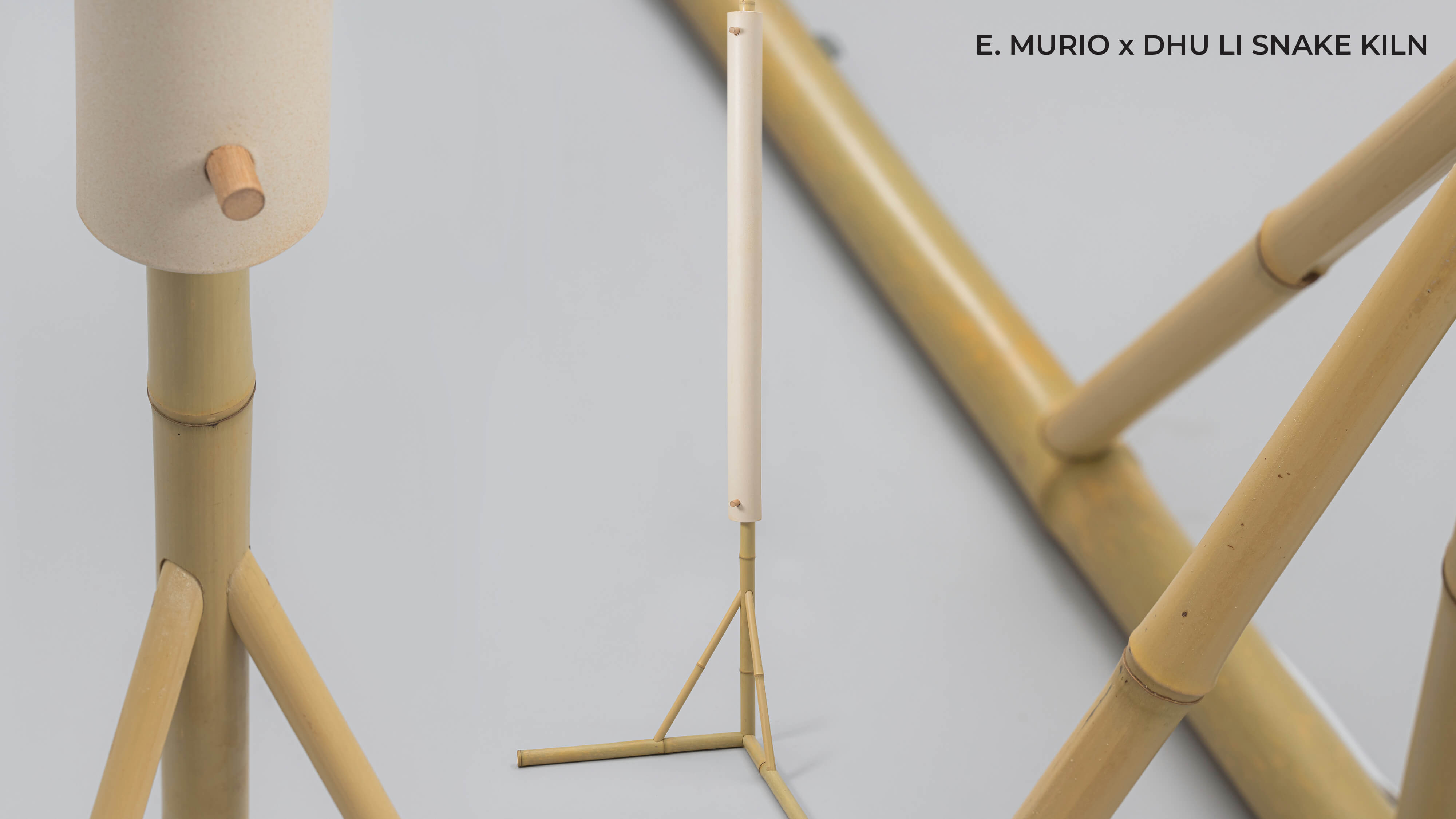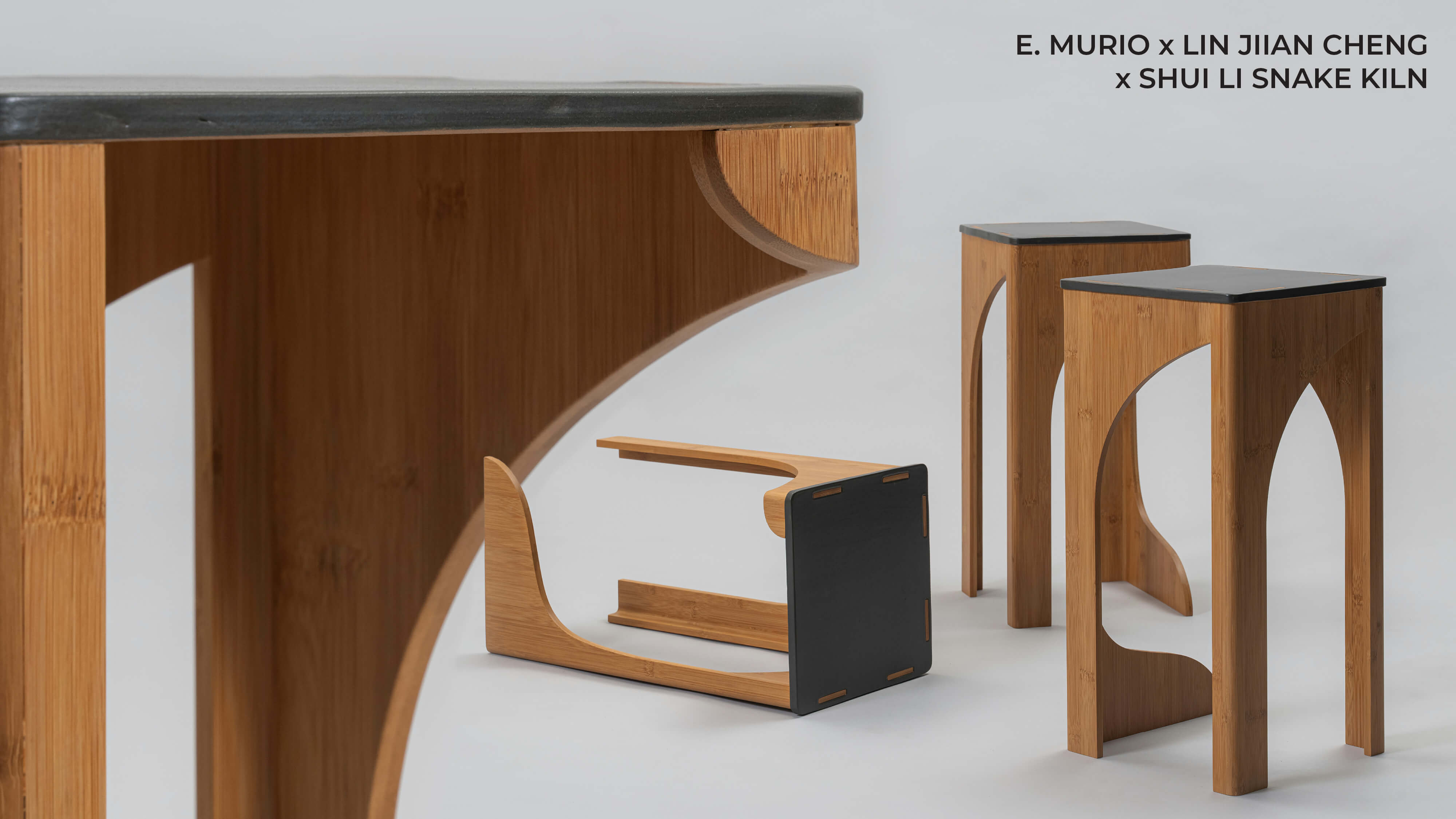 From top: E. Murio collaborated with Shuili Snake Kiln for the ceramic basin on wood-and-solihiya stand, bamboo-and-ceramic standing lamp, and wooden stool with stone seat. E. Murio creative director Tisha de Borja believes that Taiwan and the Philippines have strong craft histories and collaborations like this can only strengthen both countries' design communities

CREATIVITY AND COLLABORATION IN COVID TIMES
Of course, the untimely arrival of COVID-19 right in the middle of the project brought its own set of difficulties, making travel impossible between our two neighboring countries however short the distance from Manila to Taiwan may be. "Unfortunately, the process was really hampered by the pandemic, and our trip back to work on the prototypes was cancelled," de Borja says. "Collaboration was a challenge, but that was really a result of our inability to meet in person. The process would have been a lot more dynamic."
Rosales would have loved to get his hands dirty, too, but settled for a more remote approach, communicating with Tai-Hwa Pottery primarily through email. "I think the main challenge was mainly that we could not go back to check on our actual products and get more hands-on with them. I would have loved to splash that final layer of gilt glazing myself."
Still, when you look at the fruits of their work, it's hard to imagine how much better the products could possibly be. Shuili Snake Kiln crafted a lavatory basin that sits atop an E. Murio wooden stand with a lattice-work pattern, an updated take on the ever-popular solihiya. A bamboo lamp covered with a monolithic shaft lights up from within, a Zen-like, minimalist statement piece with a soothing, calming vibe (it comes in two shades: ivory bone and dove gray). And the visible grain on the wooden stool contrasts nicely with the smooth stone seat, the gracefully curved legs evoking a mid-century modern touch.
Tai-Hwa Pottery and Rosales's oddly shaped vases have a history all their own—when a strong earthquake shook the factory years ago, causing a power outage, four jars tipped over and ended up fusing together just as the temperature of the kiln began to drop. "At that moment, four became one. We will say that it was created by God," Hsiu-Ling recounts. Rosales was so enamored by the archival piece that he sought the exact same molds, covered them with black glaze, and finished them off with a splash of gold, "to further emphasize the movement in the piece and show the hand of the artisan who made it, as well as lend it a more contemporary air," he says. "Because of this hand-finished top glazing, each production of the grouping will be rendered unique, reminding us of the tradition of hand-painted ceramics where no two will be exactly the same."
All of these pieces were unveiled at this week's Creative Expo Taiwan (CET) at the Songshan Cultural and Creative Park, in an exhibit curated by industrial designer Stanley Ruiz.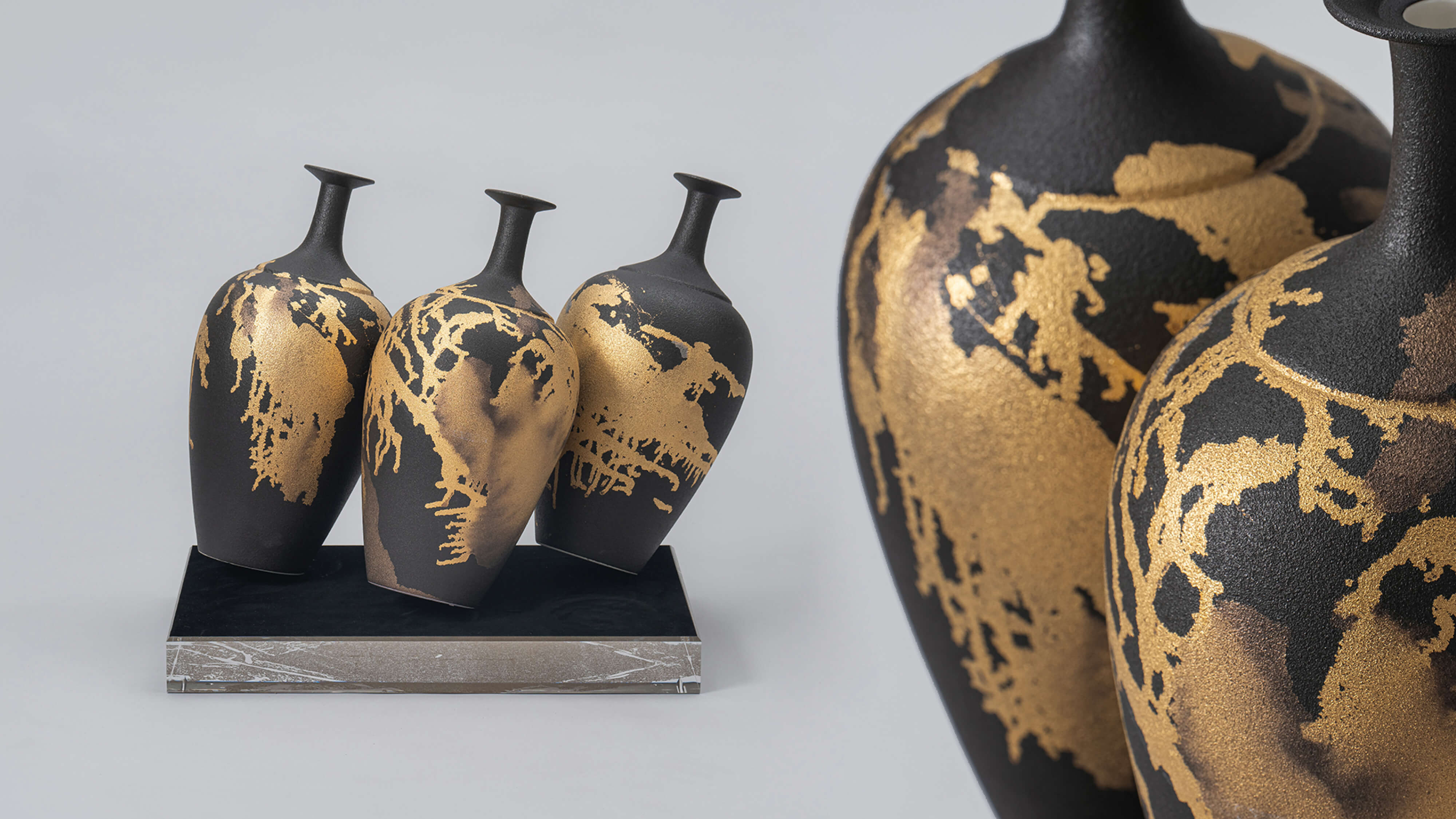 Inspired by Tai Hwa Pottery's archival piece of four jars that were fused together following a strong earthquake, Miguel Rosales sought the same molds for his collaboration with the Taiwanese company. Hand-finished top glazing ensures that no two productions of the piece will be the same
STICKS AND STONES
Because these companies intimately know the strengths and characteristics of their materials, this played a role in the final product, helping them adjust, albeit remotely, along the way. "Taiwan and the Philippines do have a lot to offer each other—we both have strong craft histories and their development and continuation are always strengthened by collaborations and learning from each other," de Borja points out.
Shuili Snake Kiln's familiarity with how ceramics perform and behave under certain circumstances allowed them to adapt the design and evolve. "Ceramics have the characteristic of shrinking in production, making it difficult for them to closely adhere to other media," they observe. "It is necessary to accurately control the temperature. Some products need to be on a very flat plate because the clay forms lines in the production and shaping. It can take more time, and the drying technology had to be improved to trim it down to a very flat state. We used the traditional forming technique of coiling and forming clay boards."
But their craft masters were quite pleased with the results: "Although the products were very challenging, we collaborated well, with pleasure," they say. "Through this cross-border cooperation, we hope that our concepts and technology can be improved."
Those are not the only things both cultures stand to gain from each other. As coastal lands particularly vulnerable to climate change, each has weathered its share of calamities and have come up with ways to cope. It's why a group of jars that survived an earthquake resonated with Rosales so strongly. "That existing piece, for me, symbolized triumph over adversity, and the idea that something beautiful can still emerge from something so devastating," he reflects. "Taiwan and the Philippines are no strangers to natural disasters, from typhoons to earthquakes, and this vase grouping was also a symbol of our resiliency. It's actually quite poignant now, given that it was designed and made during this worldwide pandemic."
Hsiu-Ling's interpretation of Tai-Hwa Pottery's collaboration with Rosales is particularly relevant in these tumultuous times: "Maybe it wants to say, people will help others. When they do so, no one will fall."
To know more about the Taiwan-Philippines Craft Cooperation Project, visit Creative Expo Taiwan.