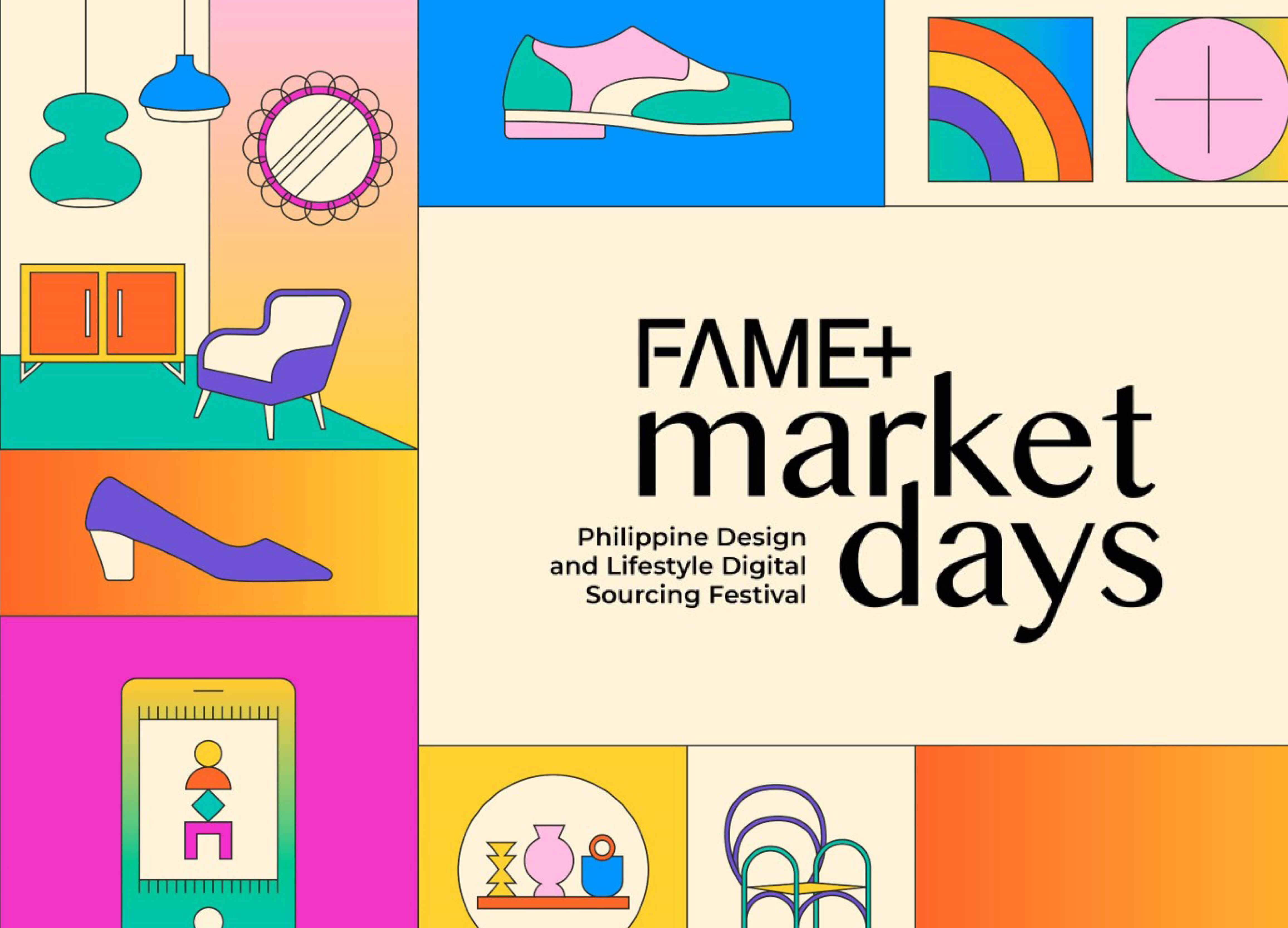 A Digital Textbook of Design Know-How
In case you missed it, here are the highlights from FAME+ Market Days' three-day digital expo
by Patti Sunio

The Center for International Trade Expositions and Missions (CITEM) has recently wrapped up FAME+ Market Days, a three-day digital expo that offered an interactive and immersive sourcing and buying experience online via the HopIn platform.
In her closing remarks, CITEM executive director Pauline Suaco-Juan notes how, in the beginning, "it was difficult to visualize what a digital expo could look like and how it works." But with the success of Market Days, FAME+ exhibitors can now look forward to the multiple ways in which brands can sell their products and share their stories.
"We are learning digital marketing together the way we learned trade shows and expositions together," says Suaco-Juan. "It's all about trade promotions, but this time, on a different medium."
Through HopIn, exhibitors were able to 'mount' their digital booths, as well as participate in B2B meetings. Alongside these were a series of talks, roundtable discussions, and short films that were insightful and informative, giving brands a glimpse into the state of the Philippine design industry—where it's headed and how the digital space can be fully maximized.
"Always keep in mind that marketing promotions work as a mix of different efforts," she adds. "Fameplus.com, FAME+ Market Days, our combined social media and email marketing efforts are all part of a marketing mix we should all take on. We cannot rely on one platform alone and it's our responsiveness to these platforms that will build the relationships that will take our businesses further."
FAME+ has archived these helpful videos on the event tab of fameplus.com, offering a digital textbook that brands and businesses can refer to should they need inspiration or a quick guide. Below, find our highlights of the virtual sessions from FAME+ Market Days:
GET INSPIRED: DESIGN TALKS, SHORT FILMS, AND MORE
How does Filipino design respond to the changing times? What are we turning to and what are the new considerations? In Design Commune: Light the Way, Design Commune product designers and creative directors Stanley Ruiz of Estudio Ruiz, Rachelle Dagñalan of RADA Collab, and Rita Nazareno and Gabby Lichauco of Nazareno/Lichauco discussed the themes that inspired their designs for Spring-Summer 2022: the shift to incorporating bolder and brighter colors, a rekindled fondness for the nostalgic, and, most of all, designs that bring joy.
Architect Aya Maceda of New York-based design firm ALAO Design, architect Nicole Tan of Boon, and Stenie Coyiuto-Tay of Casa Bella, meanwhile, presented their vignettes for the Design Commune virtual exhibition. They interpreted the theme "Light The Way" into their virtual spaces that prioritize a positive, balanced, and, ultimately, maaliwalas (or 'light and airy') look and feel.
Market Days' digital shorts offered dreamy, creative and virtual ways in which you can present your pieces, be it furniture, home decor, or fashion items. In Seaside Escape: A Week with Vianca Soleil, the photographer, interior designer, and creative director chronicled her life in the quiet island of Romblon through a moving lookbook, featuring fashion essentials from the FAME+ Catalogue.
In Serving Merienda with Happy Tummy Travel's Chichi Tullao, the food photographer and stylist shared tablescapes and tricks that'll make every dining moment a visual feast. The short presentation was teeming with ideas on how one's dinnerware, tabletop decor, and other home accessories can be used beautifully together.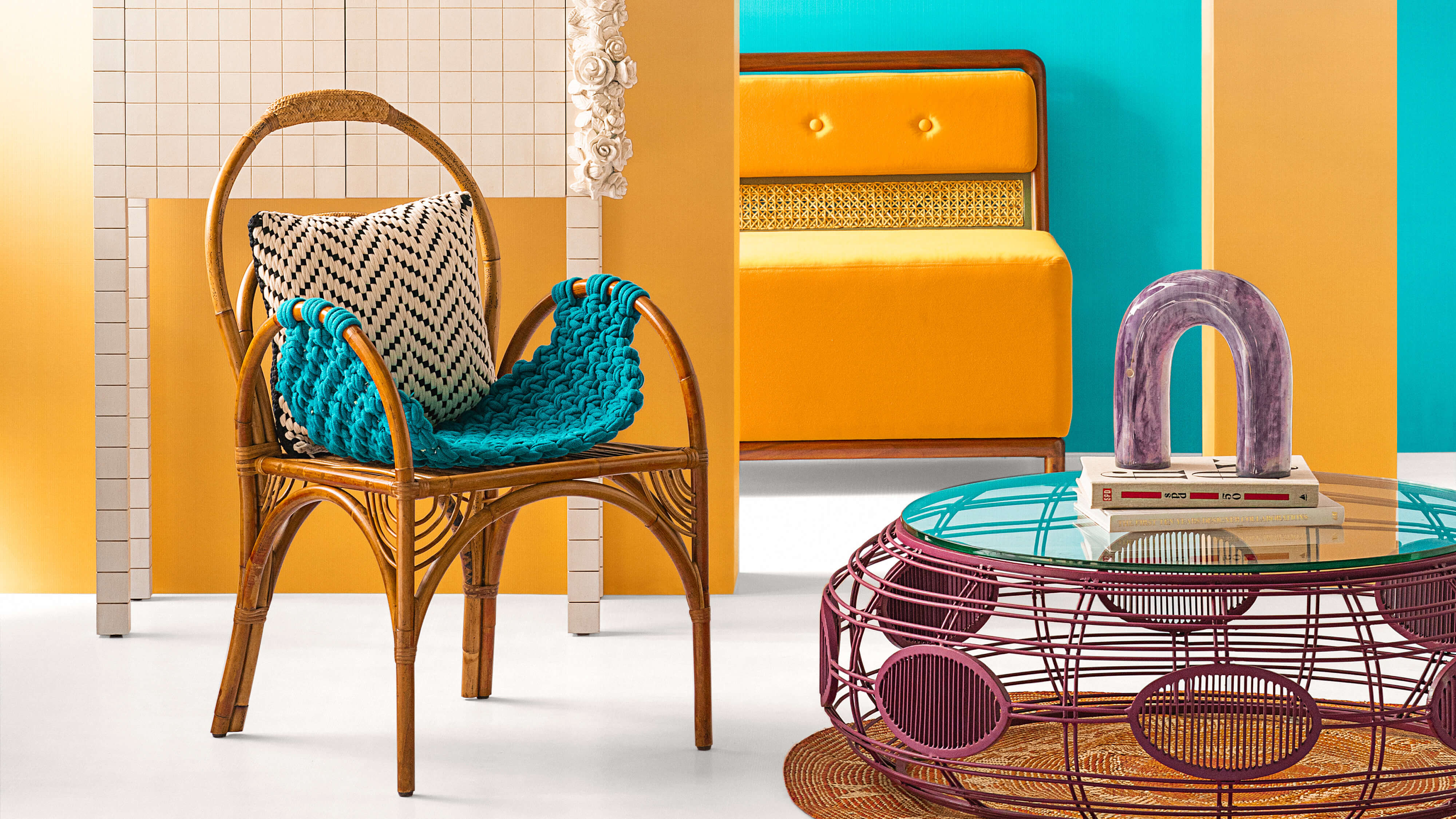 Where is Philippine design headed? Among FAME+ Market Days' series of talks is the Design Commune roundtable, where product designers, interior designers, and architects talked about how Filipino design can "Light the Way'' through products that bring joy and spaces that are 'maaliwalas'

LOCAL TO GLOBAL: MARKET TRENDS
From the new design trends to the shifts in market behavior, here are talks that give a review of what's transpired and a forecast of what's to come. The launch of the Better Normal By Design program, initiated by the Design Center of the Philippines (DCP), introduced new consumer personas that provide insights on how brands and businesses can respond to the changes brought about by the pandemic.
In PH Fashion: The Leap to Global, presenters from Vogue Business—head of advisory Arusha Couttigane, retail and marketing editor Kati Chitrakorn, editorial associate Bella Webb, and advisory manager for China Jasmine Gao, went on an in-depth discussion on the future of the global luxury sector, and how Filipino businesses can successfully take part in it.
New York-based trend forecasting agency Fashion Snoops shared its Fall-Winter 2022/2023 Trend Forecast on fashion, home, and lifestyle, and a series of Fall-Winter 2022/2023 Trend Immersion sessions, which offers practical applications on how these trends can help inspire product development and conceptualization.

HOT TOPIC: THE ENVIRONMENT, NATURAL MATERIALS, AND SUSTAINABILITY
Environmental concerns need to be brought to the table, and here are some discussions on how brands and advocates have tried to make a change—slowly but surely. In Raw Potential: Manifesting Materials into Concepts, renowned Filipino designer Tony Gonzales talked about Philippine indigenous materials and how these can be reinvented and re-engineered to be used in various ways.
Creative Definitions founder Mike Claparols' Sense and Sustainability presentation defined what sustainability truly entails. He shares how their brand—known for its handwoven textiles and innovations using natural materials—strives to incorporate sustainable measures every step of the way.
Carlo Delantar, co-founder of design studio Altum, talked about Circular Economy: Future-proofing Your Lifestyle Business, zeroing in on how environmental impact has become a primary factor that buyers consider when purchasing goods—and, in turn, how businesses must adapt to this.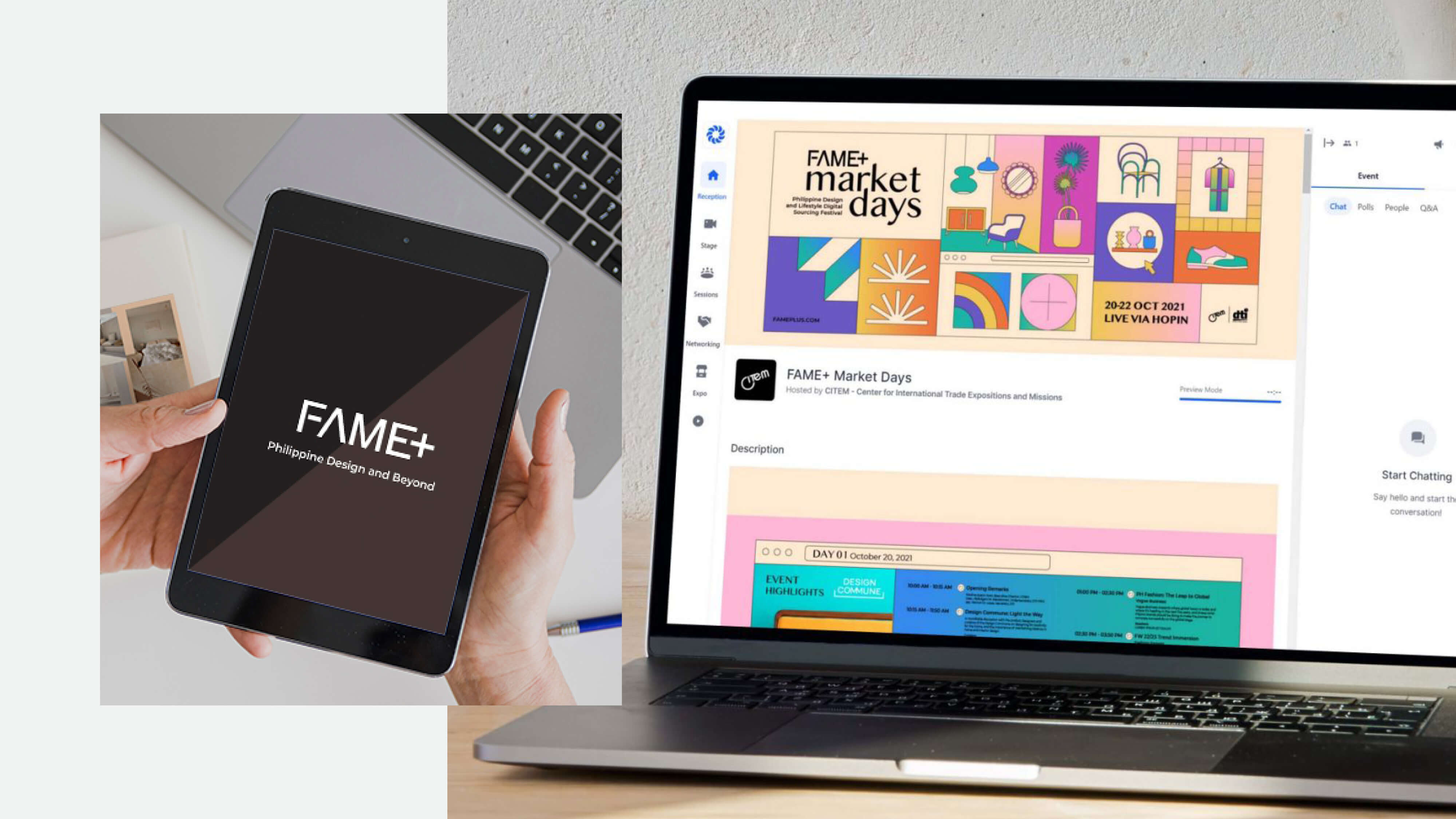 FAME+ Market Days' series of talks and sessions offer a digital textbook with these archived videos, offering brands creative content inspirations, tools, and the knowhow to communicate their brand story and sell their products online

DIGITAL TOOLS: BRANDING, STORYTELLING, AND SOCIAL MEDIA
In Canva for Negosyo, Canva Philippines' social media and community lead Gladys Laporte shared the basic digital tools that can help brands and businesses level up their presence online—and sustain it.
Veteran PR and brand strategist Ginggay Joven-dela Merced gave a branding and storytelling talk in Creating Compelling Content that Connects. She shared key points on building your brand image, communicating your brand identity, and how to use the various media platforms to reach out to and connect with your target audience.
Speaking with Screens, a social media marketing talk with Sunnies co-founder and brand director Georgina Wilson, hosted by CITEM Executive Director Pauline Suaco-Juan, answered the frequently asked questions on using social media for businesses—from viral videos to analytics, to the platforms to use, and the basics of telling a brand's story through social media.

Find the complete archive of FAME+ Market Days' sessions here.