The Institute for Small-Scale Industries (ISSI) is a research and extension unit of the University of the Philippines (UP) established by virtue of Republic Act No. 6041. It aims to assist the promotion and development of micro, small, and medium enterprises (MSMEs) in the country by providing
training
,
research
, and
extension
services.
Services Offered:
TRAINING
The Training Division
The course seeks to improve the organization, marketing, production, financial, and information management skills of the participants
Advanced Leadership and Management Course (ALMA)
The program produces technology-driven leaders or managers who quickly learn, evaluate, apply and disseminate management information and practices without compromising honor and excellence.
Start Your Own Business (SYOB) Course
The course aims to enable participants to demonstrate personal entrepreneurial competencies and to formulate a basic business plan.
Accounting for Non-Accountants (AfNA) Course
This training seeks to enable participants with accounting background to explain and apply the principles, basic tools, and techniques of the accounting process.
Productivity through Effective Supervision (PES) Course
This course aims to develop supervisory knowledge, skills, and attitudes for effective and efficient management operation on the other.
Online Digital Marketing Course (ODMC)
This training provides a thorough overview of the changing world of marketing, and shows you how to successfully navigate it.
Human Resource and Industrial Relations (HIRE) for MSMEs
This program aims to equip and provide basic tools and techniques to improve knowledge, skills, and attitude of HR practitioners and would-be practitioners of MSMEs.
Honing Agents for National Disaster Awareness (HANDA) Program
The program aims to develop a culture of preparedness in the country by bringing together owners and managers belonging to the MSME sector, cooperatives, representatives from local government units, and those interested to know more about safeguarding employees, customers, and assets. The HANDA Program has three components: (a) research, (b) capacity-building training program and workshops, and (c) advocacy awareness sessions related to business continuity and resilience planning for MSMEs. At the end of the program, the participants are expected to develop their own initial Business Continuity Plan, MSME BCP-at-a-Glance: Enterprise Resilience Roadmap, and Commitment to Action.
Managing Your Working Capital
This course seeks to provide tools and techniques to manage working capital effectively and efficiently for better business resilience.
MSMEs on Fourth Industrial Revolution (FIRe)
This track aims to introduce the MSMEs to the challenges and innovations brought by the Fourth Industrial Revolution and to apply these technologies for operational improvements.
This training focuses on skills building (use of software for the participants owned or simulated data), individual or group projects (building purposeful dashboards), cloud connectivity, collaboration and use of existing internal and external data for better management insights, performance and growth. The course will provide software.
This initiative aims to identify possible investment projects for entrepreneurial undertakings and explain how to plan and manage a business enterprise and appreciate assistance programs for MSMEs.
RESEARCH
The Research Division (RD) of the UP ISSI supports the Institute's mission to create and provide knowledge, know-how and information to empower entrepreneurs to grow and prosper. The Division conducts applied and action research studies relevant to micro, small, and medium enterprises, such as program evaluation, impact and evaluation studies, industry studies, among others. Based on these researches, the Division publishes comprehensive research reports, policy briefs, position papers, discussion papers, monographs, journal articles and other publications.
The recent studies conducted by RD are the following:
Impacts of the COVID-19 Pandemic on Women in the Informal Economy in Quezon City (2022) (funded by the UP Center for Women's and Gender Studies)

Business Continuity and Sustainable Recovery of MSMEs in the Philippines: Basis for Developing an Enterprise Resilience Program (2022) (funded by the UP Diliman Office of the Vice-Chancellor for Research and Development under its Outright Research Grant)

Assessing Government Response for MSMEs in the Time of COVID-19 (2020)

Effects of COVID-19 on Philippine MSMEs (2020)
The Research Division has also been publishing the UP ISSI Smart Business Guide Series since 2018. This series aims to provide an accessible and easy-reading guide for entrepreneurs. As an information source, it is designed as a quick and easy reference discussing key elements of business plans, industry and government regulations, basic management and financial planning, and marketing. Here are some examples of publications under the UP ISSI Smart Business Guide Series:
How to create new products (2020)

How to manage your cash resources (2020)

How to finance your start-up business (2019)

How to record your financial transactions (2019)

How to start an online business (2019)

How to prepare a Business Continuity Plan (2018)
These publications are downloadable for free through this link: https://bit.ly/RDpublicationrequest.
EXTENSION
Online Advisory Services for MSMEs
The Business Enterprise Development Division of the University of the Philippines - Institute for Small-Scale Industries, the lead division in offering business counseling and other technical and enterprise development assistance to MSMEs and other sectors, is offering free online advisory services in the four areas of business functions, such as marketing, operations, human resources, and finance.
The program also aims to link MSMEs to other business-related government programs and services and eventually help them pivot, recover, and be more resilient through capacity-building opportunities and UP ISSI facilitated training (e.g. e-HANDA Program: Disaster Preparedness and Business Continuity Planning for MSMEs, e-Start Your Online Business Course link MSMEs, among others).
Interested enterprise owners can register via this link: https://bit.ly/upissiOnlineMentoring or you can email us at enterprisedevt_issi.upd@up.edu.ph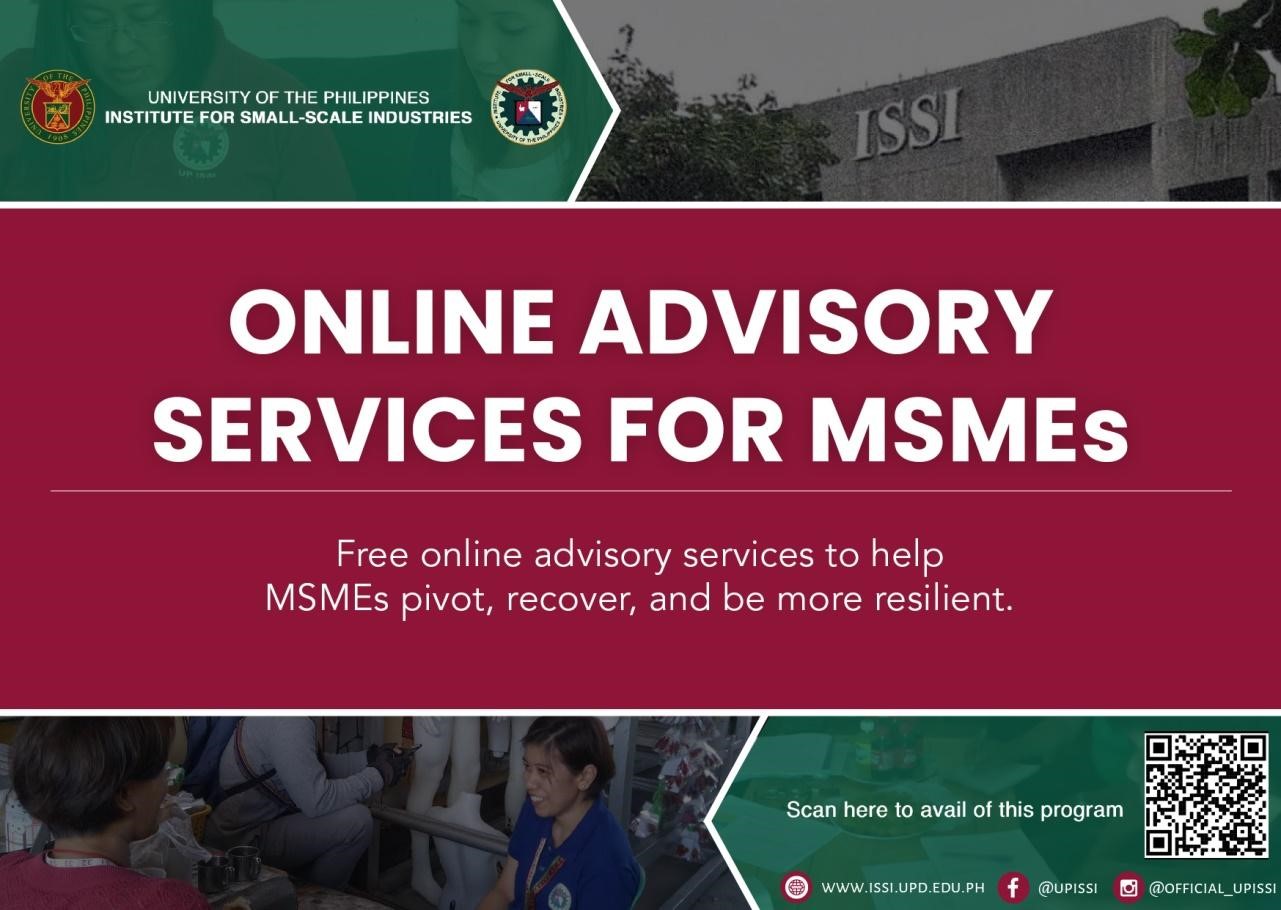 Others: